Blog Home
The Week in Abstract Art – (R)evolution is a Cycle
May 19, 2016
When conditions are favorable things change. Sometimes it's through evolution, a slow, ongoing mutation. Sometimes it's through revolution, an immediate metamorphosis instigated by an action or event. In the 1940s, when Lucio Fontana first slashed one of his works with a knife, his simple, elegant gesture was revolutionary. His tagli (cuts) transformed aesthetic notions of dimensional space. Several of Fontana's iconic "cuts" are on display now through 27 May at New York's Robilant+Voena gallery. Taking their subtle revolutionary charge as our cue, this week we present seven exhibitions that explore notions of revolution and evolution. We can't help but wonder: what's next?
Action and Process
The current exhibition at L.A.'s Hauser Wirth & Schimmel gallery has the word revolution in the title. Revolution in the Making: Abstract Sculpture by Women, 1947 – 2016 features 100 sculptural objects made by 34 female artists over 70 years. The range and intrinsic power of the forms in this show suggest not one, but a process of multiple revolutions, each one a decisive action transforming the sculptural aesthetic language.
Two current London exhibitions also chart abstraction's post-war evolution. Abstracting from Nature, on now until 3 July at Connaught Brown gallery, examines the organic abstract language of movements like Tachisme and Lyrical Abstraction. The show features works by 18 artists including Jean Arp, Alexander Calder, Barbara Hepworth and Wassily Kandinsky. And open through 23 June at Piano Nobile in Holland Park, Aspects of Abstraction 1952-2007 traces the unique paths toward abstraction followed by post-war European artists such as Terry Frost, William Turnbull and Bridget Riley.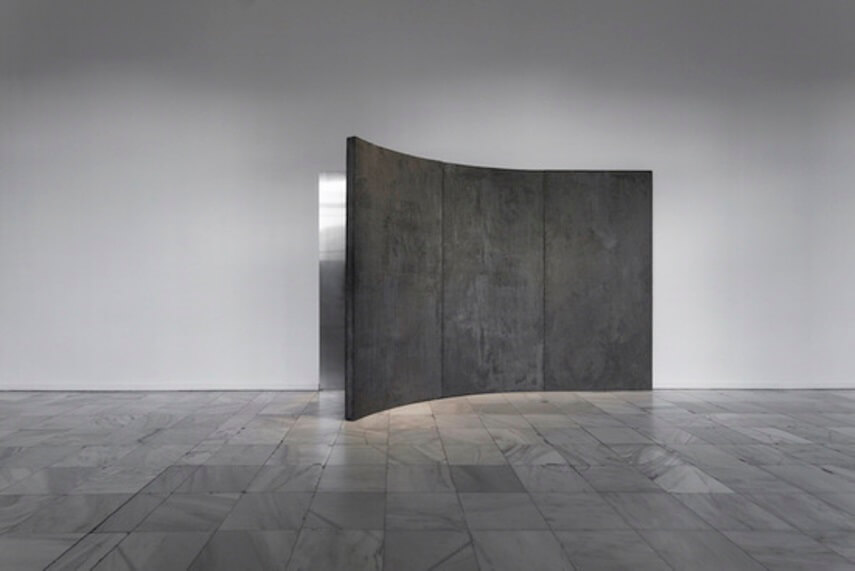 Cristina Iglesias - Untitled, 1993—1997, Fiber cement, iron, aluminum and tapestry, 96 1/2 x 143 3/4 x 27 1/2 in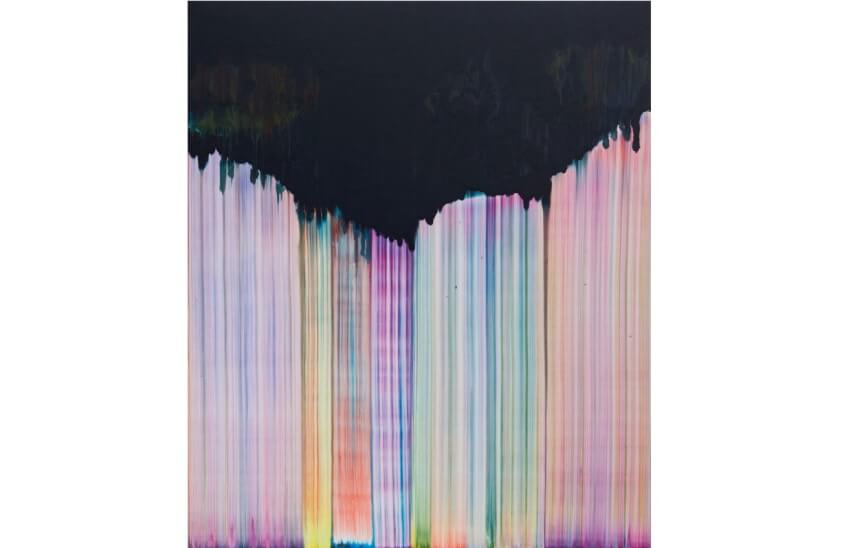 Bernard Frize - Navia, 2016, Acrylic paint and resin on canvas, aluminum stretchers, 190 x 160 x 3 cm
The Power of Chance
About the connection of chance to change, the abstract painter Bernard Frize said, "It is a rather complex thing to arrange situations in which you do nothing and things happen by themselves." New York's Galerie Perrotin is currently hosting "Dawn comes up so young," an exhibition of new work by Frize on through 18 June. The stunning images are statements of radical, instantaneous transformation and the power of hidden processes.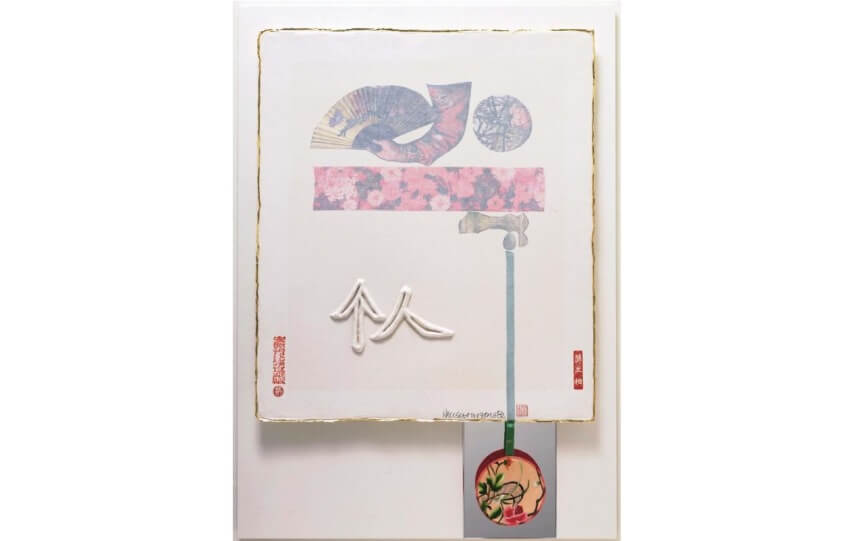 Robert Rauschenberg - Individual (From 7 Characters), 1982, Silk, ribbon, paper, paper-pulp relief, ink, and gold leaf on handmade Xuan paper, with mirror, framed in a Plexiglas box, 109.2 x 78.7 x 6.4 cm
One in 300,000
In 1985, Robert Rauschenberg caused a Chinese revolution. To be stuck in history then suddenly encounter the now is revolutionary. That year, Rauschenberg brought his ROCI (Rauschenberg Overseas Culture Exchange) exhibition to Beijing. He was the first American artist to exhibit there since the country opened to modern reforms. His work was shocking to Chinese viewers, and inspirational. More than 300,000 viewers saw the show. In the 31 years since, China's population has increased by 300 Million and the country is now a major force in the global art market. This summer, Rauschenberg's ROCI exhibition returns to Beijing from 12 June to August 21, completing the cycle.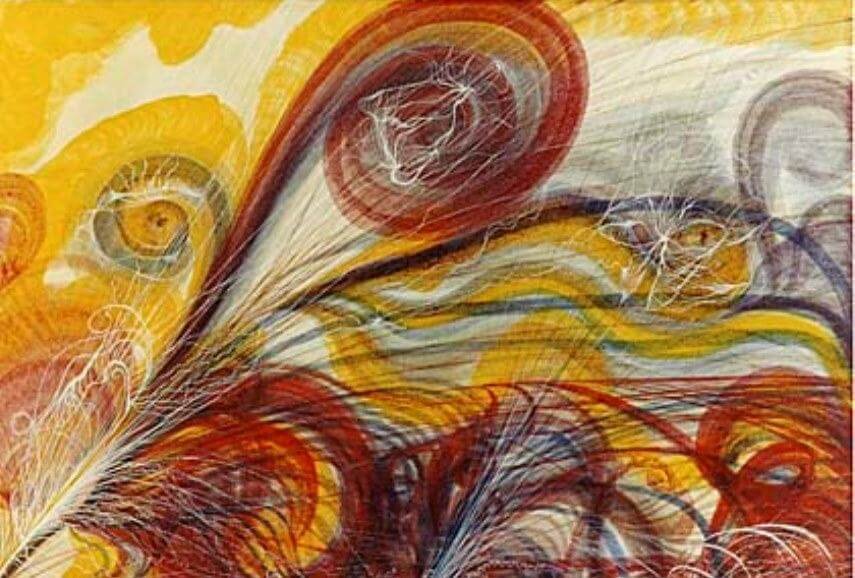 Georgiana Houghton - The Eye of God, 1862, Watercolor
Revolutionary Spirits
What's more revolutionary than rewriting history? Months back we covered Swedish painter Hilma af Klint, who pioneered abstraction decades before Wassily Kandinsky. Now we're going farther back. From 16 June to 11 September, London's Courtauld Gallery presents Georgiana Houghton: Spirit Drawings, an exhibition demonstrating that it was actually British artist Georgiana Houghton who pioneered abstraction. First exhibited in 1871 to a bewildered British audience, Houghton's paintings are inscribed on the back with names of spirits Houghton, a medium, claimed guided her to paint them.
Featured Image: Lucio Fontana - Concetto Spaziale, Attesa, 1960, Water-based paint on canvas, 31.8 x 25.5 in