Blog Home
The Week in Abstract Art – Can You Read My Mind?
Apr 14, 2016
Denver's Clyfford Still Museum recently announced it's loaning nine works to London's Royal Academy of Art to be exhibited next fall. Still was specific in his will about how his work could be shown and who should own it. But he made no mention about loaning the work out. This got us wondering: absent their explicit statements, how can we know what artists think? We'll try to answer that question this week as we look at stories from the world of abstract art that examine artists' minds.
Look Closer
Jaanika Peerna's solo exhibition Not So Silent Ripples of Gravity opened last week at Barcelona's Espronceda Gallery. This weekend Jaanika will also be in Far Off, a satellite exhibition at Art Cologne running 14–17 April. It seems right that a dedicated artist would embrace high profile opportunities to exhibit internationally, doesn't it? So what was abstract artist Oscar Murillo thinking last month when he destroyed his British passport and flushed it down the airplane toilet en route to an art fair in Sydney? Upon landing, Murillo was promptly exported. He later insinuated the act was an artistic statement intended to strengthen his fair submission. He also mentioned colonialism and western privilege. Confused?
Sometimes the closer you look at something the less clear it becomes. Consider German abstract photographer Carl Strüwe, who spent decades photographing natural specimens through a microscope. His earliest photos were purely objective, but even with accompanying scientific descriptions it's impossible to identify these microscopic close-ups. Later he began manipulating his images, creating intentionally abstract works. Did Strüwe consider himself an abstract artist? Do you? Challenge your perception of abstraction via a glimpse at the micro-cosmos at a solo exhibition of Strüwe's work opening 14 April at Steven Kasher Gallery in New York.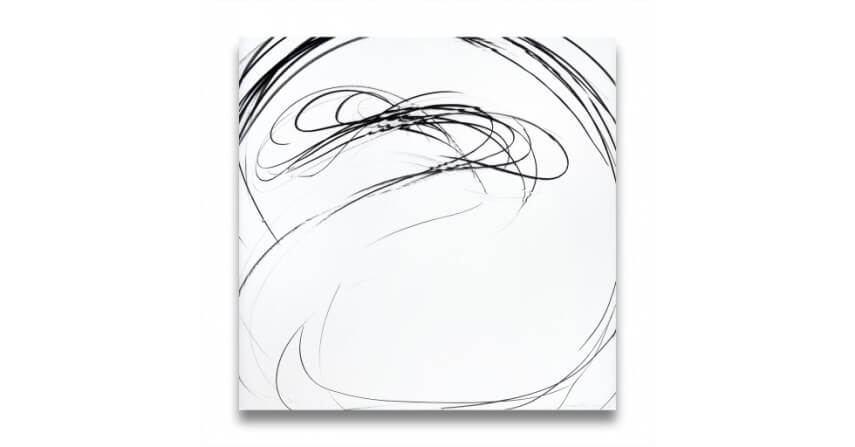 Jaanika Peerna - Maelstrom Series 67, 35.8. x 35.8 in
What Do You Think it Means?
Similar questions are being raised by a new exhibition at New York's Mathew Marks Gallery called Ellsworth Kelly Photographs. Beginning in the 1960s, Kelly prolifically photographed his surroundings, capturing compositions that he later translated into paintings. Did Kelly consider himself an abstract artist? Consider this quote: "Everywhere I looked, everything I saw became something to be made, and it had to be made exactly as it was, with nothing added. It was a new freedom; there was no longer the need to compose."
Perhaps objectivity and abstraction rest not in the mind of the artist, but in that of the viewer. Joseph Mella, curator and gallery director of the Vanderbilt University Fine Arts Gallery, recently enlisted 37 Vanderbilt students and faculty members to offer personal readings of abstract works from the university's collection. Their responses and the works, from artists such as Josef Albers, William Anastasi, Cheryl Goldsleger and Robert Motherwell, are on view in Close Readings: American Abstract Art from the Vanderbilt University Fine Arts Gallery Collection, through 26 May 2016.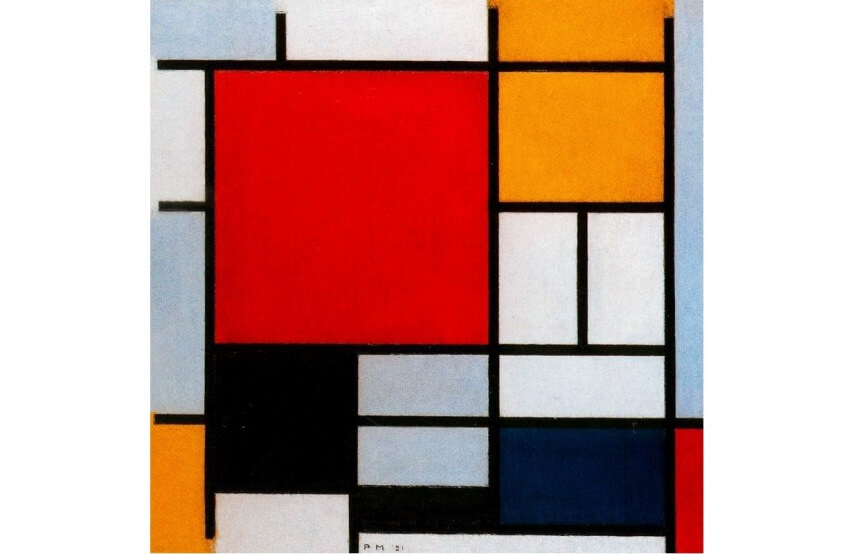 Piet Mondrian - Composition with Large Red Plane Yellow Nlack Gray and Blue
What Were They Thinking?
Sometimes the way to understand an artist's mind is to consider that artist's work. To mark their 40th anniversary, the Fundació Joan Miró in Barcelona just reorganized their permanent collection, giving visitors a chance to do just that with Miró. Five unique sections now span the artist's entire career, offering a multi-faceted glimpse at his prolific output, including paintings, drawings, ceramics, sculptures and multi-media works.
Other times the way to understand artists' minds is to watch them while they work. Currently on at the Petit Palais in Paris, In the Studio: The artist photographed, from Ingres to Koons features more than 400 photos, paintings, sculptures and videos of artists in their studio. Sometimes posed, sometimes casual, sometimes working, the exhibition offers peeks at the inner workings of Picasso, Matisse, Brancusi, Mitchell, Mondrian and many more.
Featured Image: Jaanika Peerna - Spill (REF 857), 2011, 46.9 x 33.9 in