Blog Home
The Week in Abstract Art – Interchanging Connections
Mar 24, 2016
This week is about changing perceptions: a French conceptual artist partners with a global corporation to make something beautiful; a Dutch abstractionist reveals his romantic side; a Western-centric art world shifts eastward; uncommon artists connect through a common friend; and the Transportation Security Administration has a change of art; I mean heart.
Coming and Going
There's a week left to enjoy Alexander Calder: Performing Sculpture at the Tate Modern before it closes on 3 April. The show highlights Calder's kinetic sculptures, which Marcel Duchamp first called "mobiles," assembled from museum collections around the globe.
Opening 12 April at the Tate Britain is an exhibition of Britain's greatest conceptual artists. Included will be John Latham's iconic conceptual work Time Base Roller as well as works by Victor Burgin, Art & Language, Richard Long and Bruce McLean.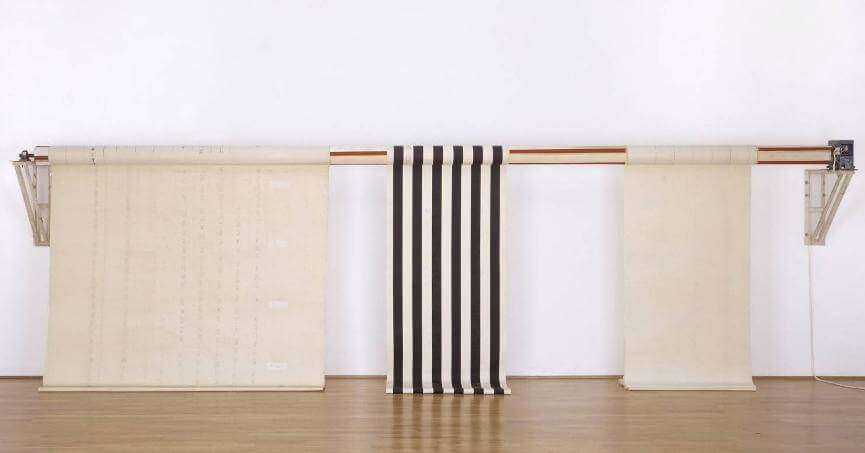 John Latham - Time Base Roller, 1972, Steel, canvas, acrylic paint, ink and electric motor
IdeelArt's Daniel Göttin is part of Julian Dashper & Friends, a show celebrating the life of the artist Julian Dashper, at Amsterdam's PS projectspace. Before dying at age 49, Dashper became New Zealand's most famous contemporary artist. His global influence is evident in the exhibition, which runs through 1 May and features work by 18 artists connected to each other through their connection to him.
Continental Shifts
Art world boundaries continue to evolve as we move toward a one-world scene. In 2013, Art Basel Hong Kong first premiered. This week the city hosts the fair's fourth edition from 24-26 March. This year 239 galleries present the work of more than 4,000 international artists. Included is IdeelArt artist Richard Caldicott, whose work appears in the booth of London's Atlas Gallery.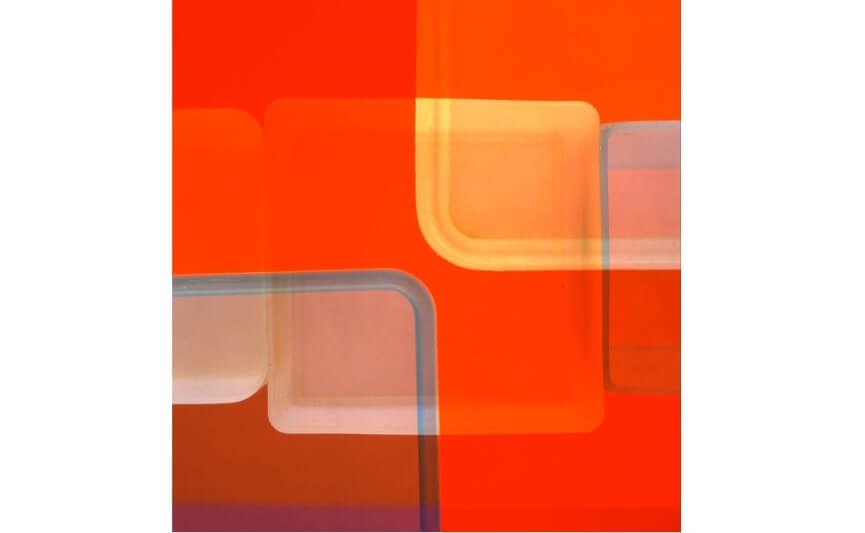 Richard Caldicott - Untitled #176, 2000, Photograph, 127 × 101.6 cm.
Art Central Hong Kong also opens this week, featuring around 100 galleries from 21 different countries. This fair focuses more on emerging artists. Among participating galleries specializing in contemporary abstract art are Sydney's Conny Dietzschold Gallery, London's HackelBury Fine Art and Seoul's Gana Art.
Love & Coffee in Las Vegas
Who said love and Neo-plasticism don't mix? The Netherlands Institute for Art History recently acquired an archive of De Stijl artist Piet Mondrian's letters, which include 22 unpublished love letters to his girlfriend, Willy Wentholt. The letters reveal the artist's passion for modern dance trends, his deep appreciation for his friends, and his thoughts about the nature of ideal love between a man and a woman.
If you're a fan of Mondrian, you may also appreciate the work of French painter and photographer Georges Rousse. Rousse created his first-ever permanent installation last month, in the new Starbucks at the Cosmopolitan Hotel and Casino in Las Vegas. Rousse's installations exploit perspective and architectural elements to create optical phenomena that can only be appreciated from one specific vantage point. Normally, he creates his works in derelict spaces and photographs them. This is his first permanent piece in a functioning space.
Georges Rousse - Starbucks Installation, 2016, Cosmopolitan Hotel Las Vegas
Finally, we go to New York, where TSA agents at New York's JFK Airport answered the question of who's afraid of abstract art. They are! They detained a passenger and temporarily confiscated an abstract sculpture from his carry-on, confusing the art with something truly dangerous: a bomb. Their minds eventually opened and they returned the art, allowing the passenger to board.
Featured Image: Alexander Calder - Triple Gong (used only for illustrative purposes)