Blog Home
Who's Afraid of Jackson Pollock?
Jan 28, 2016
"I don't paint nature. I am nature." - Jackson Pollock
One way to judge an artwork's power is to measure how many people rage against it. Hate, disgust, confusion and anger are primal emotions. To evoke such feelings from humans, to truly outrage them, an artwork must connect with something personal.
Since prehistoric cave painters made their first marks, few painters have inspired such consistent outrage as Jackson Pollock. In particular, Pollock's 60+ year-old, gestural abstract paintings (a.k.a. splatter paintings, action paintings, or drip paintings) remain some of the world's most controversial artworks, simultaneously despised and beloved.
How Does That Make You Feel?
Stand for an hour in front of a piece like Pollock's "Number 1A, 1948," a 68" x 8' 8" drip painting, and you may feel like you're listening in on a group therapy session. Viewers say, "I could have done that," or "My 6-year old could have done that,". Some say, "You call this art?" or, "Is this a joke?" or declare, "It's hideous!" Still others find the work beautiful, meditative, transcendent, or profound. It even brings some to tears.
People see themselves in "Number 1A, 1948." It, and many of Pollock's other action paintings don't just evoke an emotional response; they are the embodiment of emotion. When confronted by them, viewers feel something. That's why today, 60 years after his death, Pollock remains one of history's most influential and talked about artists.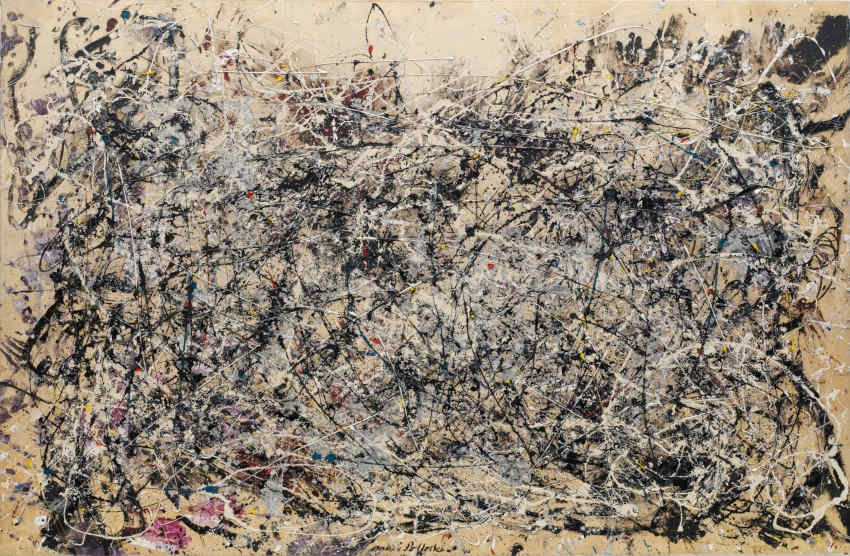 Jackson Pollock - Number 1A, 1948. Oil and enamel paint on canvas, 68″ x 8'8″. The Museum of Modern Art, New York. Purchase. © 2013 Pollock-Krasner Foundation/Artists Rights Society (ARS), New York
Why'd He Do That?
New York's MoMA is currently hosting an exhibition of their substantial Jackson Pollock collection. "Jackson Pollock: A Collection Survey, 1934–1954," runs through 1 May, 2016. The exhibition explores the artist's evolving style, beginning with his more figurative early work and culminating with the transformative gestural paintings for which he became famous (or infamous, depending on your feelings).
Abstract art's defining essence, what made it a departure from previous methods, is that instead of endeavoring to present an image of something recognizable, like an object or a landscape or a human figure, it endeavored to create new imagery that would inspire an emotional response from viewers. Abstract Expressionism, influenced by surrealism and post-World War II psychology, expanded on that goal, hoping not only to inspire an emotional response from viewers, but also to affect them on a subconscious, unconscious, or primal level.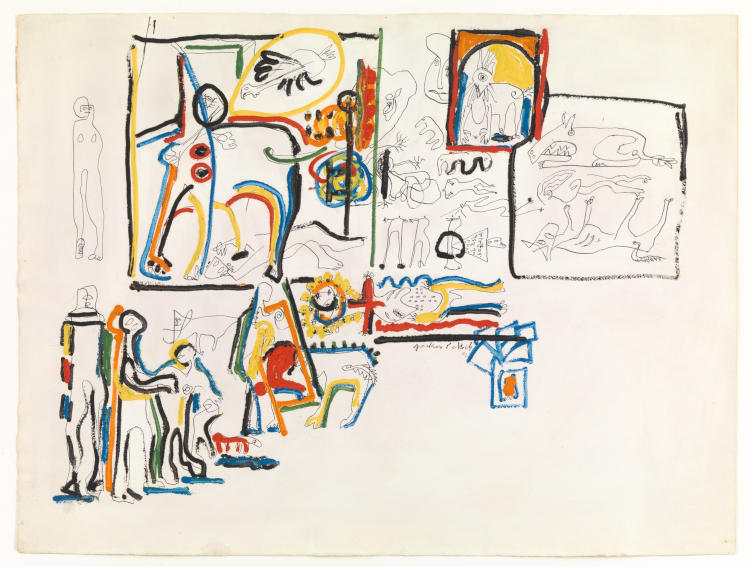 Jackson Pollock - Untitled (Animals and Figures), 1942. Gouache and ink on paper. 22 1/2 x 29 7/8" (57.1 x 76 cm). Mr. and Mrs. Donald B. Straus Fund. MoMA Collection. © 2019 Pollock-Krasner Foundation / Artists Rights Society (ARS), New York
How'd They Do It?
Abstract expressionists utilized a variety of techniques in order to find the hidden, totemic imagery they hoped would connect viewers with their subconscious selves. Employing diverse methods and mediums, they engaged in personal, passionate attempts to manifest primeval imagery and transfer it onto canvas. Pollock's iconic splatter technique was so successful at achieving Abstract Expressionist goals that it became emblematic of the movement. So integral was it to the public understanding of Abstract Expressionism, Gestural Abstraction is often used interchangeably to describe the style.
Pollock's method involved dumping, splattering and pouring layers of thin paint onto the canvas. When using brushes or sticks, he hovered the tool slightly over the canvas rather than making contact. His unrestricted physicality was vital to the finished product. He worked not only with materials, but also with forces, such as gravity, momentum, and heart. Action painting offers a way to break free from confining notions of image making. It wasn't the only technique employed by first-generation abstract expressionists, but it became the most enduring and recognizable.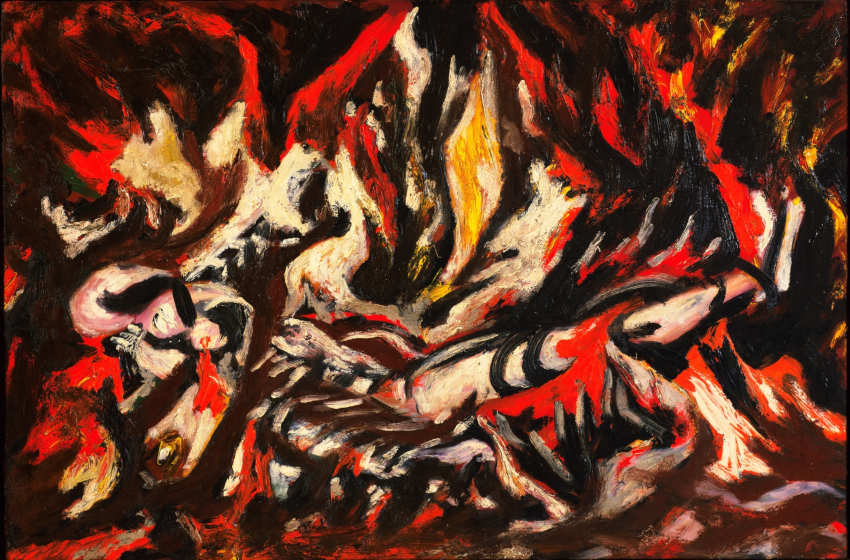 Jackson Pollock - The Flame, c. 1934-38. Oil on canvas mounted on fiberboard. 20 1/2 x 30" (51.1 x 76.2 cm). Enid A. Haupt Fund. MoMA Collection. © 2019 Pollock-Krasner Foundation / Artists Rights Society (ARS), New York
Time's Ravages
As New York's MoMA prepared for its current Pollock retrospective, the museum embarked upon the laborious process of restoring several of the works. Since the early 1970s, the only maintenance that had been performed on them was the occasional dusting. The restoration of three of the works, "Echo," "One," and "Number 1A, 1948," took the team around 18 months to complete. The work began with a careful process of cleaning the paintings' surfaces. Next, the exposed areas of canvas were analyzed for damage and meticulously restored. Then the paint layers were analyzed and compared to previous images and accounts of the works. Where there was loss of paint those areas were systematically attended to. Finally the stretchers were supported and repaired.
The restoration of the works returned them to a state of vibrancy and brilliance. They possess a tremendous energy, raising questions of what it must have been like to witness them new. Encountering his restored action paintings reiterates why Pollock remains so controversial and so popular. These artworks don't just make us feel something. They connect us with something inside of ourselves, something both ancient and modern. They suggest to us what we we're made of, and what we might yet become. They're chaotic and hideous and complicated and layered and beautiful, just like us.
Featured image: Jackson Pollock - Stenographic Figure, 1942. Oil on linen. 40 x 56" (101.6 x 142.2 cm). Mr. and Mrs. Walter Bareiss Fund. MoMA Collection. © 2019 Pollock-Krasner Foundation / Artists Rights Society (ARS), New York
All images used for illustrative purposes only