Blog Home
Robert De Niro Sr., Between European Modernism and Abstract Expressionism
Jul 24, 2019
You have likely heard the name Robert De Niro before—the two-time Academy Award winning actor has starred in 53 motion pictures. But you might not realize the connection De Niro has to some of the most influential abstract artists of the 20th Century. His father, Robert De Niro Sr., studied at the Black Mountain College under Josef Albers, and then studied with Hans Hofmann at his summer school in Massachusetts. It was there, in fact, that De Niro Sr. met his future wife, Virginia Admiral—mother of Robert De Niro the actor—who was also an artist. Both Admiral and De Niro Sr. were close associates of Peggy Guggenheim when she ran her famous Art of This Century gallery in New York in the 1940s, and both also had solo shows in that gallery. But in 1944, just one year into their marriage, and only months after their son was born, De Niro Sr. revealed he was gay and separated from Admiral. In order to raise their child, Admiral all but abandoned her fledgling art career, despite arguably being a superior, and more Modern painter than her husband. De Niro Sr., meanwhile, continued painting and exhibiting his work, becoming a fixture amongst the Abstract Expressionist community of the 50s and 60s. However, despite the fact that his paintings were exhibited alongside those of artists such as Jackson Pollock and Mark Rothko, De Niro Sr. never attained the same level of fame as his contemporaries. That could be because his aesthetic principals were in direct opposition to those of the Action Painters. He once said, "The whole idea of 'action painting' is foreign to me, and, I believe, detrimental to painting." Instead, De Niro Sr. embraced the quasi-figurative methods of the early European Modernists. Blending the Fauvist colors of Henri Matisse with the brutish, painterly surfaces of Hofmann, De Niro Sr. created a distinctive, quasi-figurative visual voice that set him apart from his famous friends.
Measured Expressions
Despite the fact that his teachers and friends were easily some of the most famous abstract artists ever, De Niro Sr. doggedly pursued representative subject matter throughout his career. His primary subjects were portraits, landscape paintings and still lifes. He did, however, embrace at least one element of the Abstract Expressionist playbook: quick, gestural brush strokes. This is evident in the paintings he was making in the early 1960s, such as "Portrait of Young Man Seated" (1960). The face of the sitter is carefully executed, while the remainder of the composition has a rushed, almost primitive appearance. Wiggly, calligraphic lines define such details as the shirt sleeves of the sitter and the floral design of the chair, while the background of the composition is like an elegant mash-up Post Impressionism, De Stijl, and the "Push Pull" theories of Hofmann.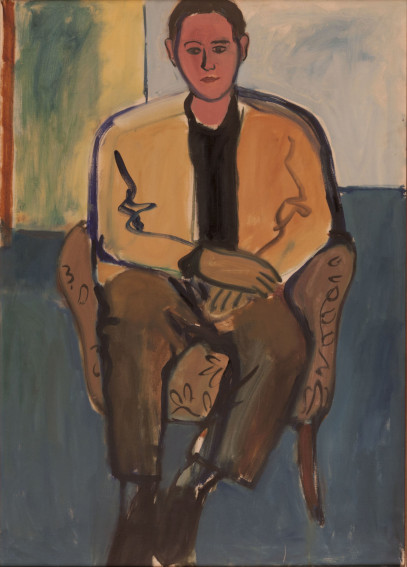 Robert De Niro Sr. - Portrait of Young Man Seated, 1960. Oil on canvas. 50 1/4 x 36 inches (127.6 x 91.4 cm). DC Moore Gallery. © The Estate of Robert De Niro, Sr.
Throughout the 1960s, De Niro Sr. remained fully committed to his figurative tendencies, but he became even more gestural and primitive with his brush strokes as time went on. Though obviously realistic portrayals of their subjects, his compositions are charged with an enormous amount of emotion and energy via the paint itself. We can even see many places where his love of figurative European Modernism intersects with those aspects of Action Painting that he claimed were so detrimental. Sections of "Still Life with Three Vases and Bust" (1968) share the brooding, expressive qualities of the late work of Joan Mitchell; the painterly flowers and washed out surfaces of "Studio Interior with Yellow Chair and Vase of Flowers" (1968) are reminiscent of works by Cy Twombly; paintings like White Building, Blue Porch" (1968) and "Seated Nude in Studio Interior with Table Still Life" (1970) clearly demonstrate the influence of Willem de Kooning, especially his abstract landscapes and his "Woman" series. It is as if De Niro Sr. adapted the excitement of Abstract Expressionist methods in service of what he felt were more measured expressions of the painting tradition.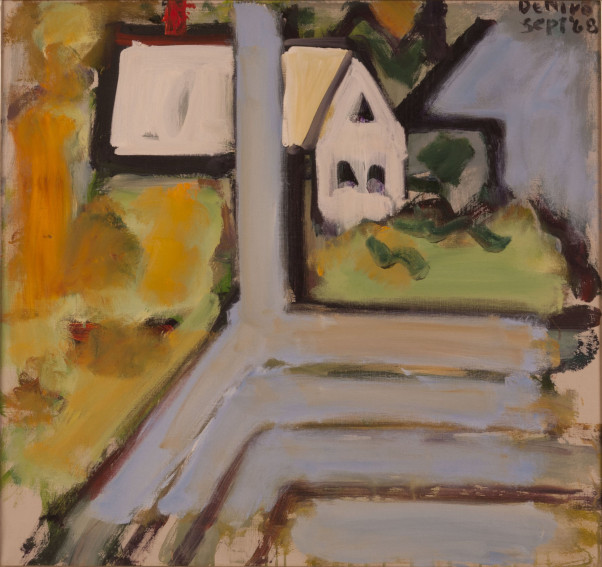 Robert De Niro Sr. - White Building, Blue Porch, 1968. Oil on canvas. 30 x 32 in. (76.2 x 81.3 cm). DC Moore Gallery. © The Estate of Robert De Niro, Sr.
Remembering the Artist
In 2014, the actor Robert De Niro released a documentary about his father, called "Remembering the Artist: Robert De Niro, Sr." (available to stream on HBO). The movie is partly an attempt by the son to contextualize his own relationship with his father, and partly an attempt to secure a place for De Niro Sr. in the art historical cannon. It is debatable, however, exactly why the work of this painter is not a more commonly known part of the contemporary art story. Some might argue that his work is not widely known because he was openly gay; but a counter argument could be made that he was actually quite celebrated in his lifetime—his works were collected by such luminaries as Joseph Hirshhorn, whose collection endowed the Hirshhorn Museum and Sculpture Garden in Washington, DC, and he taught at such influential institutions as the Cooper Union, the New School and Michigan State University.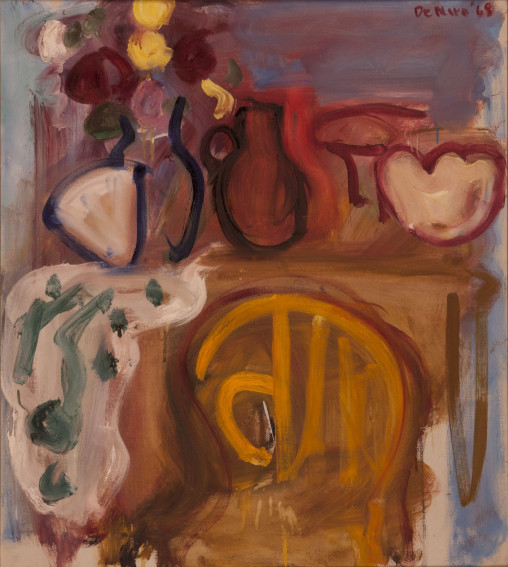 Robert De Niro Sr. - Studio Interior with Yellow Chair and Vase of Flowers, 1968. Oil on canvas. 30 x 32 in. (76.2 x 81.3 cm). DC Moore Gallery. © The Estate of Robert De Niro, Sr.
Other arguments could perhaps be made that his reputation suffered solely because he was a figurative artist in a time when abstraction was dominant; or that he was set back after the studio fire that destroyed much of his early work. But there are many other artists of his generation, such as Philip Guston, who also embraced figuration, yet are more widely known; and De Niro Sr. developed his mature style after his studio fire, and left behind plenty large and well rounded of an oeuvre for history to consider. It is my opinion that the reason De Niro Sr. is less famous than his contemporaries is because his accomplishments are simply more personal. He was a good painter surrounded by epic painters. And anyway, as I mentioned earlier, based on the small number of paintings that are available by Virginia Admiral, it seems obvious that she was the more innovative artist in the De Niro family. Its a shame she was not able to fully pursue her gift. Perhaps De Niro Jr. will help make up for the real discrepancy in his family story and release a documentary about her work next.
Featured image: Robert De Niro Sr. - Still Life with Three Vases and Bust, 1968. Oil on paper, mounted on fiberboard. 30 x 21 1/2 in. (76.2 x 54.6 cm). DC Moore Gallery. © The Estate of Robert De Niro, Sr.
All images used for illustrative purposes only
By Phillip Barcio