Blog Home
The Week in Abstract Art – Together Here in the Future Past
Mar 31, 2016
Is there such a thing as history if the story is incomplete? What's the point of compiling a timeline if some events and accomplishments are edited out? And how can we make sure our names don't get dropped from the conversation? This week we look at various takes on abstract art history, including an artist forgotten by history, an artist ignored by history, and an artist ignoring history. Then we consider some abstract artists who understand one way to make sure you get remembered is to be part of a team.
Lost and Found
We saw something unusual today in an article about a show opening in Paris, at Galerie Openspace. The show features work by graffiti-artist-turned-abstract-painter SatOne, a.k.a. Rafael Gerlach. Nothing's weird about a street artist going pro, but something the article's writer said was. He said,"(Gerlach's) works are a self-proclaimed divorce from any sort of art movement in the art historical canon." We wondered: How can an artwork be abstract and also be divorced "from any sort of art movement in the art historical canon?" Isn't Abstraction an art movement? In the art historical canon?
Oh well. Some artists want to be left out of history, others get left out involuntarily. Consider Norman Lewis, described on CBS Sunday Morning recently as the "only" black 1st generation Abstract Expressionist. There's no doubt the galleries of his time ignored Lewis. But how do we know they didn't also ignore other black Abstract Expressionists? We don't know. Because they were ignored. Norman Lewis may have quite liked to be included in "any sort of art movement in the art historical canon," but he died in 1979, marginalized. On 3 April, the Pennsylvania Academy of the Fine Arts wraps up the first major retrospective of his work, 37 years after his death. Their website refers to Lewis as "pivotal." That's the respect he deserves. Too bad he didn't get it while he was alive.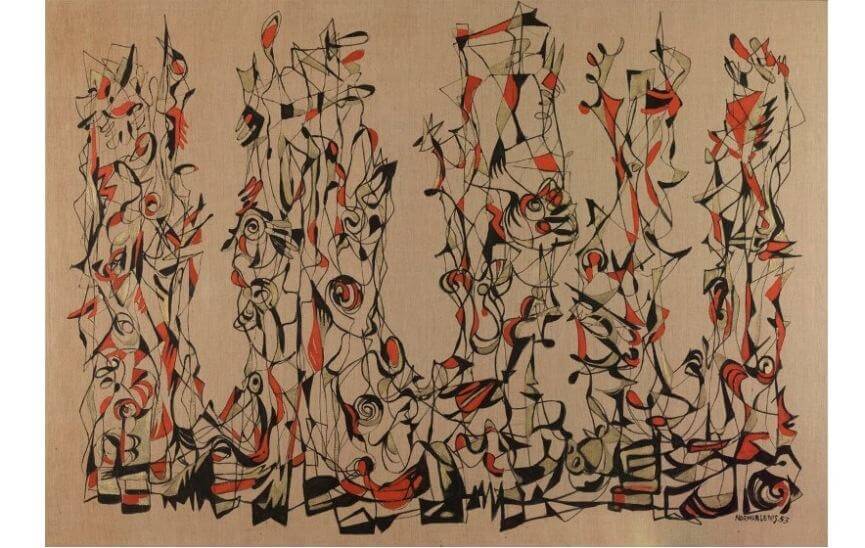 Norman Lewis - Untitled, 1953, Oil on unprimed canvas
Abstract Forgottenism
Speaking of getting left out of art history, how about the discovery of abstract paintings in a storage closet in Jodhpur, India? An unnamed artist of the Jodhpur court painted them in 1823, apparently inventing Color Field painting. Here one of the works, panel one of the anonymous artist's "Three Aspects of the Absolute," an attempt to illustrate the creation of the universe according to Nath mythology: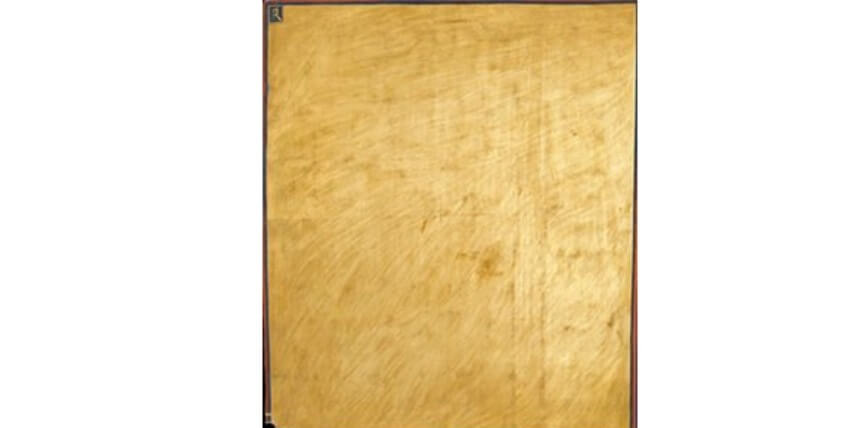 A Little Help From Our Friends
So how do we not get dropped from history (unless we want to be)? We work together. Collaborate. The more lives we touch, the more people will tell our stories. Be like our own Elizabeth Gourlay, who's in five group shows in April. (elizabethgourlay.com/news) Or Swiss skiers/artists Nicolas Vuignier, Florian Bruchez and Sampo Vallotton, who together make art in the sky by applying environmentally neutral black ochre powder to the bottom of their skis then filming themselves in slow motion executing fancy jumps.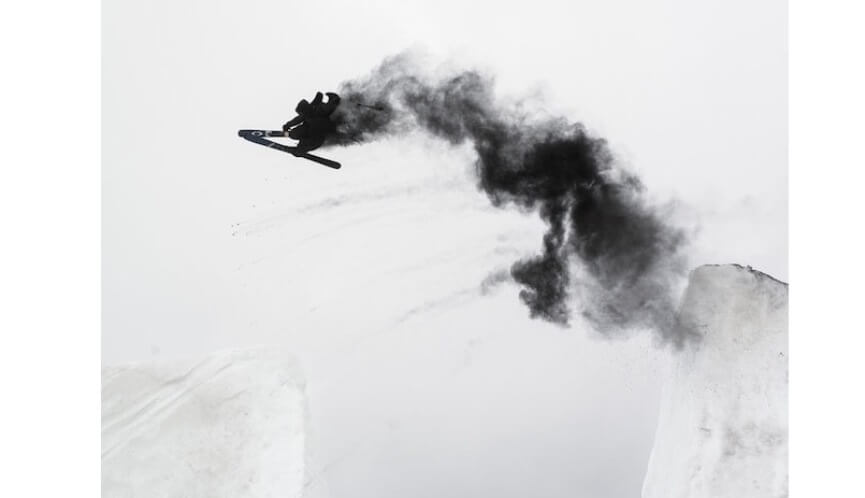 Or be like Canadian-born New York artist Sougwen Chung, who's perhaps the smartest collaborator we've heard of lately. She's collaborating with a robot (our future history keepers). Chung designed the robot to make abstract drawings with her. The robot can be set to mimic Chung's movements by watching her through a camera. Chung says she's creating pleasant ways to socialize with robots, to balance our usual antagonistic ways.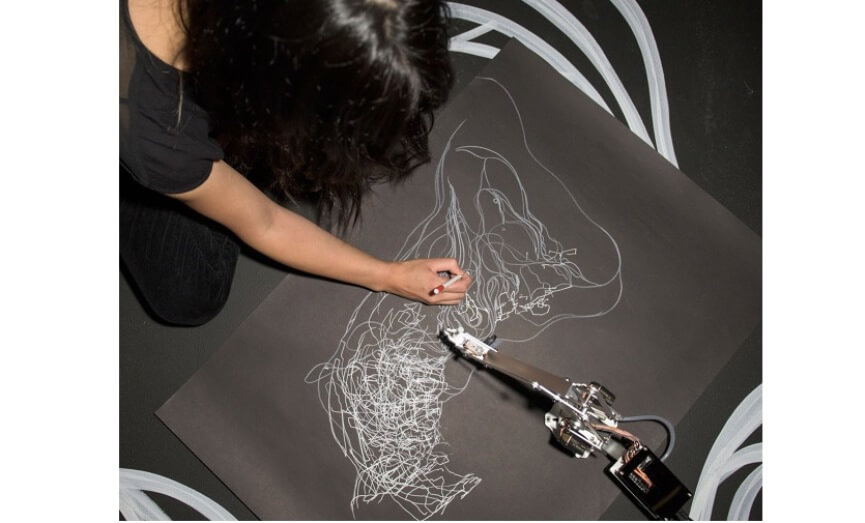 Finally, look to someone who really understood the value of success by association: the Abstract artist Sol LeWitt. An avid art collector, LeWitt often traded artworks with his many friends, accumulating a collection of works numbering in the thousands. Beginning 15 April, the Drawing Center in New York will be exhibiting 4000 of LeWitt's collected works, including items from pals like Dan Flavin, Robert Mangold and Eva Hesse.