Blog Home
The Week in Abstract Art – Our Huge Little World
Apr 28, 2016
As our world shrinks, our story is becoming so much larger. The next generation to arrive on this planet will have a much better idea of the vast range of their options than we did when we got here, and they'll have a fuller idea of history. The abstract art world has long been smaller than it should be. The history we tell of abstraction is often culture-biased, gender-biased and age biased. Though we still have work to do, we're happy to see it changing. This week we look at the growing diversity in abstract art appreciation, seeking evidence of the evolution of our huge little world.
The New Modern
Leading the way to a more diverse rendering of the abstract art story is the re-imagined Tate Modern, which reopens on 17 June following a £260 Million expansion. It's curatorial team, including new director Frances Morris, went to heroic lengths to ensure the global story of modern art will be told within the museum's 11 new floors of gallery space. The new Tate will expand its exhibition agenda to include an equal representation of modern art voices from the West as well as Africa, Asia, Latin America, Eastern Europe and the Middle East, and will also work to balance the gender perspective of the museum's collection.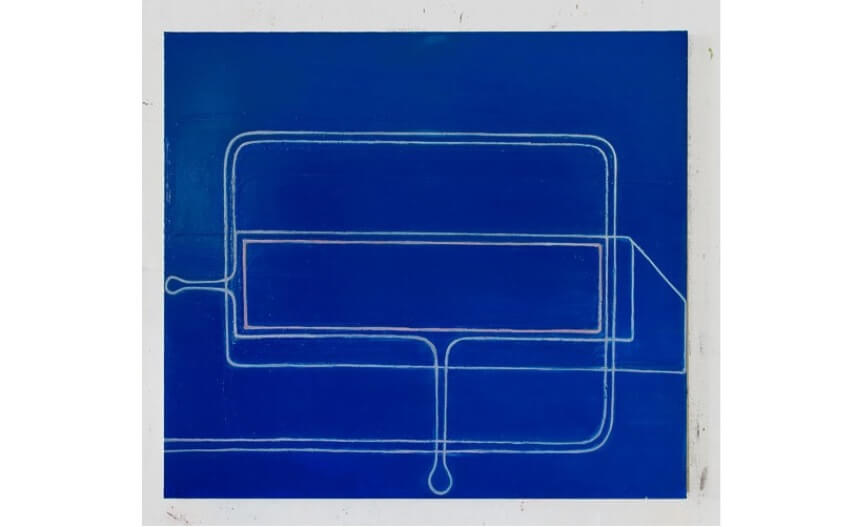 Paul Pagk - High Tade, 2012-13
Around the World in Nine Exhibitions
These current exhibitions include artists male and female, young and old, western and non-western, famous and emerging, alive and dead. Visit them all and expand your view of the chorus of voices telling the story of abstract art:
A Belgian Artist in Korea
On view now through 28 May
Gallery Baton in Seoul, South Korea, presents a solo exhibition of the late Belgium abstract artist Philippe Vandenberg, focusing on works he made later in his life.
Korean Artists in New York
6 May – 8 May 2016
K Auction, an auction house from Seoul, South Korea, is descending upon NYC during this year's Frieze Art Fair to host a Pop-Up exhibition at the Waldorf Astoria. Titled Korean Abstract Art: Early Works, the exhibition will bring to Western attention the depth and breadth of Korean abstract art.
A French Artist in Belgium
On view now through 22 May
Since the 1960's, Daniel Buren has created site-specific abstract, minimalist installations around the world. The exhibition Daniel Buren: A Fresco in Brussels, at BOZAR Center for Fine Arts in Brussels, screens a film retrospective of Buren's international works.
A Portuguese Artist in France
On view now through 18 July
The Grand Palais in Paris is currently hosting the largest ever exhibition outside of Portugal of Portuguese artist Amadeo de Souza-Cardoso. Cardoso died at age 30 in the 1918 flu pandemic. This exhibition includes 250 paintings by Cardoso and his friends Modigliani, Brancusi and Robert and Sonia Delaunay.
A British Artist in New York
On view now through 8 May
The British-born abstract artist Paul Pagk is currently featured along with American artist Mamie Holst in their second two-person exhibition at 33 Orchard in NY. This show focuses on recent small-scale paintings from both artists.
A New York Artist in New York
On view now through 7 May
Lennon, Weinberg gallery is currently exhibiting new work by Melissa Meyer. Meyer recently finished a monumental mural outside the American Embassy in Bishkek, Kyrgyzstan. This exhibition closes three days after Meyer celebrates her 70th birthday.
Californians Everywhere
From 30 April through 25 June age-spectations will be destroyed at the William Turner Gallery in Santa Monica. The exhibition MOSES@90 features new work by Los Angeles icon Ed Moses. At 90-years old, Moses is making work that seems more relevant and enthusiastic than ever. Meanwhile, Los Angeles-born Max Estenger has a mid-career survey on view through 29 May at the Museum of Contemporary Art Tucson, and LA's Jon Pestoni is featured in his first solo museum exhibition, at the Cleveland Museum of Art's Transformer Station through 10 July.
Featured Image: Amadeo de Souza Cardoso - Untitled (Ponte), 1914 [All images used for illustrative purposes only]