Blog Home
The Week in Abstract Art – Pollock-Palooza
Apr 21, 2016
For fans of 20th Century abstraction this is a good year. Two major exhibitions open this month: In New York, Robert Motherwell: The Art of Collage is on view now through 21 May at Paul Kasmin Gallery, 297 Tenth Avenue, and in Los Angeles, an Agnes Martin retrospective opens at LACMA 24 April and runs through 11 September. But the big news this year of course is that the 11th of August is the 60th anniversary of Jackson Pollock's death. Gone for nearly three generations, Pollock still resonates. Was it his work? His willingness and ability to transform? Or was it that he got closer than most to real discovery? This week we look at Pollock's legacy and the way he influenced how we experience art today.
Wherever You Go, There Pollocks Are
Currently there's a surge to exhibit Pollock's oeuvre. No matter where in the western world you happen to be, Pollock's works are nearby. In the States you can check out Jackson Pollock: A Collection Survey, 1934–1954, continuing through 1 May at New York's MoMA. This exhibit features nearly 50 works from the museum's permanent collection, including his masterpiece One: Number 31, 1950, which, among other works, has been meticulously restored to its original luminosity.
If you're near Spain, Jackson Pollock's Mural. Energy Made Visible is on view from 21 April till 11 September at the Museo Picasso Málaga. In addition to Mural, which just came off a two-year restoration itself, this exhibition includes multiple other works by Pollock in conversation with works by Lee Krasner, Roberto Matta, Robert Motherwell, Andy Warhol and others.
If you don't catch Mural in Spain, you can see it later this year in London at the exhibition Abstract Expressionism, on at the Royal Academy of Arts from 24 September until 2 January 2017. This exhibition will also feature Pollock's Number 11, 1952, otherwise known as Blue Poles. And finally, if you're near Switzerland this autumn, visit the revamped Kunstmuseum Basel, where you'll be able to appreciate Pollock's oft under-appreciated figurative work. The Figurative Pollock opens 2 October 2016 and runs through 22 January 2017.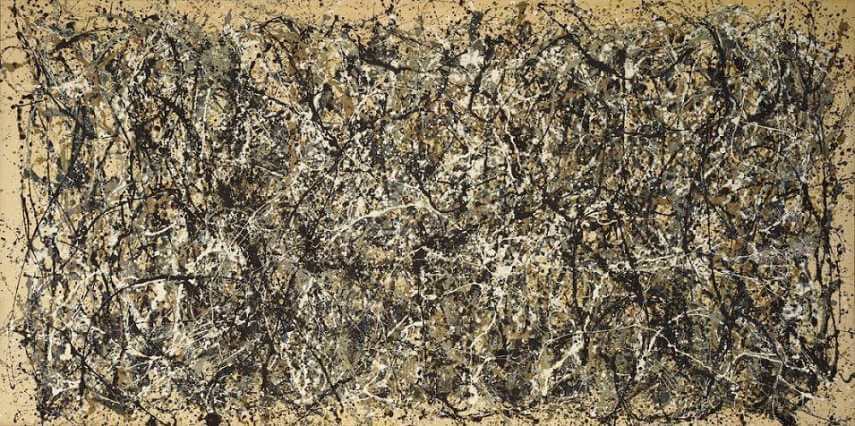 Jackson Pollock - One: Number 31, 1950
Discoveries and Connections
In addition to the works Pollock left behind, there's also this: he went out on a limb. He tried something new. He sought the unexpected. That's the part of his legacy that shows up most frequently today, especially when it comes to curation. I don't know if you could call it AbEx curation, but here are some current examples of contemporary curators seeking intuitive connections in an effort to express something universal, and to discover something new or unexpected:
* On April 27, the sculptures of Alberto Giacometti will be exhibited in an unexpected and yet transformative conversation with the blue paintings of Yves Klein at Gagosian London, in an exhibit titled "In Search of the Absolute: Alberto Giacometti and Yves Klein."
* Opening April 20th at the Centre Pompidou-Metz is Musicircus, a cacophonous explosion of aesthetic phenomena. Under Stephen Montague's direction, John Cage's Musicircus will be presented (which allows any and all musicians to play together in complete freedom), along with works by Wassily Kandinsky, Cerith Wyn Evans, Robert and Sonia Delaunay, Alexander Calder, Joseph Beuys, Claes Oldenburg, Marcel Duchamp and more.
* From 1 April through 2 July, the Pulitzer Arts Foundation in St. Louis presents Ellipsis, which creates an evolving assortment of individual and collective experiences for visitors. This exhibition pairs interactive works from the likes of Felix Gonzalez-Torres and Roman Ondák with conceptual pieces, such as an experiential audio work by Janet Cardiff, along with works by artists such as Jean Arp, Ellsworth Kelly, Richard Serra and Mark Rothko.
Featured Image: Jackson Pollock - Number 10, 1952