Blog Home
A Dynamic New Look at the Sonnabend Collection
Feb 3, 2016
During her life of nearly 93 years, art dealer and collector Ileana Sonnabend had a profound impact on European and American art. A passionate advocate of Minimalism, Pop Art, Arte Povera, Abstract Art, Performance Art and Conceptual Art, Sonnabend introduced the world to many of the 20th Century's great visionaries. Among scores of others, she championed Andy Warhol, John Baldessari, Cristo, Robert Rauschenberg and Vito Acconci. She dedicated her galleries in Paris and New York to realizing these artists' controversial visions, advocating for their work and their importance often when few others did.
When Sonnabend died in 2007, she left behind one of the past century's most important art collections. The artists she collected eventually become global in their influence, and many are now considered Blue Chip. But what makes her collection all the more impressive is that it was not the result of a simple series of shopping trips. Sonnabend was a friend, colleague and confidant to these artists. Her collection came about naturally through sincere daily interaction with those she cared about and believed in.
Sonnabend at Serralves
Beginning on 8 February 2016, the Serralves Museum of Contemporary Art in Porto, Portugal will present an exhibition titled The Sonnabend Collection: Half a Century of European and American Art. Part 1. The exhibit draws on work spanning more than 50 years beginning in 1956. 61 works from 44 artists are included in the show, including paintings, sculptures and installations. Major voices of abstraction represented in the exhibition include Peter Halley, Donald Judd, Richard Serra, and Sol LeWitt, from whom a large-scale "Arcs from Four Corners" wall drawing is being presented.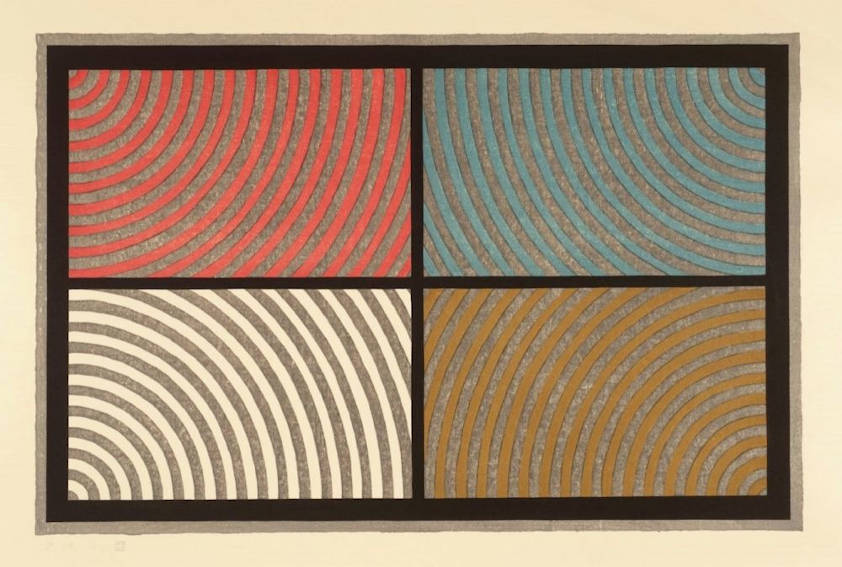 Sol LeWitt - Arcs From Four Corners, 1986. Woodcut on Echizen Torinoko paper. 23 × 32 1/2 in (58.4 × 82.5 cm). © Sol LeWitt
The show will be presented in five sections, each highlighting particular artists and elaborating on the movements with which they were associated. But rather than simply exhibiting the work according to artist, movement, or chronology, curator Antonio Homem has endeavored to explore the connections, both aesthetic and conceptual, between these selected artists, presenting their work in multiple contexts in order to arrive at new insights. This unique perspective on the life's work of Ileana Sonnabend runs until 8 May 2016 and includes a fully illustrated catalog. The Serralves Museum of Contemporary Art opened in 1999 and is dedicated to showcasing the power of contemporary art to inform and shape the future.
Featured image: Peter Halley - Blue Cell with Triple Conduit, 1986. Acrylic and vinyl paint on canvas, two parts. 77 5/16 × 77 1/4 × 3 1/4 in. (196.4 × 196.2 × 8.3 cm). Gift of Heather and Steven Mnuchin. Whitney Museum of American Art. © 1986 Peter Halley
All images used for illustrative purposes only