Blog Home
The Space of Richard Serra Sculpture
Aug 1, 2016
Space is one of our most precious resources. Without it where would we live? But we also define ourselves by exploring space, buying and selling space, decorating space and rearranging space to fit our needs. But does space also have a non-utilitarian function in our lives? The artist Richard Serra has spent most of his career examining the subject of humanity's metaphysical bond with physical space. He's a multi-disciplinary artist, having worked with painting, drawing, video, performance, writing and dance. But it's Richard Serra's sculptural oeuvre that has redefined humanity's relationship with its surroundings. A welder since childhood, Serra mostly works in steel, creating monumental, site-specific works that don't simply occupy space, but radically seek to discover its essence.
Art is Useful
Richard Serra was raised in a particularly practical environment. His father was a pipe fitter in the shipyards of 1930s San Francisco. As a teenager, Serra worked in a steel mill to help send himself to school. It's easy to see how someone who came from a place where survival was linked with hard work and grit would believe that anything unrelated to survival was useless. Even long after Serra left San Francisco, studying art at UC Santa Barbara and Yale, he said, "I'm not interested in the notion that art serves something. Art is useless, not useful."
The irony of this statement is that Serra's art has in fact been quite a useful thing. To him, it's been useful on a practical level by helping him make a living. And completely aside from its aesthetic value, Serra's work has spurred a global conversation about the role of art in public spaces. Without Serra's utilitarian background he never would have developed the skills necessary to create his work. And through his work he has redefined for many people what useful means.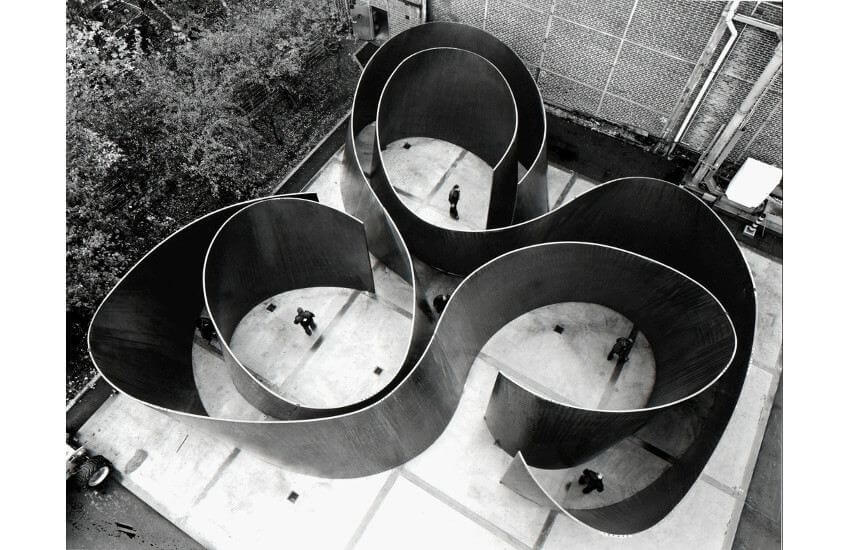 Richard Serra - Cycle, 2011, weatherproof steel, 744 x 672 in, © Richard Serra. Courtesy Gagosian Gallery. Photo by Lorenz Kienzle
Richard Serra Sculpture: A Brief History
Serra's earliest sculptural works were his "Gutter Splashes." They were part of a movement called Process Art, meaning they referenced only their process, a physical action involving a particular medium within a specific environment. In this case, Serra hurled liquid metal into various spaces, such as the crevice where a wall meets the floor. Like all Process Art, the work included the performance element of making it. The resulting relic would be incomplete without an awareness of the process that created it.
Serra's experiences with Gutter Splashes contributed to his interest in the ways that aesthetic objects inhabited space. Depending on how he displayed them, they reorganized the spaces in which they were exhibited, causing viewers to have to move, addressing the physicality of the space, in order to fully consider the art. Informed by this experience, Serra began making what he called "Props," metal forms exhibited in a way that demonstrated balance. A Prop might involve a metal rod holding a metal sheet flush against a wall with its weight, or a metal sheet leaning against a peg that's the only thing stopping it from falling, or two metal sheets precariously balancing against each other. Some of Serra's Props could easily kill a viewer if they were to fall.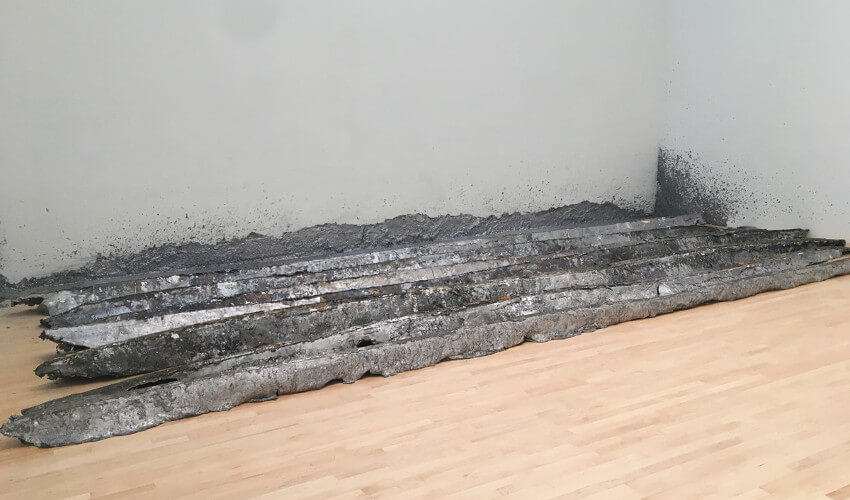 The resulting objects of Serra's gutter splashes. © Richard Serra
Objects of Intuition
Philosophers wonder how human beings interpret their relationship with the physical world. Do phenomena exist independently of our sense of them? If so, how can we understand their essential characteristics? Richard Serra's sculptures address this question in a brute, intuitive way. Whether we understand the aesthetic qualities or not, we understand that Serra's sculptures are heavy. If we interact with the space around them incorrectly, we might die. In fact, several workers have died installing Serra's sculptures over the years. Their weight makes them undeniable. And yet there is also a delicacy to them. Their grace is what allows them to be balanced. And the space that protects them is after all empty.
Serra once recalled an experience from his youth, watching a steel ship embark from the dock in San Francisco. He recalled the enormity and weight of it, but how quickly it slipped through the water. His Gutter Splashes and his Props are the essential exploration of this idea. Sculpture is light, purely aesthetic and academic, something to be looked at, thought about and discussed. But when precariously balanced and made of solid steel, it's a more serious proposition. Is all art as dire? Is art simply academic, or if mishandled can it become more serious, or even deadly?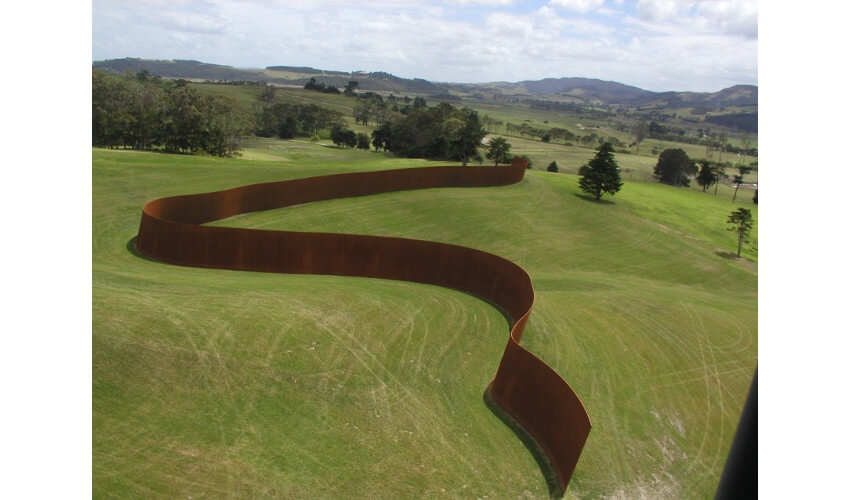 Richard Serra - Te Tuhirangi Contour, site-specific installation at Gibbs Farm, New Zealand, 2003. © Richard Serra
The Dividing Line
In the 1970s, Serra began making what would become his most influential work. Inspired by his friend Robert Smithson, who had just completed his monumental work of land art, Spiral Jetty, he became interested in how specific locations could inspire, inform and contextualize a work of art. Rather than focusing on a white cube, how would a rolling meadow interact with his work? This was the notion of site-specificity, and it inspired Richard Serra from that point on.
In 1981, Serra made a work that not only achieved a successful manifestation of site-specificity but also changed the way society talks about public art, especially as it relates to space. The U.S. Federal Government commissioned Serra to install a work of public sculpture in Lower Manhattan, in the Civic Center plaza, an open space between the courthouses and a dozen or so other federal buildings. The piece Serra installed was called Tilted Arc, a 120-foot long, 12-foot high, solid steel arc. It ran through the center of the plaza, interrupting the walking path traversed by thousands of working people each day. The public outcry was immediate. Serra had not used the site to define his art, but rather redefined the site with his art. The reality of its presence was undeniable, and it immediately took on a philosophical quality akin to Plato's analogy of the Divided Line, in which a physical object divided the worlds of illusion, belief, thought and understanding. Ultimately, after eight years of court battles, the sculpture was destroyed.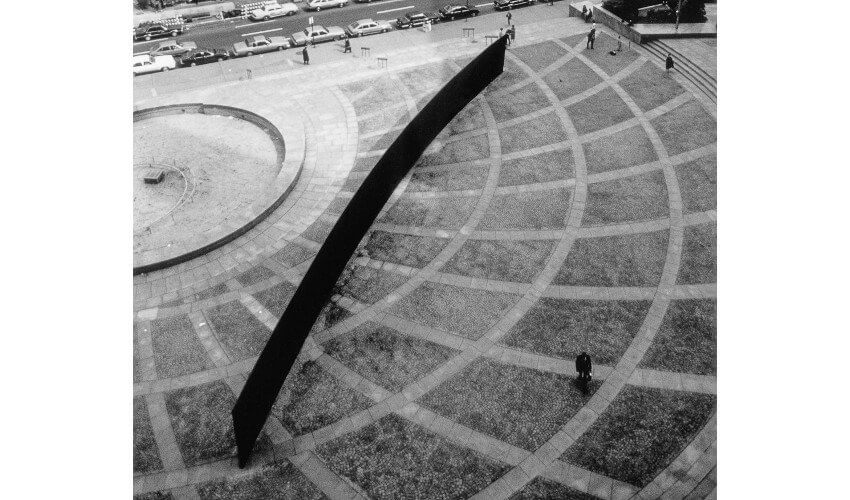 Richard Serra - Tilted Arc, Manhattan, 1981. © Richard Serra
An Economy of Scale
What made Tilted Arc so successful (or so disruptive) was its scale. Serra makes his steel sculptures large enough that they require viewers' physical bodies to move either around or through them. The body has to work in order for the mind to become fully engaged. Thus, by moving through the spaces created by the sculptures, and by examining the way space is altered by their presence, viewers have no choice but to encounter space on a purely non-utilitarian level.
Serra's sculptures have become the spatial equivalent to Bruce Lee's imperative to "Be like water." Master Lee pointed out that water can flow or it can crash, and that it adapts to whatever contains it and yet can eventually wear down any barrier. Serra's sculptures ask as to contemplate space not for its utilitarian qualities but for its essential characteristics. They offer us a chance to experience space in a way that changes our understanding of it, so that if we were ever told to "Be like space," we may be able to come a little closer to an intuitive understanding of what that might mean.
Featured image: Richard Serra - A Matter of Time installation, Museo Guggenheim Bilbao, 2005. © Richard Serra
All images used for illustrative purposes only
By Phillip Barcio