Blog Home
5 Abstract Art Exhibitions to See During the Biennale 2019
May 8, 2019
Today we offer our round up of five of the most exciting abstract art exhibitions you can see while visiting the 2019 Venice Biennale. The 58th International Art Exhibition—La Biennale di Venezia opens this week. Titled May You Live in Interesting Times, it promises to offer viewers the most concentrated assortment of world class art experiences anywhere in the world.
"Pittura / Panorama: Paintings by Helen Frankenthaler 1952–1992"
Museo di Palazzo Grimani
The last time the paintings of Helen Frankenthaler were presented in Venice was in 1966, when they were the star of the American Pavilion of the 33rd Venice Biennale. For this extraordinary exhibition, fourteen of her large-scale paintings will be on view in the Palazzo Grimani, a 16th century Venetian palace. The exhibition will trace the relationships Frankenthaler explored between the idea of pittura and panorama—or between painting pictures, and opening up expansive, illusionary spaces within the canvas. The fourteen paintings on view will span four decades of her career. In her work from the 1950s, we see her develop her famous "soak-stain" technique, pouring paint directly onto raw canvases spread out on the floor. Comparing these paintings to the work Frankenthaler made in the 1990s, we notice both stark differences and haunting similarities. The later paintings, such as "Maelstrom" (1992) and "Barometer" (1992), are painterly and impasto, visually heavier than her earlier, flat works. Yet they retain the ethereal mystery for which Frankenthaler is known, declaring her dedication both to method and to exploring mystery and transcendence within the abstract image. Pittura / Panorama is on view from 7 May through 17 November 2019.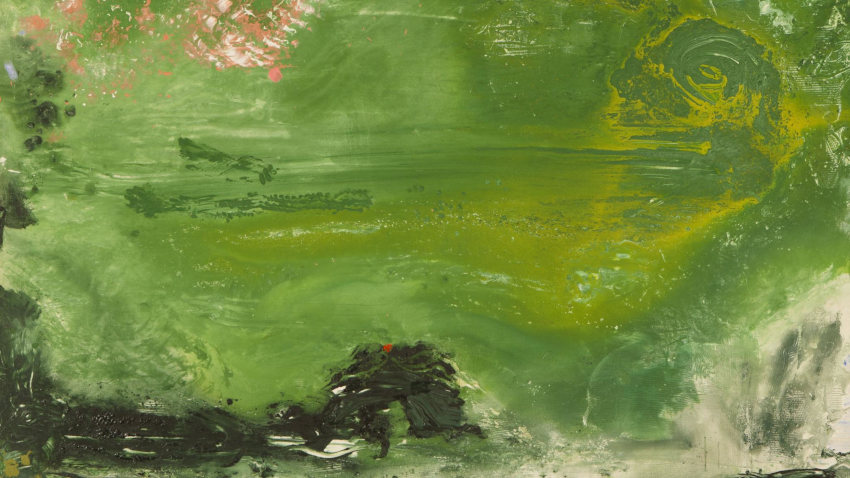 Helen Frankenthaler - Overture, 1992. Acrylic on canvas. 70 × 94 in (177.8 × 238.8 cm). © 2014 Helen Frankenthaler Foundation, Inc./Artists Rights Society (ARS), New York.
"The Nature of Arp"
At the Peggy Guggenheim Collection
More than 70 works by Jean (Hans) Arp will fill the galleries of the 18th Century Palazzo Venier dei Leoni, which has housed the Peggy Guggenheim Collection since 1949. Several of the works in the exhibition actually belonged to Guggenheim herself. In her autobiography, she wrote of Arp taking her to the foundry where one of his bronze sculptures had been made. She says she knew as soon as she held it in her hand that she wanted to own it. This exhibition includes a wide array of works, including paintings, sculptures, reliefs, drawings and tapestries. The curation traces the unique evolution of this artist who emerged from the absurdist world of the Dadaists to become perhaps the most influential pioneer in the realm of biomorphic abstraction. The Nature of Arp is on view through 2 September 2019.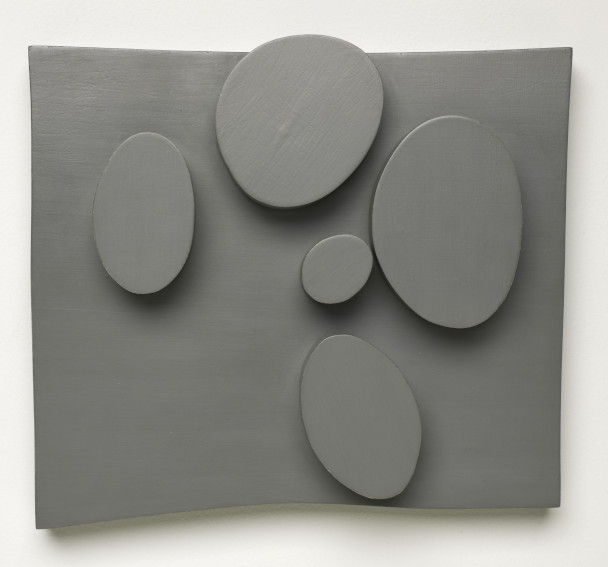 Jean Arp - Objects Arranged according to the Laws of Chance III; Symmetrical Configuration, 1931. San Francisco Museum of Modern Art, Purchase. Peggy Guggenheim Collection, Venice.
BURRI la pittura, irriducibile presenza
La Fondazione Giorgio Cini
This exhibition brings together more than 50 works spanning the entire career of Alberto Burri, a local legend and one of the greatest masters of 20th Century abstract art. The subtitle of the show, "Irreducible Presence," comes from a description that Burri himself once used to describe his work. Leaving painting and sculpture behind, he opted instead to explore the essential aspects of matter itself. The exhibition includes works from each of his most important series, including Cantrami (works made from tar), Sacchi (works made from jute sacks), Combustioni (works made with fire), Celotex (works made from wood scraps and adhesives, and perhaps his most famous series, Cretti (works consisting of cracks). Accompanying the exhibition will be a documentary pieced together from films that show Burri at work—the first opportunity most viewers will have to witness for themselves the methods and techniques of this astonishing pioneer. The exhibition is on view from 10 May through 28 July 2019.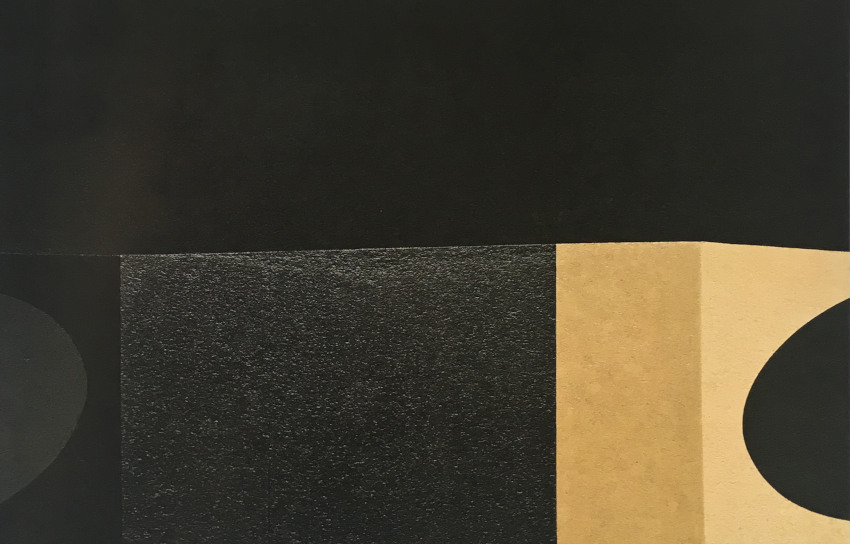 Alberto Burri - Cellotex, 1989. Mazzoleni. Celotex, acrylic and vinavil on board. 250.0 × 376.0 cm (98.4 × 148.0 in). Art Basel, Miami Beach 2016.
Glasstress
Fondazione Berengo Art Space
Located on the Venetian island of Murano, Glasstress returns to the Biennial this year for its sixth edition. For this truly unique exhibition, the curators honor the traditional glass blowing masters of Murano by inviting artists—often who have no experience working with glass—to collaborate with local glass makers on the creation of the work. One of the curators this year, Belgian artist Koen Vanmechelen, describes the process as "the world of the unknown and unseen [becoming] visible and tangible through beautiful accidents in time." This year, Glasstress will include works by an impressive international grouping of artists, including Ai Weiwei (China), Tony Cragg (UK), Vik Muniz (Brazil), Tracey Emin (UK), Michael Joo (USA), Saint Clair Cemin (Brazil), Antonio Dei Rossi (Italy), Pedro Friedeberg (Mexico), Carlos Garaicoa (Cuba), Prune Nourry (France), Pablo Reinoso (Argentina), Janaina Tschäpe (Germany), Shirazeh Houshiary (Iran), Jaume Plensa (Spain), Sudarshan Shetty (India), Koen Vanmechelen (Belgium), Joana Vasconcelos (Portugal), Erwin Wurm (Austria), Ayman Baalbaki (Lebanon), Miroslaw Balka (Poland), Kendell Geers (South Africa), Abdulnasser Gharem (Saudi Arabia), Hye Rim Lee (South Korea), Oksana Mas (Ukraine), Wael Shawky (Egypt), and many others. Visitors will also have the chance to watch Murano glass makers at work in the adjoining studio. Glasstress is on view from 9 May through 24 November 2019.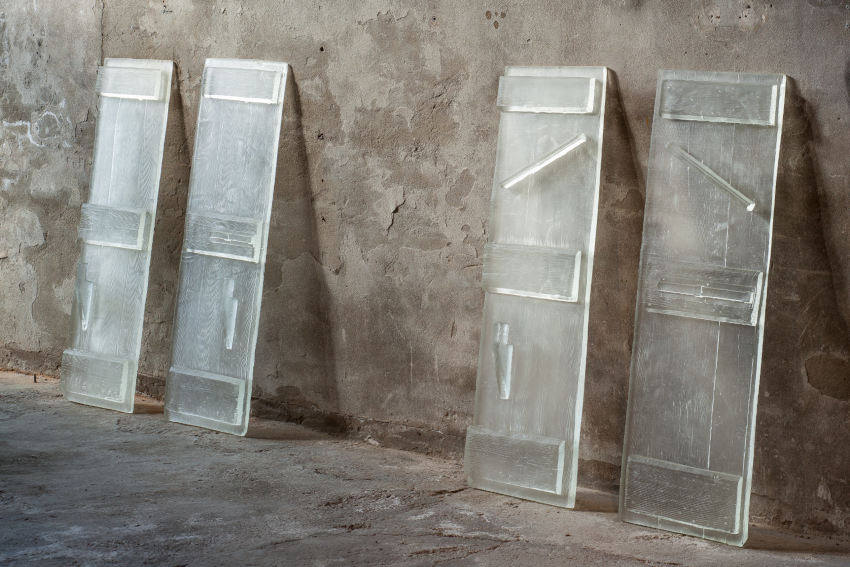 Miroslaw Balka - 6 x (138 x 47 x 10), 2013. Glass. 138 x 47 x 10 cm each. Glasstress 2019, Glasstress 2013.
Peter Halley Heterotopia I
The Academy of Fine Arts of Venice
Fans of Peter Halley will not want to miss this one-of-a-kind installation in a former salt warehouse. Halley transformed the forty meter long exhibition space into a series of eight constructed rooms, each filled with digitally printed murals, along with sculptures, images and texts contributed by his four collaborators—Lauren Clay, Andrew Kuo, RM Fischer and writer Elena Sorokina. Heterotopia is a concept originally described by French philosopher Michel Foucault (1926 – 1984). It refers to an uncanny space—like a world within a world—that simultaneously mirrors and contradicts reality. In this context, Halley has created an environment in which each room connects superficially to each other room, while also subverting any concrete or sensible connection the viewer might make between the different spaces. The installation is an extension of the work Halley has been doing for decades, which explores the compartmentalized, yet interconnected ethos of the contemporary age, where we imprison ourselves within cells, inside of prisons, connected only through technological conduits.
Featured image: Jean Arp - Overturned Blue Shoe with Two Heels Under a Black Vault, 1925. Peggy Guggenheim Collection, Venice.
All images used for illustrative purposes only
By Phillip Barcio