Blog Home
Hypnotic Nature of Sol LeWitt Wall Drawings
May 24, 2016
Sometimes nonessential elements of an artwork disrupt our ability to enjoy it. Maybe it's the artwork's value, the artist's notoriety, the fact that the work's owner won't show it, or that we can't travel to where it is being shown. Sol LeWitt's wall drawings eliminate all of those barriers and many more as well. At every phase, from their conception to their execution, LeWitt's wall drawings are accessible, approachable and available to anyone interested in enjoying them. Perhaps that's what makes them so wonderfully contemplative and pure: they're here for everybody.
Power to the People
For those unfamiliar with Sol LeWitt's wall drawings, they're actually just guides, or plans for wall drawings. Around 1968, LeWitt started sketching ideas for wall drawings that could be executed by anyone, anywhere in the world. They consisted of geometric shapes, lines and patterns, and incorporated easy to acquire primary colors, making them easily reproducible even by beginners. Every time they're installed they turn out a little different because of the different surfaces, different conditions and different hands doing the work.
Throughout LeWitt's life, he conceptualized hundreds of wall drawings, which are still being executed now after his death. That's what we meant earlier about the things that can disrupt our ability to enjoy an artwork. LeWitt's drawings have no value. They can be erased and repainted forever. The artists who execute them are anonymous. And the works have been sufficiently documented so as to become the property of all humankind. If we can't get to one, that's no problem. We can simply find a wall and make one.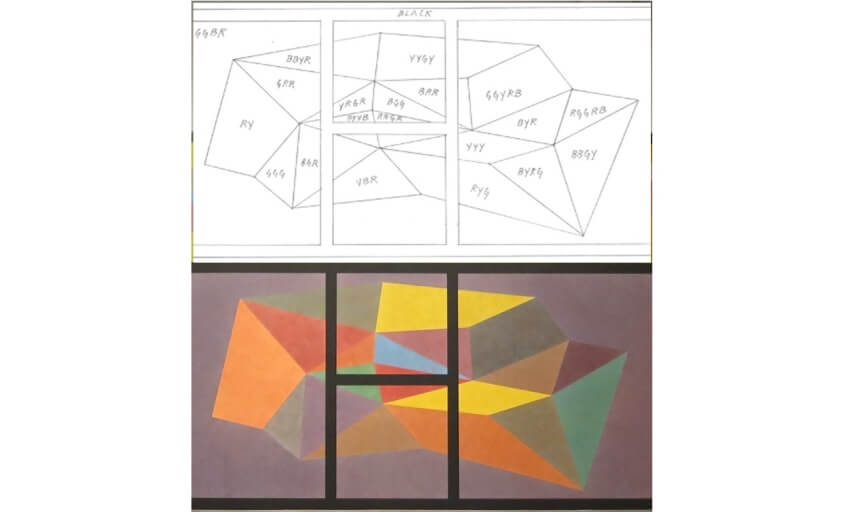 LeWitt's original plan along with a photograph of an installation of Wall Drawing #564. © The Estate of Sol LeWitt
Sol LeWitt's Wall Drawing #1
The story of LeWitt's first wall drawing is like the proto-narrative for the modern day New York art scene. The year: 1968. The place: Lower Manhattan. A young art dealer named Paula Cooper is planning the first show for her new, eponymous gallery. She'd been running a small art space out of her home near Hunter College on the Upper East Side for four years. Feeling more attracted to Lower Manhattan she decided to open her new space south of Houston Street, though everyone says she's crazy and that no one would go to an art show downtown.
Cooper pulls together a group of young artists for her inaugural exhibition, including Carl Andre, Dan Flavin, Donald Judd. She announces the show will benefit the Student Mobilization Committee to End the War in Vietnam. One artist in the show, a relative unknown named Sol LeWitt, enters something called Wall Drawing 1: Drawing Series II 18 (A & B). He surprises his curator by executing the piece directly onto the wall of her new gallery. Cooper asks him what she should do with the work after the show's over. LeWitt says, "Just paint it out."
That's the true story of the first modern art show south of Houston Street in New York. It was at the Paula Cooper Gallery, the first gallery to locate in what would eventually be called SoHo, and featured Wall Drawing 1: Drawing Series II 18 (A & B), Sol LeWitt's first wall drawing.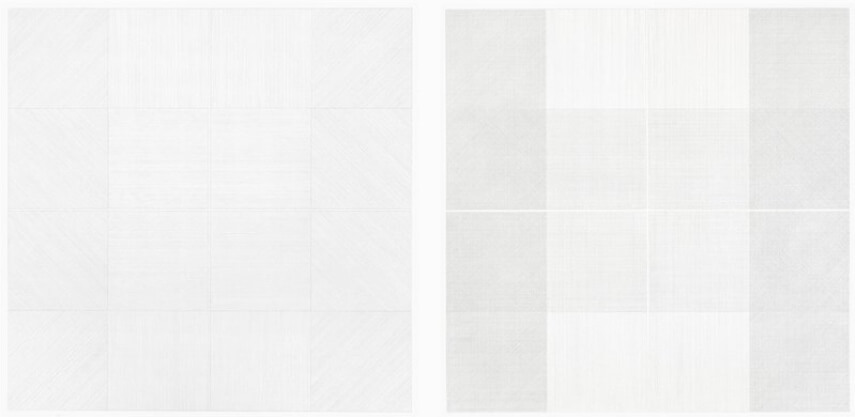 Sol LeWitt - Wall Drawing 1: Drawing Series II 18 (A & B), 1968, Graphite on wall, 48 x 48 in. x 2. © The Estate of Sol LeWitt
It Begins and Ends as an Idea
Today, the best place to encounter LeWitt's wall drawings is in North Adams, Massachusetts, at the Massachusetts MOMA. There, in a three-story, historic mill building, 120 of LeWitt's wall drawings were installed in 2008, and will remain until 2033.
The simple, harmonious geometry in LeWitt's wall drawings is in itself hypnotic. Their Minimalist aesthetic allows them to be contemplated not as paintings, sculptures or even objects, but as unique aesthetic entities. They're ethereal, meant to disappear, and yet conceptually indestructible, like matter. Somewhere in LeWitt's wall drawings is the intersection of science, humanism and mysticism. Individual drawings can be eliminated, as we can be. Yet the ideas of the drawings live on, as do we in our infinite parts.
That intersection of science, aesthetics, harmony and mysticism was perfectly expressed in LeWitt's Wall Drawing #122, highlighted by LeWitt's choice of first installing it at the Massachusetts Institute of Technology (MIT). This work contains, according to LeWitt's guide, "all combinations of two lines crossing, placed at random, using arcs from corners and sides, straight, not straight and broken lines."
LeWitt was aware of the power of his ideas. He embraced the Conceptual Artist label. He made work that couldn't be owned. Rather than leaving behind a warehouse full of artworks, he left behind instructions on how we can participate in his ideas, and teach future generations to do the same. He left us something participatory. We can contemplate the wall drawings themselves, and become hypnotized by their geometric elegance. And we can also enjoy the purity of his ideas, and the fact that they're here for us to share.

Sol LeWitt - Wall Drawing #122, first installed at MIT in 1972. © The Estate of Sol LeWitt
Featured Image: Sol LeWitt - Wall Drawing installation view at MASS MOMA. © The Estate of Sol LeWitt
By Phillip Barcio