Blog Home
Less is More: Minimalism
Nov 9, 2015
Minimalism is an abstract art movement which emerged in America in the 1960's, and which mostly refers to painting and sculpture. Minimalist pieces in no way attempt to represent external visual reality, using simple geometric designs and industrial materials to devoid them of any 'emotional' or overly 'human' overtones. Works from this movement often include paired-down grid and serial formats, tying in with the idea that they should defy any conventional aesthetic appeal in a radical move away from dominant trends of the period.
A Radical Movement
The movement found its origins in America in the 1940s and '50s, a period during which Abstract Expressionism established itself as a popular art movement which conveyed a strong expressive and emotional content, represented famously by Jackson Pollock and his Action Painting, in which he spontaneously dripped paint onto a canvas. Minimalism positioned itself as a reaction to this kind of art, influenced by the abstractions of Bauhaus artists such as Kazimir Malevich and Piet Mondrian, and the use of industrial materials instead of traditional artistic techniques by the early 20th-century Constructivist movement.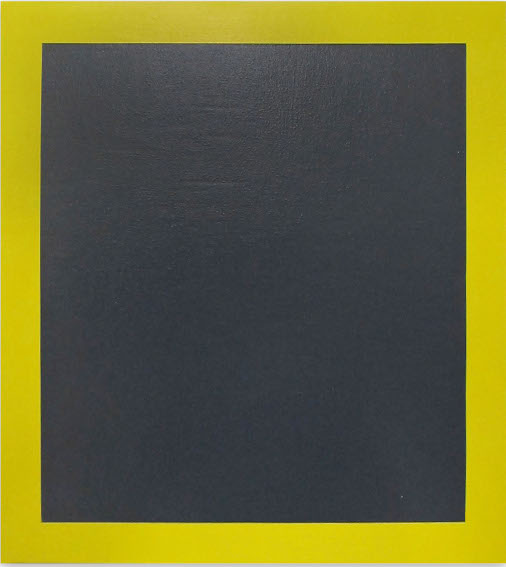 Daniel Göttin - 2003 Untitled 3, 2003. Acrylic on cotton fabric on MDF. 40 x 36 cm.
A "Less Is More" Approach
Minimalist works are not explicitly linked to the artist who made them, with many of its practitioners believing that the work should have its own reality detached from the artist's emotions and life. The physical existence of the piece in its own right is emphasized, attempting to make the viewer react entirely to the object in front of them and eliminating other distracting factors. Minimalists wanted to immerse their viewers in an experience which would be purer, more direct, and more potent than ever before.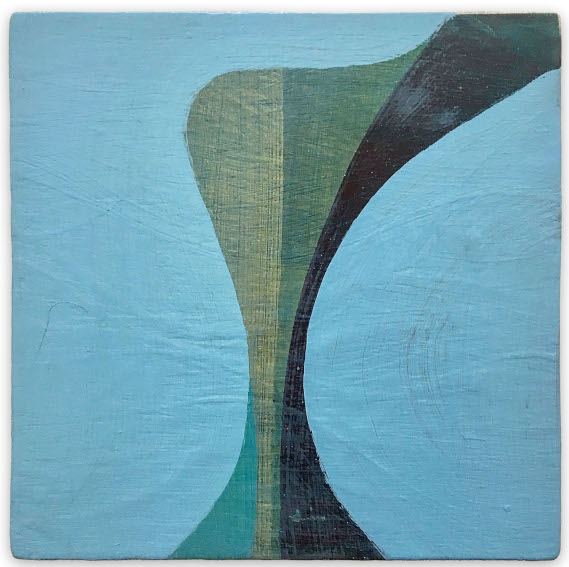 Margaret Neill - Spectator, 2018. Oil on panel. 30.48 x 30.48 cm.
Minimalist Figures
A groundbreaking work in the Minimalist movement was Tony Smith, who's "Die", a large steel cube. Although Smith was originally aligned with the Abstract Expressionists, the creation of this monumental sculpture was revolutionary in that Smith had it made in a factory, and, unlike his Abstract Expressionist peers, had made sure that the mark of artist's hand was completely removed.
Smith's work paved the way for a group of artists who would continue the development of this style into a fully-fledged art movement, one of the first pioneers of which was Frank Stella, whose "Black Paintings", which were first shown at MoMA in 1959, consisted of flat stripes of black paint, well aware of their own two-dimensionality.
Another important figure in the movement was Carl Andre, who shared a studio space with Stella and whose sculpture was exhibited for the first time in 1964, known for his use of materials such as bricks and metal plates arranged in simple geometric compositions positioned on the floor. Unlike Andre, Sol LeWitt, another important figure in the movement, rejected the use of industrial materials, using traditional media in his 'structures', geometric lattices of cube forms which deliberately highlighted basic shapes and the impersonality of the piece.
Dan Flavin began in the early 60's to create works using strips of neon, filling an entire room with neon light at Documenta 4 in 1968, a groundbreaking move which in many ways harked back to Duchamp's readymades. Another important artist in this circle was Richard Serra, who created large-scale sculptures out of sheet metal which, in using industrial sheet metal, functioned as a subversive critique of its dominance.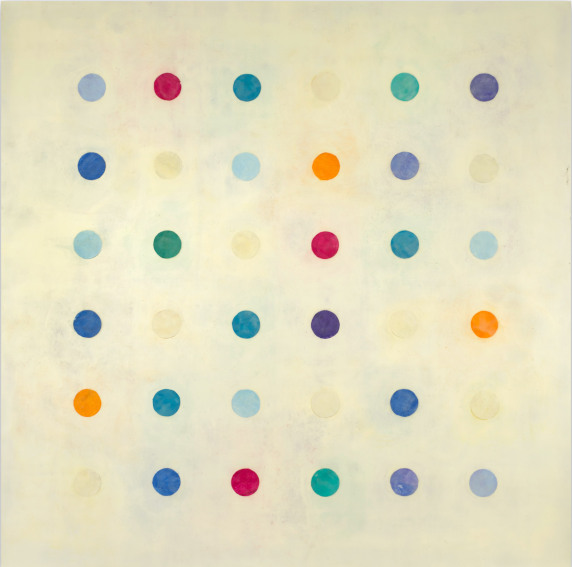 Tracey Adams - (r ) evolution 39, 2015. Pigmented beeswax, oil and collage on wood panel. 101.6 x 101.6 cm.
The Development of Minimalism in Art Criticism and Essays
Donald Judd published in 1964 the essay "Specific Objects", in which he wrote that "It isn't necessary for a work to have a lot of things to look at, to compare, to analyse one by one, to contemplate. The thing as a whole, its quality as a whole, is what is interesting. The main things are alone and are more intense, clear and powerful." Judd himself was known for his box-like sculptures, or 'specific objects', made from sheet metal and plexiglass, which rejected the notions of illusion and represented space.
A key exhibition of Minimalist art was the "Primary Structures" exhibition at New York's Jewish Museum in 1966, which featured the artist Robert Morris. Morris' essay "Notes on Sculpture", published in the same year, in which he wrote that "simplicity of shape does not necessarily equate with simplicity of experience." This affirms the 'less is more' approach of minimalist artists, for whom the simplicity of a shape allowed for the piece to interact more with the space around it, and with the viewer themselves.
Featured image: Claude Tétot - Untitled 10, 2018. Oil and acrylic on paper. 70 x 100 cm.