Blog Home
Black Abstract Artists from the Thelma and Bert Ollie Memorial Collection Come to Saint Louis
Jun 19, 2019
This autumn, the Saint Louis Art Museum will expand the contemporary understanding of abstract art with an exhibition highlighting the contributions of Black abstract artists. The Shape of Abstraction: Selections from the Ollie Collection will open at the museum on 17 September, and will feature more than 40 paintings, prints and drawings recently donated to the museum by New Jersey-based art collector Ronald Maurice Ollie and his wife, Monique McRipley Ollie. The Ollies recently gifted more than 80 works by 33 artists in total to the museum. The Shape of Abstraction will add another important chapter in our ongoing attempts to understand how the work of Black abstract artists has largely been left out of Modern art history. It comes on the heels of other recent exhibitions, such as Solidary & Solitary: The Joyner/Giuffrida Collection, which premiered in 2018 at the Nasher Museum of Art in North Carolina, and Black in the Abstract, which opened in 2014 at the Contemporary Arts Museum Houston. Some of the works in the exhibition were also included in Magnetic Fields: Expanding American Abstraction, 1960s to Today at the National Museum of Women in the Arts in Washington, DC, in 2017, which focused on Black female abstract artists. With its inclusion of a range of ephemera and other personal documents, The Shape of Abstraction promises to occupy a special niche among these other exhibitions—that of a deeply personal account of Black abstract art and its impact on one family over the years. In a statement made after first donating the collection to the museum in 2017, Ronald Ollie spoke fondly of his memories as a child, being taken to the Saint Louis Art Museum by his parents. Said Ollie, "The museum's collection helped ignite my passion—we are delighted to know works we have stewarded might do the same for future generations."
An Intergenerational Focus
Among the works that will be on view in The Shape of Abstraction are pieces by artists of multiple different generations. Amongst the elders in the group is Herbert Gentry (1919 – 2003). After fighting for the United States in World War II, Gentry stayed behind in Paris to study art. Over the next six decades, he moved frequently between Paris, Copenhagen, Stockholm, Malmö and New York City. He represents a fascinating link in the evolution of 20th Century abstraction, in part because he was so mobile. His unique visual language crosses over between gestural markings evocative of the action painting techniques of the Abstract Expressionists, rough figuration typical of Art Brut, and mask-like faces that both spotlight the influence of Cubism and remind us of the debt Modernist abstraction owes to African art history. Also representing the same generation, works will be exhibited by Sam Middleton (1927 – 2015), Robert Blackburn (1920–2003), geometric abstractionist Alvin Loving (1935 – 2005).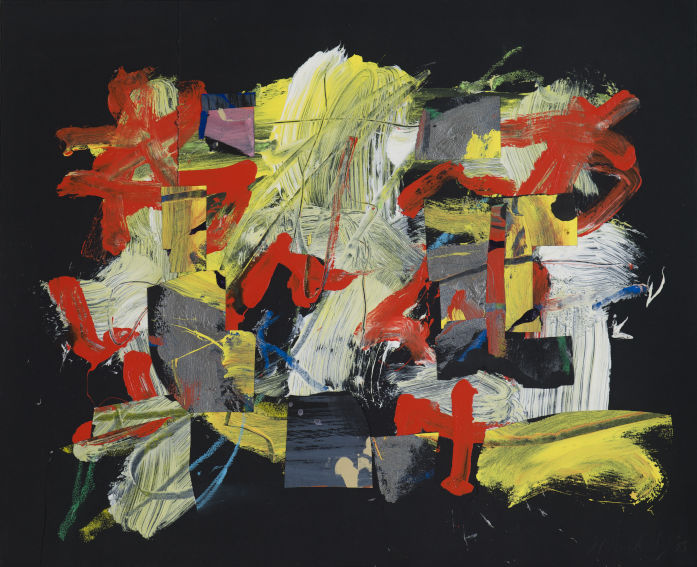 Frank Wimberley - Siempre, 1998. Collage of cut painted paper with pastel. 22 1/4 × 27 1/8 inches. Saint Louis Art Museum, The Thelma and Bert Ollie Memorial Collection, Gift of Ronald and Monique Ollie 2017. © Frank Wimberley
Among the living painters whose works will be included in the exhibition are 93-year old Abstract Expressionist legend Ed Clark. The contribution to abstraction made by Clark is worthy of its own graduate level art history course, and is only now beginning to get its due regard. Also on view will be a mixed media collage and a painting by the great Frank Wimberley (b. 1926), who is currently featured in a major solo survey at Berry Campbell Gallery in New York. Like his contemporary Clark, Wimberley is also one of the most compelling abstract painters working in America today. Meanwhile, amongst the Black abstract artists representing the younger generation will be James Little, a key voice in contemporary Hard Edge Abstraction. In a recent living history interview with LeRonn P. Brooks for BOMB Magazine, Little recalled growing up in poverty in Memphis in the 1950s. As a toddler, he liked to draw. Noticing his drawing ability, his mother bought him a paint by numbers set when he was eight years old. In his 50-plus year career he has developed a striking visual language based on line, pattern, and large areas of solid color—an aesthetic position rooted both in plastic simplicity and compositional complexity.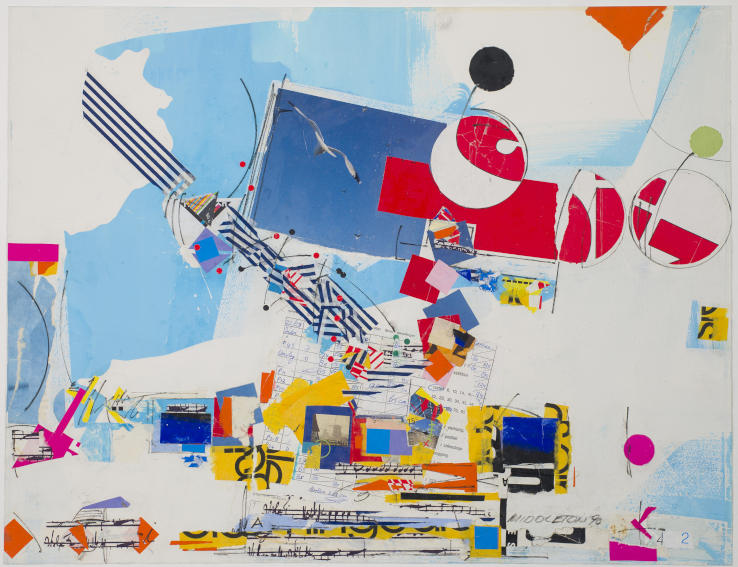 Sam Middleton - Untitled, 1990. Collage of cut and torn printed and painted papers, with paint and graphite. 19 3/8 × 25 1/8 inches. Saint Louis Art Museum, The Thelma and Bert Ollie Memorial Collection, Gift of Ronald and Monique Ollie 2017. © Sam Middleton estate, courtesy of Spanierman Modern
Where Are the Women
One of the odd things about the Ollie collection is the fact that so few of the artists included in it are women. Of the 33 artists whose works were donated to the museum by the Ollie family, 29 of them are men. The four female artists included in the donation are Chakaia Booker, Nanette Carter, Evangeline Montgomery, and Mary Lovelace O'Neal. Booker is perhaps the most well known of the group. Her iconic rubber tire sculptures intertwine an abstract language of line and form with personal and narrative subject mater including femininity, the environment, and social justice. They are included in dozens of important public collections. Lesser known, perhaps, is the work of Nanette Carter. Working exclusively on transparent Mylar, Carter has described herself as a "Scapeologist," a reference to her tendency to create abstract and imaginary landscapes that express the relationship of humanity to the natural world.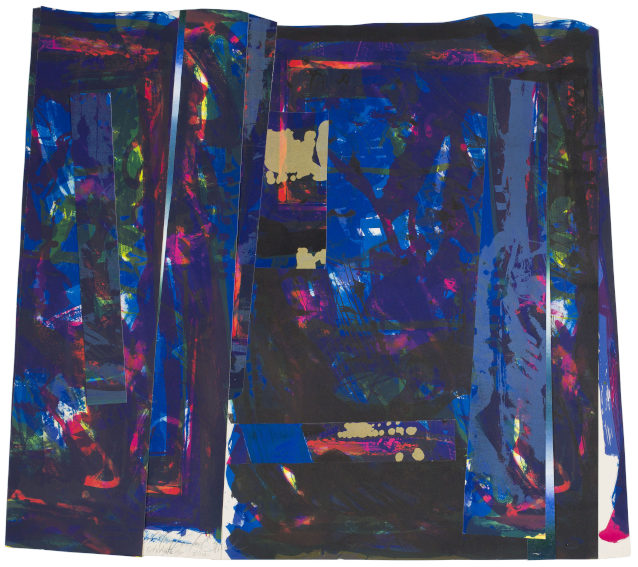 Mary Lovelace O'Neal - City Lights", 1988. Offset lithograph and screenprint. Sheet (irregular): 28 1/8 × 32 1/8 inches. Saint Louis Art Museum, The Thelma and Bert Ollie Memorial Collection, Gift of Ronald and Monique Ollie 2017. © Mary Lovelace O'Neal
Mary Lovelace O'Neal (b. 1942) is a Professor Emeritus at the University of California, Berkeley. Her powerful abstract compositions occupy a liminal space between painterliness and dynamism, while her compositional strategies find balance and harmony in unexpected ways, exposing hidden relationships between emptiness and mass. Finally, the elder of this group of female artists is Evangeline Montgomery (b. 1930). Primarily known for her sculpted metal boxes early in her career, health challenges necessitated her transition into printmaking. Throughout her oeuvre, she has always been guided by the layering of geometric compositions over textured surfaces. Montgomery has described her work as "interpreting the transparencies found in nature—its nuances and richness of surfaces, textures, and brilliant color whether in plants, water, stone, and incredible variation of life forms." The Shape of Abstraction: Selections from the Ollie Collection will be on view at the Saint Louis Art Museum from 17 September 2019 through 8 March 2020.
Featured image: James Little - Double Exposure, 2008. Oil and wax on canvas. 39 × 50 inches. Saint Louis Art Museum, The Thelma and Bert Ollie Memorial Collection, Gift of Ronald and Monique Ollie 2017. © June Kelly Gallery / James Little
All images used for illustrative purposes only
By Phillip Barcio