Blog Home
IdeelArt Presents Homage to the Square Exhibition Curated by Richard Caldicott
Jan 24, 2020
An interdisciplinary artist known for his groundbreaking series of photographic abstractions, Caldicott has long been fascinated by the multitudinous properties of the square. Some of the oldest roots of abstract art can be found in this simple shape, and yet, it is not just the square as a geometrical element that artists deploy in their work. The square has also variously served artists as a symbol, a formalist zero point, and even a catalyst for philosophical or metaphysical exploration.
Recalling the outrage his painting "Black Square" caused when it debuted in the Last Exhibition of Futurist Painting 0.10 in 1915, Kiev-born artist Kazimir Malevich wrote in his 1927 book The Non-Objective World, "In the year 1913, trying desperately to free art from the dead weight of the real world, I took refuge in the form of the square." Malevich knew it was not the square itself that so annoyed his critics, but rather it was what the square represented—namely, a denial of the importance of subject matter. His modest looking painting of a single black square centered on a square white canvas was a revolutionary attempt to make the act of painting, as Malevich wrote, "an end in itself."
A generation after Malevich, German-born American abstract artist Josef Albers adopted the square as a starting point for what would become his most prolific and iconic series: "Homage to the Square." Between 1950 and 1976 (the last 26 years of his life), Albers made more than 1,000 "Homage to the Square" paintings. The strict rule that defined the series was that each painting would have an almost identical composition—a series of concentric, different colored squares painted on a flat, square surface. Albers applied the pure colors, often directly from the tube, in thin coats with a palette knife, never allowing the colors to overlap and taking extreme care not to reveal any trace of his hand. Represented in dozens of museums, and even featured on a US postage stamp, Homage to the Square is one of the most famous series of abstract paintings ever produced, however, the work was never really about squares at all—it was about color. As Albers wrote in his educational workbook Interaction of Color (1963), "A color has many faces, and 1 color can be made to appear as 2 different colors. In visual perception a color is almost never seen as it really is—as it physically is. This fact makes color the most relative medium in art."
For "Homage to the square" ( Albers, Malevich..), Caldicott examines the almost limitless potential of the square in contemporary abstraction by bringing together a diverse selection of works by 30 contemporary abstract artists.
In Caldicott's "Chance/Fall (6), 2010" (2010), we see a ghostly blue square that seems to be in the process of materializing within a radiating purple field. Caldicott, like Albers, works in series, however, as the title of this series suggests, these compositions are not born from a strict system but rather arise from a largely improvisational method.
Australian-born Brent Hallard uses squares and other geometric shapes to create optically active compositions that challenge the perception of the viewer. The arrangement of "QBE II" (2015) uses a square stretching into space to become a cube to playfully articulate both flatness and depth.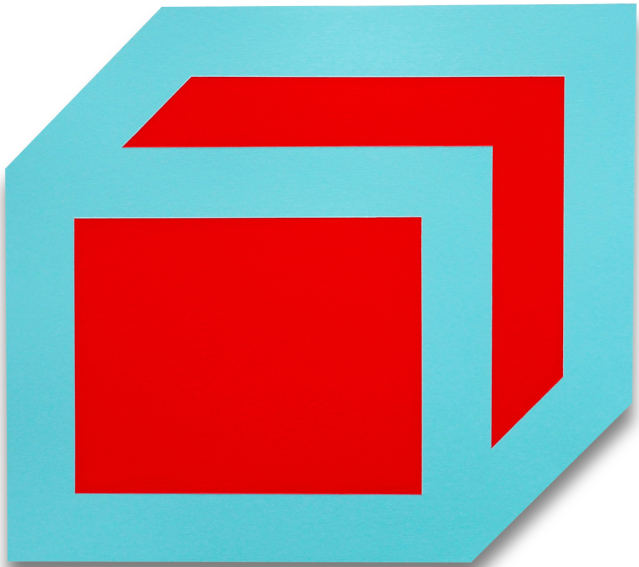 Brent Hallard -QBE II, 2015. Acrylic on 300 lb Arches. 35.6 x 35.6 cm.
Tenesh Webber's "Boxy" (2005) offers a striking contemporary reflection of Malevich's "Black Square," challenging the definition of negative and positive space as a white square seems to break apart into 16 smaller squares within a black void. This work is emblematic of this Canadian photographer's process, which involves layering threads and hand-cut paper shapes on Plexiglass plates to create camera-less photographs.
Secondary meanings are important in the work of American artist Audrey Stone. Her drawing "Nb. 8" (2008) evokes Albers as three concentric squares are formed from a series of lines. Stone uses a mixture of thread, ink and graphite to create the lines, inviting the viewer to contemplate the definition of line and shape, as well as the embedded meaning within these materials.
The square format of Kyong Lee's "Painted empty without" (2018)—part of the Korean artist's Color as Adjective series—offers a formal structure through which embossed text collaborates with hue to communicate hidden connections between the emotional content of colors and words.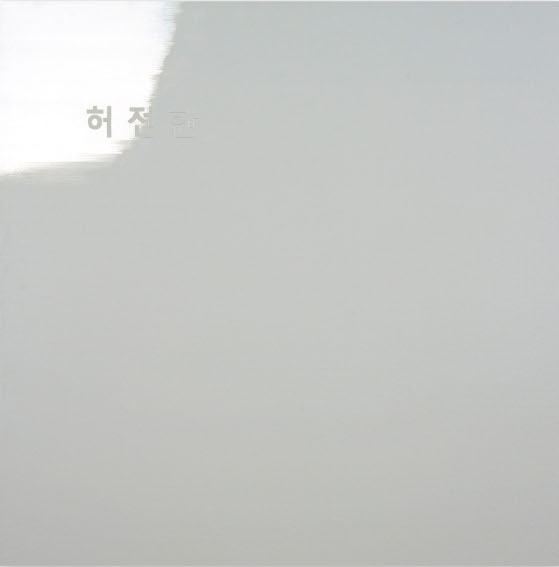 Kyong Lee - Painted empty without, 2018. Acrylic on canvas. 60.6 x 60.6 cm.
Though the gestural physicality of her brush marks might be the first thing a viewer notices, for American painter Anne Russinof, the work begins with color. In "Yellow Sheen" (2014), bold, lyrical, yellow brush marks radiate on a deep red ground creating the sense of a vibrating, luminous, dreamlike square.
Like Albers, American artist Mel Prest is interested in the perceptual phenomena that emerge from color relationships. Hand painted lines and concentric colored squares seem to vibrate with energy in her painting "SOM" (2019). Part of a series titled "In Praise of Planetary Time," this composition was inspired by gradual changes she witnessed transpire over the course of a blood moon eclipse.
The works of Pierre Muckensturm are informed by the artist's search for tranquility and harmony. His painting "11p1831" (2011) evokes the legacy of Malevich with its use of the square and the cross. Both the methodical lines and the worn surface of the composition evoke the passage of time.
American artist Jill Moser is inspired by the visual, indexical and gestural qualities of written language. Her lithograph "Virga" (2012) captures a poetic convergence of the lyrical and the concrete as layered, calligraphic elements hover within the void of an off-white square set within a white frame.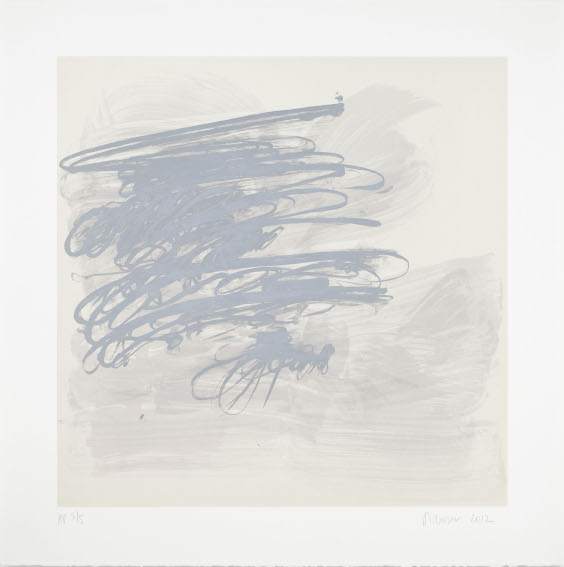 Jill Moser - Virga, 2012. Lithograph. 76.2 x 76.2 cm.
Featured Artists in "Homage to the square" ( Albers, Malevich..): Tracey Adams, Jeremy Annear, Paul Behnke, Arvid Boecker, Macyn Bolt, Ashlynn Browning, Richard Caldicott, Luuk de Haan, Fieroza Doorsen, Tommaso Fattovich, Jean Feinberg, Joanne Freeman, Dana Gordon, Daniel Göttin, Elizabeth Gourlay, Brent Hallard, Matthew Langley, Kyong Lee, Stephen Maine, Tom McGlynn, Gudrun Mertes-Frady, Holly Miller, Jill Moser, Pierre Muckensturm, Mel Prest, Debra Ramsay, Anne Russinof, Peter Soriano, Audrey Stone, and Tenesh Webber.
Featured image: Richard Caldicott - Chance/Fall (6), 2010, 2010. C print. 127 x 101.6 cm.
By Phillip Barcio