Blog Home
The Most Beautiful Examples from the Illy Coffee Cups Art Collection
Apr 20, 2017
This year marks the 25th anniversary of Illy coffee cups: those iconic, elegant, white ceramic demitasses with the perfectly circular handles. Italian architect and designer Matteo Thus, one of the co-founders of the Memphis Group and an early creative director of the Swiss watch company Swatch, designed the first Illy espresso cup in 1992. It was an instant classic, and some would even say a work of art. In fact, the Illy company took such joy in the timeless aesthetic qualities of their new cup that they immediately also embarked on what has become one of the most ambitious artistic partnerships in modern corporate history: the Illy Art Collection. Inspired by the Platonic philosophy of kalokagathia, meaning the union of the beautiful and the good, Illy initiated a campaign of inviting contemporary artists—some of them world famous and some completely unknown—to use Illy coffee cups as the starting point for original works of art. At one point in the project, the company even employed Pop Art icon James Rosenquist, himself a former sign painter, to redesign the Illy logo using his signature brushstroke style. Since the Illy Art Collection began, more than 100 artists have participated in the project, resulting in the creation of a truly unique, albeit miniature collection of contemporary art. You can check out the full collection of Illy artist cups on the company website. Meanwhile, here are our picks for 15 of the most beautiful offerings from the collection:
Anish Kapoor
In a play on a common theme in his work—the hole and its many mysteries—Bombay-born British artist Anish Kapoor used the concept of the Illy cup to examine the nature of a hole in space. He designed a platinum saucer with a hole in the center of it. When the cup, which has a platinum interior, sits on top of the saucer, it covers the hole. But when the saucer sits on top of the cup it creates an alien surface with a hole inside it that looks down into the vast blackness of the enigmatic pool of espresso below.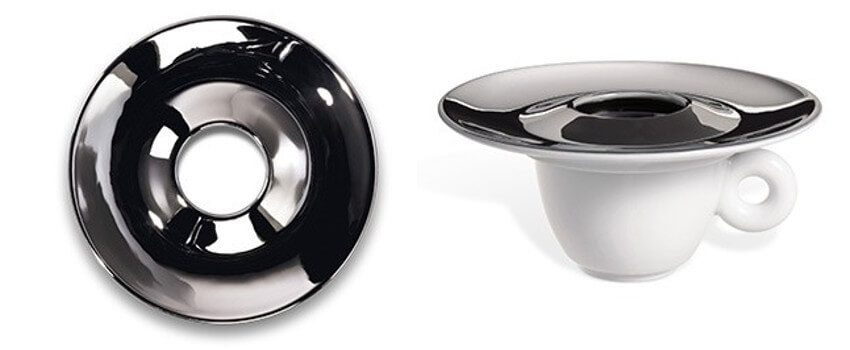 Illy Coffee Cups Art Collection - Anish Kapoor
Daniel Buren
The French conceptual installation artist Daniel Buren is known for working on a massive scale, transforming architectural spaces with vivid, colorful lines and geometric patterns. For his Illy cup series, he dramatically reduced the scale of his work but still elegantly maintained his aesthetic position by re-imagining the shape of the saucer, trimming the sides to create a simple, straightforward, linear statement of bright, vivid, pure color.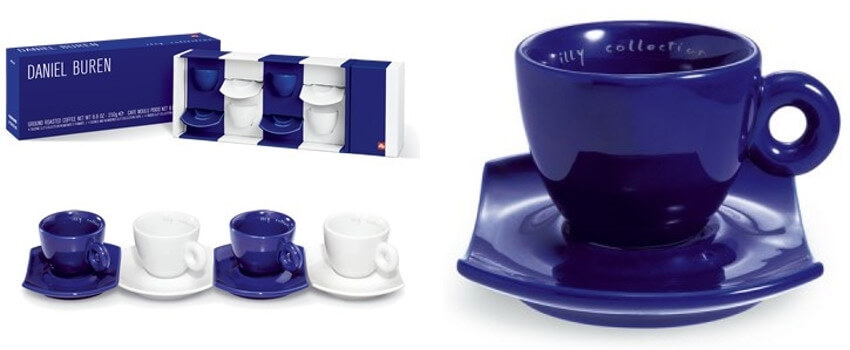 Illy Coffee Cups Art Collection - Daniel Buren
Louise Bourgeois
Eight years before she passed away, Paris-born artist Louise Bourgeois created her Illy espresso cup collection. The series of cups offered a deftly stated simplification of nearly 80 years of aesthetic effort. The softness and subtlety of the blue and pink hues and the careful selection of loving text-based messages around the body of the cup offer a subtle counterbalance to the darkness, bitterness and acridity of the liquid within.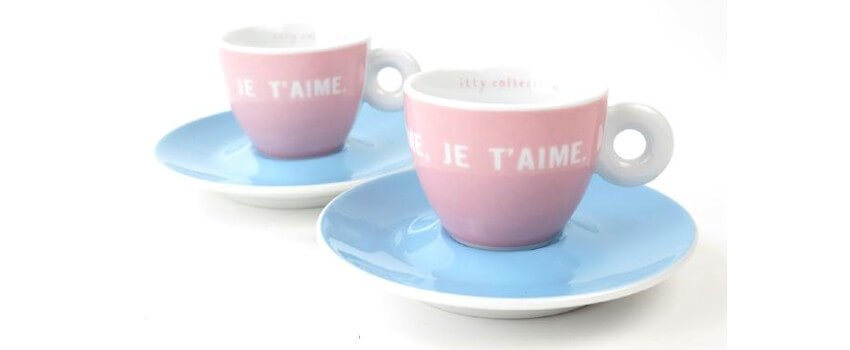 Illy Coffee Cups Art Collection - Louise Bourgeois
Robert Rauschenberg
The blending of a popular, industrial consumer product with elements of fine art is the perfect proposition to express the career of Robert Rauschenberg. His iconic Combines and collages re-contextualized the role of art in society in the middle of the 20th Century, challenging notions of high and low art and bringing into common use found objects and common, everyday materials. His Illy cups incorporate found maps, offering numerous opportunities to combine destinations, ideas, and contemplative avenues while sipping away at your morning coffee.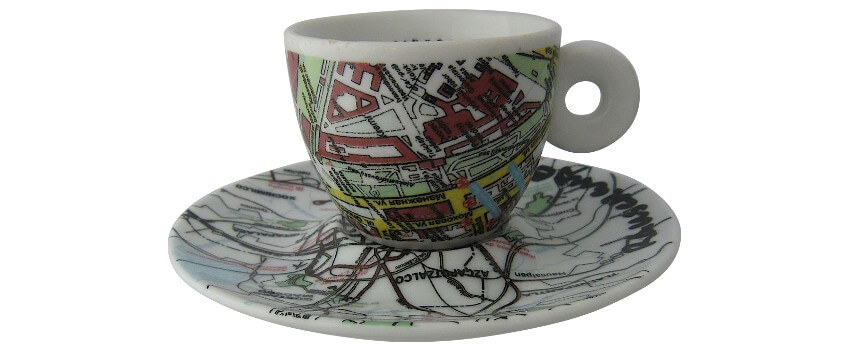 Illy Coffee Cups Art Collection - Robert Rauschenberg
Jeff Koons
American artist Jeff Koons is equally loved and derided for his ability to transform the most banal images from contemporary culture into sublime statements of aesthetic glory. But unlike his most famous works, such as his balloon dogs or his infamous Michael Jackson with Bubbles, which seem almost to subjugate anyone in their presence, the coffee cups Koons designed for Illy feel downright subtle, even complementary, as though they are designed for an intimate, cooperative, joyful, personal experience.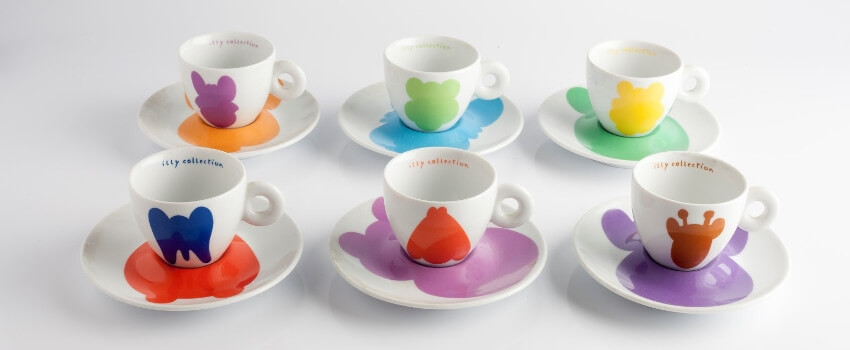 Illy Coffee Cups Art Collection - Jeff Koons
Marina Abramovic
Yugoslavia-born Marina Abramovic is world famous for her heartfelt performance art, which tests the physical limits her body can go to as she explores the boundaries between artist and viewer. Her performance pieces tend to express the extremes of joy and suffering, and have caused viewers to release as many tears of joy as tears of pain. For her Illy cups she again uses her body, along with a beach ball and an idyllic sandy shore, to create a moving tableau of a moment, an elegant performance of nostalgia frozen in time.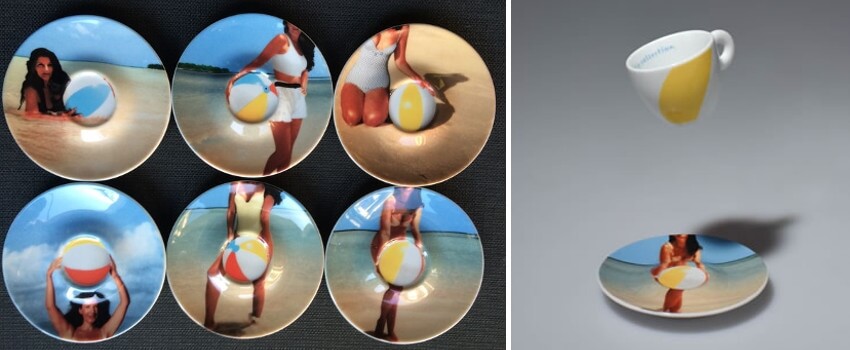 Illy Coffee Cups Art Collection - Marina Abramovic
Padraig Timoney
Ireland-born multi-disciplinary artist Padraig Timoney explores a vast range of aesthetic positions in his work, employing a high degree of craftsmanship and precision in everything he creates. For his Illy cups he created a simple and elegant statement that captures a universal expression of unconscious creativity: that moment at a store when shoppers try out pens they are considering purchasing. The series seems at first to be abstract. But when you realize its title is Pen Tests, you see that each mark represents an intentional moment: a purposeful, yet purely aesthetic gesture.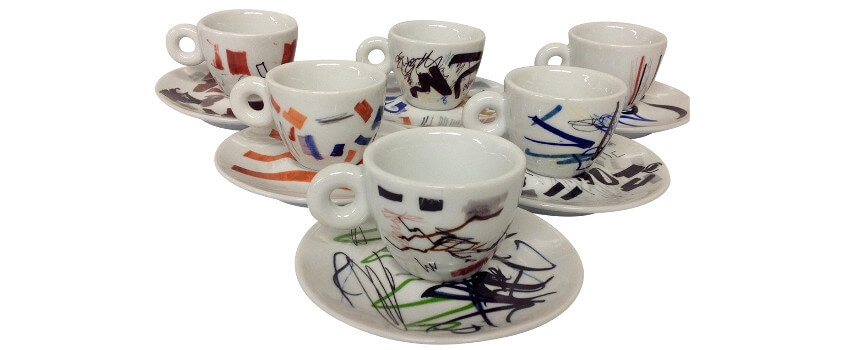 Illy Coffee Cups Art Collection - Padraig Timoney
Roberta Pietrobelli
Italian artist and designer Roberta Pietrobelli calls her collection of Illy coffee cups Zebra. Taking the look of Zebra skin as her starting point, she created six different expressions of contrasting biomorphic patterns, all highlighting the stark contrast of black and white.
Illy Coffee Cups Art Collection - Roberta Pietrobelli
Liu Wei
Chinese artist Liu Wei is known for his stunning visual statements of color and verticality. Borrowing from the aesthetic of a dense, futuristic, urban forest of glistening skyscrapers, Wei created a collection of cups and saucers for Illy that brings his aesthetic into a new dimension. The cups masterfully combine technical precision with panache, an idealistic statement of hope for both coffee and art.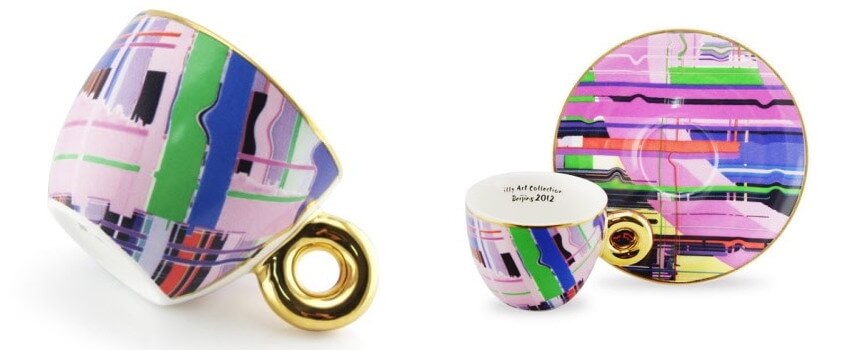 Illy Coffee Cups Art Collection - Liu Wei
Peter Roesch
Gesture, brushstroke and color are integral to the work of Swiss abstract painter Peter Roesch. His Illy cup collection is titled Schwung, a German word that translates roughly into vigor or vivacity. Each of his six cups features a reproduction of a vivid, colorful mark made by a single, vivacious brushstroke.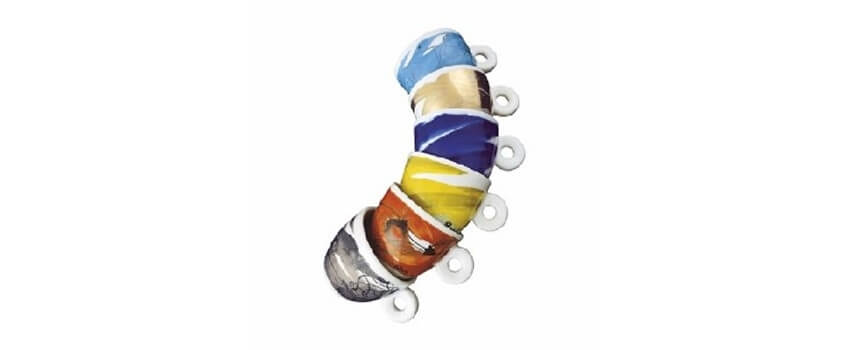 Illy Coffee Cups Art Collection - Peter Roesch
Jannis Kounellis
Greek-born, Italian artist Jannis Kounellis was a legend for his contribution to Arte Povera, a European movement that began in the 1960s, and which encouraged the use of everyday materials not usually found in fine art. Kounellis sought to blend simple, primitive artistic gestures with statements of modernity. His color palette was dominated by earthen hues, and often consisted only of black and white. His Illy coffee cups represent the simplest possible distillation of his aesthetic point of view. Numbering 3000, each cup and saucer is unique, as it was hand dipped in black paint.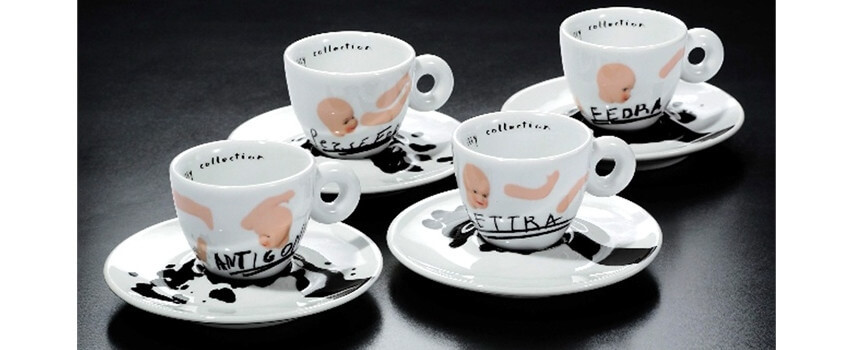 Illy Coffee Cups Art Collection - Jannis Kounellis
Tobias Rehberger
German sculptural artist Tobian Rehberger creates multi-dimensional, multi-media phenomena that alter the visual perception of objects and spaces. He is interested in what people think is visible, but which may or may not be illusion. For his Illy coffee cups, Rehberger utilized the cups and saucers almost like miniature architectural elements, embellishing them with optical designs that tease the eye while magnifying the presence of the cups as objects in space.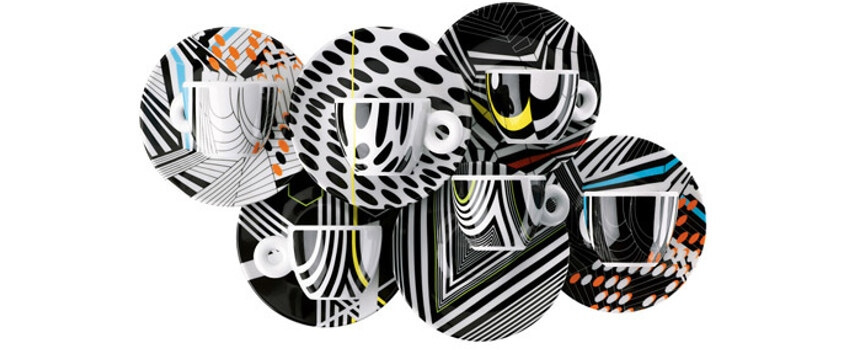 Illy Coffee Cups Art Collection - Tobias Rehberger
Michael Beutler
German artist Michael Beutler creates installations that completely inhabit architectural spaces, transforming them into confrontational environments that seem to have meaning, but which also appear to be abstract. His Illy coffee cup collection is inspired by the ancient art of origami, which transforms a two-dimensional surface into a three-dimensional construction. Here he has translated that concept; expressing the natures of both surface and object by utilizing the inherent two and three-dimensionality of cup and saucer to support his design.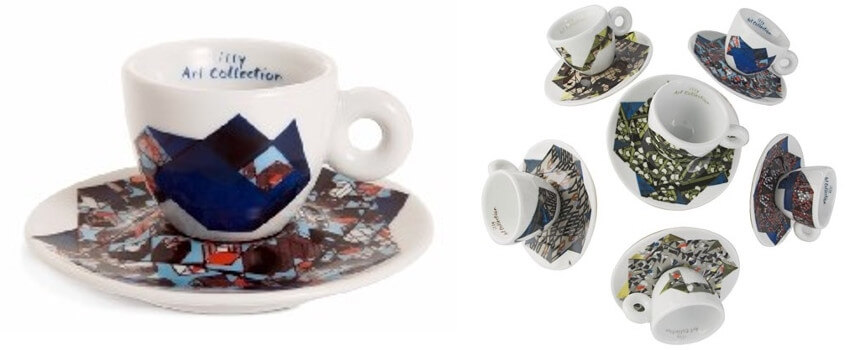 Illy Coffee Cups Art Collection - Michael Beutler
Michelangelo Pistoletto
Since the 1960s, Italian artist Michelangelo Pistoletto has incorporated mirrored surfaces into his artworks. The mirror is a simple and direct way to incorporate viewers and their surroundings into the work. A surface with a mirrored strip running through it can be seen as abstract, and yet in a playful way it becomes figurative as soon as a viewer steps in front of it, as it now contains a perfectly realistic vision of the human form. For his Illy coffee cups, Pistoletto created a subtle representation of this core concept, adding simple mirrored segments to his cups and saucers, which allow the aesthetic vision of the surfaces to constantly change, depending on their environment.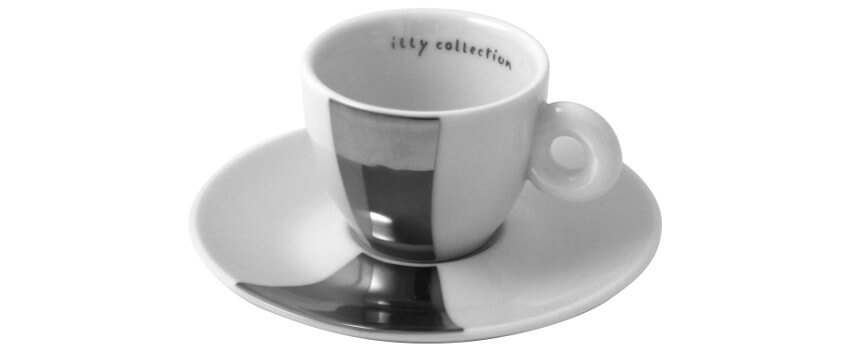 Illy Coffee Cups Art Collection - Michelangelo Pistoletto
Michael Lin
Tokyo-born, Taiwanese artist Michael Lin often engages images of flowers in his efforts to transform public spaces. His monumental installations fill the visual space with overwhelming bursts of color and patterns. For his Illy coffee cups, Lin adapted that same aesthetic approach to a much smaller scale, transforming the volume of the cup and saucer into an intimate, pink, floral space.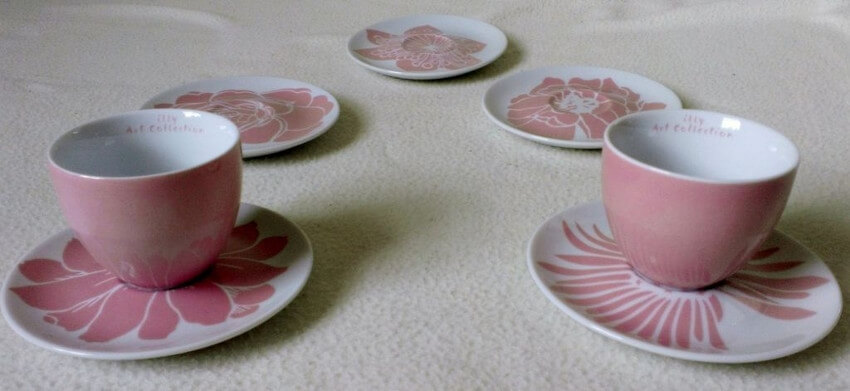 Illy Coffee Cups Art Collection - Michael Lin
Featured image: Illy Coffee Cups Art Collection - Liu Wei
All images © Illy Coffee Cups Art Collection, all images used for illustrative purposes only
By Phillip Barcio