Blog Home
The Week in Abstract Art – Concepts and Machinations
Sep 1, 2016
We have a question for contemporary artists: "What is the difference between a concept and a machination?" Britain's BBC4 has announced a new fall season of programming celebrating conceptual artists. BBC4 Goes Conceptual will include original programs covering major artists and events from the conceptual art movement, including voices of its detractors. As diehard fans of conceptual art, we feel its boldness and genius is that it is based on ideas: ephemeral, intangible ideas. But we sometimes wonder, when does an idea cross over into becoming a product, or worse, a gimmick? One story we read this week (https://1ric.com/work/oas/) concerned an artist who uses a scanner to translate his brain waves into abstract color field paintings that are then printed out by the computer. Another story we read concerned an artist who attaches himself to a giant, pre-programmed robotic arm, which then drags him across various surfaces like a human paintbrush. Both artists use technology, a field booming with conceptual promise. So are they the descendents of Joseph Beuys and Yves Klein, who believed above all in the sanctity of ideas? Are they using technology to explore the question of what it means to be an artist? Or are they mocking Beuys' belief that "every human being is an artist" by allowing machines to appropriate the art making process? Worse yet, are they just cashing in on a culture obsessed with tech? We leave it for artists to address this question. Meanwhile, here are three current abstract exhibitions we believe do justice to the legacy and intentions of conceptual art.
Bad Faith, James Fuentes Gallery, New York, NY
On view now through 11 September 2016
This conceptual group show focuses on seven objects made by four artists in New York between the years of 1982 and 1994. Featuring work by Nayland Blake, Jessica Diamond, Peter Halley and Robert Morris, Bad Faith addresses concepts surrounding culture, politics and identity, offering a model for ways aesthetic phenomena can engage in social protest.
Giuseppe Penone: I was, I will be, I am not, Marian Goodman Gallery, London and Paris
On view 8 September (London) and 9 September (Paris) through 22 October 2016
Italian artist Giuseppe Penone makes work that explores the connection human beings have with nature. He is particularly interested in concepts such as aging and growth, which he famously explores through a series of in situ works in which he casts his own arm in metal and attaches it to a young tree, returning regularly to document the process as the tree grows around and envelops the form of a human hand that is in turn enveloping it. For this dual exhibition, Marian Goodman Gallery presents simultaneous shows of Penone's works at both their London and Paris galleries.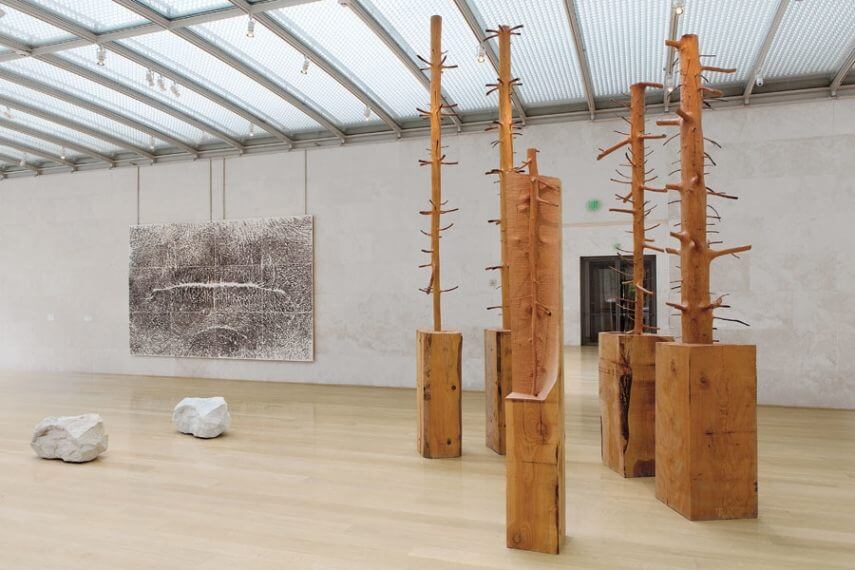 Giuseppe Penone - Being the River, Repeating the Forest, installation view at the Nasher Sculpture Center, Dallas
Rockaway! In situ at Gateway National Recreation Area at Fort Tilden, New York
On view now through November 30, 2016
German artist Katharina Grosse makes work that explores the nature of painting, and its potential to transcend beyond traditional and predictable boundaries. For this project presented by MoMA PS1, Grosse used the decaying shell of a building rendered useless by Hurricane Sandy as the focal point of a monumental site-specific work. Rockaway! combines technical elements of land art, installation, and lyrical abstract painting. The resulting achievement brings into question concepts regarding habitation, architectural preservation, environmental issues and the aesthetic value of nature spaces.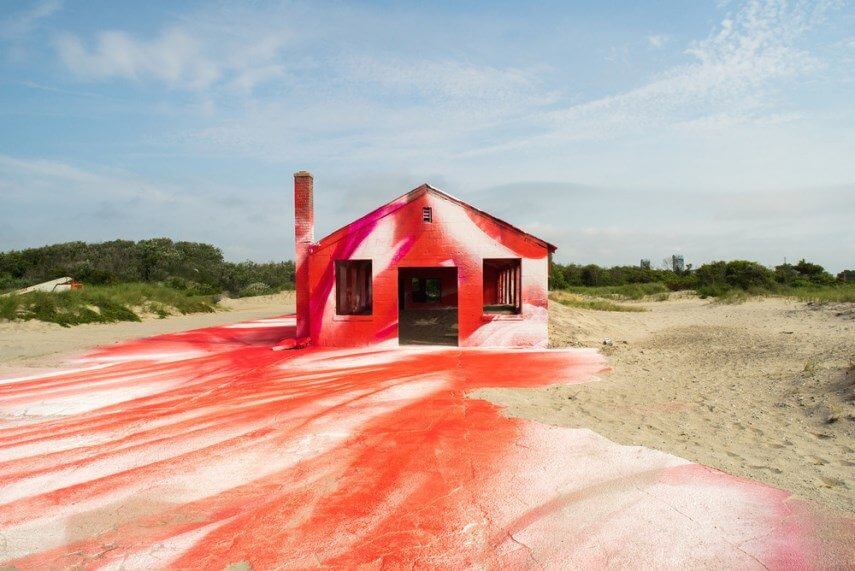 Katharina Grosse - Rockaway!
Featured Image: Bad Faith at James Fuentes Gallery