Blog Home
Jean Feinberg Exhibition of Gouaches on Japanese Paper Opening at John Davis Gallery
May 31, 2016
Over the past decade, a small but dedicated assortment of fine art galleries has opened in Hudson, New York, 120 miles north of Manhattan. One of the first, and by consensus the best among them is John Davis Gallery. This month it opened its season with a Jean Feinberg exhibition hosted in its most intimate and lovely space, the fourth floor of the gallery's historic carriage house.
From Old School to Older School
New visitors to Hudson's John Davis Gallery may think they've walked into just another quaint art gallery on just another idyllic, historic, tree-lined street in a small, New England town. They may not realize that the unassuming man behind the desk, for whom the gallery is named, has roots in SoHo's 1980s heyday. A native of Akron, Ohio, John Davis first moved to New York to go to study finance in college. But soon afterward he turned his attention to art, opening his first gallery near Prince and Broadway in Lower Manhattan. Since then Davis has now been showing and selling contemporary art for three decades.
After being forced to move and adjust his business model repeatedly by rising Manhattan rents, Davis moved himself and his business to Hudson. The town wasn't really on anyone's radar and the prices were affordable, so he bought a place. No more rising rents to worry about. Today that space he bought has been elegantly transformed into three distinct spaces: the main gallery in the historic, brick storefront on Warren Street; a pristine backyard sculpture garden; and beyond the sculpture garden is a totally unexpected 100+-year old, four-story carriage house. The carriage house has been cleared out to its bare architectural bones. On its pre-War plaster walls Davis hangs solo exhibitions of the artists he loves and represents, featuring a separate solo exhibition on each of the carriage house's four floors.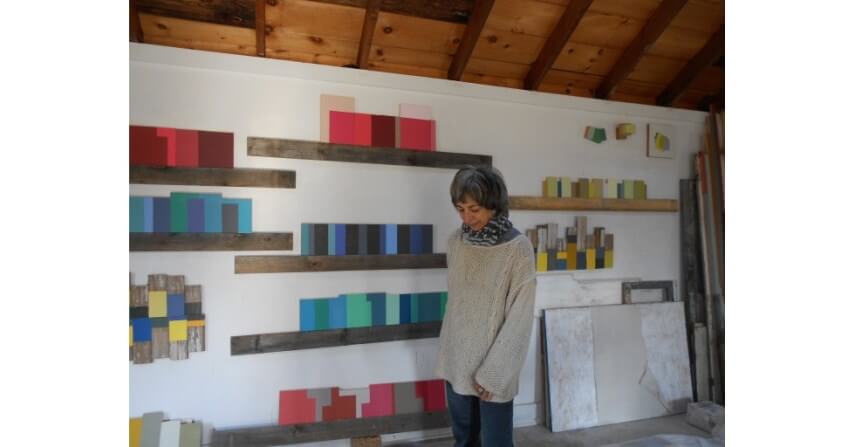 Jean Feinberg
Jean Feinberg Works on Paper
This week, the 2016 season at John Davis kicked off with an opening reception on 28 May. Featured on the top floor of the carriage house is the show Jean Feinberg Works on Paper. Feinberg, a New York-based abstract artist represented by IdeelArt since January of 2016, creates intimately scaled abstract compositions on Japanese paper. Feinberg partially bases the color and composition choices she makes in these works on piles of discarded paper and paint chips that she collects in her studio. She begins by working with gouache then collage elements are built up in layers using the found paper. Says Feinberg, "When I started working on these works on paper, I felt a new freedom…As a result of (my) process, my studio is scattered with piles of color chips. These "accidental compositions" have eventually become the basis of these gouaches on paper."
The exhibition Jean Feinberg Works on Paper includes a selection of 12 of Feinberg's gouache and found paper collages made between 2012 and 2016. It's on through 19 June 2016.
Featured Image: Jean Feinberg - Untitled, (pc14.1), 2014, Collage and gouache/Japanese paper, 13 x 11 in