Blog Home
Conceptual and Abstract Watercolour Exhibition at LaKaserna features Jessica Snow, Brent Hallard and José Heerkens
May 23, 2016
This week a major exhibition of contemporary abstract watercolours opened in the town of Bad Nieuweschans in the Netherlands. Hydrography III was curated by Iemke van Dijk and Henriëtte van 't Hoog. It features the work of 20 internationally renowned artists, including Jessica Snow, Brent Hallard and José Heerkens, three artists represented by IdeelArt.
Bad Meaning Good
Located in an idyllic environment on the border between the Netherlands and Germany, Bad Nieuweschans is a spa town. (Bad is the Dutch word for bath.) What place could be more appropriately suited for an exhibition of watercolour artists? Hydrography III is the third installment of the Hydrography series, which has a goal of highlighting contemporary works by conceptual and abstract watercolour artists who are exploring the boundaries of this time-honored medium. The exhibition endeavors to show works that are implemented in unconventional ways, and that encompass the sense of luminosity and transparency that defines watercolour. This year, a tremendous range of processes and imagery are apparent from the 20 artists that are included.
Brent Hallard is an Australian-born artist who splits his time between San Francisco, California and Byron Bay, Australia. His work is rooted in a contemporary exploration of the Minimalist aesthetic. His visual vocabulary is based on simple geometric forms and two-dimensional planes. His abstract watercolours challenge traditional Minimalist tendencies toward industrial processes and mediums, reintroducing traditional mediums and handmade, gestural statements.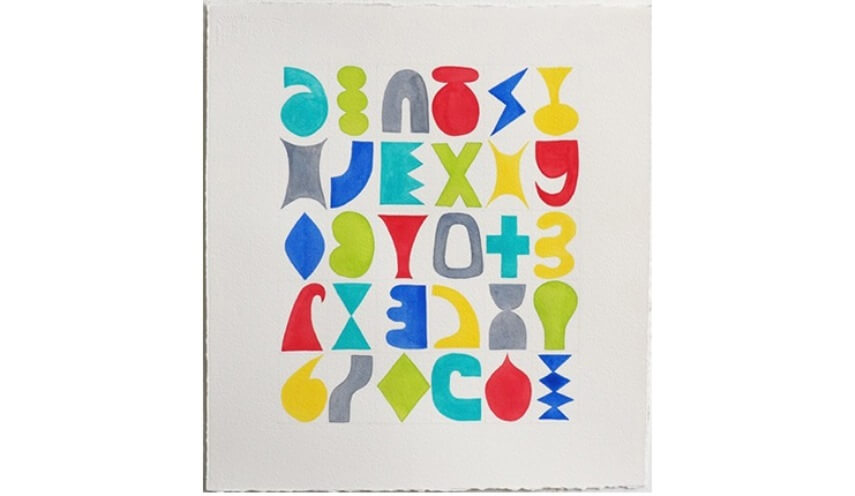 Jessica Snow - Shapes 1, 2015, Watercolor on Arches 300 lb. rough, 53.5 x 50 cm.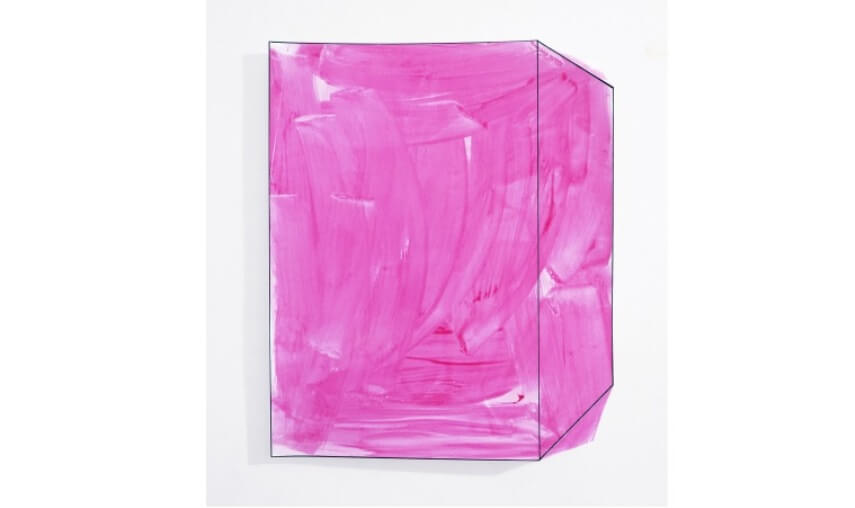 Brent Hallard - Hip, 2014, Water based color and marker on archival paper, 43 x 36 cm.
Brent Hallard, Jessica Snow and José Heerkens
Fellow San Franciscan Jessica Snow is a multi-disciplinary artist whose abstract works build on a diverse range of traditions from Constructivism to Minimalism to Matisse. Snow's work explores dichotomies, such as chaos and order, masculine and feminine, process and immediacy. Her work has a flat, hard-edged quality that seems machine made or printed, which belies its hand-painted origin. The symbols and geometric patterns in her work read like codes unknown except by intuition.
José Heerkens is a Dutch painter inspired by the interplay of color, space and line. She has said that her work is about a search for space. In her paintings, space is created by the placement of lines and forms. The dialogue between those elements creates a sense of movement and balance within the composition. Informed by Constructivist and Minimalist aesthetics, Heerkens engages in a complex process that results in works that evoke simplicity and harmony.
In addition to Hallard, Snow and Heerkens, 17 other artists from five countries are included in Hydrography III, including René van den Bos, Karina Bugayova, Christoph Dahlhausen, Ine Dammers, Iemke van Dijk, Hildegard Elma, Daniel Geiger, Lon Godin, Ilona Hakvoort, Henriëtte van 't Hoog, Oleksiy Koval, Irene van de Mheen, Eric de Nie, Stefan Schessl, Aimée Terburg, Veronika Wenger and Werner Windisch.
The exhibition is on view through 26 June at LaKaserna gallery. The gallery is located on the first floor of the historic former headquarters of the Royal Military Police in Bad Nieuweschans. Hours are from 12.00 to 5.00 p.m., Thursday through Sunday.
Featured Image: José Heerkens - P.28 Letter in 17 lines and 5 colours, 2016, Watercolour on Saunders Waterford 356 grs, 101.6 x 66 cm