Blog Home
These are the Most Revolutionary Works by Kazimir Malevich
May 19, 2016
Kazimir Malevich named Suprematism for what it possessed: "supremacy of pure feeling or perception in the pictorial arts." In the catalogue for his first Suprematist exhibition, he announced that he had achieved the "zero sum" of form. By reducing his aesthetic to the most basic geometric forms, he felt he had achieved a purely modern abstract language. The most revolutionary work in that first Suprematist exhibition was Black Square. It presented a solid black square on a stark white canvas, the simplest possible expression of geometric abstraction. Devoid of shading, the piece differentiated itself from Malevich's previous Cubist works and instantly established his new abstract voice.
Kazimir Malevich – The Founder of Suprematism
Sometimes the most revolutionary discoveries come about by accident. Though Malevich is credited with inventing Suprematism in 1915, he often pointed out that he discovered it in 1913, the year he designed costumes and sets for the Futurist opera Victory Over the Sun. He referred to his design for the opera's second act set as his first Suprematist composition. The similarities between that piece and Black Square are self-evident.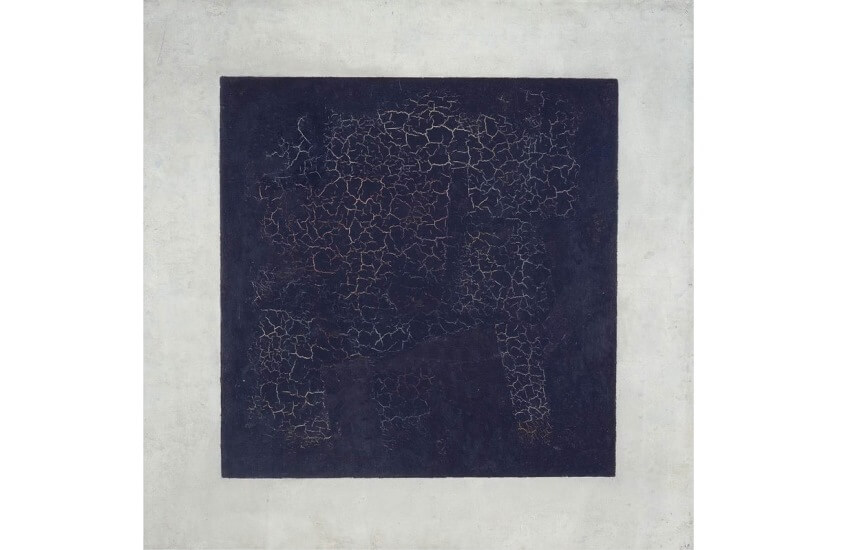 Kazimir Malevich - The Black Square, 1915, Oil on linen, 79.5 x 79.5 cm, Tretyakov Gallery
We must also give credit to the other sketches Malevich made for that same opera. For example, his sketches for the costumes reveal a pronounced trend toward what admittedly could have been an unconscious reduction of his aesthetic language to triangles, squares, rectangles and circles, and a simplification of the dimensional plane.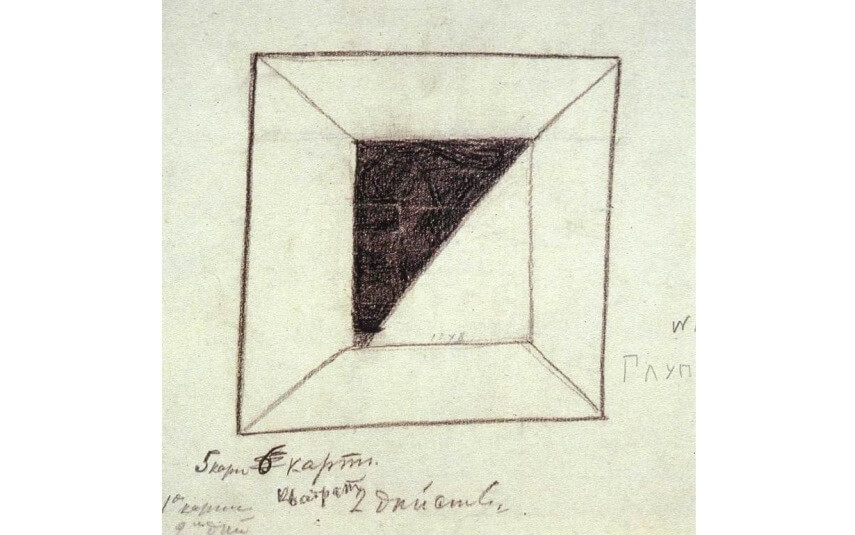 Kazimir Malevich - Sketch for the second act of "Victory Over the Sun"

Kazimir Malevich - sketches for costume designs for "Victory Over the Sun," 1913
Three Phases of Suprematism
Throughout his career, Malevich explored Suprematism in three phases. The first was the Black Phase, so-called because of the flat, geometric , black forms dominating the work. In addition to Black Square, the other most revolutionary paintings from this phase are Black Circle and Black Cross. What made these works remarkable was the challenge they made to the existing symbolic relationship people had with those forms. A circle by itself in a painting, not referencing a figurative element was, and still is challenging for some viewers. The temptation is to read something into the picture. Is it the sun, a planet, a head, or a hole? It means nothing though. It's only a black circle. Likewise, the existing symbolic connotations of a cross were shattered by the nothingness inherent in Malevich's painting. These works simultaneously destroyed and reinvented two of the most powerful symbols in the human consciousness.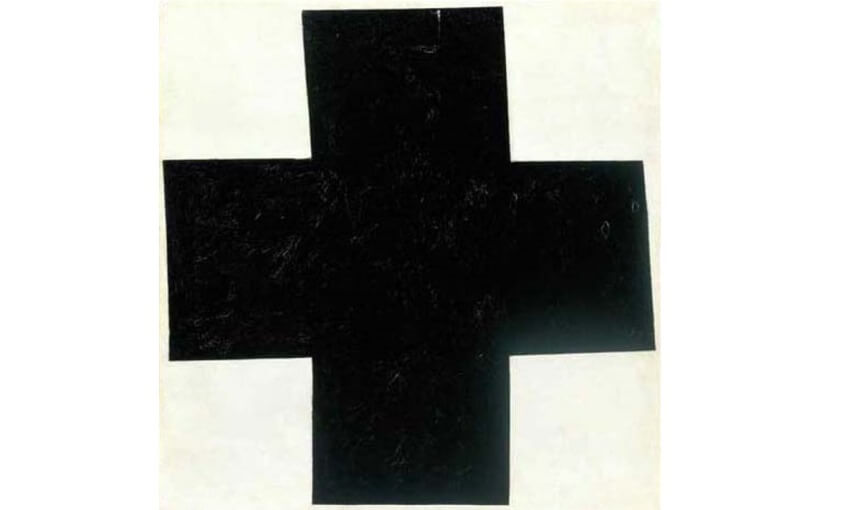 Kazimir Malevich - Black Cross, 1915, Oil on canvas, 80 x 80 cm, Russian State Museum, St. Petersburg, Russia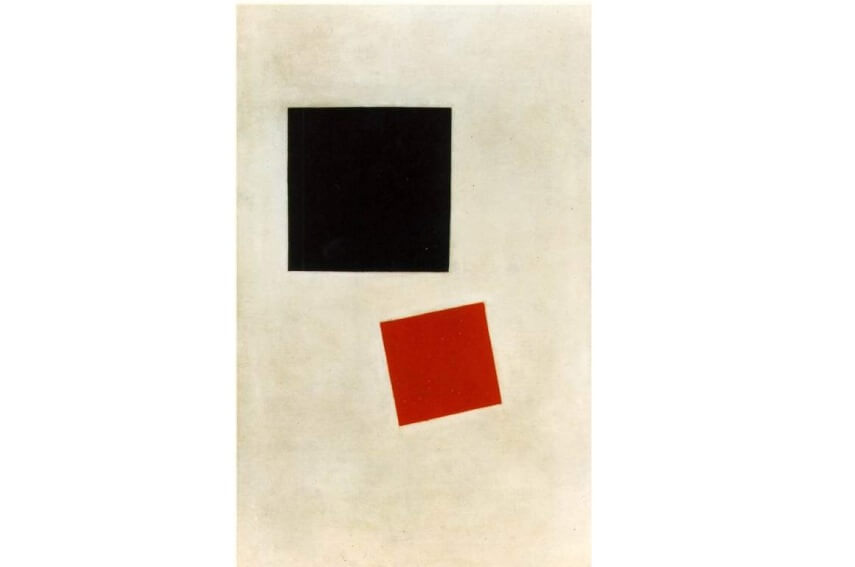 Kazimir Malevich - Black Square and Red Square, 1915, Oil on canvas, 71.4 x 44.4 cm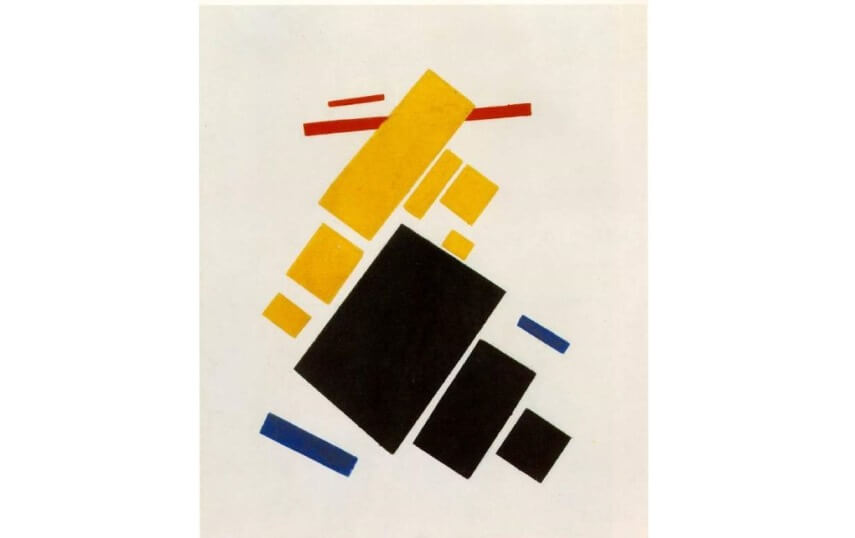 Kazimir Malevich - Suprematist Composition Airplane Flying, 1915, Oil on Canvas, 23 X 19 in.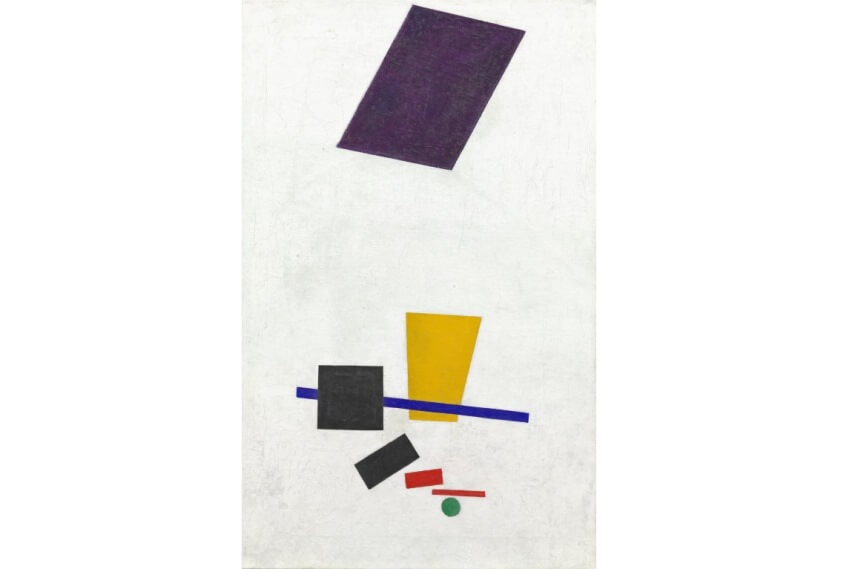 Kazimir Malevich - Suprematism: Painterly Realism of a Football Player (Color Masses in the Fourth Dimension), 1915, Oil on canvas, 27 x 17 1/2 in
Dynamic Suprematism
The next phase of Suprematism, Dynamic Suprematism, introduced color into the compositions. Dynamism refers to the apparent movement or kinetic power color brought to the work. The most revolutionary of these paintings is Black Square and Red Square, for the simplicity with which it communicates the essence of this idea. The mere addition of a second form on the canvas creates a sense of a relationship. The squares' off-kilter alignment and different sizes introduces an anthropomorphic quality as though the red square is moving around the black square, perhaps expressing subordinate status, or perhaps communicating freedom.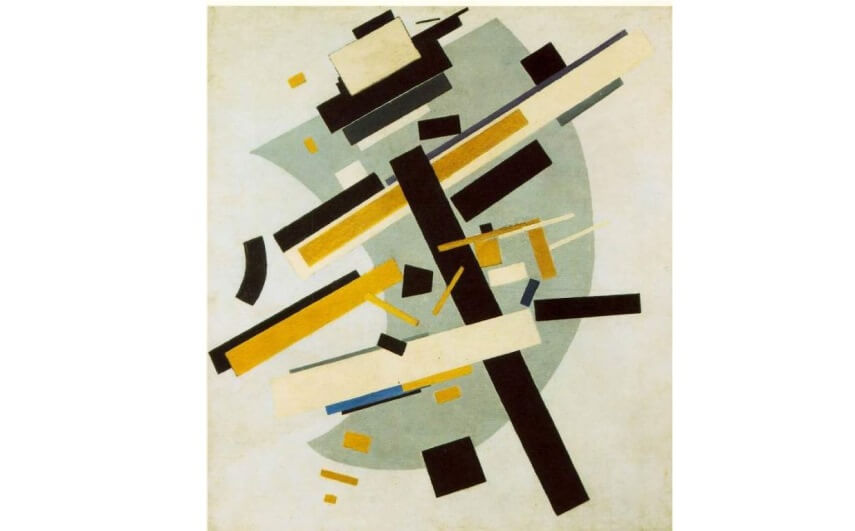 Kazimir Malevich - Suprematism (Supremus No. 58), 1916, Oil on canvas, 79.5 x 70.5 cm, State Russian Museum, St. Petersburg
Another revolutionary work of Dynamic Suprematism is Suprematist Composition Airplane Flying. The title possesses several possible interpretations. The most obvious, since Malevich was interested in aerial imagery, is that this composition represents imagery seen from an airborne plane. Or it could also represent the V-formation of airplanes flying in a group. Or it could be a reference to spatial planes stacked in aesthetic airspace, with forms flying among them. One thing we know is that Malevich was conscious that titles could give viewers some emotional context from which to relate to an otherwise difficult image. Whatever meaning he intended this title to convey, he set a precedent with this piece of challenging viewers on multiple conceptual levels.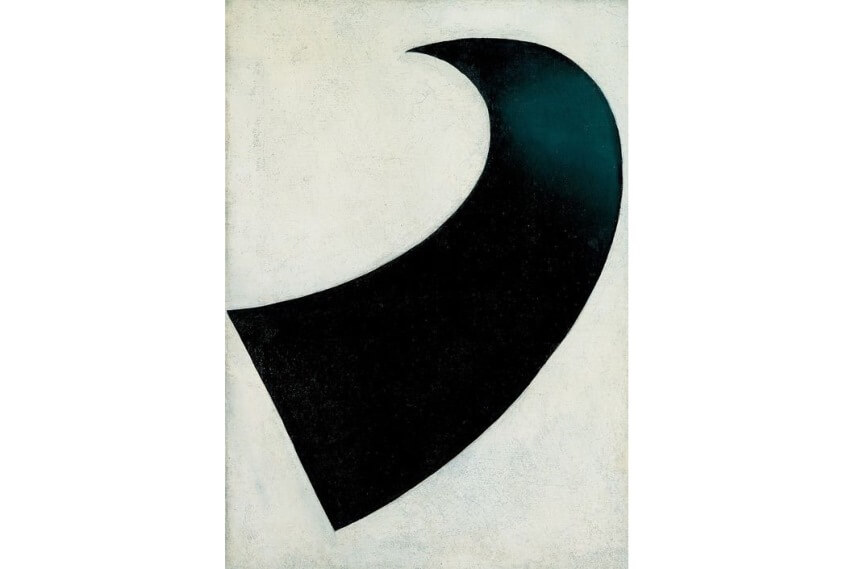 Kazimir Malevich - Suprematism No. 55 (Spherical Evolution of a Plane), 1917, Oil on canvas, 25 7/8 x 19 in.
Another revolutionary work of Dynamic Suprematism with a conceptually challenging title was Suprematism: Painterly Realism of a Football Player (Color Masses in the Fourth Dimension). When first exhibiting this work, Malevich explained, "…I do not wish to point out what form to seek…but I wish to indicate that real forms were approached in many cases as the ground for formless painterly masses from which a painterly picture was created, quite unrelated to nature." The reference to the fourth dimension likely sprung from Malevich's history as a Cubist, a style known for exploring space/time. By mentioning it in the title of this piece, he highlights the differences between Cubism and Suprematism, and perhaps invites us to look for similarities.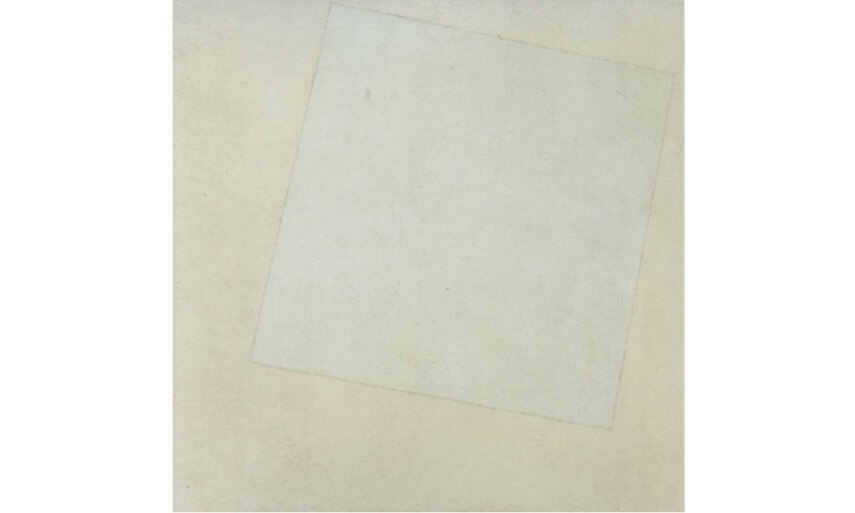 Kazimir Malevich - Suprematist Composition: White on White, 1918, Oil on canvas, 31 ¼ x 31 ¼ in, Museum of Modern Art (MoMA), New York City, NY, US.
Kazimir Malevich – Supremus
In 1915, Malevich gathered a group of artists to meet regularly to discus Suprematism's relevance to life and culture. He intended to create a magazine called "Supremus" that would publish the group's discoveries. Although the magazine never manifested, Malevich did create a series of paintings subtitled Supremus. The complex, multi-planed nature of these works evokes Suprematism's expanding cultural implications.
In 1917, Malevich created a work far different than his previous Suprematist pieces. The piece's title indicates that the form should be read not as a simple crescent, but as the curved plane of a sphere, essentially introducing perspective and depth into Suprematism.
What may be the ultimate statement of Suprematism is Malevich's 1918 painting White on White. This iconic work relates back to Black Square and an additional work called Red Square. It represents total aesthetic purity in which both form and color are simplified and reduced to their most basic manifestation. In addition to perfectly expressing Suprematism, White on White also reads like proto-Minimalism and a pre-Modernist monochrome.
Featured Image: Kazimir Malevich - Black Circle, 1915, Oil on canvas, 106.4 × 106.4 cm
All images © Art Resource, NY
All images used for illustrative purposes only
By Phillip Barcio