Blog Home
A Short Introduction to Suprematism
May 16, 2016
Can we transcend the material world? If so, can abstract artwork help us in this quest? Today it's commonplace to discus abstract art in terms of its role as spiritual intermediary. But in the early 20th Century, abstraction was largely misunderstood. Suprematism was one of several art movements that emerged in the years surrounding World War I that attempted to contextualize abstract art according to its ability to help humanity achieve a more meaningful existence. Call it spiritual, idealistic or Utopian; whatever label we attach to it, Suprematism's goal was to seek ways of using abstraction to break free of the expectations and limitations of the physical world and to connect with something more pure.
Suprematism's Rise
In 1913, a Russian painter named Kazimir Malevich had a breakthrough. While making sketches for another project, he discovered that he felt a special connection between basic geometric shapes and his own internal sense of purity. Trained as a realistic painter, Malevich had tended to make art that represented the physical world. But like so many others of his day, he was conflicted about representational art's relevance to a changing world. Society was modernizing quickly and hurtling toward madness and war. What worth was there in painting that view of reality?
Malevich experimented with sketches of simple geometric forms, and began writing about their aesthetic value. He developed a theory stating that art suited for modernity should attempt to communicate through a purely abstract visual language based on these simple geometric forms. He believed that an abstract visual language based on the simplest geometric forms could transcend rationality, and achieve the visual equivalent of perfect zero: a total aesthetic purity. Malevich named his new approach to painting Suprematism. He took the name from his belief that by limiting the forms he used in his paintings, not only could the question of subject become irrelevant, but so could things like perspective, leading to the "supremacy of pure feeling or perception in the pictorial arts."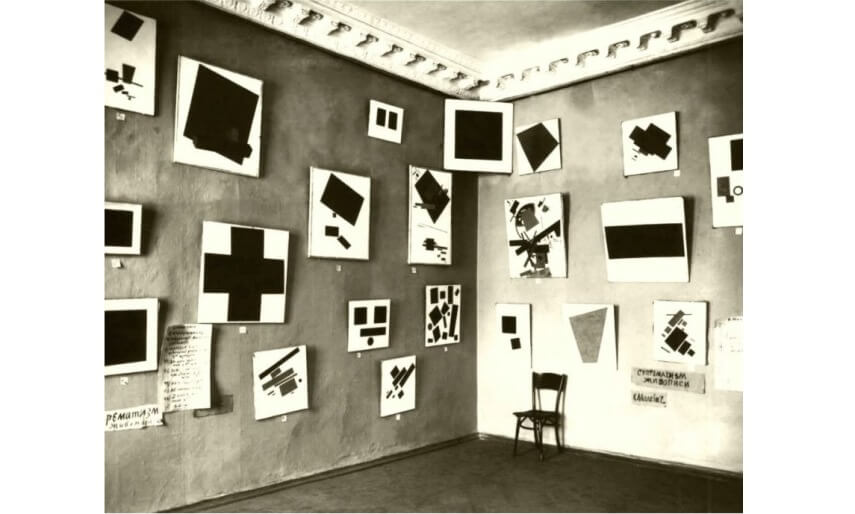 Kazimir Malevich - Suprematist paintings at 1915's Last Futurist Exhibition of Paintings 0.10, in Petrograd, Russia
The First Suprematist Paintings
In Malevich's time, Russian culture was changing quickly. In 1905, Bloody Sunday kicked off a revolution that fundamentally changed Russian politics and culture. Nine years later, in 1914, Russia entered World War I and the historic city of Saint Petersburg had its name changed to Petrograd in 1914 in order to eliminate Germanic references like "burg." (Ten years later the name would again be changed to Leningrad.)
Malevich first exhibited his Suprematist paintings in 1915 in Petrograd, at a show called the Last Futurist Exhibition of Paintings 0.10. The origin of the show's title seems to have been a reference to the notion that the old world was ending (hence the zero) and that there were originally scheduled to be ten artists in the exhibition, although ultimately 14 artists were included.
The paintings Malevich hung in the 0.10 show were entirely based on his new geometric visual style. Several of them were solitary black squares on white backgrounds. Some showed assortments of squares, rectangles and circles. Some showed modified triangles and partial spheres. Others included lines, which could be considered elongated, thin rectangles. One of the paintings showed two rectangles in the form of a cross.
Malevich believed that like words, visual images held a very loose connection to the symbols they represented. The meaning of a word or a symbol was delicate, and relied entirely on human perspective. By eliminating any reference to any symbolic meaning, his Suprematist paintings achieved a complete abandonment of representational meaning. He invented an art form that communicated on an entirely abstract level.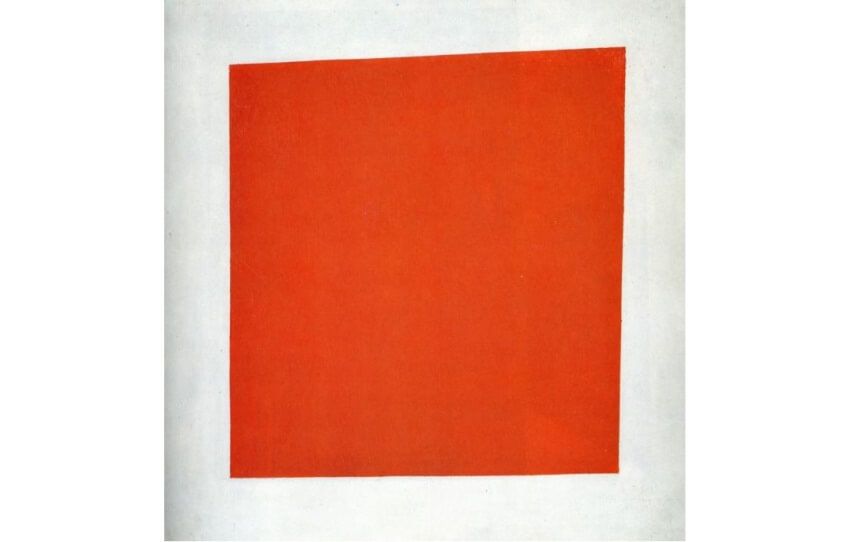 Kazimir Malevich - Red Square, 1915, Oil on linen, 53 x 53 cm, Russian Museum, Saint Petersburg
The Three Phases of Suprematism
Suprematism manifested in three basic phases. Though each phase included a large number of paintings exploring a range of geometric compositions, each can be clearly explained in terms of Malevich's perfect form, the square . The first phase of Malevich's experiment with Suprematism is often called his black phase, since almost all of his pictures featured black forms painted on a white background.
In the second phase, he incorporated other colors into his works, especially focusing on the color red. Through an expanded color palette he was able to toy with dimensionality and perception in ways that confounded any rational pictorial relationship to reality.
Suprematism's final phase could be called the white phase, as it consisted of white forms painted on white backgrounds. In addition to being a seminal work of late Suprematism, Malevich's painting White on White is often referred to as a pioneering work of modern monochrome art.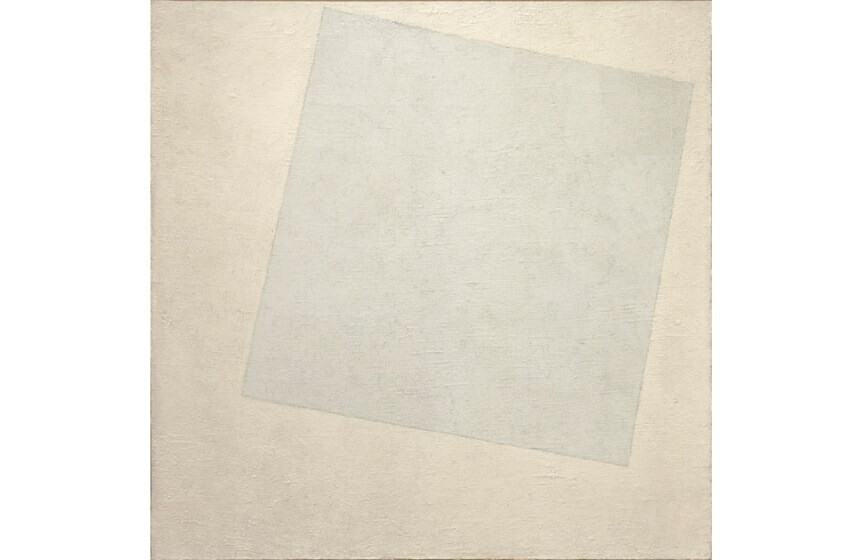 Kazimir Malevich - White on White, 1918, Oil on canvas, 79.4 cm × 79.4 cm, Museum of Modern Art, New York
The Legacy of Suprematism
In his attempt to free painters from the need to represent the physical world, Malevich joined other artists of the time like Wassily Kandinsky and Sonia and Robert Delaunayas the leading thinkers on the frontlines of the creation of a purely abstract art. These artists were attempting to discover what could be communicated through the most basic pictorial elements, such as color, line and form. They were attempting to achieve what instrumental music achieved, the ability to communicate universal feeling, emotion and thought through abstraction.
These artists were met with resistance in their time, and to some extent still are. Throughout the decades, abstract art has been questioned and even ridiculed by those who do not understand its meaning and purpose. By looking back at the simple notions of what Suprematism was trying to achieve we can begin to connect with Malevich's desire to attain a higher ground. In a physical world marred by destruction, pettiness and suffering, the Suprematist ideal offered hope that a new realism could exist, based on something simple, universal and pure.
Featured Image: Kazimir Malevich - The Black Square, 1915, Oil on linen, 79.5 x 79.5 cm, Tretyakov Gallery, Moscow
All images used for illustrative purposes only
By Phillip Barcio