Blog Home
Debra Ramsay and Sarah Hinckley Take Part in Two Separate Perceptive Exhibitions
Apr 13, 2016
Conceptual curation is a way of bringing together artists who may not normally show together in order to explore concepts, ideas or realms that are universal in their work. Today we highlight IdeelArt represented artists Debra Ramsay and Sarah Hinckley, both of whom are included in group exhibitions this month that bring together artists who challenge and explore different facets of human perception.
Land Air Place
Currently on view at Project: ARTspace in New York is an exhibition of four artists who work in a broad range of mediums exploring notions of land, air and place. Debra Ramsay's work perfectly embodies the show's concept. Ramsay returns to the same places in nature over time, cataloguing the changing colors of nature. Returning to her studio, she translates the colors into abstract interpretations of the ephemeral, transient nature of a changing environment.
Also showing with Ramsay are Natasha Maidoff, Elizabeth Riley and Holly Sears. Natasha Maidoff's layered media works challenge concepts of performance and identity, with a focus on human relationships to nature and boundaries. Elizabeth Riley's vibrant assemblages made from digital printouts evoke urban architecture in a simultaneous state of construction and decay, exploring connections between humans and their fluctuating urban spaces. The surrealist nature paintings of Holly Sears present shockingly tactile, dreamlike imagery of abundant, chaotic naturescapes teeming with life in transition. Land, Air, Place is on now through 8 May 2016 at Project: ARTspace, 156 Fifth Avenue, Suite 308, New York, NY. An artist talk will be held on Saturday, 30 April, at 2:30 pm.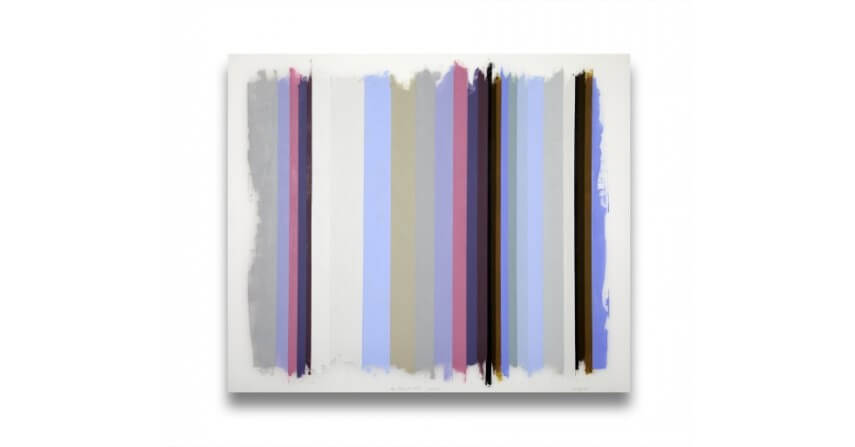 Debra Ramsay - The Colors of Winter, 2014. Acrylic on polyester film. 32.7 x 39.8 in.
Making Her Mark
Opening 17 April at the Mattatuck Museum in Waterbury, CT, is a multi-media, group exhibition exploring perceptions involving stereotypes and assumptions about cultural and personal identity. This exhibition features the work of six female artists that bring a diverse, global perspective to the show's central concern. As the only abstractionist among five figurative artists, Sarah Hinckley adds a contemplative element to the exhibition that both supports and challenges the curatorial vision. Hinckley's color fields are informed by a dual approach that fluctuates between instinct and premeditation. Her personal identity is fully integrated into her practice, resulting in works that invite intimacy while simultaneously challenging individual relationships to the group.
Five other highly accomplished artists accompany Hinckley in the show. Lisa Ruyter's paintings reinterpret photographs from the American National Archives. Claudia DeMonte's sculptures add meaning and depth to the everyday in their depiction of women in the role of caretaker. The Iraqi-American painter Hayv Kahraman presents multi-faceted images of contemporary femininity in transition. Nigerian-born artist Toyin Odutola presents iconic drawings of human figures that inhabit a dreamlike paradox of intimacy and universality. Photographer Laurie Simmons explores the complexities of style and beauty as they manifest in, and interact with contextual built environments. Organized by Lauren Della Monica, Making Her Mark opens Sunday, 17 April, with a reception from 2:00-4:00 p.m., and runs till 5 June 2016.
Featured Image: Sara Hinckley - All the Words Were Lost, 2007. 17.7 x 13 in.