Blog Home
Toronto's Division Gallery Presents New John Monteith Exhibition
Mar 16, 2016
The minimal, sleek, yet industrial façade of Toronto's Division Gallery speaks John Monteith's language. It's a contemporary architectural language of paradox; layered; rough yet intentional; raw yet controlled. Aesthetically, it's the perfect environment in which to encounter the new John Monteith Exhibition, "Somewhere Else." Featuring 13 new works by Monteith, "Somewhere Else" explores paradoxical relations between constructed and empty space, and the range and meanings of visual symbology.
Most of the works in "Somewhere Else" belong to a series names "Untitled +/-." The series consists of 11 identically sized layered, geometrical constructions. At first the works present like black, grid-like constructions, reminiscent of urban cityscapes seen from above. Upon closer examination, the works reveal an expanding range of color, texture and depth that slowly brings the background and the environmental surroundings into play. As the range of visible pigments and layers becomes more inclusive, the works begin referencing other iconic contemporary forms, referencing modular construction, architecture, furniture, even microchips.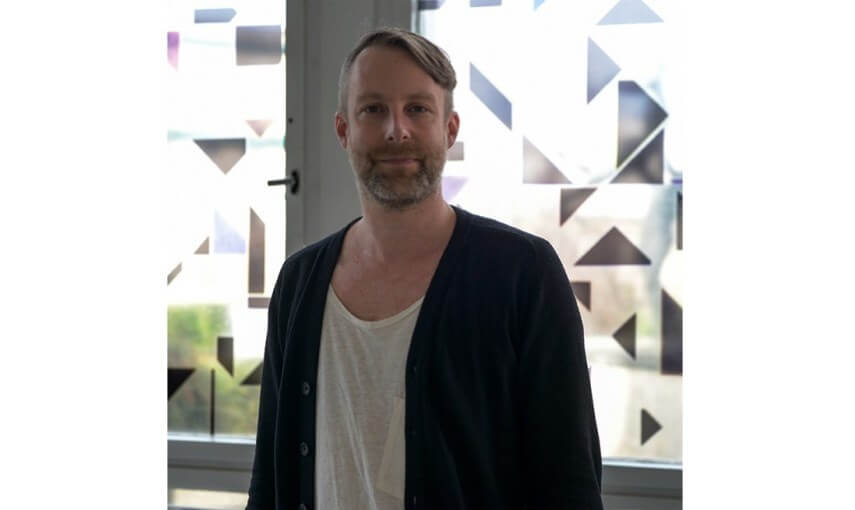 John Monteith
Symbolic Discourse
Also presented in the exhibition are three text-based pieces, featuring sparsely written, graphite text bursts on handmade paper. One of the pieces gives the show its title, "Somewhere Else." Another simply features the character "X." The third offers the phrase "City as Text." Considered in conjunction with the "Untitled +/-" series, these works offer a sense that a larger poetic discourse is unfolding, one of restraint and abstraction. The text works suggest new interpretations of the geometric constructions, expanding the conversation into new realms. Together the works may be read or interpreted as partial thoughts; conceptual bursts conveying brief, open-ended messages to viewers from the visual landscape.
Also in the show is a fabric object made of loom woven cotton, called "Breaker." The piece brings the visual surroundings of the gallery into sharper focus. The interior of the gallery is warehouse like, incorporating the same modular, utilitarian, hard-edged vocabulary as Monteith's "Untitled +/-" series. The surroundings compliment the work, even as they're challenged by the soft, organic nature of "Breaker." As the title suggests, this piece offers respite and balance to the geometrical language of the rest of the work, and the space itself.
"Somewhere Else," the new exhibition of work by Canadian artist John Monteith, opens on 19 March at Division Gallery in Toronto, with an opening reception from 1 pm to 4 pm. The show runs until 23 April 2016.
Featured Image: Mark Rothko - Four Darks in Red (the image is used for illustrative purposes only)