Blog Home
Jaanika Peerna Solo Exhibition "Not So Silent Ripples of Gravity" Opening in Barcelona
Apr 6, 2016
If we pay attention, everyday life provides us many opportunities to experience beauty in both small and profound ways. But everyday life can also be hectic. We can become so drawn into ourselves that we miss out. Anyone who's witnessed a live drawing performance by the artist Jaanika Peerna knows the feeling of having life slowing down temporarily, and being offered a chance to focus on a fleeting moment, to experience something beautiful coming to life.
Connected in Time and Space
On 8 April 2016, at 8:30 pm, at Barcelona's Espronceda Gallery, Jaanika Peerna will perform a live drawing as part of the opening night for "Not So Silent Ripples of Gravity," her upcoming exhibition at the gallery, which runs through 29 April. In her performance, Peerna will be joined by the Milanese cellist Lucio Corrente, with whom she collaborated last year in a rooftop live drawing performance in Manhattan.
The title of Peerna's exhibition celebrates the recent announcement in February that scientists in the United States for the first time detected gravitational waves hitting our planet. Gravitational waves are ripples in space-time that distort the fabric of space. They're created when huge amounts of mass are suddenly converted into energy, such as when two swirling black holes collide with each other. Albert Einstein predicted the existence of gravitational waves in 1916.
Peerna and Corrente's rhythmic collaboration will be an abstract manifestation of the bending of space-time. Corrente's composition will translate gravitational waves into music. Peerna will become interwoven into the sounds, and as if carried on a wave will execute a dynamic drawing marking the experience of the motion of her body in conjunction with the music.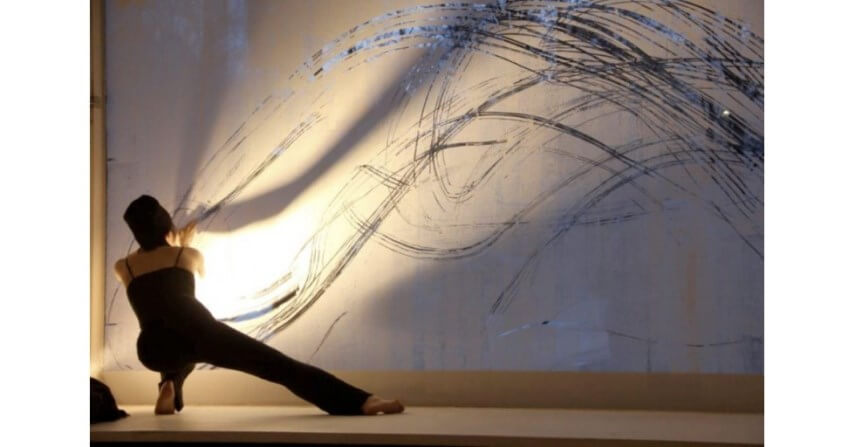 Jaanika Peerna
Line and Light
In addition to the drawing Peerna will create during the live performance on opening night, the exhibition will also include a large-scale installation by Peerna and a selection of her smaller works. Peerna has always been inspired by transitory natural phenomena such as light, water and air. Her collaborative works can be considered aesthetic monuments, visual memories of moments in time.
Says Peerna, "My elements are line and light; my materials are pencils, vellum and the movement of my body. I am a vessel gathering subtle and rapturous processes in nature, using the experiences and impulses to make my work. I swim through thousands of layers of gray air and mark each one down. I am interested in the never-ending process of becoming with no story, no beginning, no end—just the current moment in flux."
In addition to its gallery, Espronceda operates a full-scale contemporary art center, which includes a residency program, painting, sculpture and multimedia studios, and spaces for activities such as dance, yoga and meditation. It also hosts a variety of educational and cultural workshops, seminars and activities. Named for the Spanish, Romantic-era poet José de Espronceda, its motto is "Sólo quiero por riqueza la belleza sin rival," or, "All I want for wealth is unrivaled beauty."
Featured Image: Jaanika Peerna - Maelstrom Series 68, 2015, 35.8 x 35.8. in (used for illustrative purposes only)