Blog Home
Daniel Göttin Work in Group Exhibition at Museum Haus Konstruktiv
May 30, 2016
Since they opened in 1986, Zürich's Museum Haus Konstruktiv has amassed one of the world's premier collections of Constructive and Concrete art. Opening on June 2nd, the museum will celebrate its 30th anniversary with the show "Thinking Outside the Box: The Museum Haus Konstruktiv Collection (1986-2016) and Guest Interventions". Included in this landmark exhibition will be work from Swiss artist Daniel Göttin, who has been represented by IdeelArt since March 2015.
The Basis of Concrete Art
The Dutch painter Theo van Doesburg invented the term Concrete Art in 1930. At the time, Doesburg was already well known as the founder of the art movement known as De Stijl. He laid out the specific details of what Concrete Art should be in a manifesto that was signed by the artists Otto Gustaf Carlsund, Jean Hélion, Leon Tutundjian and Marcel Wantz. The manifesto consisted of six declarations:
1. Art is universal.
2. A work of art must be entirely conceived and shaped by the mind before its execution. It shall not receive anything of nature's or sensuality's or sentimentality's formal data. We want to exclude lyricism, drama, symbolism, and so on.
3. The painting must be entirely built up with purely plastic elements, namely surfaces and colors. A pictorial element does not have any meaning beyond "itself"; as a consequence, a painting does not have any meaning other than "itself".
4. The construction of a painting, as well as that of its elements, must be simple and visually controllable.
5. The painting technique must be mechanic, i.e., exact, anti-impressionistic.
6. An effort toward absolute clarity is mandatory.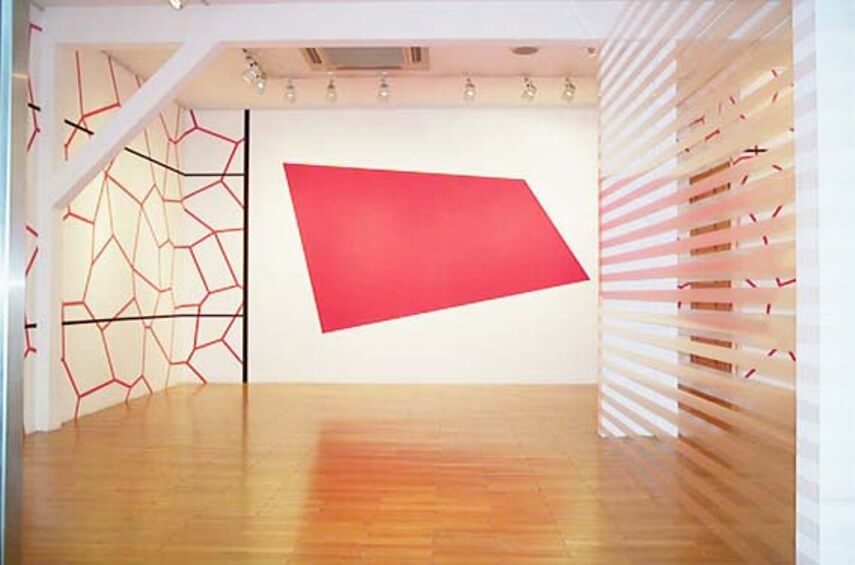 View of Daniel Gottin's installation "Network 10" at Tokyo's Gallery Kobo Chika, 2001
The Concrete Art of Daniel Göttin
Daniel Göttin was born in Basel, Switzerland, in 1959. He uses industrial materials such as tape, metal, polystyrene, plastic and wood to create geometric paintings, drawings and site-specific installations. Göttin embraces the above-referenced manifesto's directive to make art that exudes simplicity and absolute clarity. But there is a contemporary depth of awareness also included in his work. The objects Göttin creates interact in an elemental way with their surroundings, adding dimension and gently but insistently contextualizing their aesthetic environment. In addition to having his work included in the Museum Haus Konstruktiv's permanent collection, Göttin has had more than 60 solo exhibitions around the world. He is also the founder of Hebel_121, an experimental art space in his hometown of Basel. For an interview with Daniel Göttin, click here.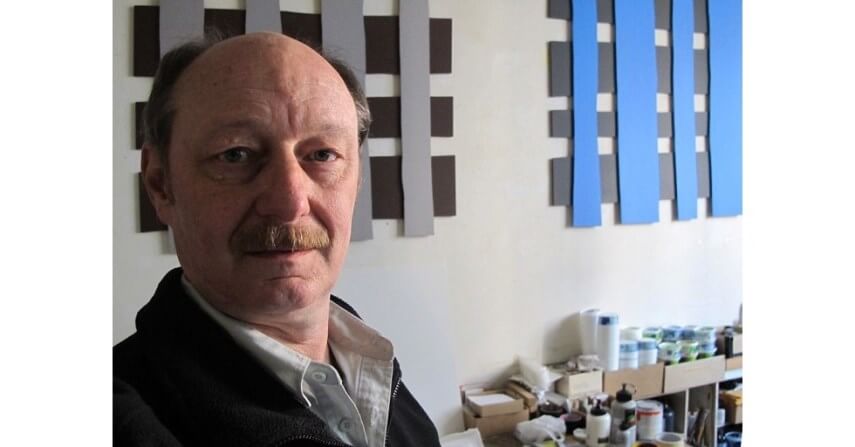 Daniel Göttin
Inside Outside the Box
The work featured in "Thinking Outside the Box" will originate entirely from the Museum Haus Konstruktiv collection. Over the course of the past 30 years, the museum has collected more than 900 art works, and many in this show will be works that have never been exhibited before. In addition to the works on display, this exhibition will include "interventions" by guest artists. The show will endeavor to contemplate the histories of Constructivist and Concrete art, and contextualize the ways their ideas continue to be relevant to the contemporary world.
The Museum Haus Konstruktiv is located at Selnaustrasse 25 in Zürich, in a former utility station. The exhibition "Thinking Outside the Box: The Museum Haus Konstruktiv Collection (1986-2016) and Guest Interventions" runs 2 June through 4 September 2016.
Featured Image: Daniel Göttin - Untitled 1, 2001, 2001, 15.7 x 19.7 x 0.9 in