Blog Home
Meet Minimal Artists - The Masters of Purity and Reduction
May 30, 2016
Studying art movements is a bit like Alice going down the proverbial rabbit hole. The more you think you have figured out, the more still remains to be discovered. When first learning about Minimal artists, many of us start and end with the biggest names: artists like Donald Judd, Sol LeWitt, Dan Flavin, Ellsworth Kelly and Frank Stella. And yes, there's certainly enough richness and genius in those artists' bodies of work to give a full and accurate picture of Minimalism's essence. But why not go down the rabbit hole? Why not see what else, and who else, is waiting to be discovered? Here are four lesser-appreciated Minimalist artists you may not know much about, but who brought much to the movement through their unique perspectives and talents.
The Monochromatic Minimalist
Still active today, Brice Marden is known for his lively and lyrical abstract line paintings. But Marden first made his name as a Minimalist painter of monochromes. Most of the artists who influenced Marden, folks like Jasper Johns, Jean Fautrier and Alberto Giacometti, don't at first seem to have any obvious connection to Minimalism or to Marden's particular aesthetic voice. But something in their work, be it a subdued palette, a symbolic visual language or a reduced sense of space, helped Marden to develop a signature style that in the 1960s helped him make his name.
Marden was a museum guard before he became a famous artist. It was at his museum job in the early 1960s that he first came in contact with the work of some of the artists who were his inspirations. Marden got his first solo show in 1966 while working as an assistant for the Pop Artist Robert Rauschenberg. At that exhibition, Marden showed his early monochromatic oil and beeswax paintings. Those works, along with a series of monochromatic works he made in the 1970s in Greece that were based on the blue color palette of that location, helped establish Marden's Minimalist credentials.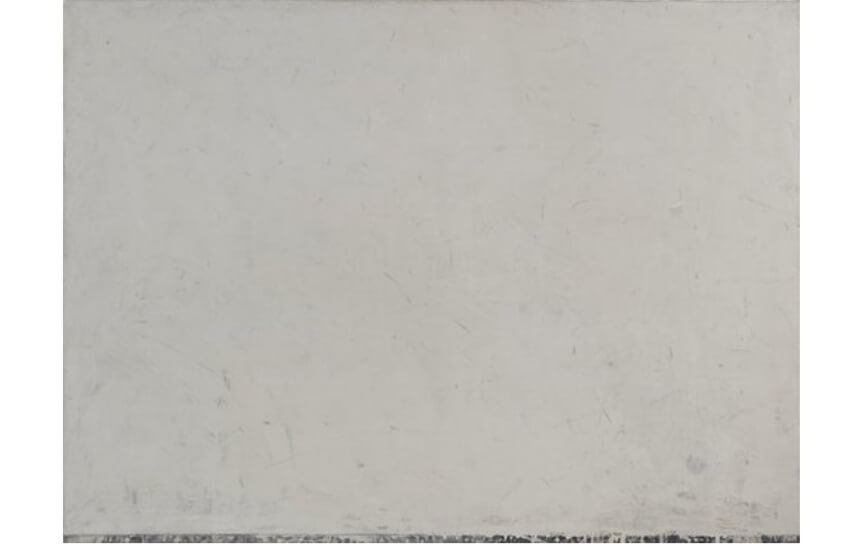 Brice Marden - Return I, 1964-65, Oil on canvas, 50 1/4 x 68 1/4" (127.6 x 173.4 cm), Fractional and promised gift of Kathy and Richard S. Fuld, Jr. © 2018 Brice Marden / Artists Rights Society (ARS), New York
So Much Color and Space
The Minimalist sculptor Anne Truitt came to art after university. Her college degree was in psychology. After later taking courses at the Institute of Contemporary Art in Washington, D.C., she started working as a figurative sculptor, a practice she kept up for more than a decade. Truitt describes having an aesthetic epiphany one day after seeing an exhibition of the work of the abstract artists Barnett Newman and Ad Reinhardt at the Guggenheim Museum in New York. About Newman's paintings she said, "I had never realized you could do it in art. Have enough space. Enough color." She immediately changed the direction of her work, and started creating Minimalist wooden objects painted in a monochromatic palette.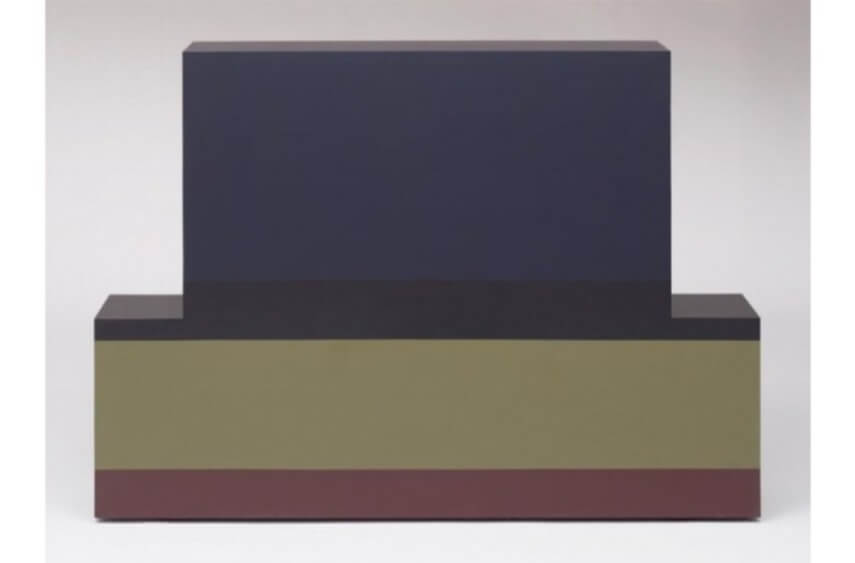 Ann Truitt - Catawba, 1962, Painted Wood, 42 1/2 x 60 x 11 in, © 2018 Anne Truitt
The Free Radical
Jo Baer began studying art at the age of 11. Her mother had hoped she would enter the medical field as an illustrator. In later years, in addition to studying art, Baer studied philosophy, psychology and biology. But rather than fulfilling her mom's ideas for her life she pursued love and travel, marrying and divorcing twice quickly then learning the ways of practical agrarian socialism on a kibbutz in Israel. Eventually she moved to California where she once again began to pursue art.
At first Baer associated with the Abstract Expressionists, but dissatisfied she became influenced in another direction by two artists: Mark Rothko and Jasper Johns. Said Baer, Rothko gave her "permission to work with a format," and Johns showed her how a work of art "should be the thing itself."
Baer's seminal Minimalist works include a series of mostly-white monochrome paintings edged with bright, primary colors and black frames. Rather than seeing them as depicting white space contained by color, they can be seen as color being pushed into its geometric form by white space. In the 1970s, Baer abandoned Minimalism and abstraction, returning to figuration. She is still active today.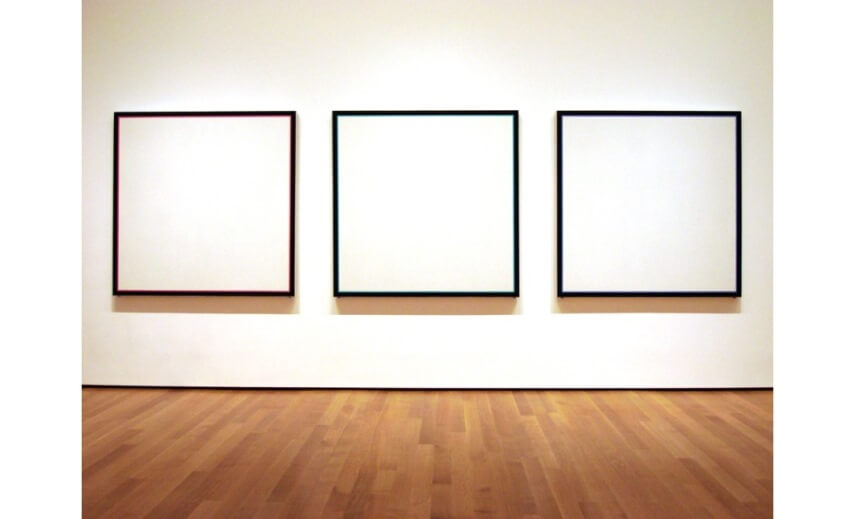 Jo Baer - Primary Light Group: Red, Green, Blue, 1964-65, Oil and synthetic polymer paint on canvas, three panels, 60 x 60 in. each, © 2018 Jo Baer
One in Ten – Minimal Artists and Post-Minimalism
An artist sometimes credited with leading the art world's transition from Minimalism to Post-Minimalism is the sculptor Eva Hesse. Hesse's brief life was filled with trauma and difficulties, from her earliest years escaping the Nazi atrocities of her birthplace, Hamburg, Germany, to her death at age 34 from a brain tumor. But her life was also full of beauty, friends, art and critical success. Hesse studied art under Josef Albers at Yale, and was friends with both Donald Judd and Sol Le Witt, with whom she exchanged letters. LeWitt influenced Hesse's artistic process, specifically by encouraging her not to over think.
During a career that lasted only 10 years, Hesse became a leading Minimalist sculptor despite only having one solo sculpture exhibition. Though she embodied many of Judd's ideas, including the use of industrial mediums, her novel visual voice and the uniqueness of the objects she made defied much of Minimalism's rigidity. She formulated a more organic, introspective manifestation of reductive art. Her one solo sculpture exhibition was called Chain Polymers, and the work it featured instantly established Hesse's iconic style and unique aesthetic voice.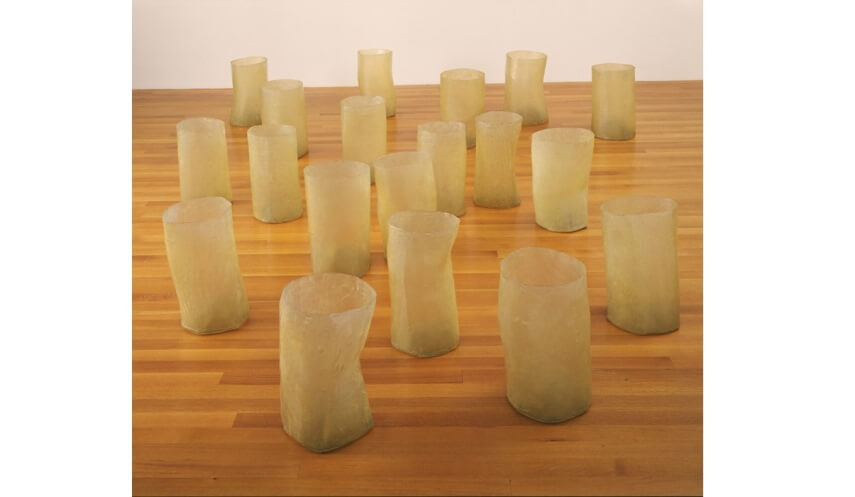 Eva Hesse - Repetition Nineteen III, 1968, Fiberglass and polyester resin, nineteen units, Each 19 to 20 1/4" (48 to 51 cm) x 11 to 12 3/4" (27.8 to 32.2 cm) in diameter. Gift of Charles and Anita Blatt. © 2018 Estate of Eva Hesse. Galerie Hauser & Wirth, Zurich
The Minimalist Family Tree
Each of these four Minimalist artists brought something unique and personal to the Minimalist canon. None of them strictly adhered to the notions outlined in Judd's essay Specific Objects, an important side-note that expands the definition of what Minimalism was, and still may become. Many Minimalist artists either evolved away from Minimalism or, as in Eva Hesse's case, led to its very transformation. By following all of the many Minimalist artists (not just the most famous ones) down the rabbit hole we can discover their influences and those they influenced. We can discover a wealth of fascinating ideas and personalities, each capable of elucidating the concepts of reduction and simplification as the complex notions they are.
Featured Image: Ann Truitt - Catawba, 1962, Painted Wood, 42 1/2 x 60 x 11 in, © 2019 Anne Truitt
All images used for illustrative purposes only
By Phillip Barcio