Blog Home
How Do 5 New York-Based Contemporary Artists Draw Upon Ellsworth Kelly's Legacy?
Feb 28, 2018
The exhibition Painting/Object, currently on at The FLAG Art Foundation in New York, examines five contemporary artists making work in conversation with the art of Ellsworth Kelly. It has been 69 years since Kelly created Window, Museum of Modern Art, Paris (1949). Consisting of two stacked, rectangular canvases—a white one atop a grey one, with black sticks fastened around the edges evoking the frame of a window—this was the first "painting/object" Kelly made. It was the basis of every other work he made until his death in 2015. Kelly discussed Window eloquently in an essay written 20 years after he made the piece. In it, he recalls touring the Museum of Modern Art in Paris back in 1949, and suddenly realizing he was more interested in the windows between the paintings than the paintings themselves. The windows had structure and presence. Kelly sketched their form, and later translated that sketch into what became his breakthrough work. It was not a painting of a window; nor an abstraction of a window; nor an actual window. Kelly called it a Painting/Object—an "impersonal observation of the form." He said the piece reminded him of a childhood memory, of looking through a window of a house he was passing by and seeing "red, blue, and black shapes inside a room." He ran up to the window to see the shapes, but they dissolved into actual objects—"a red couch, a blue drape and a black table." He longed to get back to the shapes; to capture their essence, their simplicity, their truth. Window was his first mature attempt at that goal. With it, he felt he rediscovered "a Pre-Renaissance, European type art...the object quality of the artifacts, the fact that the work was more important than the artist's personality." Even today, Window is easy to misunderstand, and when compared to other, more obvious masterpieces, easy to overlook. Nonetheless, it has been revered by three subsequent generations of artists, including these five contemporary artists featured in Painting/Object, to whom the value of Window is self-evident.
Sarah Crowner
In addition to the visual language of shapes and forms she mobilizes in her work, Sarah Crowner (b. 1974) has in common with Ellsworth Kelly a history of frustration with painting. Crowner arrived at her technique of sewing her canvases together from bits of other painted canvases after searching for a more constructive approach to the medium. The surface stitches give her finished works a Frankenstein-ian presence. The assembled language of shape and color eradicates any reference to objective reality. Like the works of Kelly, these paintings can be read as purely self-referential—as concrete objects whose qualities are unique. Unlike the works of Kelly, however, Crowner has also said that her works "offer the idea that a painting or a sculpture might function as a proposal for something else."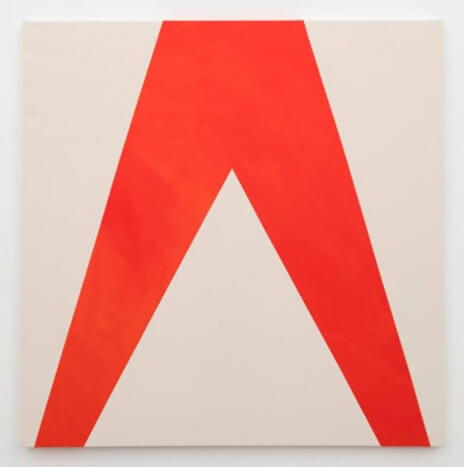 Sarah Crowner - Standing Legs (Red), 2017, Acrylic on canvas, sewn, 48 x 48 inches, Courtesy the artist and Casey Kaplan, New York
N. Dash
The connection between N. Dash and Ellsworth Kelly may not be obvious at first. Though her paintings employ a faintly geometric sensibility that feels reminiscent of Kelly, the materiality and textural qualities of her work give the impression it might have more in common with Arte Povera or Dansaekhwa. Undeniably, though, a connection exists between Dash and Kelly on a philosophical level. Kelly once said, "In my painting, the painting is the subject rather than the subject, the painting." Dash embodies this notion by combining finished materials like paint and canvas with the raw materials that went into their production. For example, she might combine paint with the earth elements from which it was created, creating a mud-like substance. Rather than using that substance to communicate a subject in a painting or a sculpture, that substance itself becomes the subject of the work.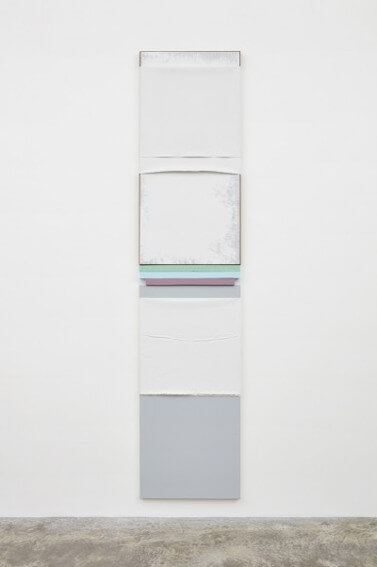 N. Dash - Untitled, 2018, Adobe, gesso, canvas, enamel, linen, pigment, acrylic, styrofoam, wooden support, 107 x 24" / 271.78 x 60.96cm, Courtesy the artist and Casey Kaplan, New York, Photo: Jason Wyche
Sam Moyer
Kelly said he could "take from everything" from life to construct his forms. Sam Moyer (b. 1983) interprets that idea literally, borrowing actual objects from life, such as slabs of marble or sections of fabric, and attaching them on a surface to construct her works. Rather than simplifying them as kelly did, Moyer allows these objects to manifest their own qualities, as is. Her works contain a visual language related to fragmentation and re-combination. Through their physical formal presence they offer a logical proposal for taking the Painting/Object forward.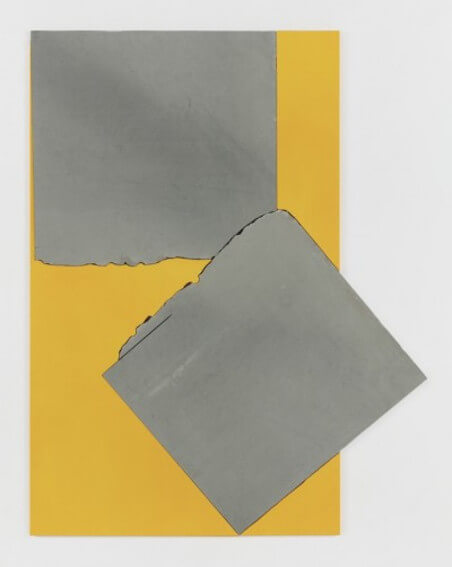 Sam Moyer - Rye, 2018, stone, hand painted canvas mounted to MDF panel, 76 5/8 x 60 3/8 inches, Courtesy the artist and Sean Kelly, New York
Julia Rommel
In the case of Julia Rommel (b. 1980), it feels more like she makes Object/Paintings than Painting/Objects. The difference is subtle, but obvious in her work. Like Ellsworth Kelly, Rommel introduces real world forms into her compositions. But rather than curating those forms from nature, the forms she uses are her own paintings. She stretches canvases, paints them then takes them off the stretcher bars and re-attaches them to larger stretcher bars. Layering the canvases atop each other, she draws attention to their edges. The object-ness of these accumulated paintings is essential to the character of the work.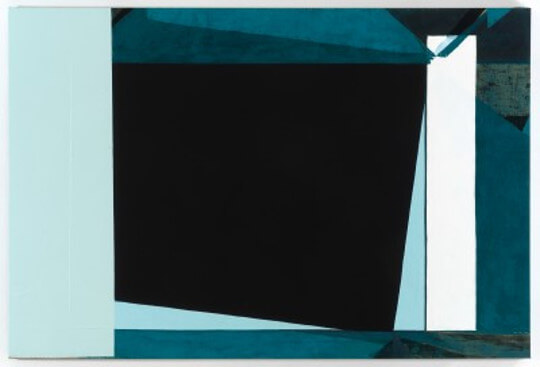 Julia Rommel - The Unbelievers, 2016, Oil on linen, 71 1/2 x 106 5/8 inches, Courtesy the artist and Bureau, New York
Erin Shirreff
Working primarily in the mediums of photography and sculpture, Erin Shirreff (b. 1975) cannot be said to make Painting/Objects exactly. Nonetheless, her work exalts in the spirit of Ellsworth Kelly in many ways. Shirreff assembles her compositions from visual fragments that speak to the biomorphic geometry of the natural world. Combinations of rounded, voluminous forms and rigid, architectonic structures combine in ways that recall something known, while declaring that they reference an unknown world of possibility. In a sense, Shirreff takes the philosophy and visual language of the Object/Painting and expands it into the realm of the Surreal.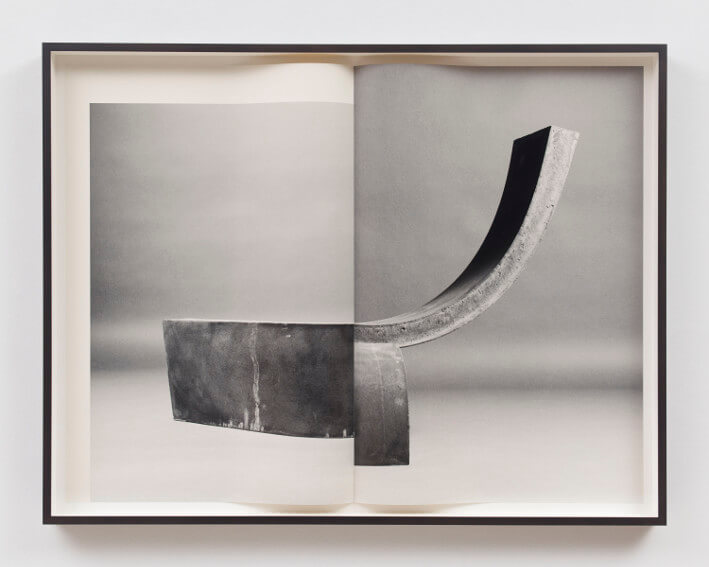 Erin Shirreff - Fig. 3, 2017, Archival pigment print, 40 x 54 inches, Courtesy of the artist and Sikkema Jenkins & Co.
Painting/Object is on view through 19 May 2018 at The FLAG Art Foundation in New York, and features works by Sarah Crowner, N. Dash, Sam Moyer, Julia Rommel an Erin Shirreff. Currently, the exhibition Ellsworth Kelly is on view on the 9th floor of the gallery.
Featured image: Sarah Crowner - Sliced Greens, 2018, Acrylic on canvas, sewn, 65 x 60 inches, Courtesy the artist and Casey Kaplan, New York
By Phillip Barcio