Blog Home
What Kind of Art Does Frank Stella – Own?
Feb 27, 2019
Frank Stella is amongst the most famous abstract artists alive today. His fame is mostly based on his mid-20th Century minimal masterpieces, and his thoughtful pronouncements on the substance of art, such as, "What you see is what you see," and, "A sculpture is just a painting cut out and stood up somewhere." Stella is less well-known for his personal art collection. A series of upcoming auctions at Christie's in London and New York, however, aim to change that by offering insights into Frank Stella the art collector. Continuum: Select Works from Frank Stella's Personal Collection will be spread out over three auctions. As each work from the collection hits the block, fans of Stella, and perhaps even his foes, will find much to contemplate. It was Stella, after all, who once made the seemingly obvious statement that, "One learns about painting by looking at and imitating other painters." Do we believe, then, that the paintings in his collection are his most looked at, and most imitated? If so, what insights can we glean from this peek behind the veil? Stella notes that the majority of his collection is made up of works by his own contemporaries. He made the delightful point in a recent New York Times article that he makes art because he enjoys it. "I wouldn't bother making art if I didn't like what the people around me were doing, too," he said. "It wouldn't be any fun." How refreshing to hear an artist admit to such a friendly relationship with their contemporaries. Yet Stella has also collected a number of works from artists of the distant past, such as a Northern Renaissance masterpiece "Double Portrait of a Husband and Wife, Half-Length, Seated at a Table" (1532) by Jan Sanders van Hemessen (1504-1556), which is being offered at the Old Masters sale in New York on 1 May. How did a hyper-expressive figurative painting like that inspire an artist known for taking painting to the extreme limits of reduction? Within such contradictions, no doubt, lie many pleasant discoveries.
Miró and Hockney
The first work to go on sale from Continuum: Select Works from Frank Stella's Personal Collection will be a painting by Joan Miró titled "Peinture" (1927), which will be offered during The Art Of The Surreal Evening Sale in London on 27 February. The self-referential title of this piece was a common one for Miró—similarly titled works from the same era have fetched tens of millions of euros at past auctions. The best known and highest priced among them, however, are blue. This one has no blue, and is mostly brown. It also lacks any of the signature Surrealist forms associated with the most well known works of Miró. Such qualities might be why the piece is estimated at a mere GBP 1,200,000. And yet, if you are looking for insight into Stella, this painting is indeed remarkable, for the simple fact of how painterly it is. A claim Stella has made in the past is that he can spot right away the paintings of his friends, because he can see their personalities in their brush marks. The brush marks in this painting are indeed the most noticeable element of the work.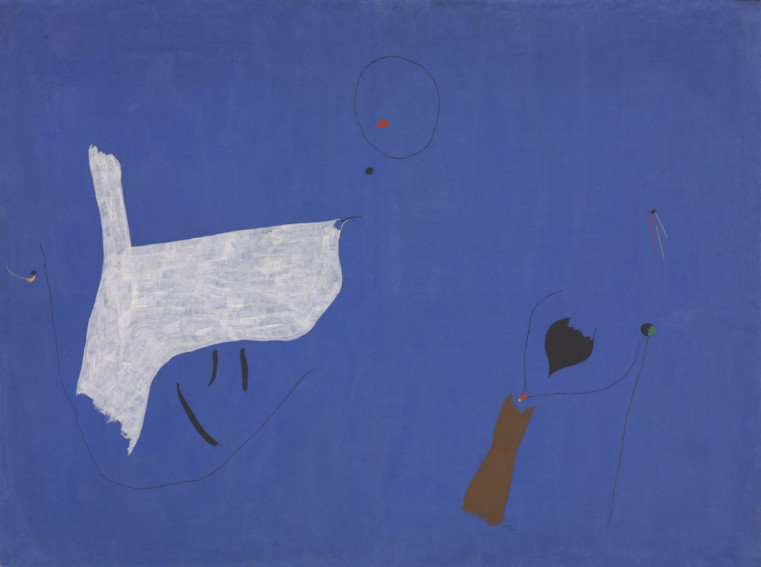 Joan Miró - Peinture, 1927. Tempera and oil paint on canvas. Support: 972 x 1302 mm, frame: 1080 x 1418 x 68 mm. Tate Collection. Purchased with assistance from the Friends of the Tate Gallery 1971
Next to hit the auction block will be a painting by David Hockney (b. 1937), titled "A Realistic Still Life" (1965). Like the Miró painting, this work is hardly representative of the Hockney oeuvre. Hockney is known mostly for his figurative paintings, especially his iconic paintings of swimming pools in Los Angeles. This painting takes as its subject a smattering of abstract forms and shapes. The title could be tongue-in-cheek; or perhaps it was a nod towards the infamous demand the Royal College of Art made on Hockney that he make a life drawing from a model in order to earn his degree; or maybe it was actually just a figurative painting of some forms Hockney saw somewhere. Regardless, made a year after his first swimming pool paintings, this piece is out of place in the Hockney catalogue. And like the Miró painting it is also quite painterly, revealing idiosyncrasies of the artist who made it.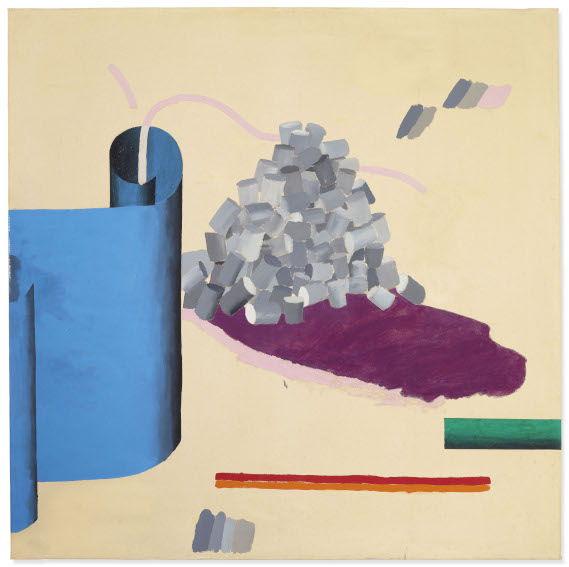 David Hockney - A Realistic Still Life, 1965. Acrylic on canvas. 48 x 48in. (121.9 x 121.9cm.). Kasmin Ltd., London. Acquired from the above by the present owner in the 1980s.
Frankenthaler and Stella
Continuing in the vein of outliers, a painting by Helen Frankenthaler (1928-2011) titled "Beach Horse" (1959) will be offered in the Post-War and Contemporary Art Evening Sale in New York on 15 May 2019. The painting is a stunning representation of the Frankenthaler method, incorporating her signature "soak-stain" technique and demonstrating her unique compositional style, often executed by intuitively cropping her canvases after painting them on the floor. What makes this painting truly extraordinary, however, is that it is the only known example of a shaped canvas by Frankenthaler. Stella is one of the most well-known makers of shaped canvases. The shaping of a canvas allowed him to eliminate extraneous aspects of the work. Whether this was also the reason Frankenthaler shaped this canvas is unknown, but its provenance in the Stella collection adds much curiosity to its provenance.

Helen Frankenthaler - Beach Horse, 1959. Oil on linen. 35 x 154 in (88.9 x 391.2 cm). Courtesy Christie's.
As much as these other paintings might tell us about the inner workings of the mind of Frank Stella, the most revealing works he is auctioning off may well be those that he painted himself. Stella once joked that the only paintings he still owns that he made are the ones he could not sell. A selection of those unsold pieces will be offered at Christie's Post-War and Contemporary Art Evening Sale on 15 May 2019 in New York. They will include a number of concentric square paintings, which are not instantly recognizable as his most important works. It is tempting to think that Stella chose these paintings to sell at this time precisely because they do not represent his most idiosyncratic accomplishments. Rather, they place him in a continuum, as suggested by the name of his collection—that of his Modernist ancestors, such as Kazimir Malevich and Josef Albers, who, like Stella, exalted the power of color, the universality of the square, and the ongoing heritage of abstraction.
Featured image: Frank Stella - Untitled, 1964. Felt-tip pen on paper. 4 x 6" (10.2 x 15.3 cm). Gift of Lawrence Rubin. MoMA Collection. © 2019 Frank Stella / Artists Rights Society (ARS), New York
All images used for illustrative purposes only
By Phillip Barcio