Blog Home
An Interview with Daniel Göttin
May 12, 2015
Born in 1959 in Basel, Switzerland, where he currently lives and works, Daniel Göttin's works consist of site-specific installations and all-over drawings made out of industrial materials. The spaces occupied by the artworks are an integral part of the installation, playing a major role in how it is perceived by the spectator. He has had over 60 solo exhibitions and projects all over the world, and his work has been widely written about, commissioned, and collected. IdeelArt is proud to present this remarkable artist and discuss the experimental exhibition space Hebel_121 that he founded in Basel, as well as his experience exhibiting his works abroad, his artistic method, and his plans for the future.
Could you tell us a bit about your career?
I started off working as a professional technical draughtsman for an engineering company for a couple of years. Later on, I went to the art school here in Basel, which at the time was called sculpture class. After that, I travelled to Australia, for an artist residency in 1990, and since then I have been working as a visual artist and have made many projects and exhibitions in different countries around the world such as Australia, Germany, Holland, Austria, Switzerland, and England, as well as some projects and exhibitions in Japan, the United States, and Mexico. From quite early on, my work has been based on site-specific installation work, approaching an exhibition space, an institutional space, or a private space and creating a concept for a work that is usually temporary and sometimes permanent, based on a minimal background. This means that I work in an abstract or a concrete way, because the idea is to show the space itself in connection with my work to get an equally strong entity of the site and my work.
I see that you make site-specific works as well as works for both interior and exterior walls. Is there any difference between these different types of artworks?
There is a slight difference, yes. I work simultaneously on objects, paintings, paper works, and concepts for site-specific works. Some works are made in the studio: they are independent, or mobile. The site-specific works are usually made for a special space and they are unique. That's the difference. But I use aspects of site-specific works to create mobile artworks, objects, and paintings. And sometimes paintings lead me to new ideas about site-specific works. So there's a lot of mutual influence between the two types of artworks.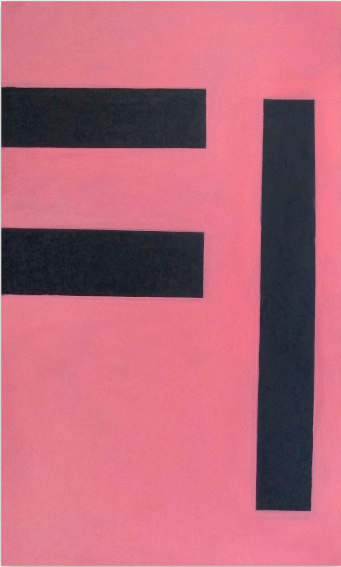 Daniel Göttin - Untitled 2 (Pink), 1992. Acrylic on pavatex. 97 x 58.5 x 3 cm.
I've seen that you use industrial material in your works. Could you tell me why you have decided to use this type of material for your art?
The industrial material I use is usually the basic material that the industry produces, for example metal plates and wooden bars, standard things. So it's just basic and I use it in the way the industry uses it. I prefer to keep the material how it's been provided. I use a wide variety of materials: metal, wood, tape, polystyrene, and carpet. The idea is to use the material that already exists and to play with it in a basic way. I also do some recycling work. I'm very careful with materials; every piece of cardboard can still be used for something new. I usually use all the material I have so that there is not much leftover.
You mentioned earlier that you've exhibited your work in many different places around the world, from Europe and the United States, to Australia and Japan. Is there difference in the experience of exhibiting in different countries?
Yes, of course. There are cultural as well as linguistic differences. The focus on artwork also differs in different countries. In some countries, art and architecture also play an important role. In Japan, for example, people are maybe more connected with their historic architecture. I think Japanese people can understand or read my work quite well because of this.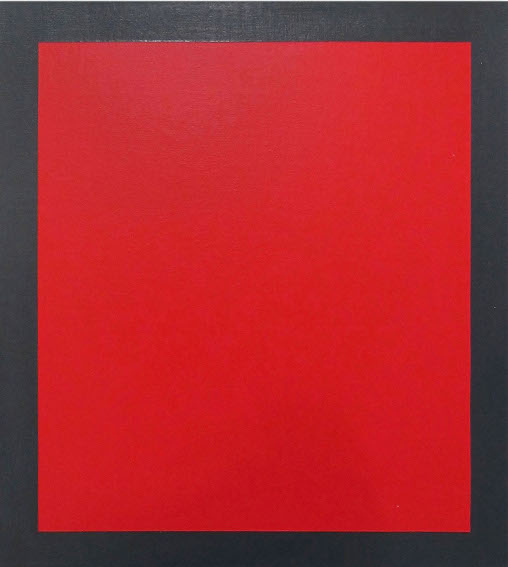 Daniel Göttin - 2003 Untitled 5, 2003. Acrylic on cotton fabric on MDF. 40 x 36 cm.
Does working in different countries affect your artistic practice?
I'm in constant exchange with artists, galleries and people from different countries, so there is some influence, yes. I perceive new things in other countries, and there's a constant exchange of ideas.
Could you tell us a bit about Hebel_121?
In 1998, my partner Gerda Maise and I have started Hebel_121 as an artist-run space. The basic idea is to approach artists we have met abroad, inviting them to make an exhibition, installation or intervention. The focus is on exchange.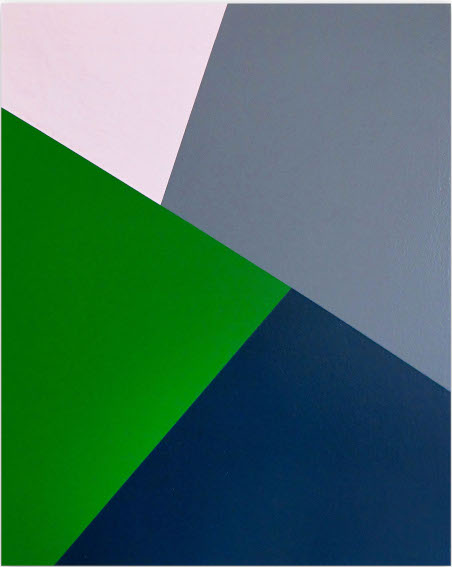 Daniel Göttin - Slopes B8, 2016. Acrylic on MDF. 30 x 24 cm.
How would you describe your artistic mission?
I am making art that is not too far away from real life. My art is usually very simple; it's easy to look at, and to be approached. My works can be very minimal, sometimes just consisting of some lines somewhere. It's about consciousness and perceiving the world in a rather concrete way.
What are your upcoming projects for the future?
One of my upcoming projects is an installation work in a gallery in Germany in June. Then I will participate in an exhibition project in Basel. In autumn I will take part in several group exhibitions in Berlin, Munich, Zurich. At the beginning of 2016 I am exhibiting in Japan.
Featured image: Daniel Göttin - K1 2011, 2011. Lacquer on MDF. 60 x 60 x 10 cm.