Blog Home
Willem de Kooning's 1975 "Untitled XII" - Sold at Art Basel Hong Kong for $35 Million!
Apr 4, 2018
Last week, at Art Basel Hong Kong 2018, the team at Lévy Gorvy gave the art world a lesson on how to sell a modern masterpiece. The dealer sold "Untitled XII" (1975) by Willem de Kooning for $35 million to an undisclosed private collector. Sales like this are common at auction, where bidders often compete against each other for rarely available masterpieces, or even in private sales between high-net-worth individuals—deals most of us never hear anything about. It is not at all commonplace, however, for a commercial art dealer to bring a painting worth tens of millions of dollars to an art fair and come away with a deal. Sure, it happens, but it is extraordinary. Lévy Gorvy took a gamble even transporting "Untitled XII" to Hong Kong. So much could have gone wrong on the way. And consider the pubic relations disaster that would have unfolded if the dealer had failed to sell the piece. That would have been bad press for Lévy Gorvy, Art Basel, the Willem de Kooning Foundation, as well as for the seller—Paul Allen, co-founder of Microsoft and currently the 46th wealthiest person on the planet. But as it turned out, things could not have gone better for everyone involved in this transaction. The painting found a buyer less then two hours into the first preview night at the fair. And so, you might ask, how was it that Lévy Gorvy made it look so easy, taking this modern masterpiece across the world and connecting it so quickly with a collector with such deep pockets? The truth is it was not as easy as it looked. It was an accomplishment decades in the making.
The Value of Discovery
The first thing you might be wondering about is what makes "Untitled XII" so valuable. The answer is two-fold. Primarily, Willem de Kooning is considered one of the most influential painters ever. Thirty-five million dollars is not even close to the highest amount paid for one of his paintings. Secondarily, the 1970s were a uniquely important time in the evolution of the oeuvre of this important artist. By the time de Kooning painted this particular painting, he had already long since built an irrefutable legacy for himself. He had already made his most important contributions to Abstract Expressionism by the late 1940s. In the early 1950s, he further cemented his reputation with his monumental and controversial series of Woman paintings. In the late 1950s and early 60s, he evolved his practice further, creating several series exploring landscapes. His most famous painting was from that era. Titled "Interchange" (1955), it is considered representative of a key moment in his aesthetic development, which may be why it sold for $300 million in 2015—the second most expensive painting ever.
Long after he painted Interchange, de Kooning remained experimental. He sometimes worked in a purely abstract way, and sometimes re-introduced figures into his works. He said, "I'm not interested in 'abstracting' or taking things out or reducing painting to design, form, line, and color. I paint this way because I can keep putting more things in it - drama, anger, pain, love, a figure, a horse, my ideas about space." In the mid-1960s, inspired by the British sculptor Henry More, de Kooning delved into the realm of sculpture. Then as the 1970s unfolded, his paintings became lighter, looser, and seemingly freer. The works he made in this decade are more calligraphic than his earlier works. He seems focused purely on the feeling and energy that he had learned to communicate through paint. By the middle of the 1980s, de Kooning was suffering the effects of Alzheimers disease. Though he continued to paint, it is debatable how aware he was of what he was accomplishing. His work from the 1970s is considered the most mature statement of his aesthetic vision. That could be why of the 20 paintings de Kooning painted in 1975, 11 are reportedly in the collections of museums.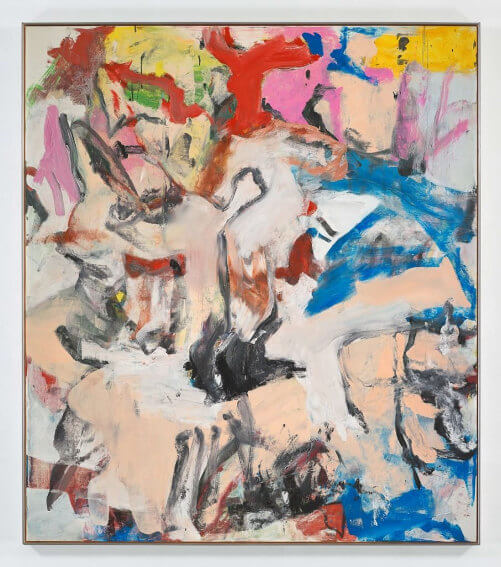 Willem de Kooning - Untitled XII, 1975, Oil on canvas, 79 x 69 inches (202.6 x 177.2 cm) © The Willem de Kooning Foundation / Artists Rights Society (ARS), New York, Courtesy Lévy Gorvy
The Value of Relationships
Lévy Gorvy declined to identify the buyer of "Untitled XII," but the dealer it did say the work went to a private individual and not an institution. So how did this gallery accomplish this astonishing feat of identifying this buyer, and convincing someone of this net worth to engage in a transaction of this size at an art fair? The answer lies in the value of the ancient art of relationships. Dominique Lévy has been working in the auction business for more than 30 years. She began as an intern at Christie's in 1987. She then went on to work for Sotheby's. Finally, she was invited back to Christie's by François Pinault, where she was charged with the challenge of founding its department of private sales. As for Brett Gorvy, he also worked at Christie's, where he served as the chairman and international head of post-war and contemporary art for more than two decades.
In addition to the innumerable relationships and deep knowledge of art that Lévy and Gorvy developed in their previous professional roles, they have also gone to great lengths to develop ties to the Asian art market. In 2013, Gorvy organized the first sale in mainland China by an international auction house. Shortly after Lévy and Gorvy founded their own gallery, one of their first exhibitions was a show juxtaposing the works of Willem de Kooning with the Modernist Chinese-French landscape painter Zao Wou-Ki. That show established Lévy and Gorvy as the preeminent world leaders in understanding the nuances that bridge Eastern and Western developments in modern and contemporary abstraction. Ultimately, it may look as though this pair simply rode into town last week and got lucky, selling a modern masterpiece to a multi-millionaire in two hours. The truth, however, is that this was only the final chapter of a story half a century in the making.
Featured image: Willem de Kooning - Untitled XII, 1975, Installation view in Lévy Gorvy's booth at Art Basel in Hong Kong, 2018, Courtesy of Art Basel
All images used for illustrative purposes only
By Phillip Barcio