Blog Home
At Auction, A Sculpture to Mark Andy Warhol's Relationship with the Abstract
Dec 11, 2017
An abstract Andy Warhol sculpture estimated to be worth as much as a million dollars was brought up for auction earlier this month, but not by any of the big auction houses. It was offered by John McInnis Auctioneers of Amesbury, Massachusetts, a family-run business in a small rural community near the New Hampshire border. The previously unknown sculpture was part of an estate sale of the belongings of Harriett (Woodsom) Gould, who passed away in 2016 at age 94. Gould evidently had no idea the sculpture was in her home. It was discovered by Dan Meader, director of the auction house. It was part of a stash of fine art objects that included numerous other works by Warhol, as well as works by Jean-Michel Basquiat, Robert Indiana, Kenny Scharf and Keith Haring. Meader was shocked by the find. He had expected the estate auction would mostly consist of Adirondack furniture, Native American baskets and bowls, and various other rustic, domestic furnishings. But while clearing out the attic, he found the treasure trove. It was property that previously belonged to Jon Gould, the oldest son of Harriet. Jon was a Vice President at Paramount Pictures, and from 1980 to 1985 he was the life partner of Andy Warhol. Stories from mutual friends recall that Warhol showered Jon with gifts—he sent a dozen roses to his office every day for two weeks when the relationship began. The abstract sculpture was apparently one of those gifts. It is inscribed to Jon, signed by Warhol, and dated 1983, the year the two moved in together. Jon Gould died in 1986. His belongings, including the art, several autographed Warhol books, and a store of personal ephemera documenting his relationship with Warhol, had been stored in the attic, apparently unbeknownst to his mother, ever since.
An Abstract Gesture
When Dan Meader discovered what he would soon realize was an unknown Andy Warhol sculpture, he at first had no idea what he was holding. The object looks like a snapped-in-half painting with blobs of paint dripped onto it. But when he turned it over and saw the signature on the back, he says he started shaking. Eventually that excitement wore off, and he realized he had a difficult job to do if he was going to find a buyer for such an unusual work. For starters, it was never documented or catalogued. Secondly, it looks nothing like anything else Warhol ever did. It is rugged, handmade, and has an intimate scale. Its material qualities place it more into the realm of Arte Povera than Pop Art; its emotive energy seems more akin with Abstract Expressionism; and its aesthetic language of angles, dots and lines evoke Wassily Kandinsky or Kazimir Malevich.
What Meader believed would save the piece from its own uniqueness was its story. The mystery surrounding the circumstances of its creation is wonderful fodder for contemplation. The work is something broken but made whole again by thoughtful gestures. Was it an apology? Was Warhol trying to repair something in the relationship that had been damaged? Or was he suggesting his relationship with Jon had made him feel whole again. Was the piece a whimsical accident? Perhaps Warhol found it in the trash at The Factory so he signed it and gave to Jon as an inside joke, like Duchamp signing a urinal. Or was its uniqueness the point—a message to a sacred companion that what they shared was unlike anything else. Whatever interpretation someone might care to conjure, Meader figured the personal nature of the work, and the fascinating story of its provenance, were key to its value.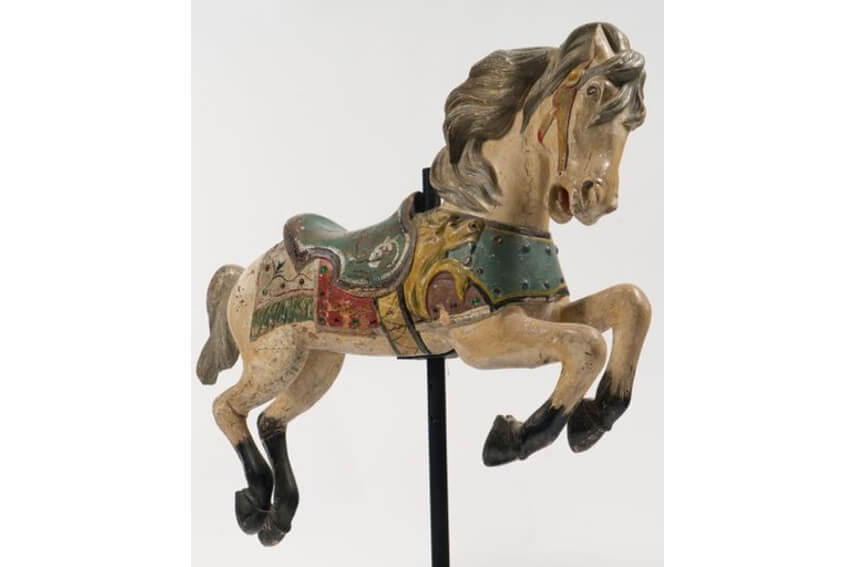 Andy Warhol - A carousel horse (said to have been given to Mr. Gould by Warhol) was also part of the auction. Photo Credit Nick Cosentino, via John McInnis Auctioneers
The Value of Irony
Unable to craft a profile of its likely buyer, Meader had a difficult time setting a price for the sculpture. Off the top of his head, he estimated somewhere between $500,000 and $1 Million. But he opted to go into the auction without setting a reserve for the piece. He told Blake Gopnik of the New York Times, "The public will determine on that day what it's worth." After all, there is precedent for questioning what a work by Warhol is worth. When Warhol died, the courts valued his estate at approximately $509 Million. In an attempt to diminish legal fees and the size of charitable gifts Warhol had mandated, The Warhol Foundation enlisted art dealer André Emmerich, who argued in court, with a straight face, that their estimate was too high since in all likelihood Warhol would soon be forgotten, and the works he left behind would lose their value. The court agreed and lowered their estimate to $228 Million.
Value is a funny word. Right before the Gould auction was set to begin, the executor of the estate stepped in and on behalf of the family had the auction house set a reserve for the sculpture, as well as for several other works, including another Warhol and two of the Basquiats. But the reserve was evidently too high, because the sculpture and several other items with reserves did not sell. A representative of the auction house told me there are no plans at this time to auction the works at a later date. So this story has a bittersweet ending. A magical moment of discovery when an auctioneer lived his ultimate fantasy of discovering a rare and previously unknown Warhol sculpture collecting dust in an attic came to nothing. And an object born of love has become a squabbled-over commodity. It is also worth noting that several of the Warhol pieces that did sell in the auction sold below their estimates. It raises the question of what it really means to value something. Like abstraction, value means different things to different people. Hopefully wherever Jon and Andy are now, it means more than money.
Featured image: Andy Warhol - sculpture, © 2017 The Andy Warhol Foundation for the Visual Arts Inc./Licensed by Artists Rights Society (ARS), New York, New York; Photo Credits Nick Cosentino, via John McInnis Auctioneers
All images used for illustrative purposes only
By Phillip Barcio