Blog Home
What is the Most Expensive Painting of Abstract Art Ever Sold?
Sep 22, 2016
While we love exploring the less tangible qualities of abstract art, we are also keenly aware that it can be a wonderful financial investment. To date, the most expensive painting ever sold is an abstract landscape by Willem de Kooning called Interchange, which sold for $300 Million in 2015. The painting fetched that record-breaking price in a private sale to the Chicago hedge fund manager Kenneth C. Griffin, as part of a $500 Million package that included the painting Number 17A by Jackson Pollock. What made Interchange so valuable? It might have something to do with its unique story, and the connections it has with some of the most fascinating names in modern American history.
Return on Investment
Interchange originally sold in 1955, the year de Kooning painted it. The buyer paid $4,000. After the gallery took its cut, de Kooning likely pocketed around $2,000 from the sale. The spending power of $2,000 in 1955 was equivalent to around $17,000 in 2016. The buyer was an architect. His name was Edgar J. Kauffman Jr. He was the son of the owner of Kaufmann's Department Store in Philadelphia, one of the oldest and largest family-owned department store chains in America until it sold to Macy's in 2006.
Architecture buffs may also know the Kauffman family for another reason. They owned Fallingwater, the seminal professional accomplishment of the architect Frank Lloyd Wright. Considered one of the most important architectural sites in America, Fallingwater was commissioned by Edgar J. Kauffman Sr. in 1936. When the senior Kauffman died in 1955, he bequeathed the house to his son, who that same year also purchased Interchange from de Kooning. Eventually, Kauffman Jr. donated Fallingwater and its surrounding land to the Western Pennsylvania Conservancy to be used as a museum and nature conservancy.
Enter The Mountain Tortoise
The $4,000 Kauffman Jr. paid for Interchange ended up being a phenomenal investment. Although it changed hands a couple more times before fetching $300 Million in 2015, that was not the first time that it made art market history. Kauffman Jr. passed away in 1989 and Interchange was auctioned off as part of his estate. News reports from that year are dominated by stories about what we now know was one of the biggest bubbles the art market has ever seen: a bubble fueled by a massive surge in prices driven by wealthy Japanese speculators.
One of the biggest names in late 1980s Japanese modern art collecting was a firm called Mountain Tortoise. A news story about the rapidly surging art market from the Los Angeles Times, 8 February 1990, states that in November of 1989, "Shigeki Kameyama, wealthy owner of Mountain Tortoise Gallery in Tokyo, set a new record for a living artist with his $20.68 million purchase of Dutch artist Willem de Kooning's 'Interchange'." Interchange helped Kauffman Jr. turn $4,000 into $20.68 Million in just 34 years, and de Kooning was alive to see it happen.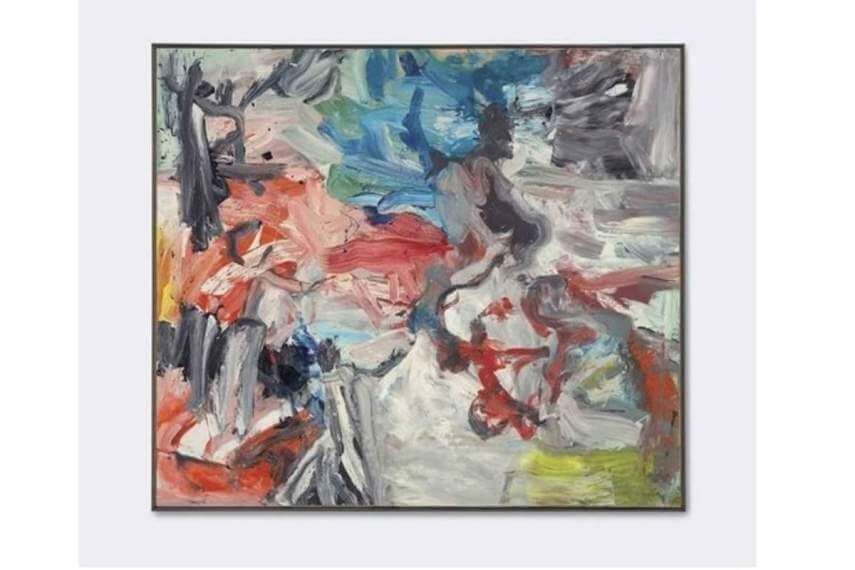 Willem de Kooning - Untitled VIII, oil on canvas, 70 x 80 in, 177.8 x 203.2 cm.
The Geffen Years
Just one year later, the bubble burst. Between 1990 and 1993 the value of the global art market shrank 55%. Mountain Tortoise had to sell Interchange immediately after buying it. The benefit of their loss was an aspiring art collector from the entertainment industry named David Geffen. Geffen began his professional career in 1961, beginning as a mailroom attendant at a talent agency in Los Angeles. In nine years he worked his way up to talent agent, and by 1970 started his own record label, called Asylum Records.
In the first two years of its existence, Asylum signed Bob Dylan, Joni Mitchell, Tom Waits and the Eagles. The next label Geffen started, Geffen Records, signed John Lennon, Yoko Ono, Elton John, Sonic Youth, Nirvana, Guns-n-Roses and dozens more of the most influential musicians of the 20th Century. By the time David Geffen bought Interchange he was on his way to becoming one of the wealthiest people in America, and amassing one of the most renowned modern art collections in the world.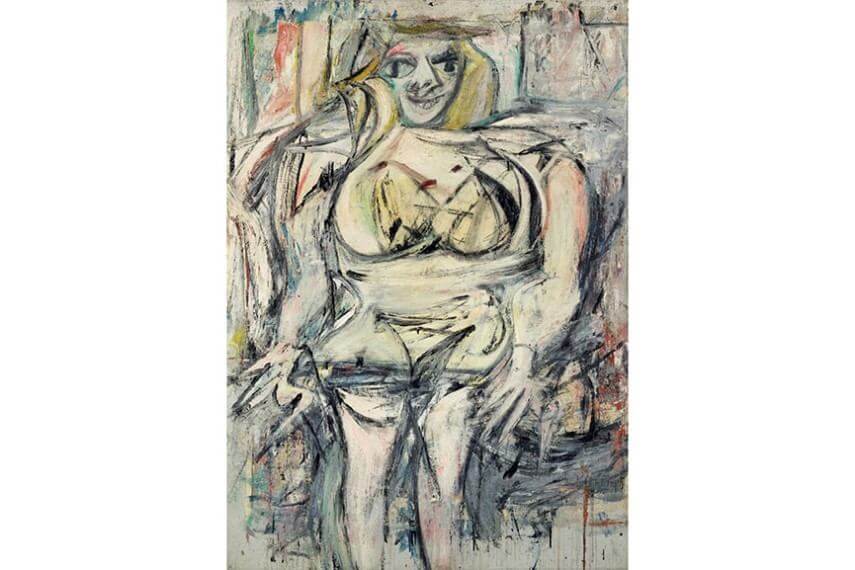 Willem de Kooning - Woman III, 1953, Oil on canvas, 1.7 m x 1.2 m, one of the most expensive abstract artworks ever sold
Interchange Connections
Stylistically, Interchange marks one of the most transformative eras in the career of one of the most important abstract artists of the 20th Century. In addition to being an influential painter himself, Willem de Kooning was a vital connecting force between his contemporaries. He was a friend and encourager to Arshile Gorky, Jackson Pollock, Franz Kline and dozens of other Abstract Expressionists. Throughout the period when these artists struggled, de Kooning remained a passionate cheerleader for their work.
Interchange was painted right when the fortunes of de Kooning and his contemporaries were undergoing a massive change. They were becoming financially stable, many for the first time, meaning they had the opportunity to make new choices, both professionally and personally. For de Kooning this manifested in a gradual taming of his notoriously wild lifestyle, culminating with a move to a farmhouse in East Hampton. Creatively, it manifested in the start of an 11-year period spent painting abstract landscapes, of which Interchange was one of the first.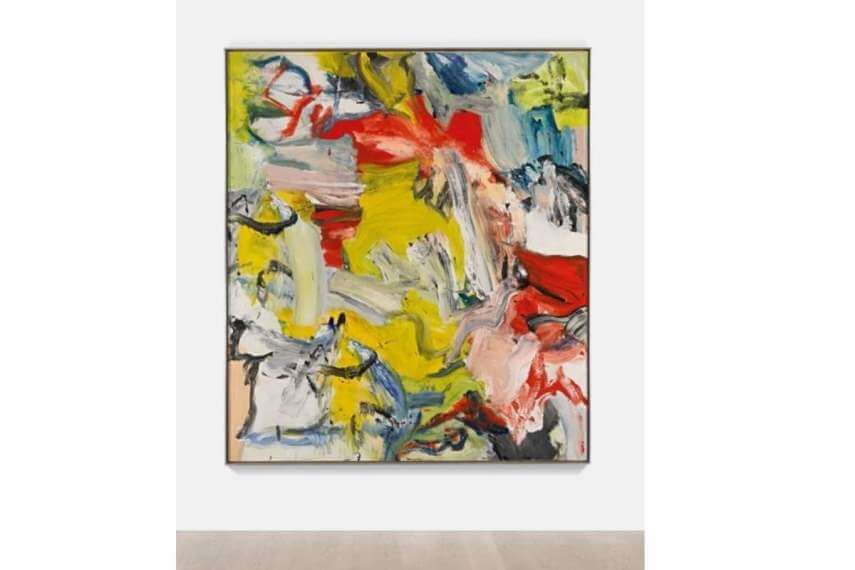 Willem de Kooning - Untitled XXI
Changing Styles
Interchange also speaks to a technical change in the way de Kooning painted. It was painted during a time when he worked closely with Franz Kline. Both painters had iconic personal styles. Kline was known for intuitive, quick brush strokes and a black and white palette. De Kooning was known for violently attacking his canvases, thrusting his brushes so dramatically against them that he would often puncture their surfaces. He would also work his paintings repeatedly, over long spans of time, scraping the paint away and adding more layers, giving them a sense that they were simultaneously overworked and yet never finished.
Kline and de Kooning influenced each other in ways that evolved both of their styles. Kline began adding color to his paintings, inspired by de Kooning, and de Kooning began incorporating techniques more reminiscent of Kline's intuitive, quickly made gestural marks. Interchange is a prime early example of the resulting aesthetic and textural shift de Kooning underwent in the mid-1950s.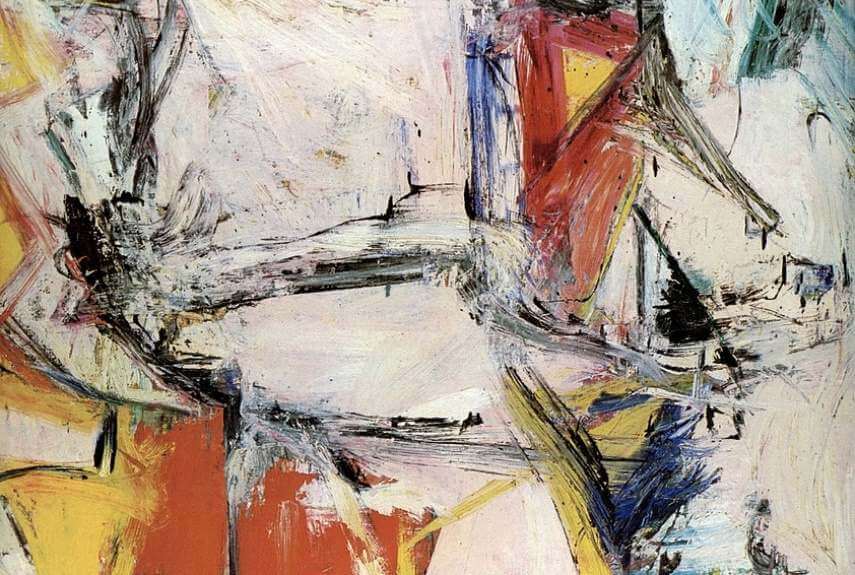 Willem de Kooning - Interchange (detail), 1955, Oil on canvas, Private collection
The Legacy of Interchange
So what is it that makes an abstract painting worth $300 Million? Is it the timing of its creation, the relevance of its creator and the stories of the collectors who have owned it? After all, the story of Interchange touches on the rise and fall of the family business, the roots of American architecture, the globalization of the art market and the rise and fall of the record industry. And now it is in the hands of a hedge fund manager who founded one of the most powerful global finance firms.
But there is something else that gives it value as well. The Jackson Pollock painting Kenneth Griffin purchased along with Interchange was featured in the 1949 Life Magazine spread that made both Jackson Pollock and Abstract Expressionism household names. Few paintings more succinctly capture a moment in time. That magazine article was a major reason de Kooning and the other Abstract Expressionists were able to finally make a living from their art. Together these two paintings represent the moment when the United States gave rise to its first native modern art movement. Interchange is not only valuable as an object. Its value is in its myth.
Featured Image: Willem de Kooning - Interchange, 1955, oil on canvas, 200.7 cm × 175.3 cm, 79 x 69 in, Private Collection
All images used for illustrative purposes only
By Phillip Barcio