Blog Home
The Best Art of 2017 by The New York Times - How Much of it was Abstract?
Dec 15, 2017
Each year, the New York Times art critical team takes on the Herculean task of assembling an end-of-year round up of the most noteworthy aesthetic experiences of the year. Their Best Art 2017 report came out on 6 December, and featured top picks by Roberta Smith (the undisputed grande dame of contemporary American art criticism), Holland Cotter (who won the 2009 Pulitzer Prize for art criticism), and Jason Farago (who has also written for the Guardian, NPR, the New Yorker, Artforum, and many other outlets). Each year, we look forward to the Times Best Art of the Year list from a pure data perspective—we like to see how many entries have something to do with abstract art. But we also see it as a cultural barometer. It shows us whether abstract art is making a wide enough social impact to affect influential tastemakers, and what other types of aesthetic experiences are leaving memorable imprints on the minds and hearts of those who write about art as a profession. This year, we noticed a sharp divide between one critic who championed abstraction, which encourages independent thinking, and two who championed activist art, which often tells us what to think, in some cases crossing into the realm of propaganda.
Roberta Smith
Roberta Smith started her list right off with a mention of Ad Reinhardt: Blue Paintings, at David Zwirner Gallery, under the heading Best Gallery Show I Regrettably Did Not Review. This exhibition presented 28 abstract canvases Reinhardt painted in the early 1950s. We have written before about the legacy of art, intellectualism and humor for which Reinhardt is known. Smith called his blue paintings joyful, comparing them to the water lily paintings of Monet. Next, Smith mentioned "War and Pieced," a show of quilts made from military fabric at the American Folk Museum. Though the materials from which these works were made carry their own significance and built-in narratives, Smith called the quilts "some of the best abstract art you will see this season."
In an entry titled Some of the Best Recent Signs the Future is Female, Smith mentioned several living legends of abstraction, including Louise Lawler, Marisa Merz, Carolee Schneemann, and two artists we recently covered—Lygia Pape and Laura Owens. And in her Gone But Not Forgotten entry, Smith listed off some of the many beloved creators who died in 2017. She reminds us that the world of abstraction lost several of its tallest trees this year, including multi-disciplinary artist Magdalena Abakanowics, installation artist Vito Acconci, Arte Povera pioneer Jannis Kounellis, Lebanese abstract art pioneer Saloua Raouda Choucair, Op Art pioneer Julian Stanczak, and Sir Howard Hodgkin, one of the most esteemed abstract artists of Britain.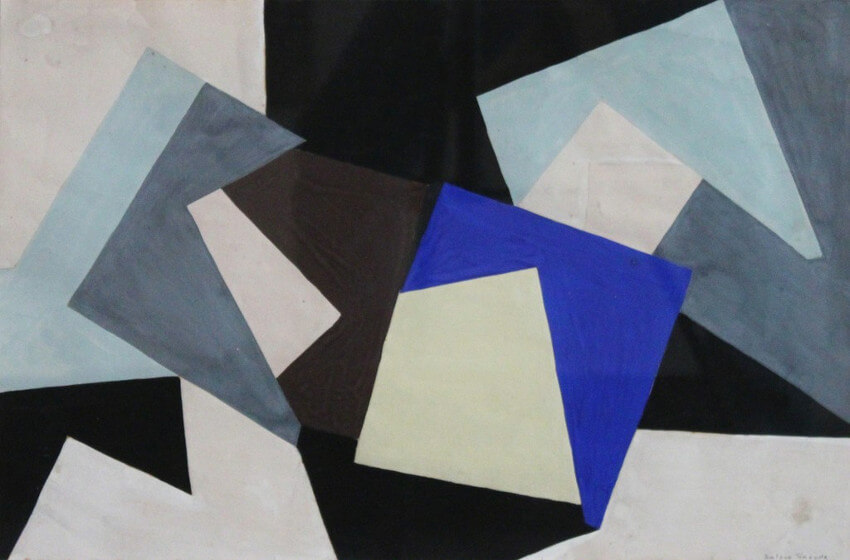 Saloua Raouda Choucair - Untitled, ca. 1949, Gouache on carton, 11 4/5 × 18 1/10 in, 30 × 46 cm, photo credits of the artist and Agial Art Gallery
Holland Cotter
Unlike Smith, Holland Cotter had nothing much to say in his Best of 2017 round-up about abstraction (he did not mention a single abstract artist by name). But his overall approach to looking back at the year was abstract, or at least conceptual in nature. Each aesthetic experience he pointed out either left him with a feeling or imbued him with an idea. Number one on his list was The March. In this entry, he referred to the Women's March on Washington as "form shaped by the pressure of ideas, beliefs and emotions," and called it "the largest work of political performance art ever." I personally think that is an affront to actual performance art, and a misreading of the essential difference between an aesthetic experience and a political one. But the inclusion of a political march on an art list does raise interesting concerns.
One of the biggest ideas Cotter addressed from 2017 was art censorship. In an entry titled Just Say No, he referred to the various calls from the public to remove or destroy artworks that offended the sensibilities of viewers. Most prominent among those incidents was when attendees at the 2017 Whitney Biennial called for the painting Open Casket, by Dana Schutz, to be removed solely because Schutz is a white person, but Emmett Till, the person in the painting, is black. On the topic of whether to censor art, Cotter said, "it is never good. Do not do it." In the realm of feelings, Cotter mentioned a video work by Jitish Kallat that was installed at the Philadelphia Museum of Art. The work consisted of a letter from Mohandas Gandhi to Adolf Hitler, in which Gandhi tried to talk Hitler out of war, projected onto a screen made of fog.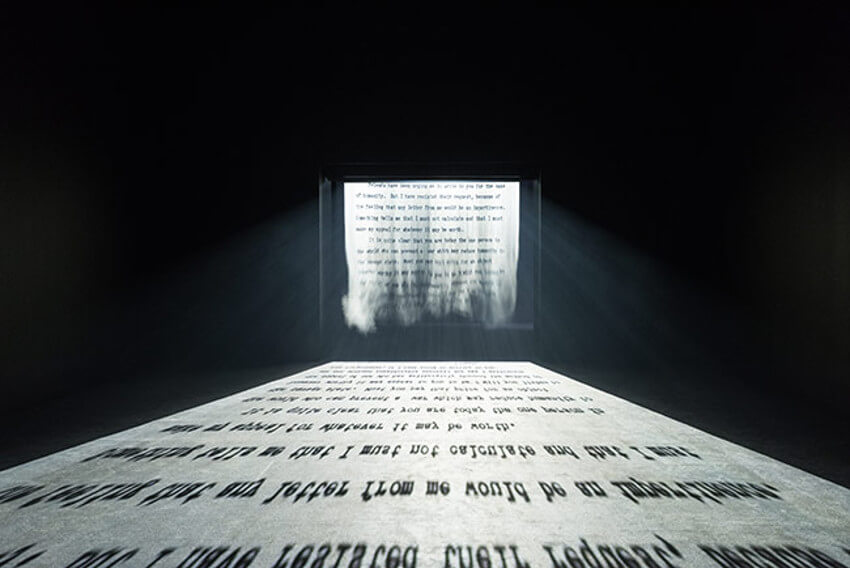 Jitish Kallat - Covering Letters, installation view at Philadephia Museum of Art, FogScreen Projection, dimensions variable, Gift of Ajay Raju, 2016, courtesy of Philadephia Museum of Art
Jason Farago
Keeping with the vibe Cotter started, Jason Farago also focused most of his Best of 2017 list on art with a message. But he also mentioned a few artists who dabble in the world of abstraction. He highlighted Kaari Upson, whose conceptual sculptures and installations evoke a world of primitivism, magic and decay. He also mentioned the installation by Miroslaw Balks at the 2017 Venice Biennale, which speaks to confinement. Finally, Farago highlighted the mid-career retrospective of the work of Camille Henrot that was hosted by the Palais de Tokyo.
Overall, as this round-up points out, the art world in 2017 was particularly interested in social, cultural, and political agendas. Abstraction more often deals with universal subjects that extend beyond the present moment, which might explain why so few abstract artists madeappearances on two of these lists. We think that is unfortunate, because the open nature of abstraction is valuable in troubled times. Unlike propagandistic art that promotes a particular point of view, abstract art suggests that if we want a better world we should encourage people to think for themselves.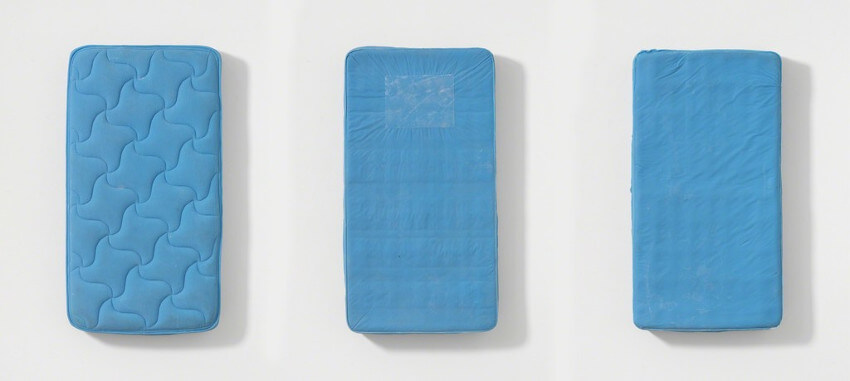 Kaari Upson - 146, 2013, Silicone, 54 3/10 × 163 2/5 × 5 9/10 in, 138 × 415 × 15 cm, photo credits of the artist and Maruani Mercier Gallery, Knokke
Featured image: Ad Reinhardt - Blue Paintings, intstallation view at the David Zwirner Gallery, New York. Credit 2017 Estate of Ad Reinhardt/Artists Rights Society (ARS), New York. Courtesy David Zwirner, New York/London
All images used for illustrative purposes only
By Phillip Barcio