Blog Home
The Week in Abstract Art – What Our Future Holds
Nov 16, 2016
Every Thursday we highlight a selection of abstract art exhibitions going on around the world. We try to approach this weekly article from a unique perspective, tying the selected shows to a common, overarching conversation. This week, the subtitle we chose for the article is from a quote by the artist Ai Weiwei, given in an interview with Designboom.com. The full quote reads, "When you see so many children out of school, 263 million children worldwide, you can easily predict what our future holds." Ai Weiwei recently traveled the Mediterranean refugee path. Along his journey he encountered an abandoned refugee camp. The inhabitants had been forced to evacuate quickly, and had left behind all of their clothes. Trucks loaded with the items were heading to a landfill. Ai Weiwei purchased them instead. He took the clothes to his Berlin studio, where, he said, "Each article of clothing was washed, dried, ironed, and then recorded. Our work was the same as that of a Laundromat." Those clothes are now on view in Laundromat, one part of a four-location Ai Weiwei exhibition in New York. This is the first Ai Weiwei exhibition since the artist was freed from his four-year confinement in China a year ago. In recognition of his revolutionary spirit, this week we highlight four other current abstract art exhibitions featuring the work of revolutionaries, radicals and visionaries who offered the world alternate visions of the future through their art.
Marcel Duchamp: Porte-bouteilles, at Galerie Thaddaeus Ropac, Paris
On view now through 14 January 2017
Marcel Duchamp has been called a revolutionary, a radical, a visionary, and even an art movement unto himself. In 1916, he envisioned porte-bouteilles, or bottle rack, the first readymade, defined by André Breton as an "ordinary object promoted to the dignity of an art object by the mere choice of the artist." Robert Rauschenberg purchased porte-bouteilles from Duchamp in 1959. Now the Robert Rauschenberg Foundation has enlisted Galerie Thaddaeus Ropac to sell the work to fund an endowment. Preceding the sale, this exhibition offers the chance to view porte-bouteilles along with several other works by Duchamp and other artists relating to the history of this legendary artwork.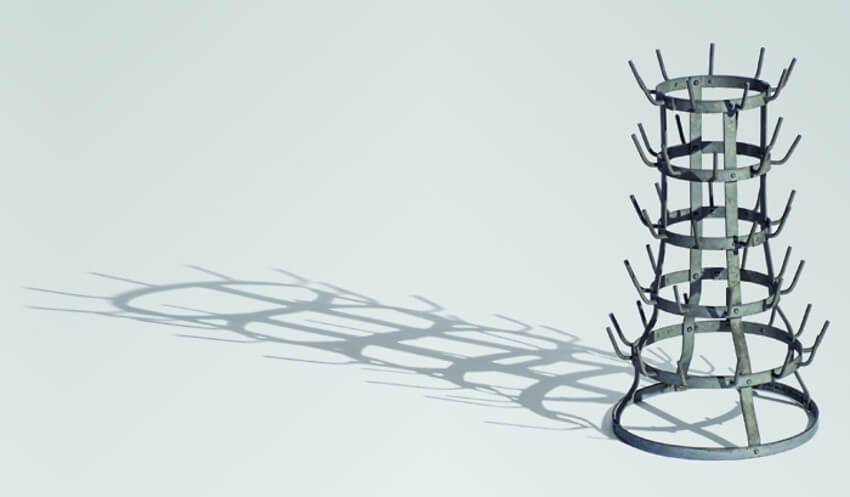 Marcel Duchamp - Porte-bouteilles, Galerie Thaddaeus Ropac, Paris, photo credits of Galerie Thaddaeus Ropac
Kishio Suga: Situations, at Pirelli HangarBicocca, Milan
On view now through 29 January 2017
In 1960s Japan, several artists were exploring similar ideas of ephemerality, nature and industrialization in response to social and political conditions between Japan and the rest of the world. These loosely connected visionaries were dubbed Mono-ha, or the School of Things. This exhibition features a stunning assortment of new, site-specific, temporary works by Kishio Suga, a key, original member of Mono-ha.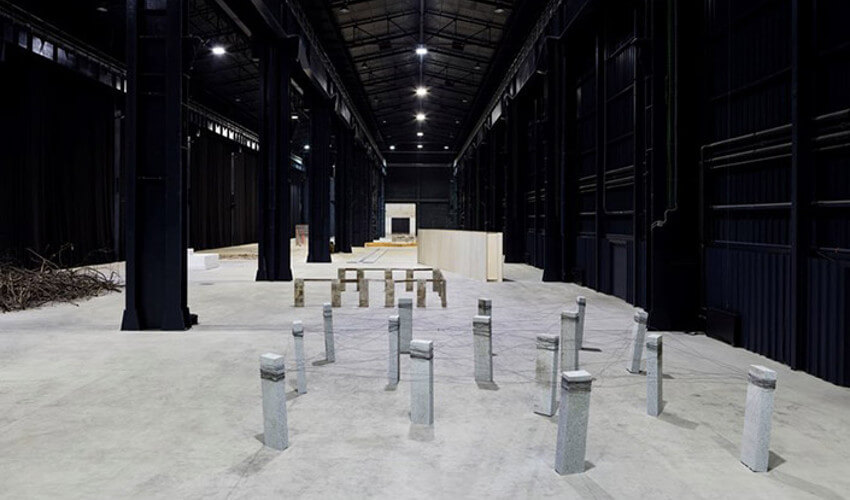 Kishio Suga - Situations, Pirelli HangarBicocca, 2016, photo credits of the artist
Mimmo Rotella: Blanks, at Cardi Gallery, Milan
On view now through 22 December 2016
In 1953, Mimmo Rotella had the epiphany that advertising posters were the perfect aesthetic representation of the city. In reaction against their cultural and capitalistic meaning, he began removing them, tearing them to pieces and reaffixing them onto canvases as collages. This exhibition features a selection of his iconic Blanks, advertising collages topped with the monochromatic backsides of posters.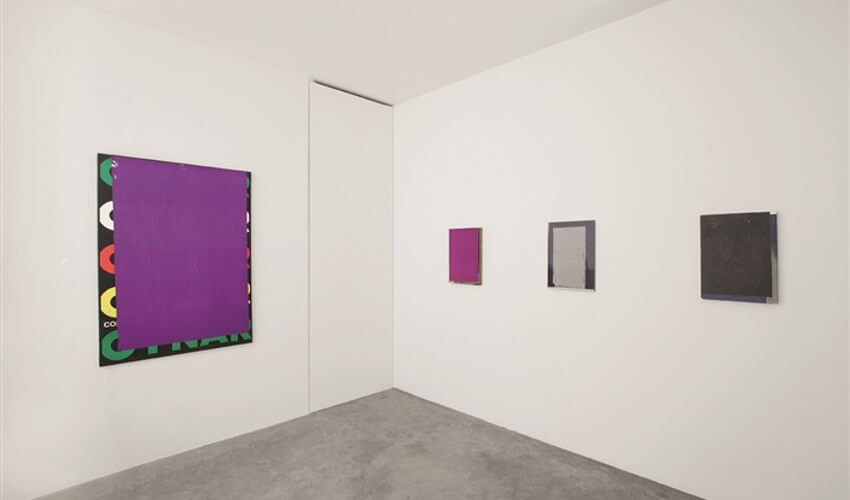 Mimmo Rotella - Blanks, Cardi Gallery, Milan, Italy, installation view
The Rat Bastard Protective Association, at The Landing, Los Angeles
On view now through 7 January 2017
The Rat Bastard Protective Association was a revolutionary art collective formed in the Fillmore District of San Francisco in 1957. In its brief existence, it nurtured some of the most radical voices in 20th Century California art, including Bruce Conner, Jay DeFeo and Carlos Villa. In celebration of the new book Welcome to Painterland: Bruce Conner and the Rat Bastard Protective Association, this exhibition includes nearly 50 artworks by 12 original members of the group.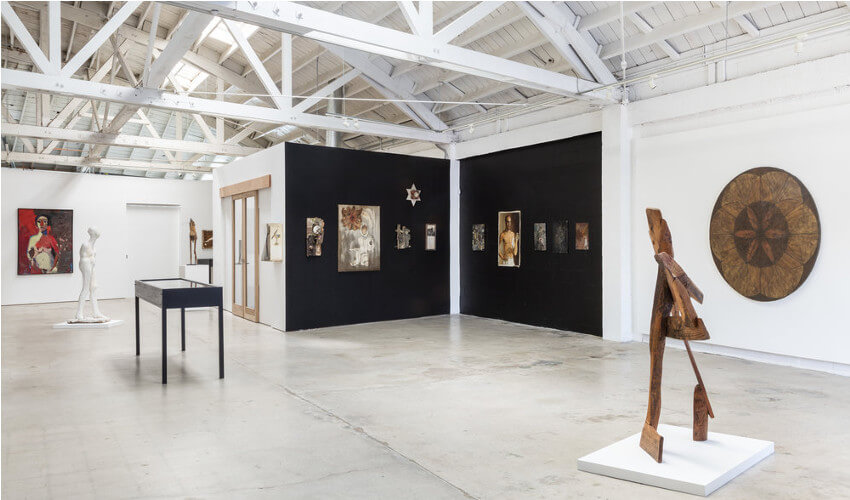 The Rat Bastard - Protective Association, The Landing, Los Angeles, photo by Joshua White, credits of The Landing Gallery
Ai Weiwei, four concurrent exhibitions, at Mary Boone Gallery, 5th Avenue, Mary Boone Gallery, Chelsea, Lisson Gallery and Deitch Projects, New York
On view now through 23 December 2016
In addition to the Laundromat installation, Ai Weiwei presents three other monumental, site-specific installations spread across four locations.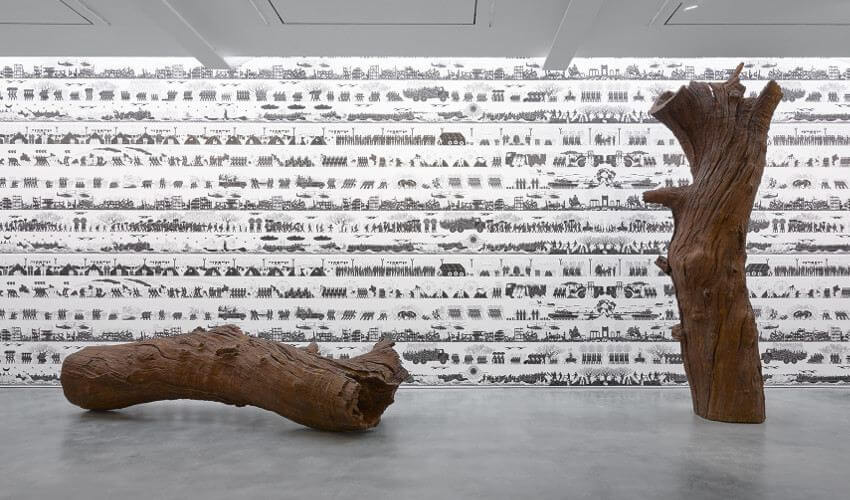 Ai Weiwei - Roots and Branches, Lisson Gallery, 2016, photo credits of Lisson Gallery
Featured image: Ai Weiwei - Laundromat, New York, photo by Jeffrey Deitch, credits Designboom
By Phillip Barcio