Blog Home
The Week in Abstract Art – Findings in the Making
Dec 8, 2016
Artists find things and make things. What they make out of the things they find is up to them. What we find within the things they make is up to us. Ever since Picasso first collaged a picture of a chair onto a painting and Duchamp imagined his first Readymade, the relationship between artists, viewers, and found objects has been evolving. Some believe art cannot be found, but must be made. Others thrill at found objects, discovering inspiration in their built-in narratives and surprising formal qualities. The topic of found art has inspired for us many interesting conversations about craft, intention, process and genre. But in the midst of those conversations we have learned that regardless of our other judgments, we are capable of identifying easily with both the found and the made; perhaps because we ourselves are a bit of each. In celebration of art objects both found and made here are five current abstract art exhibitions that feature artists who are investigating meaning in the space between finding and making.
Roman Ondak: The Source of Art is in the Life of a People, South London Gallery, London
On view through 6 January 2017
The hundred-year life of a tree is literally dissected in this exhibition exploring the abstract interpretive possibilities of culture and history. Roman Ondak sliced a felled tree into one hundred sections, and on each section inked in one ring, representing one year in the life of the tree, and stamped an image of a historical event that occurred that year. Each hundred days of the show one of the slices goes up on the wall, marking time. Along with the other found and made objects in this exhibition, the tree invites viewers to consider the value and meaning our inherited ideas about nature, culture, history and art.
Tony Feher: It Didn't Turn Out the Way I Expected, Sikkema Jenkins & Co., New York
On view through 23 December 2016
Tony Feher passed away earlier this year in New York. This exhibition reveals part of his final body of work, focusing on a selection of monochrome paintings that incorporate found seashells. Feher earned acclaim for the sculptural creations he made from the discarded objects of everyday life. His work reveals a personal attachment to these found objects that seems to supersede intellectual or philosophical connotations.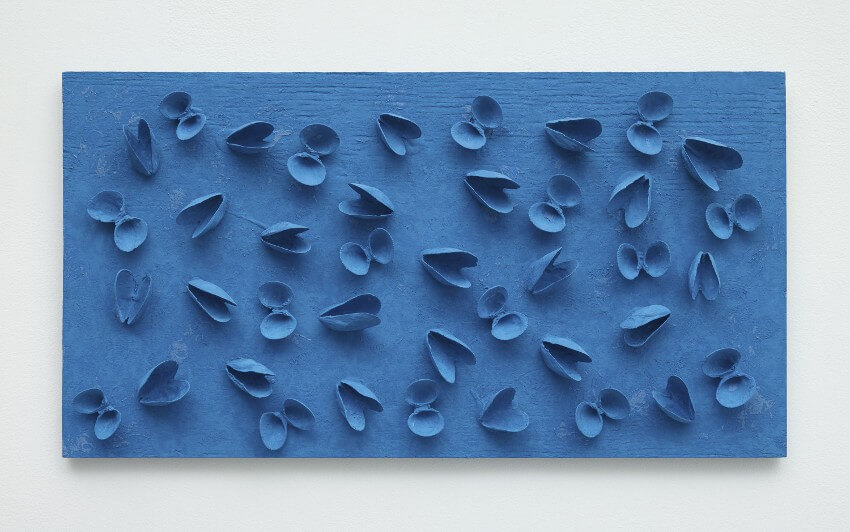 Tony Feher - It didnt turn out the way I expected (Cerulean Blue), 2010-16, photo credits Sikkema Jenkins & Co
Ree Morton: Something in the Wind, Alexander and Bonin, New York
On view through 22 December
The works in this exhibition of the Post-Minimalist artist Ree Morton possess a haunting innocence. They read like uncanny objects found in a three-dimensional diary of dreams. Their meaning blissfully unclear, they are nonetheless heavy with the weight of some specific past. Morton worked with a mixture of found and made objects, but in these works it is impossible, and perhaps irrelevant, to determine which is which.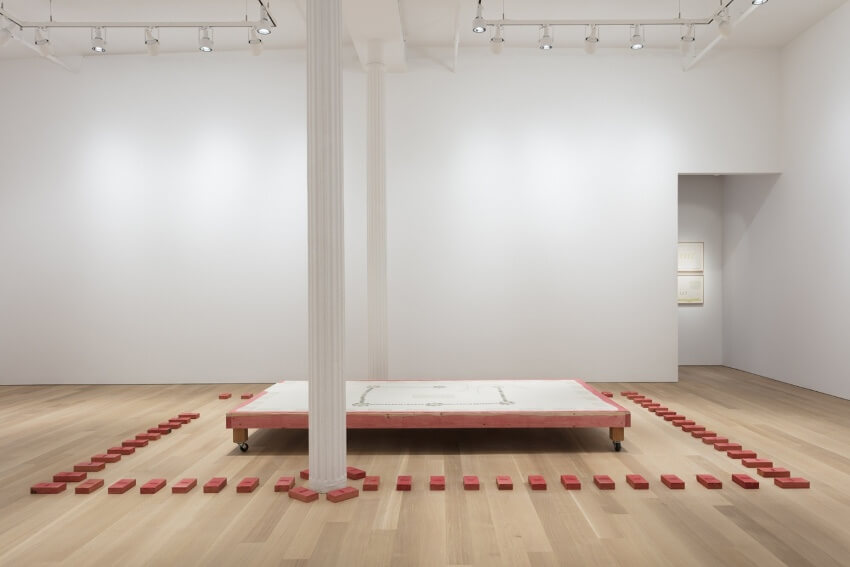 Ree Morton - Something in the Wind, Alexander and Bonin, New York, 2016, photo credits Alexander and Bonin, New York
Shinique Smith: Black Swan, Brand New Gallery, Milan
On view through 14 January 2017
This multi-faceted exhibition of new work by Shinique Smith conveys energy, motion and transformative forces. Cocoon-like fabric assemblages hang from the ceiling, bulging with promise. Fabric-collaged paintings burst forward off their surfaces, simultaneously drawing the eye deep into the plane. Smith breathes such life into the found materials she uses in her work that it feels like this is what they were made for.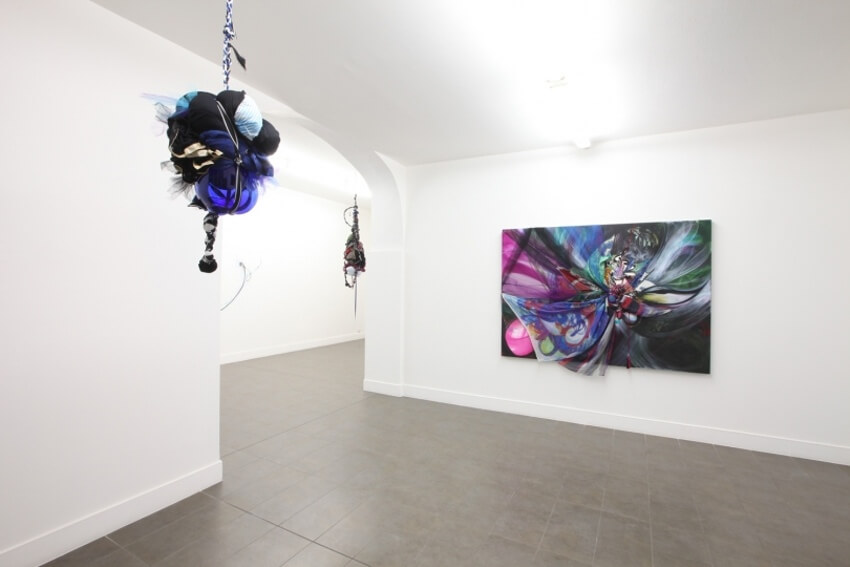 Shinique Smith - Black Swan, Brand New Gallery, Milan, 2016, photo credits Brand New Gallery
David Ostrowski, Michail Pirgelis: Nothing Happened, Sprüth Magers, Los Angeles
On view through 23 December 2016
This exhibition juxtaposes the paintings of David Ostrowski with the found art of Michail Pirgelis. The objects Pirgelis presents all began as found airplane components, taken from junkyards. He minimally alters them, arranging them stoically as abstract objects, without comment or judgment. Together with the minimal works of Ostrowski this exhibition addresses the question of the least an artist must do to instigate an aesthetic phenomenon.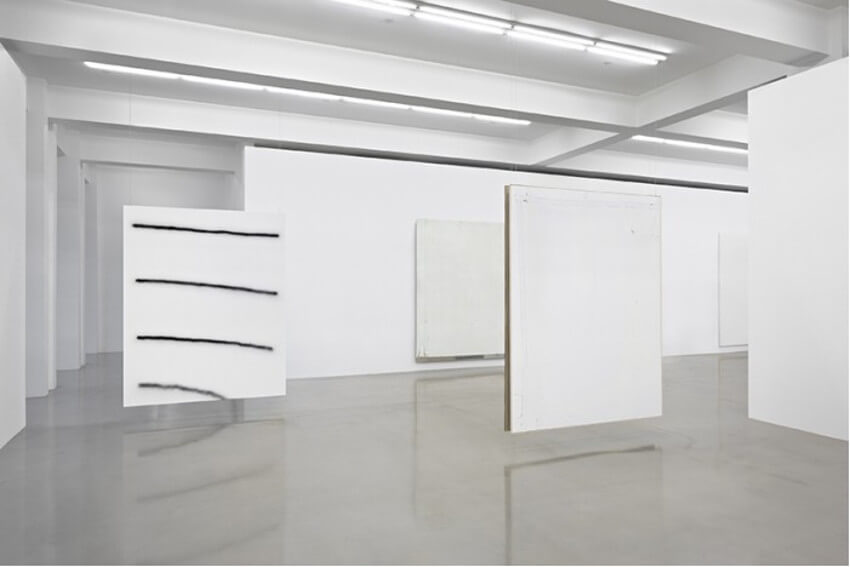 David Ostrowski, Michail Pirgelis - Nothing Happened, 2016, Spruth Magers, Los Angeles, photo credits Spruth Magers
Featured image: Roman Ondak - installation view, copyright of the artist, kurimanzutto, Esther Schipper, gb agency, Martin Janda, photo Andy Keate
By Phillip Barcio