Blog Home
The Week in Abstract Art – Fall Formalism
Sep 7, 2016
Formalist traditions help define us. But they are also like prisons. We recently read a story highlighting events that seem to put some of the formalist traditions of abstract art at risk. The Judd Foundation has invited British artist Richard Long to come to New York City and create two new permanent installations in Donald Judd's building at 101 Spring Street. Judd bought the cast iron mid-rise in 1968. Until he died in 1994, he painstakingly transformed it into a demonstration of his concept of permanent installation. He personally collected and installed each artwork in the building, and personally prepared each space for the artwork it accommodates. The building was recently restored and re-opened to the public in 2013. The Judd Foundation has since hosted various events and exhibitions in the space. But we wonder whether inviting an artist to install new permanent work threatens the conceptual integrity of the building itself. The specific collection of permanent work Judd installed collaborates with the specific place the work inhabits to become a unified expression of the formalist qualities of Judd's concept of permanent installation. And this doesn't even address whether Long's personal, nature based works complement the traditions of Minimalism. But hey, traditions are made to be broken. Maybe that beautiful cast iron building full of art shouldn't just sit there like a dusty old ghost. Maybe it should live. And living means adapting. Besides, Judd did once call Long Britain's best artist. That settles it. Formalist tradition is dead! Now here are four current and upcoming exhibitions that celebrate formalist tradition. Long live formalist tradition!
Radical: Monochrome Paintings from the Goodman Duffy Collection, George Lawson Gallery, San Francisco
On view now through 22 October 2016
This exhibition highlights major works from painters involved in the monochromatic Radical Painting movement. On view will be monochromes from artists such as John Meyer, Marcia Hafif, Phil Sims and ten other artists, all on loan from the Goodman Duffy Collection.
José Heerkens: Noontide, Mies van der Rohe House, Oberseestr 60, Berlin
Closing Friday 9 September 2016
Dutch artist José Heerkens creates minimalist paintings that utilize meticulous grid patterns to explore the dialogue between color and line. This exhibition of Heerkens' paintings is particularly engaging in the way it converses with the architectural patterns inherent in its setting in the Mies van der Rohe House in Berlin.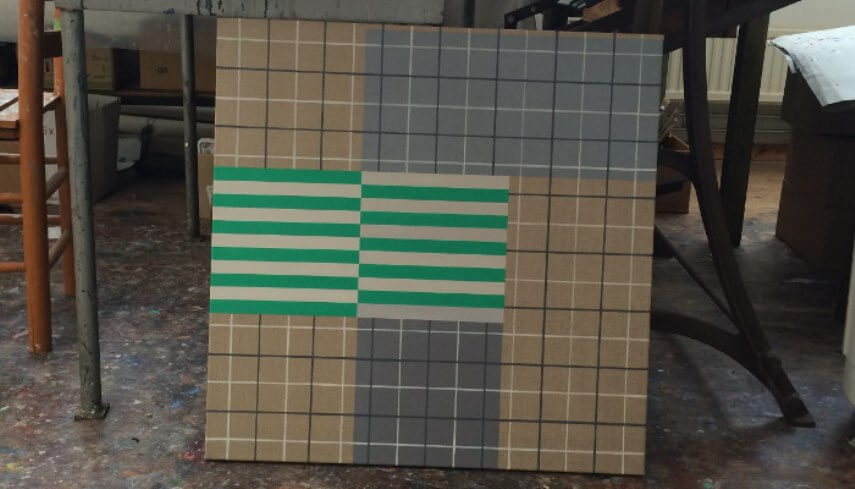 José Heerkens - L17. Voyage des Couleurs
Fred Sandback Vertical Constructions, David Zwirner, 537 West 20th Street, New York
On view 15 September through 22 October 2016
Fred Sandback spent his career engaged in a focused exploration of line. His approach was multi-disciplinary, including painting, drawing, sculpture and installation. This exhibition focuses on Sandback's fascination with verticality, recreating his mid-career solo show from 1987 and presenting those works alongside other vertical-oriented pieces from throughout Sandback's career.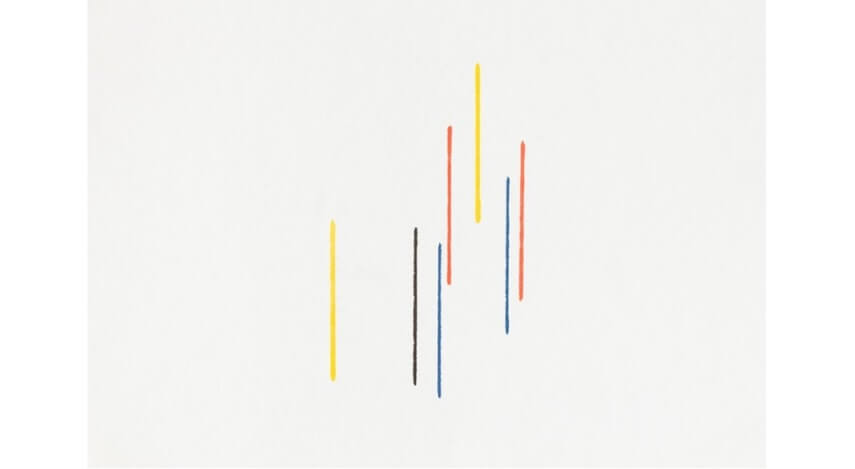 Invitation for Fred Sandback. Vertical Constructions, Westfälischer Kunstverein, Münster, Germany, 1987
Sean Scully: The Eighties, Mnuchin Gallery, New York City
On view 13 September through 22 October 2016
The Irish painter Sean Scully gained fame with his Minimalist, hard-edged, lined paintings in the 1960s and 70s. Then he had a revelation that, as he said, "what had been stripped out of painting—i.e., the ability to make relationships, to be metaphorical and referential, spiritual, poetic, all those things and aspects of human nature—had to be put back in if painting was to go forward." This exhibition uses that moment of transformation as a starting point to examine Scully's post-Minimalist paintings dating from 1982 to 1989.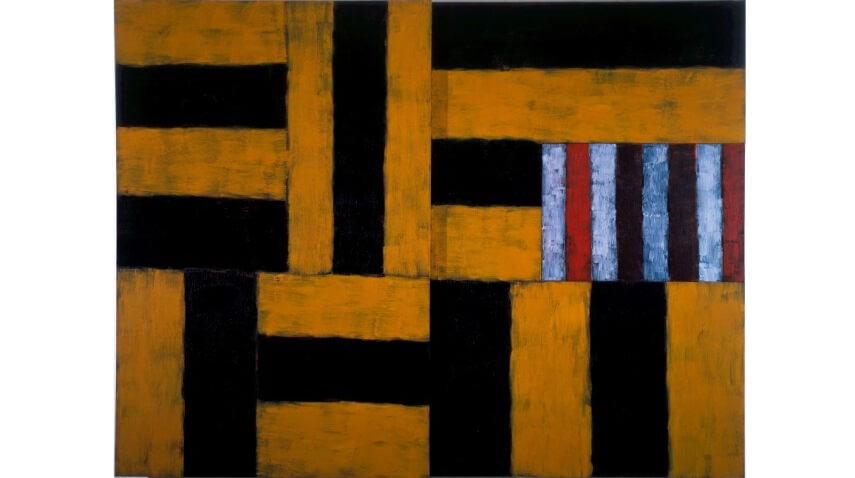 Sean Scully - Artwork
Featured Image: Jake Berthot - untitled (Orange Painting) from the Lozenge series, 1986