Blog Home
The Week in Abstract Art – Conditional Possibilities
Jul 28, 2016
Philosophy and art have a lot in common. For example, unlike math, which deals with probabilities, philosophy and art both deal with possibilities. This week we heard about a new fellowship program coming to the Edinburgh University that will combine the fields of philosophy and art. Begun by Peter Ballantine, a former curator for the Judd Foundation, this program will invite selected fellows to Edinburgh in order to pontificate on the relationship between Donald Judd's artwork and the empiricist writings of the Scottish philosopher David Hume. Hume's empiricist view states that human behavior is primarily influenced by experience and circumstance, not logic and reason. Judd cited Hume as a major influence on his practice, not surprising since Judd's work provides the perfect opportunity to observe empiricism in action. Devoid of subject matter or evidence of the artist's hand, Judd's Specific Objects rely almost entirely on the personal outlook of individual viewers for their aesthetic translation. Inspired by this perfect marriage of art and empiricism, here are three current abstract art exhibitions uniquely suited to interpretation from viewers based on their own circumstances and personal experience.
Robert Irwin's Untitled Installation in Marfa, TX
Permanently on view
After WWII ended in 1945, Fort D. A. Russell, an American military post in Marfa, Texas, was shuttered. So for decades that meant that there was almost no reason for outsiders to go to Marfa, a three-hour drive through the desert from the nearest airport in El Paso. But that all changed in the 1970's, when Minimalist artist Donald Judd purchased the former fort and began converting the land and buildings into a museum. Known as the Chinati Foundation, that museum now houses monumental works by some of the most important names in Modernist art. Last week, Judd's Dia Art Foundation unveiled the site's newest addition, a 10,000 square foot installation by Light and Space artist Robert Irwin. Irwin transformed the former D. A. Russell hospital into an unparalleled exploration of the collaboration between natural and filtered light and interior and exterior spaces. Seventeen years in the making, Irwin's installation offers a stunning jumping off point for subjective responses.
Calder in the Alps, outdoor sculptures in Gstaad, Switzerland
On view through 30 September 2016
Alexander Calder's large-scale, abstract sculptures possess definite character and energy all their own. But how much does the context and the circumstances of how they're exhibited affect their meaning? In an effort to explore this question, Hauser & Wirth Gallery has temporarily installed nearly a dozen of Calder's monumental sculptures in and around the resort town of Gstaad, in the Swiss Alps. Viewers can wander the landscape at will, discovering the myriad ways Calder's works both harmonize with and alter the nature of human experience in this idyllic environment.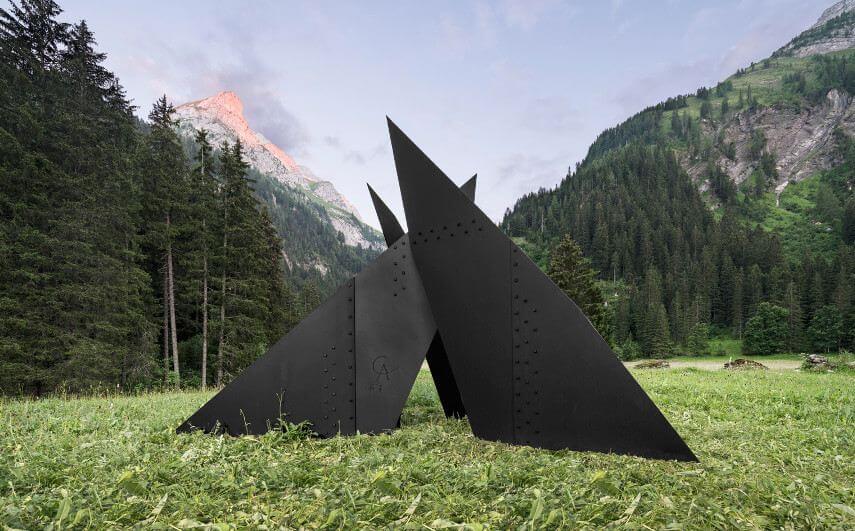 Alexander Calder - Six Planes Escarpe, 1967, outdoor exhibition, copyright Alexander Foundation, NY
Agnes Martin Retrospective at LACMA, Los Angeles, CA
On view through September 11, 2016
A true believer in the subjective potential of aesthetic phenomena, Agnes Martin achieved global fame for the stunning lined paintings she began making in the 1960s; purely abstract compositions of delicate horizontal, vertical and diagonal strokes. This comprehensive exhibition of Martin's work at the Los Angeles Contemporary Art Museum is her first U.S. retrospective since 1992. It offers a unique chance to view works spanning Martin's entire career, a perfect opportunity to decide personally whether Martin was successful in her stated goal of endowing her works with the essence of "beauty, innocence, and happiness."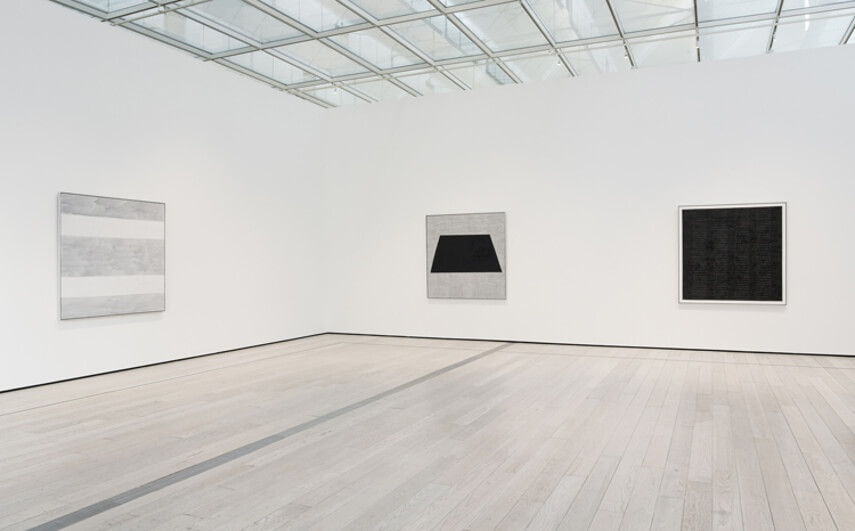 Agnes Martin - exhibition at LACMA, Copyright Agnes Martin/Artists Rights Society
Featured image: Robert Irwin - 10,000 sq ft installation in Marfa, Texas