Blog Home
Muted Emotion: Agnes Martin at the Tate Modern
Oct 1, 2015
Agnes Martin (1912-2004) was an American artist and pioneer of abstract painting, best known for her biomorphic paintings in subdued colours and subtle pencil lines. Despite never really seeking the limelight (she upped stakes from New York and moved to New Mexico in 1967 to seek silence and solitude), all eyes are now on her paired-back creations, as the Tate Modern is holding a major retrospective exhibition of her work until 11 October 2015.
Solitary Socialite
Born in Macklin, Canada, in 1912, Agnes Martin moved to the United States in 1931, becoming an American citizen in 1940. She studied at Western Washington University College of Education and Teachers College, Columbia University, where she developed an interest in Zen Buddhist thought, which went on to greatly influence her work, as she believed that "Without awareness of beauty, innocence and happiness, one cannot make works of art." She moved to New York in 1957 having been discovered by the artist and gallerist Betty Parsons, and swiftly became entrenched in the exciting New York art scene, mingling with the likes of Sol LeWitt, Ann Truitt, Donald Judd and Ad Reinhardt, who would become a great friend and mentor. With the support of her peers, Martin was able to put on her first solo exhibitions at Betty Parsons Gallery in the late 1950s and began to garner critical acclaim. However, following the death of Reinhardt in 1967, she left New York to travel across North America, eventually settling in New Mexico a year later, where she continued to explore Buddhism and meditation in the pursuit of true solitude. She did not paint for seven years, totally withdrawing herself from the artistic social scene and focusing on her writing. It was 1973 before she took up her brush again.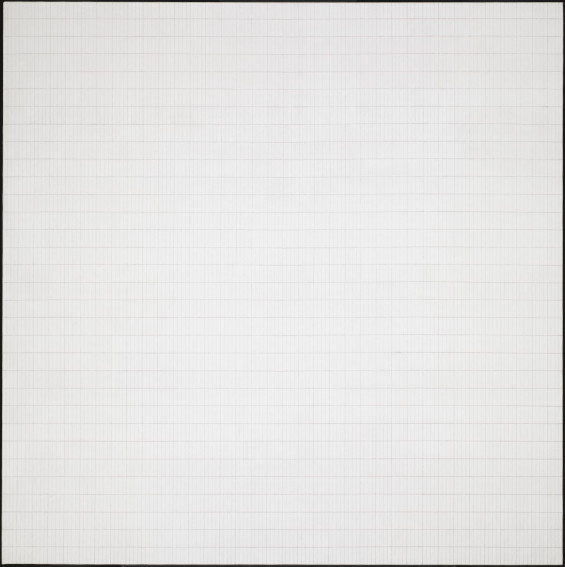 Agnes Martin - Morning, 1965. Acrylic paint and graphite on canvas. Support: 182.6 × 181.9 cm, frame: 184 × 183.2 × 4.3 cm. Tate Collection. © Estate of Agnes Martin / DACS, 2020
Pursuit of Perfection
Her deep conviction in the power of art to incite emotion and harness expression is woven into the very fabric of her muted canvases, which act as playful experiments in the pursuit of perfection. The Tate's exhibition is the first retrospective of Martin's work since 1994 and is proposing a look at the full breadth of her work. It ranges from her early analysis of varied forms, such as her 1958 The Garden, a collage of rows of found objects glued onto a background canvas, to her eponymous grid and striped canvases spun from gold leaf (Friendship, 1963) or washed in watercolour (as with a blue untitled work composed of watercolour, ink and gouache, 1965). The retrospective will offer an opportunity for viewers to experience the power of her visionary works in a perfect marriage of understated minimalism and emotive potency, with Martin herself declaring that "Art is the concrete representation of our most subtle feelings."
Since her death in 2004, Martin's work has continued to have global appeal, influencing the work of artists from a variety of disciplines, from painters and photographers to fashion designers and writers. As a true lover of art, Martin's work is a must-see for all like-minded devotees.
Featured image: Agnes Martin - Happy Holiday, 1999. Acrylic paint and graphite on canvas. Support: 152.5 × 152.5 × 4 cm, frame: 154.5 × 154.5 × 5 cm. Tate Collection. © estate of Agnes Martin
All images used for illustrative purposes only