Blog Home
Color and Form in Abstract Watercolor Paintings
Mar 11, 2016
When an abstract painter has an idea, certain choices must be made before it can manifest as a painting. Foremost is what kind of paint to use. Each medium possesses unique qualities that affect conceptual interpretations. (See Medium Specificity.) If the idea is about impermanence or ethereality, abstract watercolor paintings perhaps communicate those concepts most effectively. Though in some ways watercolors' attributes are more limited than, say, oils, in other ways they offer an expanded world of luminescence and light.
How Abstract Watercolor Paintings Speak
Every artwork is an utterance, and every utterance says something. Even incoherent groaning communicates emotion. Verbal language is simply a collection of those utterances to which a group has assigned common meaning. Abstract painters communicate through aesthetic utterances, specifically those to which no common meaning is assigned. They utter through elements such as line, stroke, color, texture, form and shape. What those utterances mean is up to the painter and the viewer.
Watercolors' unique attributes narrow that aesthetic language even further, allowing painters to focus primarily on color, stroke and form. Watercolors lack the texture of oil paints, the flatness and opacity of acrylics, and the specificity of ink and graphite. Their ambivalent and transparent nature creates color profiles unique to the medium. And when applied to a porous surface, watercolors migrate, defying a sense of line, inhabiting space as organic form, however amorphous.

Peter Soriano - L.I.C. (Orange), 2015. Spray paint, pencil, ink, watercolor. 45.5 x 140 cm.
Decoding Color
When viewing an abstract painting, color is often the most powerful aspect of the experience. Color Field painters , Fauvists and Orphists strongly believe that specific colors enhance each other when placed next to each other, creating a sense of movement an vibration within the image. That sense of well-defined complimentary colors is much more difficult to achieve when working with watercolors.
The ways abstract watercolor paintings utilize color is often less about the vibrational potential of complimentary or contrasting colors, and more about qualities like translucence and light. Watercolors lack the kind of binders found in mediums like oils and acrylics, allowing watercolors to blend with subsequent layers and become more translucent when diluted with water. The result is that watercolors intermingle, adopting an ethereal quality, easily communicating a sense of impermanence and flux.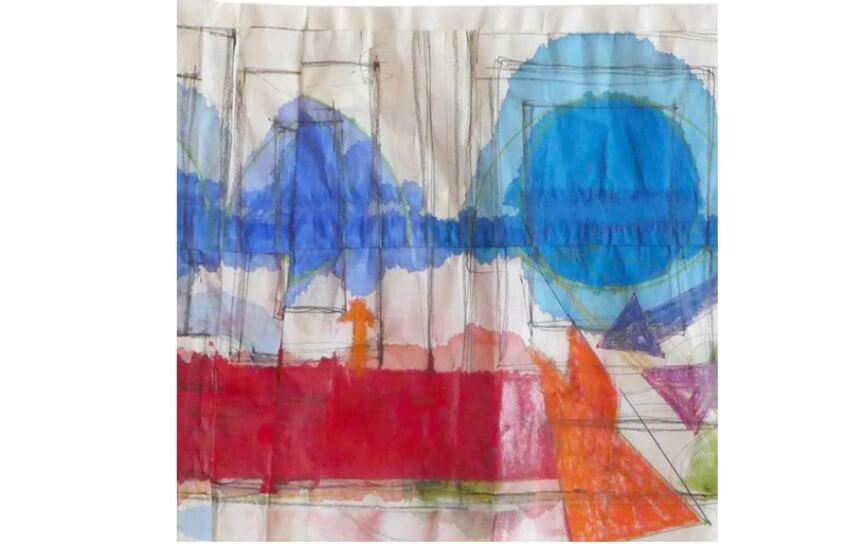 Peter Soriano - Niagara Falls , 2014. Spray paint, pencil, ink, watercolor on paper. 8.7 x 33.1 in
Decoding Form
Though abstract paintings don't rely on recognizable forms, they nonetheless present spaces in which form and non-form interact. Spaces sectioned off with lines and filled in with color become defined as form or object, and give viewers a sense that something defined is occupying a given space.
Because of watercolors' tendency to bleed on the edges, forms created with the medium tend to be more amorphous and less defined. This quality gives watercolor forms a sense that they are evolving and unfixed. Whereas an abstract oil painting may contain hard-edged lines and well-defined forms, an abstract watercolor may offer forms that seem to disappear or melt into non-form, containing less certainty, and more ambiguous character and meaning.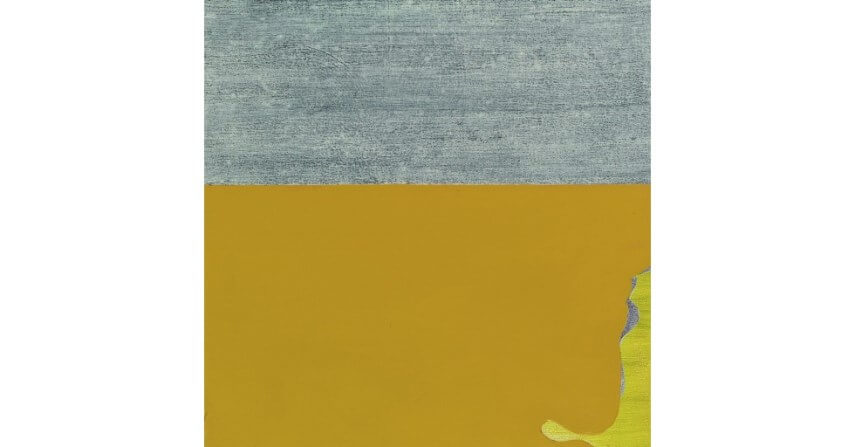 Sarah Hinckley - Brightness of My Day, 2012. 24 x 17.7 in.
Mixing Mediums
The abstract artist Peter Soriano uses watercolors in a way that seems informed by his multiple cultural and geographical influences. Born in the Philippines, he identifies as a French-American artist. Soriano is inspired by the visual landscapes of multiple places and his work draws on multiple mediums in order to find its full expression. Soriano uses spray paint, ink and graphite, and tends to fold the paper surface while working, giving the finished work a sculptural dimensionality. And watercolors play a key role among his choice of mediums.
In Soriano's work, watercolor strokes cohabitate in space along with ink, graphite and folds, offering us a chance to fully watercolor's unique communicative properties as compared to other mediums.
In his painting "Niagara Falls," Soriano's mixed use of mediums offers a multiplicity of aesthetic utterances. The layered presence of morphing watercolor shapes mingles with grids and hard edged colored graphite forms. Multiple influences, multiple messages and multiple layers are at play, evoking something distinctly contemporary, something that flows naturally from Soriano's personal experience.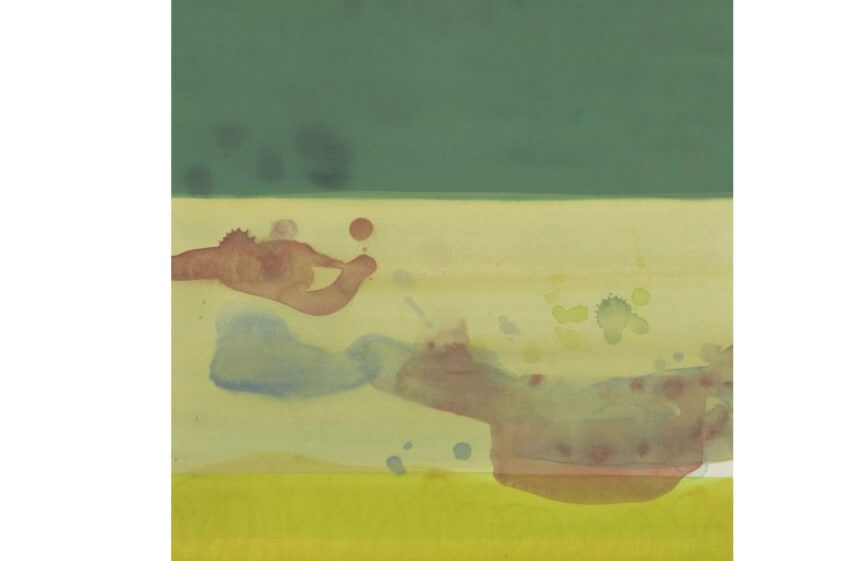 Sarah Hinckley - It Starts With Just a Little Glance (1), 2007. Watercolor on Fabriano, 17.7 x 13 in.
Singular Purity
Sarah Hinckley's abstract watercolor paintings communicate nuance and intuition. To achieve the utterance of such sensibilities, Hinckley fully embraces the ambiguity qualities of watercolors. Her strokes on paper expand organically outward. Her layered forms meld into each other, offering transparent peeks at under layers, giving her work a ghostlike feeling of transience.
In her piece "It Starts With Just a Little Glance (1)," Hinckley demonstrates her mastery of the watercolor medium, offering viewers safe places in which horizon lines define space, while populating those places with more challenging utterances in the form of morphing and shifting color forms and shapes.
Those "more challenging utterances" in Hinckley's work, and the layered, morphing shapes in Soriano's work, together speak to watercolors' unique ability to communicate the unknown. Their translucence, luminescence, and shifting borders speak to transcendence, impermanence, and hope. They speak to that part of us that's unsure, but excited about what might be next.
Featured image: Peter Soriano - Berlin, 2015. Spray paint, pencil, ink, watercolor. 20 x 58 cm.