Blog Home
Abstract Art With A Twist - Our Mixed Media Works For Sale!
May 1, 2020
Merging two or more mediums and materials in a single artwork became increasingly popular in the 20th century. Picasso's Still Life with Chair Caning is commonly considered the first modern collage (or rather an assemblage as he turned oil paint, oilcloth, pasted paper, and rope into a low-relief, three-dimensional work) along with Braque's wood-grained wallpaper in a series of charcoal drawing. Dadaists Kurt Schwitters and Max Ernst propelled it further as their haphazardous association of juxtaposed images conveyed the powerful and discerning criticism of society and art itself. These daring attempts pathed a way to mixed media abstract art that further explored porous boundaries of blending multiple mediums and materials. From his earliest efforts to capture objects around him in collages of the simple, square grid structure to unpredictable, symbiotic systems and random arrangements, Ellsworth Kelly's lasting fascination with collage also influenced his later paintings on separate re-combinable panels. Robert Rauschenberg and Frank Stella were particularly famed for their brazen examination of the unconquered possibilities stowed in mixed media abstract art. In his hybrid Combines series Rauschenberg used photographs, cloth, a newspaper clipping and paint along with feathers, pebbles, gold and dirt to draw up his metaphorical visual riddles, while Frank Stella created sensuously colored mixed-media reliefs of arabesques, French curves, and organic shapes using aluminum, glass, and fiberglass. Mixed media continues to inspire abstract artists of today as they are fleeing the rigid constraints of art forms and seeking the unhindered freedom of artistic expression. For our weekly choice of the most compelling mixed media abstract art, please scroll below.


Daniel Göttin - Double Grid 4
Double Grid 4 is one of four wall objects of the same size consisting of two adhesive color tapes that create a regular grid pattern on anodized aluminum panel. Blue and pink tapes add to a visual and spatial depth between each other as they intersect the reflecting aluminum panel. Inspired by Minimal Art, Concrete Art, and Conceptual Art, Göttin works with common industrial materials that are selected to resonate with the specific requirements of an architectural site and space as he skillfully examines the subjective nature of perception in the altering environment. While his work is iterative and attuning, the stillness of the final physical object is abundant with clarity and thoughtfulness. It is the stillness that invites a variety of interpretations that emerge from evoking the expressive nature of the viewer. Daniel Göttin is a Swiss artist whose work is divided between site-specific work and colored or painted objects for walls. He lives and works in Basel.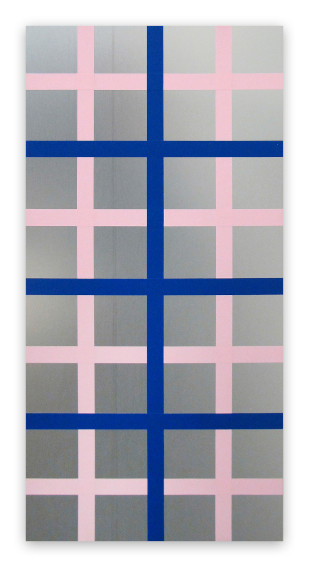 Daniel Göttin - Double Grid 4, 2016. Adhesive tape on anodized aluminum. 80 x 40 cm.
Fieroza Doorsen - Untitled (Id. 1293)
In this tissue paper on paper piece, Doorsen draws on the legacy of Arte Povera that used throwaway and trivial material to challenge the prevailing art norms. For Doorsen, using tissue paper particularly highlights the contrast between tensions and harmonies arising from the seemingly colliding dichotomy of structure and intuition. The surface of this piece is tactile and encapsulates its own presence as Doorsen herself acts as a medium between her materials and the patterns and shapes they reveal. Untitled (Id. 1293) transcends contradictions between the organic and geometric, the systemic and random. Doorsen's work relies on its inherent and visually inscribed aesthetics while nurturing a multitude of perspectives and evoking contemplation. Doorsen is an English abstract artist who has developed her own personal language with an emphasis on pattern and colored forms. She lives and works in London.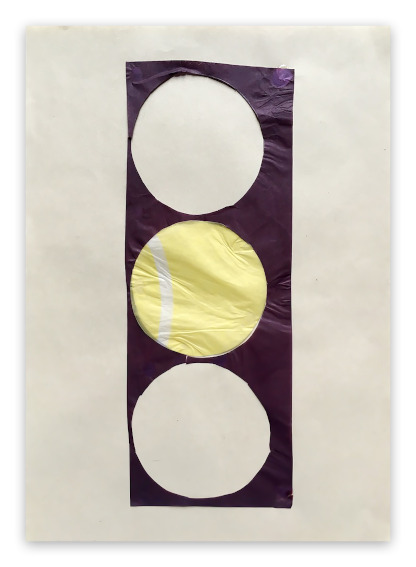 Fieroza Doorsen - Untitled (Id. 1293), 2016. Tissue paper on paper. 29.5 x 21 cm.
Jean Feinberg - DD2.15
Made on a thin and delicate acaba paper, DD2.15 was created at Dieu Donné in New York City, a non-profit studio for handmade paper art. While Feinberg initially handmade the paper to paint on it, she became fascinated by the accidents, markings, and texture that appeared on a dried and pressed piece and decided to assemble it. The frankness of her work is deeply embodied in the physical objects of her creation and a three-dimensional form allows her authentic self to express itself most genuinely. The poetic implications of her simple and economic approach are noticeable in an accentuated sense of materiality that invites viewers to a contemplative and immaterial journey that implodes into emotions and self-reflection. Feinberg is an American abstract painter who uses paint, wood, canvas, and paper to explore the intersection of painting and object. Using salvaged wood, she constructs paintings that incorporate sculptural qualities, blurring the lines between 2D and 3D representation. She lives and works in New York City.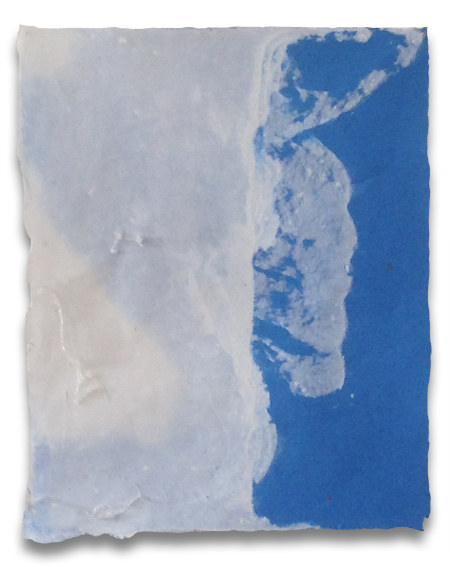 Jean Feinberg - DD2.15, 2015. Handmade acaba paper. 36.2 x 29.3 cm.
Deanna Sirlin - And Back Again
And Back Again is an intimate, colorful mixed media on archival film that illustrate Sirlin's lasting search for the self in her own art. She is using the creative process to redefine and rearticulate herself as her idiosyncratic aesthetic of sensuous colors engulf the viewer and place him/her in the center of Sirlin's work. There, in the center of her work, an ethereal and contemplative dimension is revealed. Beyond the cut photographs, found materials and recycled canvases there is a personal world of hers that lures the viewer to retrace and share her sense of discovery and revelation in the act of painting itself. Sirlin is an American abstract artist best known for her gestural paintings and monumental installations. Her work prioritizes color. In her paintings, she explores how texture and composition affect color relationships. She lives and works on a horse farm outside of Atlanta, Georgia.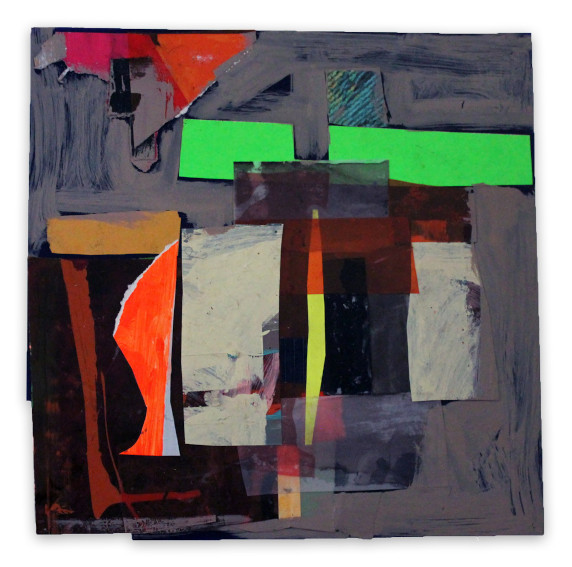 Deanna Sirlin - And Back Again, 2015. Mixed media on archival film. 45.7 x 45.7 cm.
Peter Soriano - L.I.C. (Blue)
Inspired by his own studio located in Long Island City (L.I.C) and the objects within the studio, particularly the remnants of old closets that have been removed, Soriano uses spray paint, ink, pencil, and watercolors to express his nostalgic longing for the reality that ceased to exist. He is inspired by his most immediate surroundings as he tries to situate himself in the configuration that is the subject of his work. L.I.C. (Blue) reveals his interests in objects attached to other objects such as architectural plans as lucidly evident. Soriano folds and reworks a piece a number of times. The final form is the result of an intensive inner dialogue as well as the heightening and repositioning of the relationship between forms. Soriano is a Philippines-born French-American abstract artist who divides his time between New York City and Penobscot, Maine. Although he began his career as a sculptor, his work is now two-dimensional. He is known for his bold spray-painted wall murals and for his more intimate works on paper. Soriano's work is gestural and geometric, dominated by a graphic lexicon of marks and notations.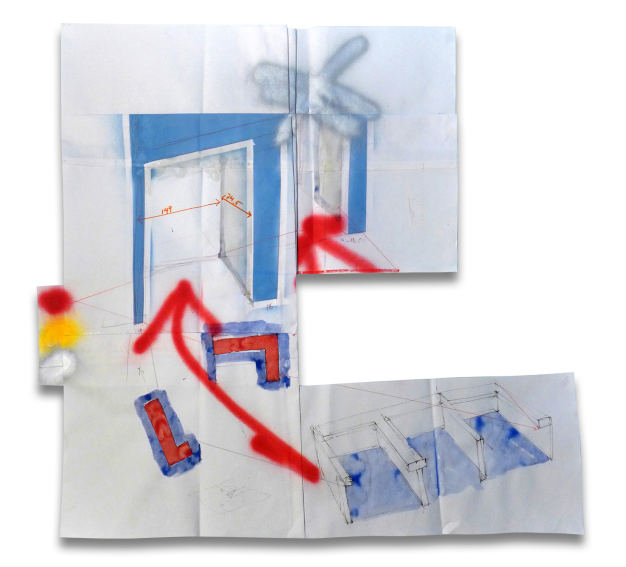 Peter Soriano - L.I.C. (Blue), 2015. Spray paint, pencil, ink, watercolor on paper. 96 x 98 cm.
Pierre Auville - White Stripes
Working in a number of different professions before committing to art, made Auville comfortable creating with the most unusual materials. In White Stripes, he opts for cement, acrylic, and rod steel on foam panel exploring the most concealed qualities and multifunctional use of each material. In his work, he emphasizes the moment where color and materials merge and return to their original mineral essence. Inspired by prehistoric cave paintings, concrete roads, or abandoned blockhouses he is faithful to geometric abstraction, Art Povera and Street Art. In White Stripes, he applies cement with high density as he allows the colors from cement to determine the work. As the cement dries up he adds acrylic to intensify the brightness of the work. Auville is a French artist whose work investigates and incorporates the aesthetic and conceptual qualities of manufactured materials such as cement, concrete, and steel. He was born in Le Havre and lives and works near Paris.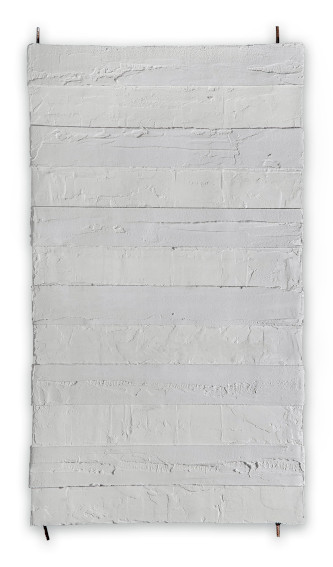 Pierre Auville - White Stripes, 2016. Cement, acrylic and rod steel on foam panel. 104 x 60 x 6 cm.


Featured image: Peter Soriano - L.I.C. (Blue), 2015, installation view.
By Jovana Vuković