Blog Home
Yellow Abstract Art For Sale to Brighten Up Your Home!
Apr 24, 2020
While vigorously applying yellow - in Yellow-Red-Blue or The Yellow Canvas, among others - Kandinsky claimed that yellow torments man, it imposes itself on him like a constraint, intruding with a kind of unbearable brutality. Indeed, yellow allows for a myriad of meanings, interpretations, and emotions to co-exist and this unique attribute particularly fascinated first-generation Abstract Expressionists. Radiant yellow in de Kooning's Yellow Woman abruptly dazzles the eye, accentuating the full brilliance of the work as does bright yellow in Pollock's Yellow Islands. But, California hills' yellow ochre, reminiscent of his youth, was essential in Robert Motherwell's work. From Little Spanish Prison where freehand vertical yellow bands denote hope or Yellow Chord where a field of yellow glaringly contrasts bold black shapes, yellow becomes Motherwell's signature color that dominated his prolific oeuvre. As yellow continues to inspire and provoke artists of today, our weekly selection should help you choose your own yellow gem and add it to your collection!
Anya Spielman - Quince
Spielman's intense physical approach unveils unrestrained, expressionistic artwork that discloses her impulsive nature. This small oil on paper discloses a luminous and sensual saturated surface with glossy and matte layers of yellow and white that are gorgeously layered. The reckless black lines distantly refer to quinces creating an underlying structure that deconstruct and produce a submerged vocabulary of work. Quince explores stillness and structure in tenuous balance that entices and excites the viewer. Spielman is an American abstract painter. Her work explores the constellation of binary forces and forms. She lives and works in the Los Angeles area.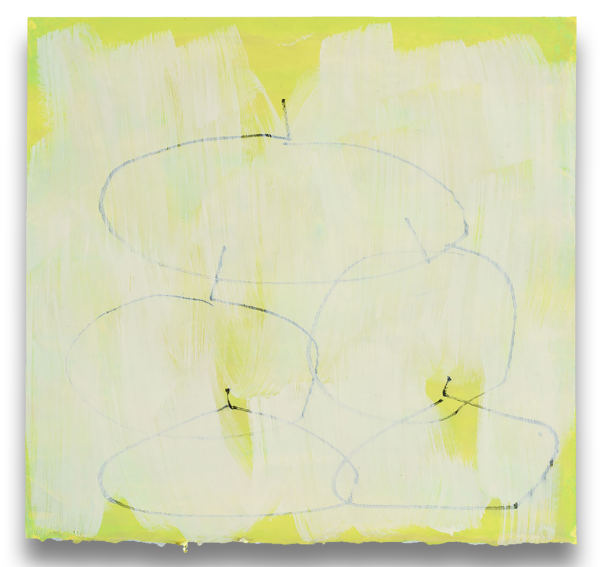 Anya Spielman - Quince, 2015. Oil on paper. 17.8 x 17.8 cm.
Dana Gordon - Line to Structure 8
Line to Structure 8 is part of Gordon's early series created in 1977 in which he scrupulously examines how marks develop into lines, shapes, and pictures. This acrylic on handmade Indian paper vacillates between linearity and cluster of marks and shapes as his reduced palette with inhibited yellow allows him to focus on qualities of lines and marks. Focusing on basic components he delves deep into human nature and its most concealed secrets. Gordon is an American abstract painter and multimedia artist whose exuberant work has for decades directly explored the potential of mark-making and line to create meaning-imbued color, shape, and space. He lives and works in New York City.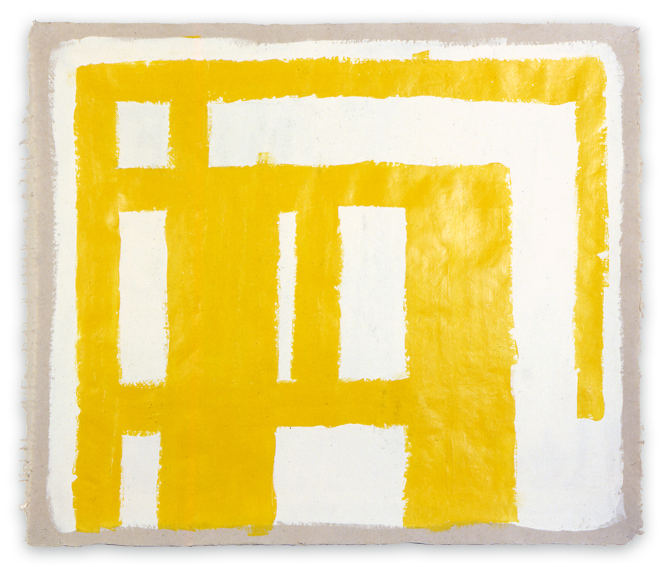 Dana Gordon - Line to Structure 8, 1977. Acrylic on handmade Indian paper. 61 x 76.2 cm.
Janise Yntema - Lemon Yellow
This work is part of the series The Temperature of Light where Yntema layers translucent pigmented wax to achieve the extraordinary vibrancy of color. Lemon Yellow is her meticulous effort to condense the feeling of perceiving lemons as memories of observed objects inhabit her personal reflective space. There she allows color and light to interact and exploit subjectivity and a subject matter itself. Yntema is an American abstract painter who works with the ancient technique of encaustic wax, a combination of beeswax, resin, and pigments. She is currently living and working in Brussels, Belgium.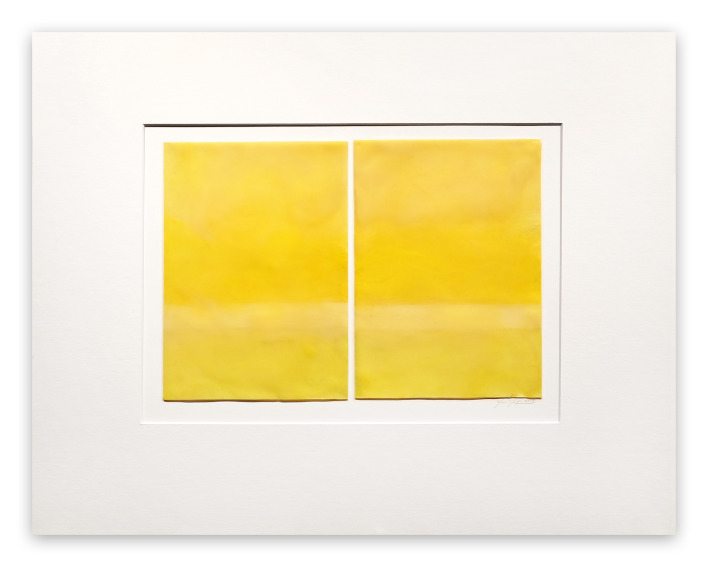 Janise Yntema - Lemon Yellow, 2015. Beeswax, resin and pigment on archival paper mounted on archival board matted. 41 x 61 cm.
Mel Prest - Pretend It's Yesterday
This hypnotizing acrylic on panel is part of series In Praise of Planetary Time, inspired by a blood moon eclipse that turned the moon's surface into an opaque brick-red orb. Drawing on the discussion about the difference between traditional and modern aesthetics In Praise of Shadows, she contemplates how a gradual cosmic change affects her habitual activities. Prest spent months building the yellow layer and waiting for the line work -- she continued once her creative process started to resonate with sublime cosmic pulsations. Prest is an American abstract artist whose intricate, layered paintings mobilize color, line, and perspective to activate kinetic perceptual phenomena. She lives and works in San Francisco, CA.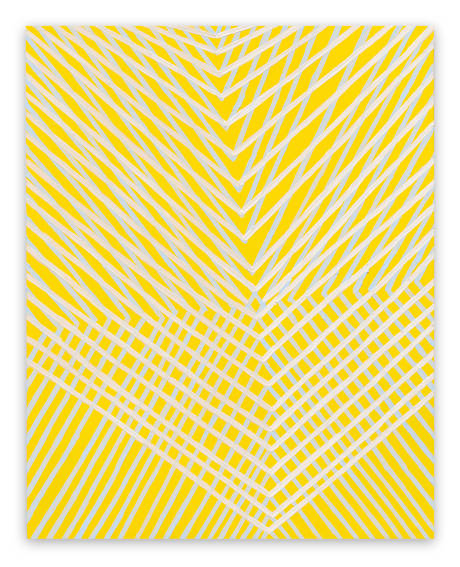 Mel Prest - Pretend It's Yesterday, 2015. Acrylic on panel. 35.6 x 27.9 x 5 cm.
Matthew Langley - 4CD
Part of the more informal Painting A Day series, 4CD is a visual investigation in how scale, stroke, and surface interact as Langley applies his distinct approach of building/extending and reducing/minimizing the painted surface. He employs semi-transparent layers of yellow paint that result in a visceral and distressing piece that highlights the complexity and ambiguous nature of painting. His open-ended approach provokes contemplation and questioning as he transcends the physical aspects of this piece. Langley is an abstract American artist. He is interested in a balance of color and process, mark-making and field, scale and relationship, planning and improvisation. He lives and works in New York City.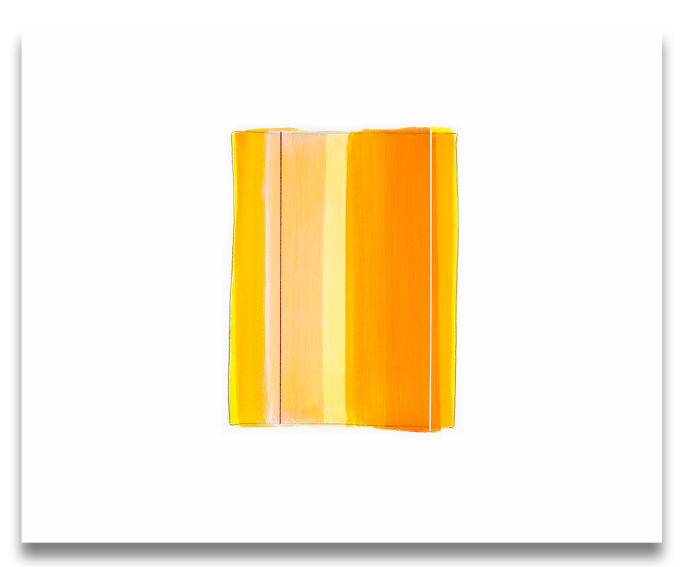 Matthew Langley - 4CD, 2015. Acrylic on paper. 56 x 71 cm.
Stephen Maine - HP13-1113
Part of the Halftone Paintings series, HP13-1113 is made with a specialized printing surface that leaves a matrix of tiny dots in a pattern resembling a photographic halftone. Used in commercial printing to translate the continuous tone of photographic emulsion to a field of small dots, it conveys the impression of fragmentary enlargement and streamlined focus. Maine applies highly saturated and chromatically intense yellow contrasted by naturalized lavender blue-gray to bring an element of surprise and exceptional visually engaging result. Maine is an American abstract painter, writer, curator, and teacher. His paintings engage and extend contemporary ideas about color, composition, surface, and process. He lives and works in Brooklyn, NY.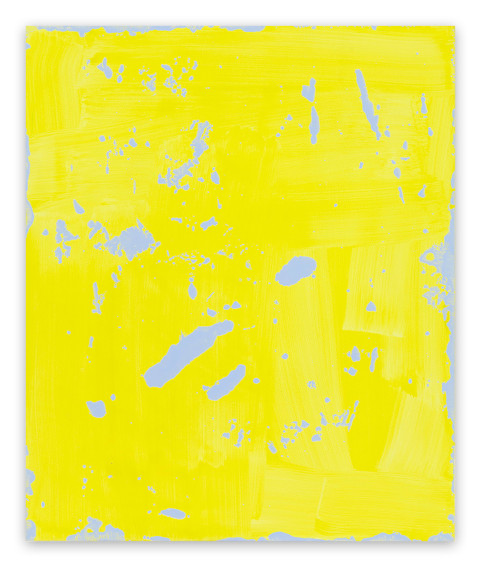 Stephen Maine - HP13-1113, 2013. Acrylic on canvas. 91 x 76 cm.
Jessica Snow - Space Groove 4
Space Groove 4 displays a skillful selection of playful, bright yellow and red that are dissolved as they fill the surface with metaphorical light, air, uplift, and freedom. Snow's exploration of how color affects the compression and weight of brushstrokes fuses the affective and rational, the order and chaos. Her effortless and intuitive brushstrokes appear spontaneous, but studiousness of her preparation emerges gradually. She prefers her work to be open to interpretation, encouraging multiple readings and immersing each and every viewer in his/her own semiotic universe. Snow is an American abstract artist whose paintings and drawings are distinguished by colorful and playful geometrics. She is based in San Francisco.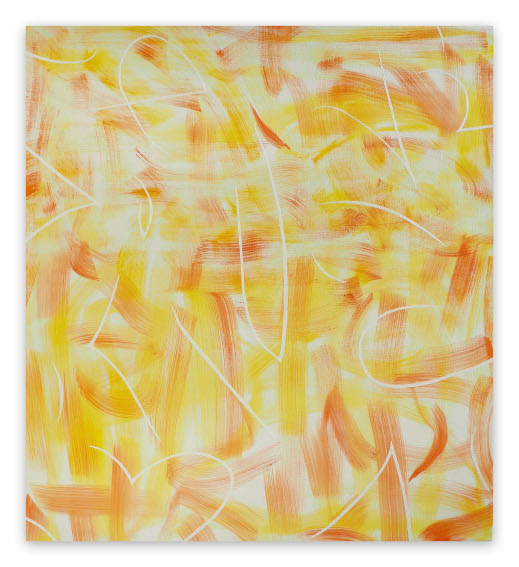 Jessica Snow - Space Groove 4, 2019. Oil on linen. 106.7 x 96.5 cm.
Holly Miller - Bend 2
Part of the Bend series, this work is a zig-zag fragmented shape with her signature stitched edge that accentuates its three-dimensional aspect. Miller remarkably blends sculpture, painting, and drawing using threaded lines that highlight a physical barrier and interrupts the shapes. Soothing yellow captures dynamic energy while simultaneously conveying a silent poetics that allows the viewer to enter through the lines into the painted surface. Miller is an American abstract artist whose paintings strive to merge the optical with the tactile through the language of abstraction. She lives and works in Brooklyn, NY.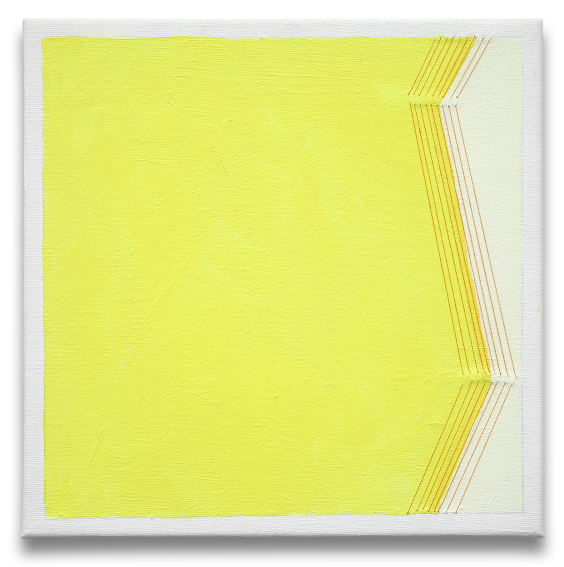 Holly Miller - Bend 2, 2013. Acrylic, graphite and thread on canvas. 25.4 x 25.4 cm.
Jill Moser - 1.20 (Ref 09)
Inspired by the spiraling depths of the history of written language, Moser's fascination with visual and indexical language is revealed in erratic yellow gouache that frantically lands on paper disclosing her most intense emotions. Her vigorous unrestrained brushstrokes, thin and bordering fine lines, resulting in a lyrical, gestural expression that is contemplative and ruminative. The spontaneity of her work is achieved through a methodical, indexical process as she personally evolves through each of her works. Moser is an American abstract artist whose work explores the intersection of painting, writing, and animated image. She lives and works in New York City.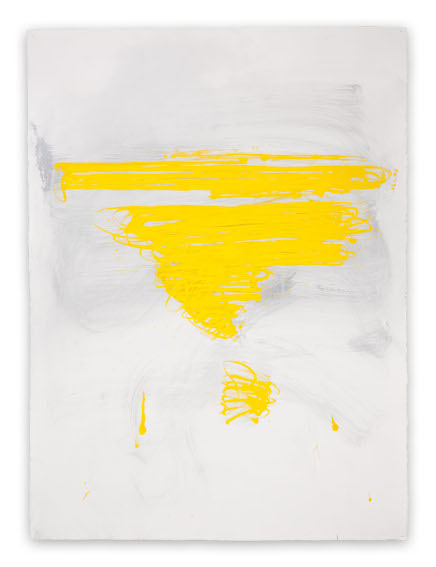 Jill Moser - 1.20 (Ref 09), 2009. Gouache on paper. 76.2 x 57.15 cm.
Tommaso Fattovich - Clockwork
This latest from Fattovich is a daring mixed media on canvas that reflects his bold attempts to deep dive into subliminal as he plays with the composition applying the Surrealist strategy of automatism. Yellow fiercely dominates Clockwork competing not only with other colors but layers, lines and shapes all adding to Fattovich's visceral expression. His Abstract Punk style delivers a crude and pristine work in which the fragments of the modern world appear and disappear. Fattovich is an Italian abstract painter who deploys the Surrealist strategy of automatism to create raw, layered, emotive works that convey feelings of desolation and decay. He lives and works in Delray Beach, Florida.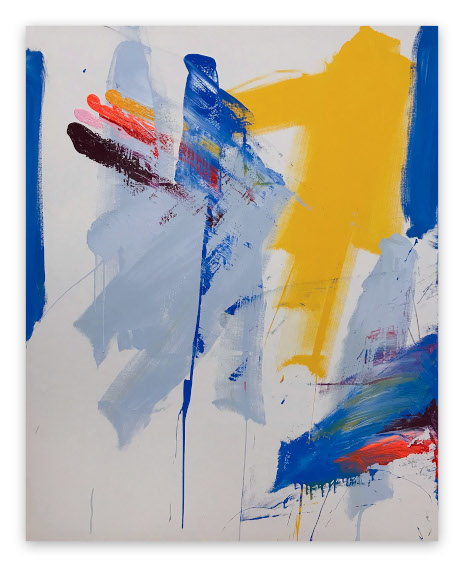 Tommaso Fattovich - Clockwork, 2020. Mixed media on canvas. 152.4 x 121.92 cm.
Featured image: Mel Prest - Pretend It's Yesterday, 2015, installation view.
By Jovana Vuković