Blog Home
Don't Feel Blue - Buy Blue Abstract Art Instead!
Apr 10, 2020
For most of its early history, humans were blue-blind. Homer in his evocative descriptions alluded to a wine-red sea while the ancient elucidations of natural phenomena like rainbow plainly excluded blue. Most of the Old World embraced enthralling Egyptian blue dyes but failed to come up with the word to describe a myriad of hues we today subsumed under blue. The behind-time color of blue was not only to become the darling of the art world but the favorite of all the colors - far and wide! Blue abstract artworks uniquely accentuate this unrivaled infatuation with blue that climaxed in the 20th century. Blue was to take the central stage from the very beginning of the 20th century. From Picasso's depressing Blue Period to blue dominated works of die Blau Reiter group, blue announced its undisputed primacy. In his On the Spiritual in Art (1911), Kandinsky claims that blue is a color of spirituality and the darker the blue, the more it awakens human desire for the eternal. We could only speculate if the desire for the eternal or something as sublime was inspiring the most enchanting blue abstract art like Rothko's Divided by Blue, Miro's Blue II or Kline's Blueberry Eyes, among many others. The answer could be perhaps found in our weekly collection of the most captivating blue abstract art listed below.


Arvid Boecker - #1276
This latest Boecker's piece exemplifies his distinct exploration of color itself on the standard rectangular canvas which is divided by a longitudinal line into two fields painted with two different hues of blue. Scrupulous about the color Boecker applies up to 40 layers, both wash and impasto, but also removes old layers allowing the echoes of erosion to remain visible. The lengthy creation process during which his paintings mature is inherently meditative as he simultaneously reflects on the color and its effects. Boecker is a German abstract painter whose work mobilizes the tensions and harmonies that exist between color relationships, textures, and the processes of time. He lives and works in Heidelberg, Germany.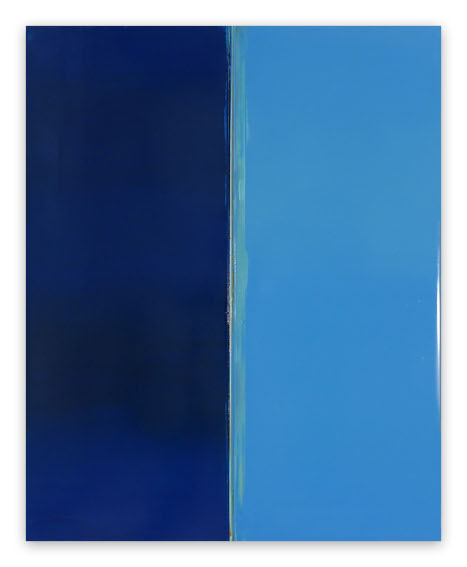 Arvid Boecker - #1276, 2019. Oil on canvas. 50 x 40 x 5.5 cm.
Kyong Lee - Emotional color chart 099
Emotional color chart 099 is a part of the series initiated in 2016 in which Lee delves into the meaning of color and the emotional language that subconsciously associates specific words with particular hues. This graded color painting consists of layers of paint applied over a fixed time and the same resting time. Building up, layering and accumulating results in unique gradations that underline the relationship between color and time and allow her to express her emotional experiences as they temporally evolve. Lee is a Korean abstract artist whose work reconciles physical and emotional realities through a multi-disciplined exploration of color, material, process, and form. She lives and works in Seoul, Korea.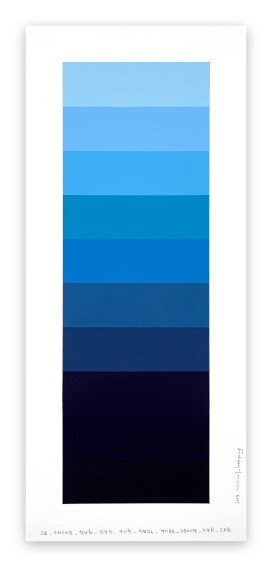 Kyong Lee - Emotional color chart 099, 2019. Pencil and acrylic on Fabriano-pittura paper. 70 x 30 cm.
Joanne Freeman - Covers 24 Blue C Summer
Part of Covers series, Covers 24 Blue C Summer, is a personal and idiosyncratic homage to popular culture covers from the mid-20th century. It reflects Freeman's reductive visual language, ample in (sub)cultural references and deftly captured in blue gouache on handmade Indian Khadi paper. The use of a singular color emphasizes the interaction of the ground and foreground that expresses physicality, emotion, limitation, and randomness. Freeman is an American abstract painter who creates minimalist reductive paintings and works on paper, featuring hard-edged abstract forms and bold, vivid, gestural markings. She lives and works in New York City.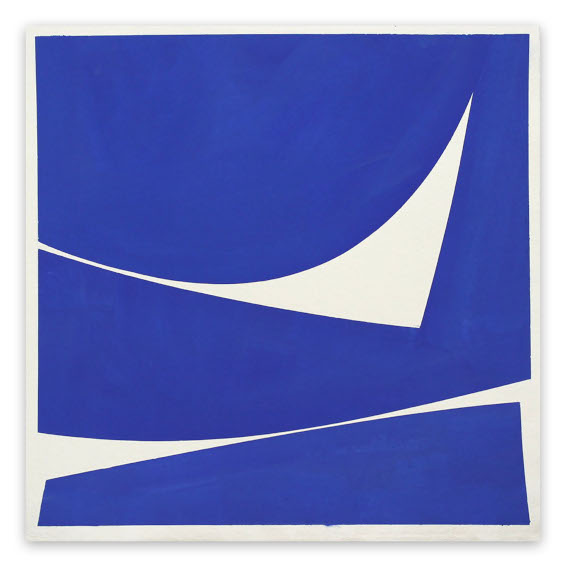 Joanne Freeman - Covers 24 Blue C Summer, 2016. Gouache on handmade Khadi paper. 61 x 61 cm.
Debra Ramsay - Sky & Snow
Sky & Snow follows on Ramsay's lasting investigation of color, location, light and time culminated in her Hue[s]pace series. Ramsay captures and discovers color photographically and then translates it to a paint formula using a computer program. She is profoundly inspired by nature and the source of the colors in Sky & Snow unambiguously discloses its source as blue acrylic hues on plexiglass create hazy, atmospheric sensation. Ramsay is an American abstract artist who creates acrylic paintings, drawings, and installations that explore the conceptual interplay between color, line, and surface. She lives and works in New York City.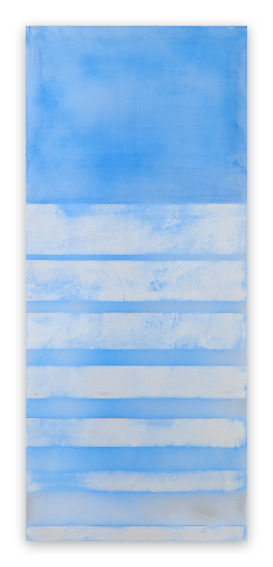 Debra Ramsay - Sky & Snow, 2016. Acrylic on clear plexiglass. 76.2 x 33 cm.
Marcy Rosenblat - Blue Shift
Celebrated for her process art, Rosenblat pours the paint and turns around the easel, allowing the paint to drip and follow its intrinsic motion. Each layer of paint in Blue Shift resembles a veil through which the revelation and obfuscation immerse the viewer and initiate his/her own introspection. The fabric Rosenblat uses to intercede between her hand and the canvas result in textures and patterns that add to the pictorial illusion of her work. Rosenblat is an American abstract process painter. Her paintings and prints are layered, colorful and complex. Born in Chicago, Illinois, she currently lives and works in Brooklyn, New York.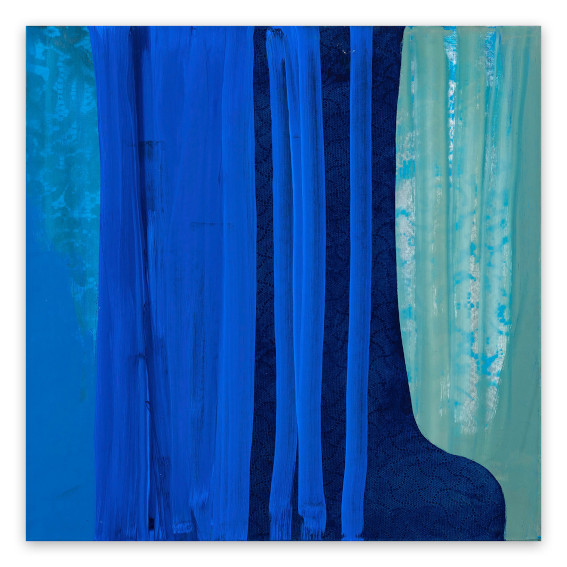 Marcy Rosenblat - Blue Shift, 2017. Acrylic on linen. 61 x 61 cm.
Richard Caldicott - Chance/Fall (8), 2010
Part of his Chance/Fall series, Chance/Fall (8), 2010 captures Caldicott's affinity for improvisation in which overlapping and drifting layers of shimmering blue emanate luminous, tempting energy and hypnotize the viewer. Its pellucid radiance contributes to the liveliness and allure that is persuasive and entrancing. Using the most traditional technique Caldicott delivers the light and unpretentious work that refers to modernism in a novel and unique way. Caldicott is an English artist who explores abstract photography and creates abstract compositions on paper. He lives and works in London.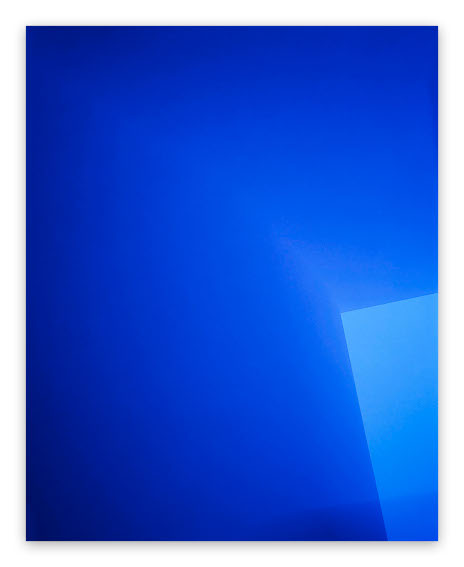 Richard Caldicott - Chance/Fall (8), 2010. C print. 127 x 101.6 cm.
Dana Gordon - That Is
Gordon's most recent work departs from his acclaimed kaleidoscopic artwork in a rigorous exploration of the interaction of color, shape, and line. That Is is, according to Gordon, a solid integration of all that has gone before in his work and incorporates the accumulated experience, emotions, tension, and restraint. Applying a reduced palette of contrasting blue and yellow, he examines the expressive possibility of liquid calligraphy and its ability to express human nature and experience in its fullest. Gordon is an American abstract painter whose exuberant work has for decades directly explored the potential of mark-making and line to create meaning-imbued color, shape, and space. He lives and works in New York City.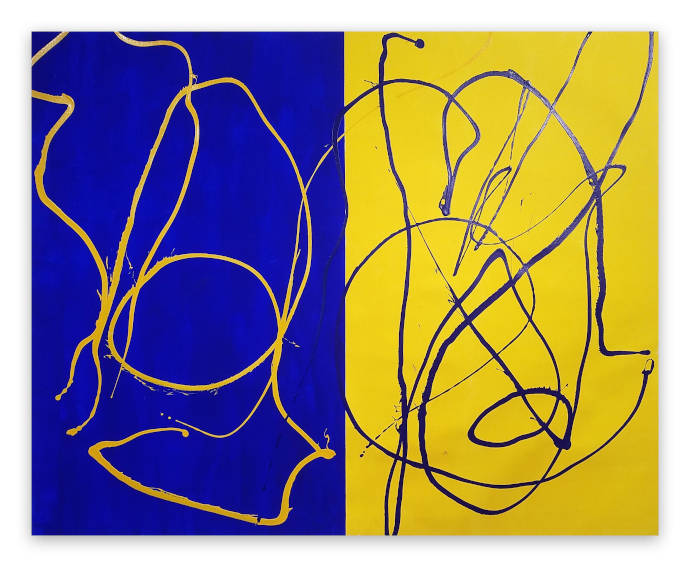 Dana Gordon - That Is, 2018. Acrylic and Flashe on canvas. 121.92 x 152.4 cm.
Ulla Pedersen - Cut-Up Paper I.5
Cut-Up Paper I.5 is emblematic of Pedersen's distinct approach - palette limited to a conspicuous blue and minimal hard-edge shapes on the solid-color field. Her persuasive contrasting of form and non-form reveals the harmony and tension inscribed in colors, patterns, and shapes. She vigorously seeks to investigate the evolving nature of their relationships as she blends, shifts and layers them. Pedersen is a Danish abstract artist. Her work is a minimal and concrete exploration of color, materiality, form, and balance. She lives and works in the Capital Region of Denmark.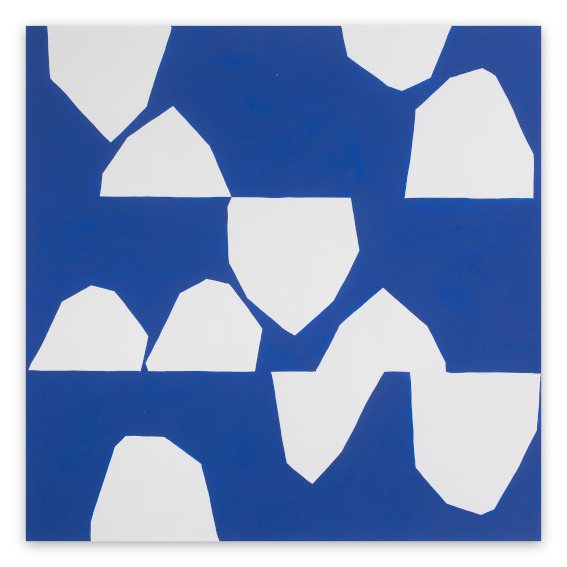 Ulla Pedersen - Cut-Up Paper I.5, 2016. Acrylic on paper. 30 x 30 cm.
Paul Snell - Intersect # 201803
Intersect # 201803 is an iconic example of Snell's sensory understanding of the physical object. This luminous, vibrant photographic printing with prevailing blue hues is a result of a lengthy and taxing process -- digitally decoding information visual information captured by a traditional camera, he reduces colors and form until their self-referential relationships within a new composition emerge. Following on the legacy of Modernist painting, minimalism, and hard-edged abstraction, he creates the exciting work that is thought-provoking and contemplative. Snell combines traditional and digital techniques to explore the possibilities of abstraction and minimalism in contemporary photo-media. He lives and works in Launceston, Tasmania.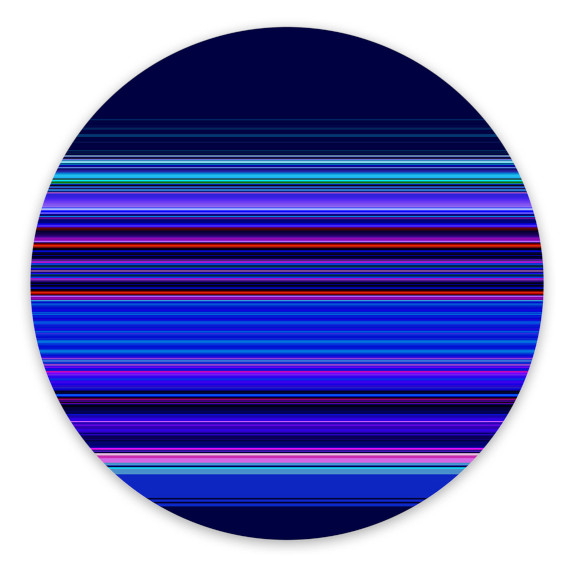 Paul Snell - Intersect # 201803, 2018. Chromogenic Print Face-mounted 4.5mm Plexiglas. 118 x 118 cm.
Seb Janiak - Photon 06 (Medium)
Photon series visually examines the dual nature of light - both as a wave as well as a particle. Janiak's fundamental (meta)physical assumption and a departing point for his aesthetic explorations are that when the observer perceives light, its nature is changed. To verify his claims, Janiak uses a camera lens as it resembles most closely the eye. A prism, used as an intermediary between the eye and the visible, decomposes the invisible white light into seven primary colors and Photon 04 isolates the blue part of the spectrum. Janiak is a photographic artist whose work explores conditions in which opposites can co-exist, revealing the visual characteristics of the hidden forces that shape the physical universe. He lives and works in Paris, France.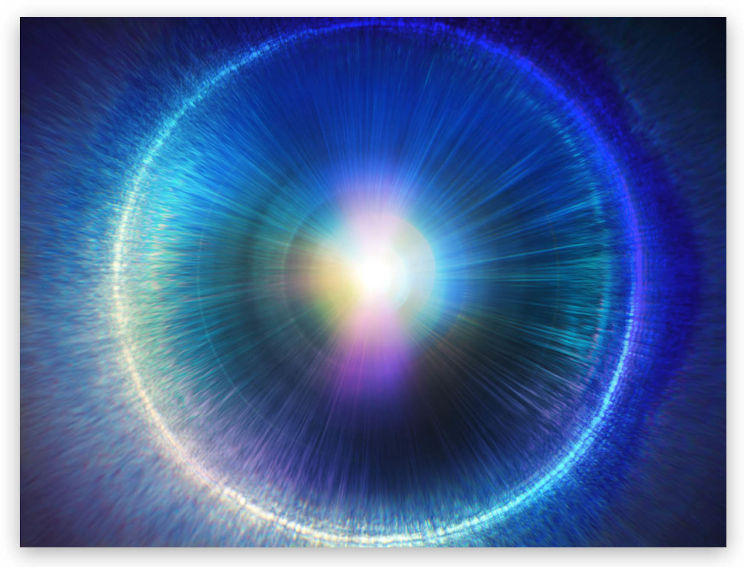 Seb Janiak - Photon 06 (Medium), 2012. Chromogenic print. 100 x 133 cm.
Featured image: Joanne Freeman - Covers 24 Blue C Summer, 2016, installation view.
By Jovana Vuković