Blog Home
Abstract Watercolor Art You Simply Can't Miss Out On!
Mar 20, 2020
Adored for its unparalleled qualities - its unique translucency, impermanence, and vibrancy - watercolor art was for long short of the recognition or fame reserved for techniques such as oil painting. Though its history dates back to the earliest Paleolithic art, its modern use was exiled on the very fringes of the art realm belittled as a technique suitable merely for sketches or hobby painting. However, abstract watercolor art was to change that! The notoriously famous Wassily Kandinsky, Paul Klee, Georgia O'Keeffe, and Arthur Dove all embraced watercolor painting to express their distinct voice elevating it as a technique of both relevance and respect. Large, atmospheric watercolor canvases by Mark Rothko or John Marin's intimate abstract watercolor landscapes emanated the ambiguity and erratic nature of watercolor art, its transparent and delicate essence, along with its intrinsic axiological dimension. Seven most captivating watercolor pieces you shouldn't miss out on – are waiting below!


Peter Soriano - Colby 10
Soriano, who is in his own words a sculptor who no longer makes sculptures, is widely acclaimed for his large-scale, graffiti-like wall paintings. Colby 10 is part of his initial drawings for the Permanent Maintenance -Soriano's largest wall drawing to date commissioned by the Colby Museum - and a blueprint for his iconic wall painting. This mixed media piece, with its remarkable watercolor segments, is made on a multiply folded paper that takes on a sculptural dimension. In Colby 10 Soriano applies a great variety of techniques to assemble and arrange his visual experience in a provisional painting, a style made to look casual and uncompleted. Colby 10 is fraught with meaning and dense in observations that makes the overall construction amusingly complex and abstruse. Soriano is a Philippines-born French-American abstract artist who divides his time between New York City and Penobscot, Maine. He is known for his bold spray-painted wall murals and for his more intimate works on paper.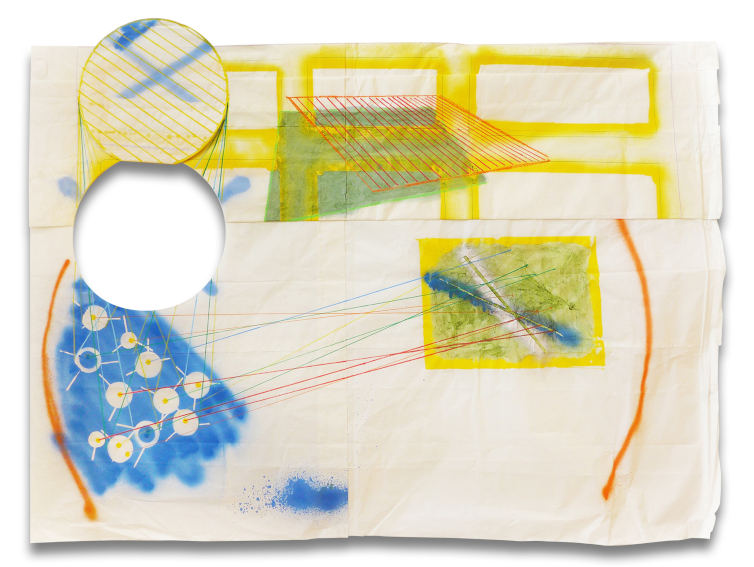 Peter Soriano - Colby 10, 2015. Spray paint, pencil, ink, watercolor on paper. 94 x 125.5 cm.
Laura Newman - Frames
Frames is, along with Swoop and Swerve, part of in-progress paintings on handmade Wasli paper that Newman discovered while traveling in India. Inspired by the vastness of the open sky seen out of her studio window and juxtaposing it with the confinement of urban landscape, Frames elucidates the intertwining of freedom and all the surrounding limitations - both spatial and metaphorical. Her geometric delineation of space and ephemeral color fields is accentuated by the simultaneous use of watercolors and acrylic that pronounce the interpretative horizon of her atmospheric images. Newman is an American abstract artist who creates vivid, dynamic paintings that revel in a harmonious balance between gestural brushwork, hard-edge geometric spatial arrangements and layered, architectural compositions. Born in Cleveland, Ohio, Newman currently lives and works in Brooklyn, New York.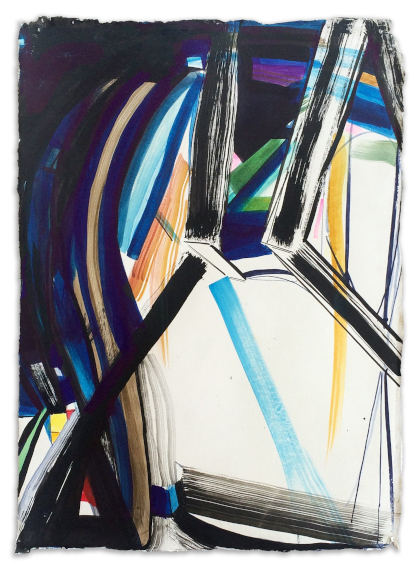 Laura Newman - Frames, 2016. Acrylic and watercolor on handmade Wasli paper. 56 x 38 cm.
Melissa Meyer - Yaddo B
A third-generation Abstract Expressionist, Meyer is well-versed in a great variety of techniques and her diverse oeuvre spans watercolors, oil paintings, drawings, prints, and large-scale commissions. Her lyrical and delicate expression is embodied in translucent watercolors or diluted oil paint that discloses an uncertain, anxious and self-canceling reality. Yaddo B reveals her graceful touch and her gentle brushstrokes that underscore her visual vocabulary strongly influenced by color and line. Meyer applies watercolors on acetate sheets and runs them through the press, often transferring multiple layers onto paper thus creating jarring visual dissonance. Meyer is an American abstract painter and printmaker. Her energetic, colorful compositions express emotion and the transitory essence of reality. She lives and works in New York City.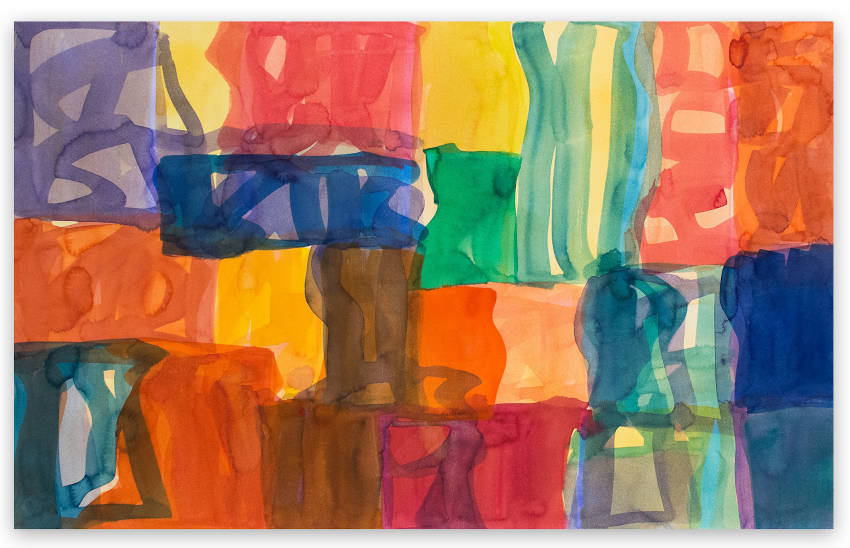 Melissa Meyer - Yaddo B, 2005. Watercolour on 100% rag hot press paper. 50.8 x 81.2 cm.
Holly Miller - Blue water dots
This intuitive and playful piece is created with watercolors and thread; applying color with a brush, line with a needle and thread with pattern repetition. Miller's unusual choice for thread resonates with her lasting fascination for tactile and sculptural properties and its interpretive persuasiveness of a medium that in its simplicity and unpretentiousness blends drawing, painting, and sculpture. Blue water dots encapsulates dichotomies of presence/absence and perfection/imperfection as the physicality of punctured holes and monochromatic brushstrokes contrast the bold and subtle, the illusion and reality. Miller is an American abstract artist whose paintings strive to merge the optical with the tactile through the language of abstraction. She lives and works in Brooklyn, NY.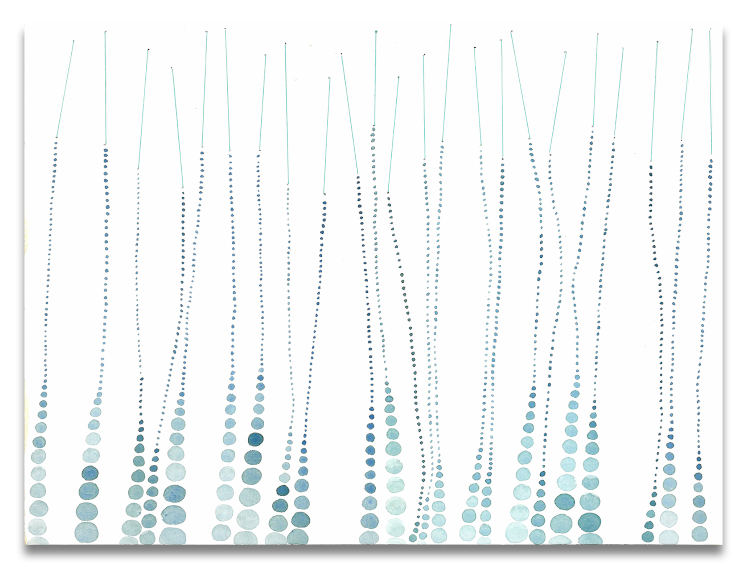 Holly Miller - Blue water dots, 2005. Watercolour and thread on paper. 22.9 x 30.5 cm.
Kim Uchiyama - Chord
Chord is an enticing watercolor piece on Arches paper that captures Uchiyama's exceptional talent to communicate her emotional essence and profoundly personal thoughts through color. Her journey starts with an initial hue on the blank surface and as she continues to put them on she is closer to a linear horizontal pattern of unique layers. Her choice of watercolors reflects the very nature of mysterious lights that emanates through her paintings. She uses saturated colors to emphasize the sufficiency and self-referential potency of her colors as each band by itself carries along with its meaning. Uchiyama is an American abstract artist whose works use color to create light and form that activates the metaphysical potential of pictorial space. She lives and works in New York.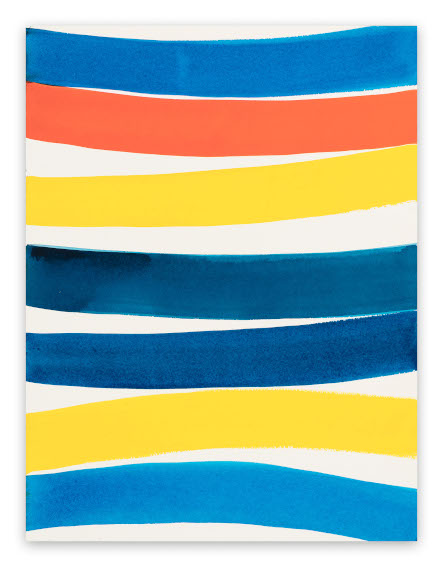 Kim Uchiyama - Chord, 2018. Watercolour on Arches paper. 40.6 x 30.5 cm.
Fieroza Doorsen - Untitled (Id. 1297)
The blue watercolor paint overbears Untitled (Id. 1297) (re)defining all the visual elements of Doorsen's relational dialectics. She adeptly contrasts structure with intuition as she explores the contact points of the organic and geometric, the organized and random. She acts as a medium between her materials and patterns, shapes and colors they disclose using weathered sheets of paper to highlight her dissolving self deeply embroiled in her paintings. Untitled (Id. 1297) as most of her work vacillates between the cryptic meaning open to contemplation and spectatorial interpretation and a self-explanatory code that is, however, inconclusive. The viewer is left with a sense of uncertainty as her visual vocabulary is abundant with ambiguity. Doorsen is an English abstract artist who has developed her own personal language with an emphasis on pattern and colored forms. She lives and works in London.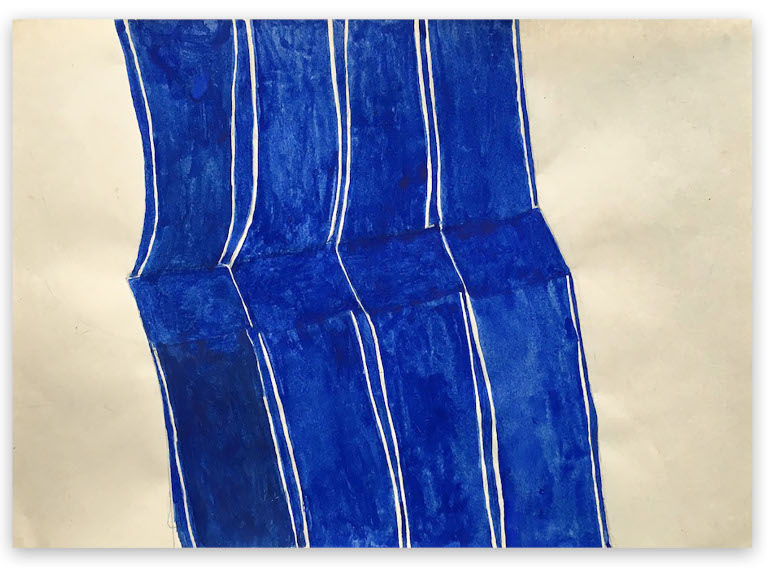 Fieroza Doorsen - Untitled (Id. 1297), 2017. Watercolour on paper. 19 x 27 cm.
Jessica Snow - Fling 3
The Fling series exemplifies the vibrancy and pellucid articulation of Snow's work with a unique gestural touch in her exploration of shapes. Fling 3 charmingly examines the intersection of the rational and emotional as she blends playful shapes with bright color, organic gestural lines, geometric and linear forms. She applies the full palette, with perplexing dissonance and compliance of hues that define the form and radiates light. Snow's intuitive approach in which brushstrokes instinctively disappear and layers become indistinguishable convey her effortless and fluent disposition. Snow is an American abstract artist whose paintings and drawings are distinguished by colorful and playful geometrics. She is based in San Francisco.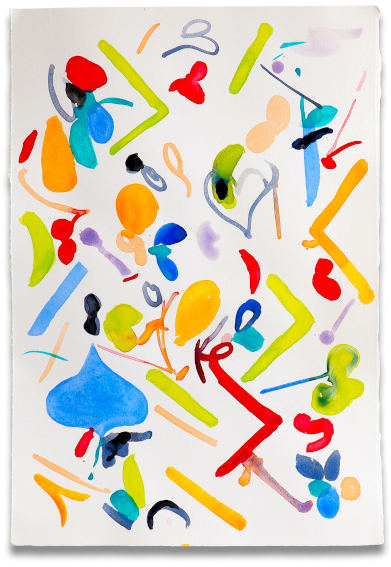 Jessica Snow - Fling 3, 2015. Watercolour on paper. 36.9 x 25.4 cm.
Featured image: Melissa Meyer - Yaddo B, 2005, installation view.
By Jovana Vuković