Blog Home
Your Best Buy This Week - Art by American Abstract Artists!
Feb 14, 2020
The recently unpretentious opening of Uncharted: American Abstraction in the Information Age at Hofstra University Museum of Art, a group show featuring 8 members of the American Abstract Artists organisation, only affirmed an ever-present and infatuating interest in American abstract art. The year ahead of us will bring its own celebration of American abstract artists - the right time for you to buy American abstract art!
From a number of events in the upcoming year honoring American abstract artists, two must-sees stand out. The Baltimore Museum of Art (BMA) and the San Francisco Museum of Modern Art (SFMOMA) will be co-organizing a comprehensive Joan Mitchell retrospective. It will open in Baltimore in April 2020, travel to San Francisco in September 2020, and then move to the Solomon R. Guggenheim Museum in New York in February 2021. Also, Tate Modern will present (through November 15, 2020) five works by Helen Frankenthaler, ranging in date from 1951 to 1977, on loan from the Helen Frankenthaler Foundation. Let us join this global celebration of American abstract art by sharing our finest selection of ten most astonishing pieces by American abstract artists.
Tracey Adams - (r) evolution 39
(r) evolution 39 deeply reflects Adams' fascination with both music theory and mathematics dating back to her days at the New England Conservatory in Boston. In (r) evolution series (2014-2015) Adams focuses on pattern, rhythm, and intervals of notes and uses dot paintings to express what she describes a sense of performance. She paints with many layers of encaustic and mounted hand-cut circles of Japanese paper dipped in encaustic until each dot is covered with clear encaustic medium and painted with oil to create a unique spatial depth. Balancing the rigorous planning and unrestrained intuition, her planned grid structure dissolves as her creative process flows into rhythmical and lyrical articulation. Adams is an abstract painter and printmaker who lives and works in Carmel, California.
Tracey Adams - (r) evolution 39, 2015. Pigmented beeswax, oil and collage on wood panel. 101. x 101.6 cm.
Paul Behnke - Vandervoort Place
Vandervoort Place epitomizes the attentive interplay of formal elements -- forms, color interaction and the application of paint. Simultaneously Behnke emphasizes the contrasting dualities of thick/thin, fast/slow and hard/soft within this interaction of formal elements. While the initial images and paint application are tumultuous and confusing, thehard edge, pared-down forms and flat, high key color emerge during the process announcing an iconic piece of formal romantic modernism. Bumps, bubbles, and ridges unambiguously suggest Behnke's most personal (and bodily) involvement as well as the object-ness of his paintings. Behnke is an abstract painter whose work prioritizes form; he lives and works in New York.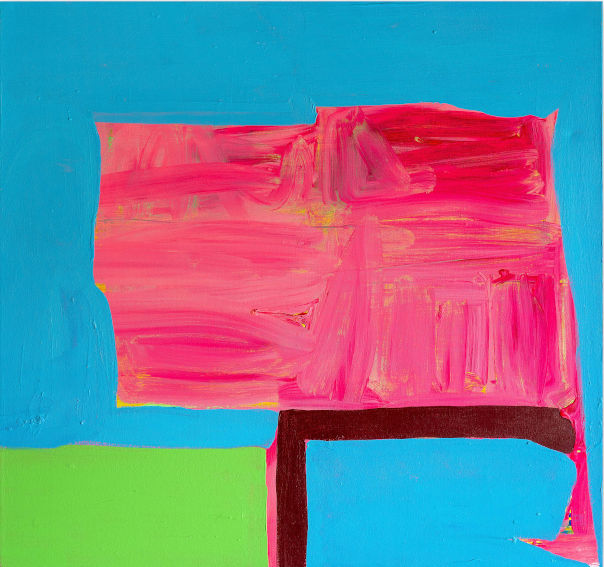 Paul Behnke - Vandervoort Place, 2012. Acrylic on canvas. 91.4 x 96.5 cm.
Macyn Bolt - Intersect (Blue)
This acrylic on canvas piece reveals a discomforting tension created by contrasting foreground/background, center/edge and inside/outside. This contrast is embodied in multifarious forms that create a visual riddle. The riddle itself is not to be solved but to provide a charity of interpretations and distinct perceptual challenges. Bolt's geometric vocabulary stemming from architectural schemata sets a semantic framework for the understanding of his work. Therefore, his visual riddles evoked by spatial relationships and the interplay between color and form capture the viewer and drag him/her to a contemplative experience of ambiguous interpretations. Bolt is celebrated for his artwork that explores how color and forms affect visual perception. He lives and works in New York and Pennsylvania.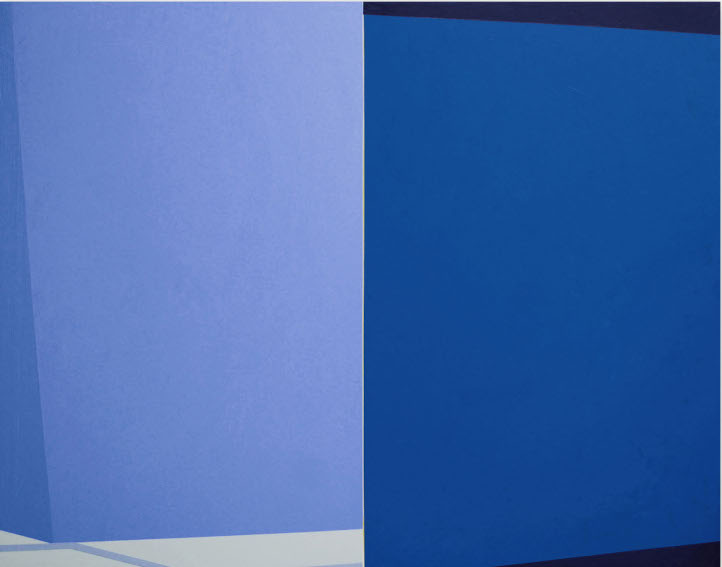 Macyn Bolt - Intersect (Blue), 2017. Acrylic on canvas. 96.9 x 122 cm.
Holly Miller - Shout 2
Shout series delicately embeds resentment and anxiety that arises as a reaction to contradictions of contemporary American society. However, Miller tries to convey more optimistic and positive emotions by using her unique blend of sculpture, painting, and drawing. By using threaded lines, she highlights a physical barrier that interrupts the shapes and stops them from connecting while transparency allows the viewer to enter through the lines into the painted surface. Shout 2 showcases Miller's careful dissection of her experiences, thoughts, emotions as she creates an authentic personal language that is an essence of her work. Miller is an abstract artist who strives to merge the optical with the tactile through the language of abstraction. She lives and works in New York.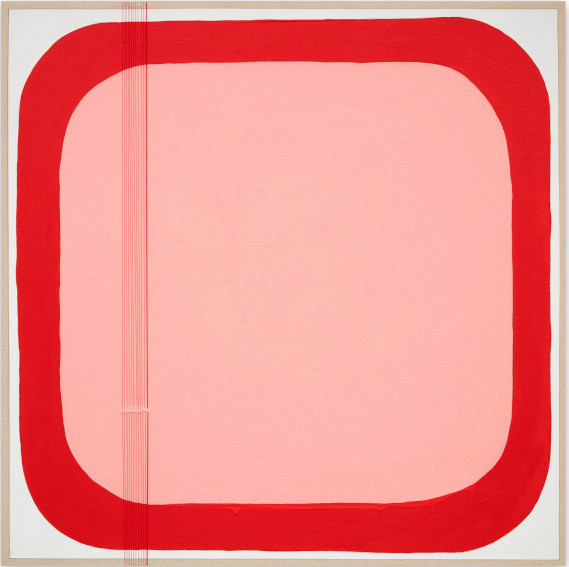 Holly Miller - Shout 2, 2017. Acrylic, graphite and thread on canvas. 91.5 x 91.5 cm.
Melissa Meyer - Ambassade 47
Ambassade 47 is part of a watercolor series Ambassade named after Meyer's favorite hotel in Amsterdam. Associated with the third generation of Abstract Expressionists, her work reflects her instinctive and intuitive approach to painting. She is inspired by brief impressions of color, mark or gesture, and then builds on exploring the final boundaries of color and line. This vivid, colorful piece expresses her most personal feelings and transitory essence of reality by conveying a vigorous and enchanting aesthetic language. Meyer is an abstract painter and printmaker of a diverse oeuvre who lives and works in New York.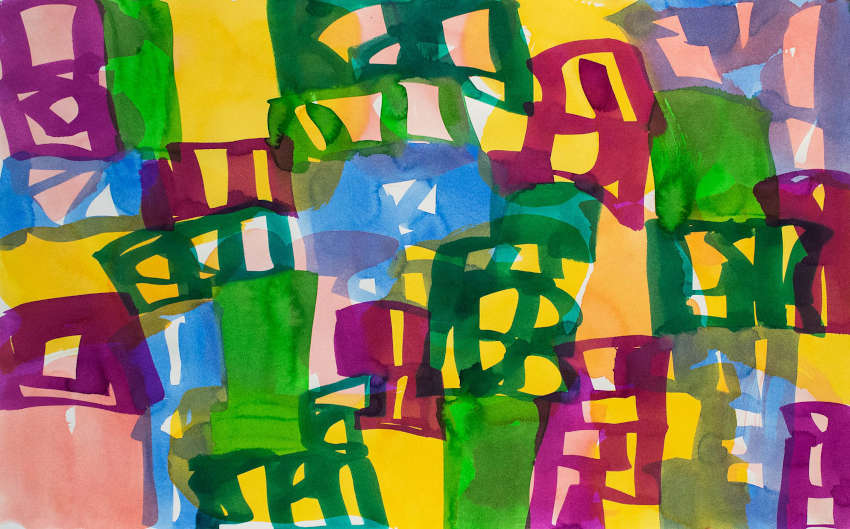 Melissa Meyer - Ambassade 47, 2007. Watercolour on hot press paper. 50.8 x 81.3 cm.
Yari Ostovany - Orquevaux 11
This new series named after a residency castle at Chateau d'Orquevaux, France captures the mystical aggregate of Western and Eastern art, tradition and spirituality. Orquevaux 11 embeds an alchemical transformation of formal elements like light, color, texture, and space into complex compositions whose wholeness transcends its parts. Ostovany's culturally diverse background impacts his artistic adherence to Abstract Expressionism and Color Field painting producing divergent, but profoundly complementary artwork. Ostovany creates richly textured, layered color field paintings that reflect his exploration of metamorphosis and transubstantiation. Ostovany is an Iranian-born American abstract artist who lived in Teheran, Cologne, Los Angeles, New York, and Reno. He currently lives and works in San Francisco.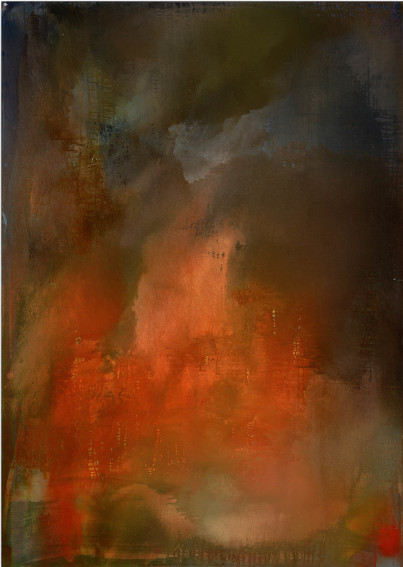 Yari Ostovany - Orquevaux 11, 2018. Acrylic on canvas. 152 x 108 cm.
Clay Johnson - Lying Dutchman #4
Johnson's involving and rigorous technique using acrylic on wood discloses his unique approach to painting. A staunch believer that there is no inspiration, he views his art as evolution and each of his artworks as a result of a series of critical responses to previous aesthetic decisions. He initiates his creative process by taping off one or more horizon lines and intuitively selecting one color that, then, guides a whole composition forward. Colors, lines, textures emerge only to be destroyed thus creating a space for new, unexpected visual discoveries. In the end, Lying Dutchman #4 uncovers the most important part of Johnson's work -- he develops the narrative of painting own making which opens itself to meta-interpretations. Rigid surfaces like wood allow him to employ his method with full intensity and acrylic ensures fast drying time and prompt and unexpected reactions. Johnson is an abstract painter known for his reductivist compositions; he lives and works in Laramie, Wyoming.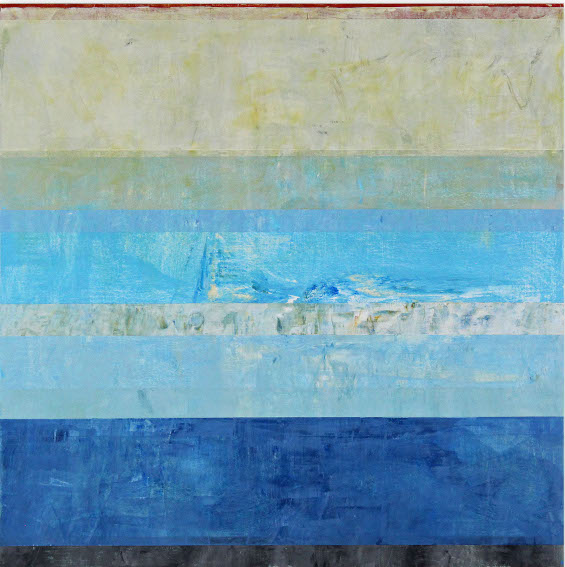 Clay Johnson - Lying Dutchman #4, 2019. Acrylic on wood panel. 91.44 x 91.44 cm.
Jessica Snow - Finite Field
A well-versed multidisciplinary artist, Snow opts for acrylic on paper to convey her distinct colorful and playful geometrics. Finite Field captures a unique combination between playful shapes and persuasive colors, organic gestural lines, geometric and linear forms. Snow was inspired by a landscape and an abstracted sailboat still deciding on the route, however, whether the green shape relates to a simplified harbor, bush or an abstract shape is left for the viewer to decipher. She prefers her work to be open to interpretation, encouraging multiple readings and immersing each and every viewer in his/her own semiotic universe. Snow is a multidisciplinary artist who currently teaches painting, drawing and art history at the University of San Francisco.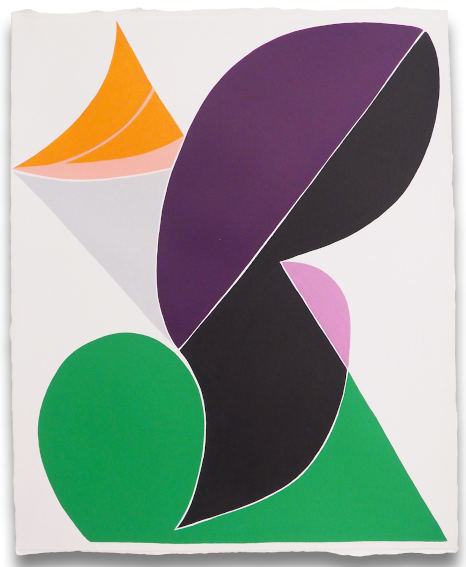 Jessica Snow - Finite Field, 2016. Acrylic on paper. 45 x 38 cm.
Anya Spielman - Effloresce
Effloresce encapsulates the profound and ambiguous tension between love and violence displayed in a vivid and strong expression of the crushed and bleeding blossoms. Spielman's saturated surfaces are luminous, having glossy and matte layers interchanging simultaneously; reds and pinks refer to flesh and blood and the pale creams, yellow and orange in her palette recall bodily fluids. This corporal manifestation of color is deconstructed by rough nail marks and scars that inscribe the decoded idea and image deep within the painting. Spielman is celebrated for her exploration of the binary forces and forms; she lives and works in the Los Angeles area.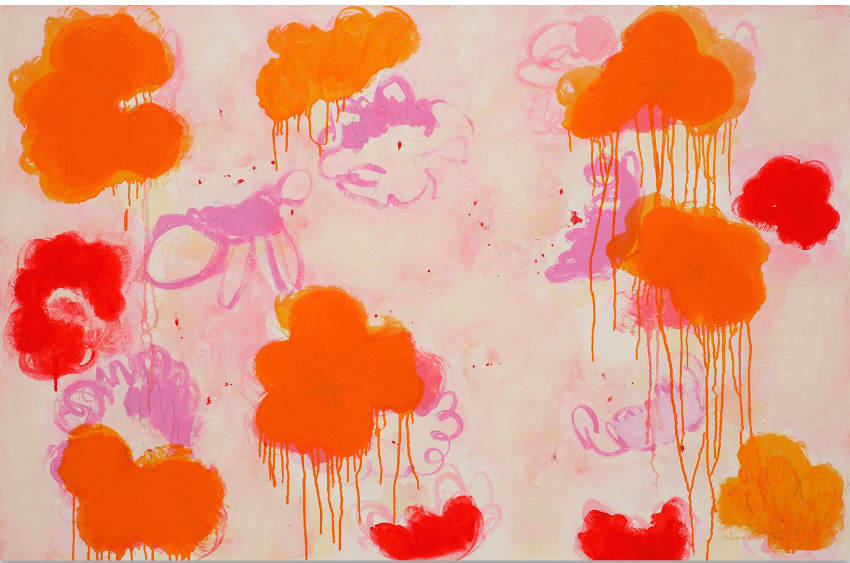 Anya Spielman - Effloresce, 2009. Oil on paper. 73.7 x 104.2 cm.
Tom McGlynn - Survey 2
This acrylic on Fabriano paper piece is part of an ongoing series initiated in 2012. It loosely refers to behavioral testing but also to the problem of how contemporary images scan. This interpretative conundrum escapes a strict denotation and entices the viewer in the contemplative quest for the diffused meaning. McGlynn explores how signs, logos, architectural patterns, and other contemporary visual patterns and shapes can trigger a residual meaning hidden deep in our (un)consciousness. His formalist or more precisely post-minimalist approach entails an implicit complexity of meaning. McGlynn's artwork is vigorously hand-painted, precise and relies on the rectangular format to convey artist ontological experience. McGlynn is an abstract artist, independent curator, and writer who lives in New York City area.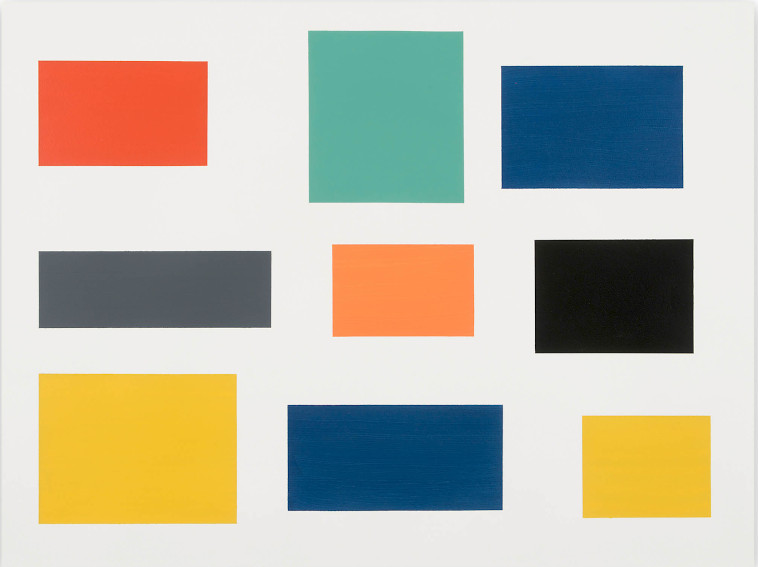 Tom McGlynn - Survey 2, 2013. Acrylic on Fabriano paper. 55.8 x 83.8 cm.
Featured image: Tracey Adams - (r) evolution 39, installation view.
By Jovana Vuković