Blog Home
Celebrating Female Abstract Art!
Mar 27, 2020
While the contribution of female abstract artists was pivotal to the abstract art, their work was notoriously undervalued and lacked the recognition indisputably received by their male counterparts. In spite of the colossal talent and critical bequest, they have fallen from the spotlight and subsequently canonical textbooks, along with museums, fairs, and/or collections. In recent years, significant effort has been made to undo the injustice done to female abstract art and the most remarkable artists such as Hilma af Klint, Elaine de Kooning, Lee Krasner, Bridget Riley, Helen Frankenthaler, Joan Mitchell, Anni Albers. And rightly so! Female abstract art is as exciting, mesmerizing and thought-proving as one of their male fellow artists. Unfortunately, the social and institutional barriers and still prevailing sexism overshadowed their unique brilliance and diligent work. Nevertheless, their art should not be interpreted as evidence "of a distinctive and recognizable feminine style" as feminist art historian Linda Nochlin warns us. Abstract art, particularly, tends to traverse ambivalence of the non-figurative realm by attributing certain forms or practices to a "feminine nature". To celebrate together March as a month during which the contribution of extraordinary women is highlighted, we have selected ten most inspiring pieces of female abstract art!
Jaanika Peerna - Screech of Ice Series 43
This new series of drawings with colored pencil and graphite on plastic paper Peerna made by holding a number of pencils as the physical movements of her hands mimic the sound of ice when the temperature fluctuates. The erratic and fluid movement of the pencils across the surface resembles a dance as the emerging drawings encapsulate the sound of ice singing. Peerna is an Estonian-born artist working across the genres who creates abstract drawings on thin plastic paper through intuitive physical movements inspired by, and reminiscent of dance. She lives and works in New York and Tallinn.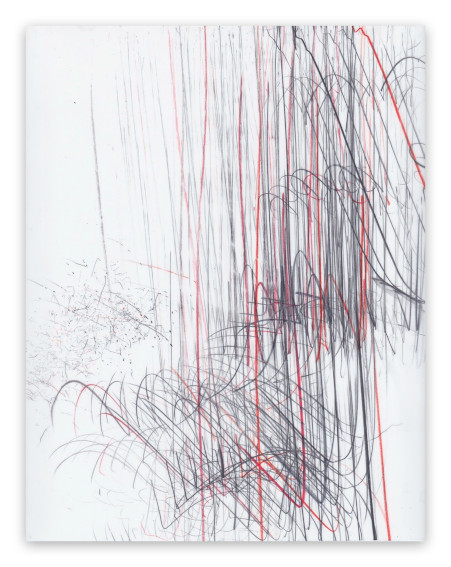 Jaanika Peerna - Screech of Ice Series 43, 2017. Colored pencil and graphite on plastic paper. 28 x 22 cm.
Ellen Priest - Jazz: Miles ʻSomeday My Prince' 8
Inspired by a Miles Davis' lyrical jazz version of Someday My Prince Will Come, a popular song from Walt Disney Snow White, Priest's vibrantly colored piece balances on the border between painting and sculpture. The spatial illusions and 3-D relief constructions of layered, collaged paper resonate with rhythmic and harmonic structures in jazz that vacillate between forms and genres. Priest is an American abstract artist who is inspired by music and most notably by jazz. She lives and works near Philadelphia.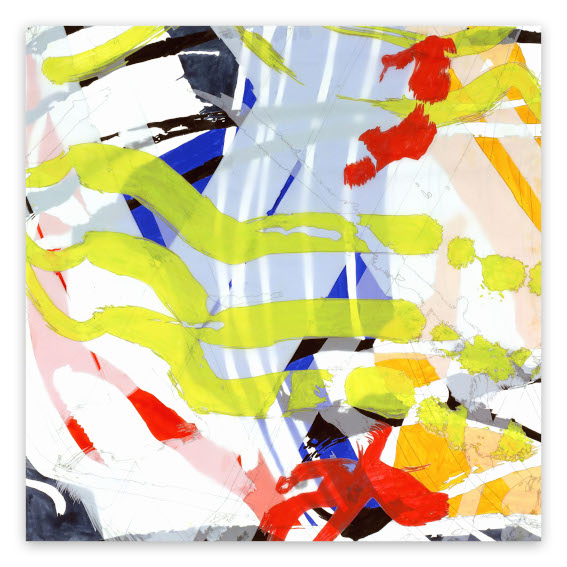 Ellen Priest - Jazz: Miles ʻSomeday My Prince' 8, 2002. Papers, oil, flashe, pencil, MSA gel. 76.2 x 76.2 cm.
Daniela Schweinsberg - A Breath of Summer V
This work, exclusive to IdeelArt and part of A Breath of Summer series, is a galvanizing layered painting that showcases Schweinsberg's fathomless emotional depth. She applies different techniques to emphasizes the simultaneously chaotic and harmonious nature of beauty. Her powerful work results from her unrushed and intuitive approach as her robust brushwork and limited palette reveal her emotionally driven creative process. Schweinsberg is a German abstract artist whose lyrical paintings derive their raucous power from a mix of raw emotion, vibrant color, and layers of energetic brushstrokes. She lives and works in Frankfurt, Germany.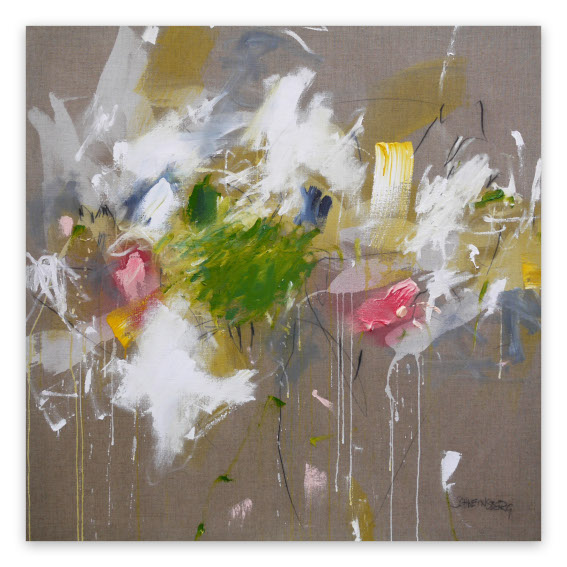 Daniela Schweinsberg - A Breath of Summer V, 2019. Acrylic/mixed media on linen. 100 x 100 x 2 cm.
Brenda Zappitell - Moments
Moments discloses Zappitell's physical, spontaneous approach that unearths her primordial emotional states as her powerful strokes and dynamic gestures struggle to seize the ephemeral. Her performative process in which her body moves in an effortless but highly physical way works largely on a subconscious level of the irrational. Many layers of her paintings witness her visceral reactions as she surrenders herself to mixed media used in her paintings. Zappitell is an American abstract painter known for her colorful, gestural action paintings. Inspired by the methods of Abstract Expressionism, Zappitell employs a mixture of memory and intuition to create her compositions. She lives and works in South Florida.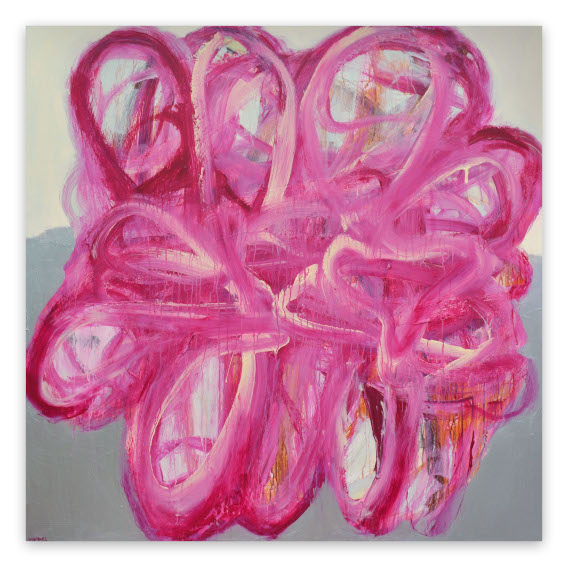 Brenda Zappitell - Moments, 2018. Flashe and acrylic with cold wax on panel. 127 x 127 cm.
Tracey Adams - Guna II
A Sanskrit word guna that is translated as a string or thread reveals Adams's lasting inspiration found in yoga teachings where three gunas (goodness, passion, and darkness) define a character of someone/thing. Guna II announces her breakaway from more rigid, geometric work into the realm of more physical movements, performative gestures, and expressive brushwork. Her choice of pigmented encaustic on Okawara paper graciously reflects the cosmic balance attained through yoga. Adams is an American abstract painter and printmaker with strong interest in musical patterns, rhythms, lyrical compositional elements and what she calls a sense of performance. She lives and works in Carmel, California.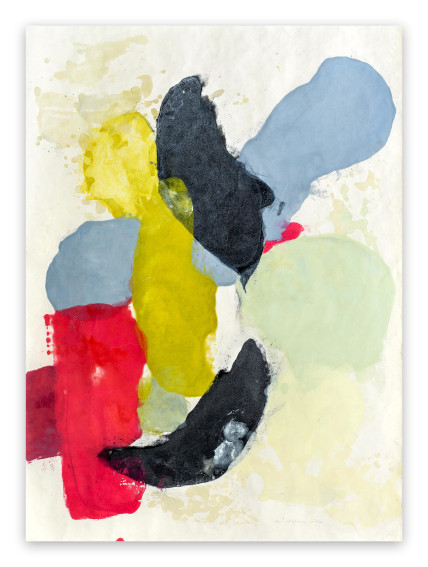 Tracey Adams - Guna II, 2016. Encaustic on Okawara paper. 90 x 66 cm.
Greet Helsen - Intervall
Intervall is a distinct example of Helsen's indulgent exploration of the relationship between transparency and opacity. Before any work on canvas, she dilutes the pigments until she obtains the desired transparency after which the shimmering areas of color are transparently superimposed onto one another. This lightness and elegance additionally accentuated by splashes of color and ink lines are disrupted by density and texture scattered capriciously throughout the canvas. Helsen is a Belgian artist who is inspired by nature, drawing abstract landscapes and using acrylic like watercolor. She lives and works in Switzerland.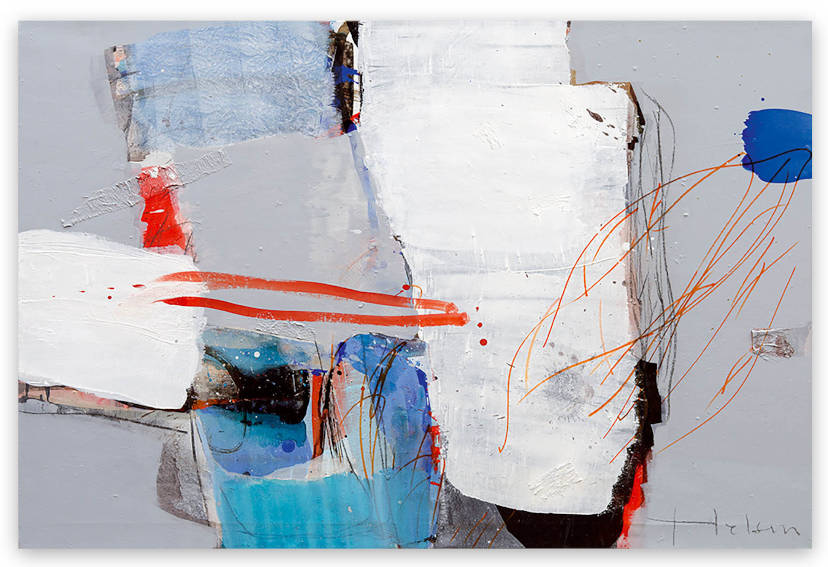 Greet Helsen - Intervall, 2014. Acrylic on canvas. 80 x 120 cm.
Anya Spielman - Flutter
Spielman vacillates between the intensely physical and greatly contemplative approach to painting and Flutter embodies this enduring tension. Her sensual, saturated surfaces are luminous as her use of red and pinks relates to flesh and blood -- the very essence of our (female) selves. Nail marks that scar the paint and deconstructs the work add a strong sense of mystery as they suggest the underlying structure of a work hiding dueling interpretations. Spielman is an American abstract painter. Her work explores the constellation of binary forces and forms, presenting reoccurring two-fold images: the tension between knowing and not knowing, being seen and unseen, humanity and inhumanity. She lives and works in the Los Angeles area.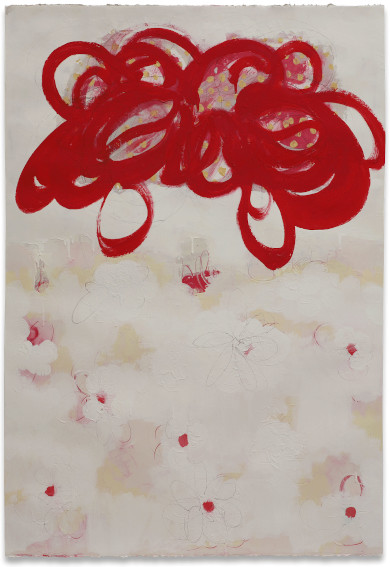 Anya Spielman - Flutter, 2009. Oil on paper. 104.2 x 73.7 cm.
Kyong Lee - Not yet 002
Inspired by the Color as Adjective series, Not yet 002 persuasively conveys the emotional essence of her memories and thoughts as unfolding through her visual representations. This vibrant piece not only unveils but underlines the color as her primary visual language. She creates gradated color paintings, where each layer is applied and dries over a fixed amount of time thus creating the relationships between colors and the temporal. Lee is a Korean abstract artist whose work reconciles physical and emotional realities through a multi-disciplined exploration of color, material, process, and form. She lives and works in Seoul, Korea.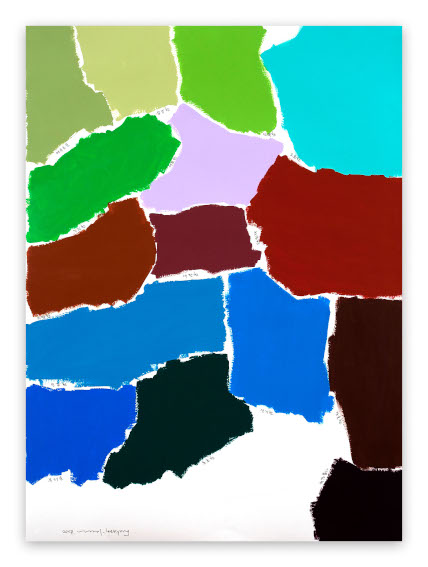 Kyong Lee - Not yet 002, 2017. Pencil and acrylic on Canson-Montval paper. 75 x 55 cm.
Xanda McCagg - Stand
Stand epitomizes a meticulous exploration of the interplay between figuration and abstractions as the relationship of forms suggests the variable nature of humanness. McCagg's ideas of connections and disjunctions between people are, however, articulated through abstraction with painted forms and graphite lines. In her search for human essence, she develops a compelling aesthetic vocabulary that can express her immersion in both perception and imagination. McCagg is an American abstract artist who lives and works in the Chelsea neighborhood of New York City.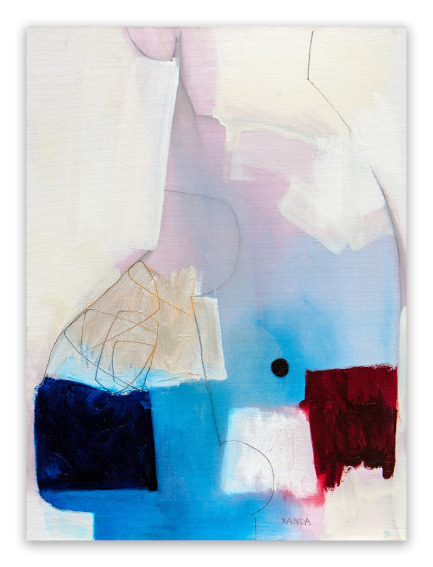 Xanda McCagg - Stand, 2015. Oil and graphite on canvas. 60.9 x 45.7 cm.
Anne Russinof - Drama Queen
Floating on their own, Russinof's personal and unconstrained paintings are an instinctive reaction to the world surrounding her. Drama Queen with its weightless colors applied in lyrical, gestural marks allude to the body that physically expresses the innermost self. Bold, brown brush marks radiate kindliness that is further intensified with the evolving color relationships. The blatant intuitiveness is actually a result of studious planning and many attempts to achieve seamlessness. Russinof is an American abstract painter whose work examines color and structure in a gestural, expressionist manner. Born in Chicago, Illinois, she currently lives and works in Brooklyn, New York.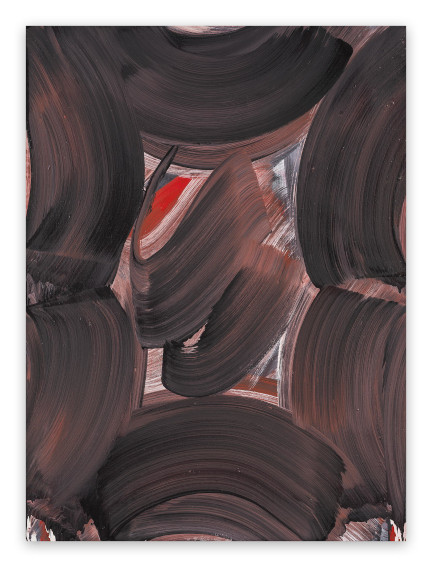 Anne Russinof - Drama Queen, 2016. Oil on linen. 61 x 46 cm.
Featured image: Daniela Schweinsberg - A Breath of Summer V, 2019, installation view.
By Jovana Vuković