Blog Home
Abstract Photography Prints For Sale You Shouldn't Miss!
Feb 7, 2020
In its transgression of boundaries, abstract photography went beyond simple definitions and characterizations. Although initially rooted in realism, the photographic medium embraced the non-representational throughout the centuries of its existence, with the works of legendary artists such as Man Ray, William Klein, Hiroshi Sugimoto and later Wolfgang Tillmans, Thomas Ruff, and Jessica Eaton. Part of this varied body of work is showcased in our own outstanding selection of high-quality abstract photography prints for sale presented below. We are proud to bring your attention to six of most remarkable artists whose work is profoundly transforming both the medium of photography and abstract art itself. Below you will find nine abstract photography prints for sale of the highest quality you shouldn't miss!
Richard Caldicott - Untitled 153
Richard Caldicott earned his worldwide recognition with his abstract composition of colors and geometric forms emanating from (re)arranged and objectified Tupperware that is dissolved in the pure abstraction in his photographs. His continuous and daring efforts to challenge the photographic canon had not subdued over the years as his artwork also spanned drawing and sculpture accentuating the same sophistication and composure. Caldicott's recent work reveals the gradual departure from the modernist stillness to compositions that mimic disruptions and fractures.
In Untitled 153, Caldicott pursues his traditional analog photography approach to instill his minimalist set of components generous in color and vibrancy. These forms, surfaces, and colors are arising from his most personal experience and lure the viewer into his most intimate universe. Untitled 153 follows a discernible linear compositional logic and germinates into a wonderful abstract work that is both self-explanatory and part of a larger dialogue. By emphasizing duplication, replication and subtle adjustments of colors Caldicott unassumingly announces his new aesthetic and symbolic intentions that rely on iconic minimalism, Color Field paintings, and pop reappropriation.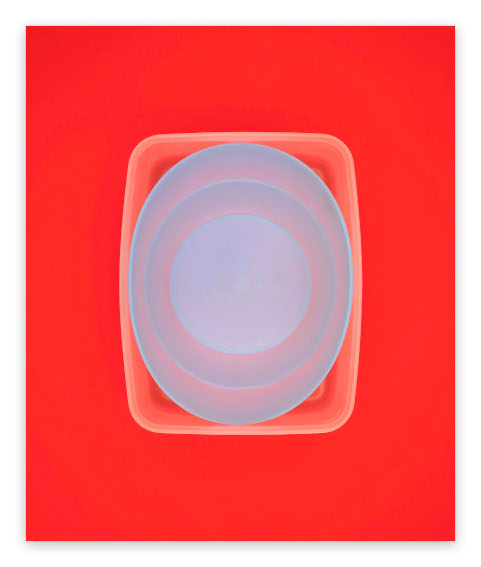 Richard Caldicott - Untitled 153, 2000. C print. 61 x 50.8 cm.
Richard Caldicott - Chance/Fall (4), 2010
Caldicott's more recent work marks the final departure from modernist serenity towards embracing dynamism and force. Chance/Fall (4), 2010 displays overlapping and drifting layers of shimmering colors emanating vividness and intensity of luminous, attractive energy. Its pellucid radiance allures a viewer as he staunchly relies on transparency and saturation. The repetition inscribed in the very nature of the series is making Caldicott an adopter of a 'serial attitude' (Derek Horton) and it echoes Minimalism that relocates a viewer to the contemplative maze of abstract photography.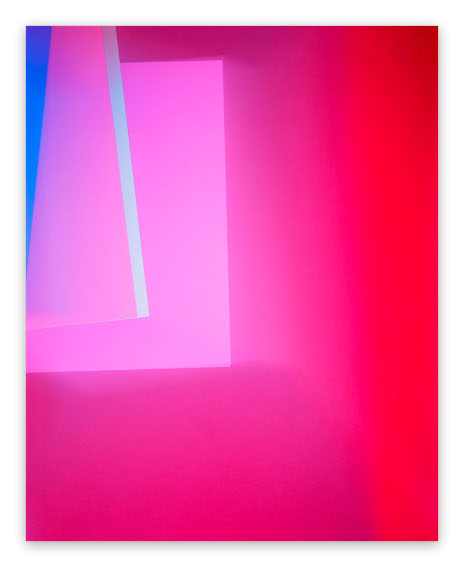 Richard Caldicott - Chance/Fall (4), 2010, 2010. C print. 127 x 101.6 cm.
Luuk De Haan - Color Field 12
Blending historic photographic techniques and contemporary technology of digital graphics software Luuk de Haan, a Dutch visual artist, developed his own distinct expression. De Haan creates a geometric composition by using digital graphics software which he photographs directly from the screen. He alters physical conditions under which the photograph is taken emphasizing the uncertainty and erratic element of surprise that is divulged through the interaction with the digital image. The newly emerged images captivate the natural and organic visual eloquence as well as a rigorous graphic exploration of shape, color, geometry, and line.
Color Field 12 is an astounding example of a meticulous exploration of color inspired by abstract expressionists like Ellsworth Kelly, Barnett Newman, and Kenneth Noland. This artwork suggests to be in flux, but flux escaping more precise interpretation and explanatory rigor. De Haan aptly discloses his minimalist aesthetic and compositions defined by confident, geometric shapes, clear lines, smooth surfaces that resonate briskly with his visual vocabulary. His work emanates the free movement and cascading depths while conjuring a sense of elusive calmness that evaporates in the utopian serenity of both colors and forms.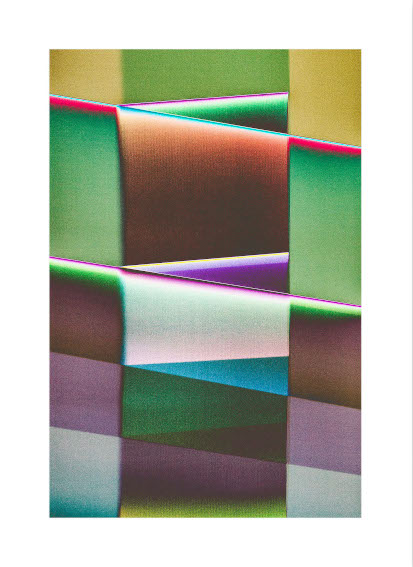 Luuk De Haan - Color Field 12, 2015. UltraChrome HD Ink on Hahnemühle paper. 100 x 72.5 cm.
Luuk De Haan - Nicht in die Laufende Trommel Greifen 11
De Haan showcases his unique talent in this attempt to translate two-dimensional shapes into three-dimensional images as he explores the deformation and alteration created by the camera. He selects a slideshow of two or more images which he photographs in a single shot moving and zooming in and out the lens and thus creating a three-dimensional image. These images manage to capture motion, geometry and dynamic color relationships of its creation. Nicht in die Laufende Trommel Greifen (Do Not Fall in the Running Drum), a warning sign printed atop a spinning machine, served as an inspiration to de Haan.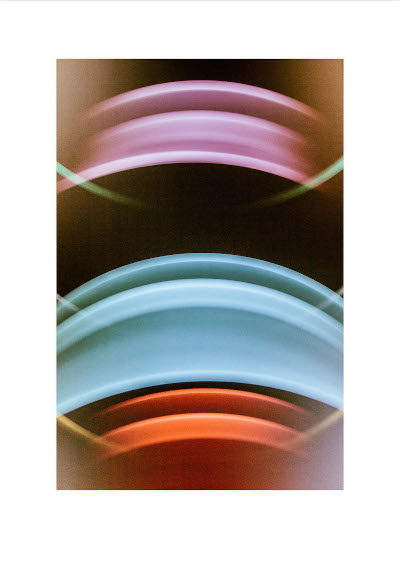 Luuk De Haan - Nicht in die Laufende Trommel Greifen 11, 2015. UltraChrome HD Ink on Hahnemühle paper. 59.4 x 42 cm.
Seb Janiak - Gravity liquid 04 (Medium)
Well-versed in a great variety of art forms and mediums, Seb Janiak finds himself at home oscillating between photography and video production. His photographic escapades extend from this early matte work to his latest laser-beam photographs taken through a prism. He offers no loyalty to any school or dogma as he explores the complexity of the world that surrounds him. His photographs are known for their exceptional embodiment of tension born out of dichotomies and opposites of our world. His work meanders through frenzied fantasy and science fiction only to reach shores of tormented nature and utopian humanity. Janiak is a French video and music producer globally celebrated for his contribution to contemporary analog photography.
Gravity liquid 04 (Medium) profoundly embeds Janiak's own metaphysical assertion that a form cannot exist without an environment and that visible forms are dependent on the conditions that allow these forms to exist. To visually contest his metaphysical assertion, Janiak opted to streamline his focus to gravity as a hidden force that shapes our universe. In this series of photographs, he explores the transformative power gravitation has on liquids and gasses. He applied the photographic process to freeze the form, but as the environment is ever-transforming, so too is this process.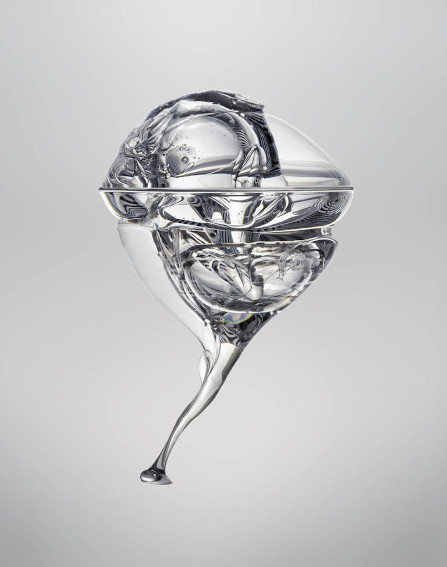 Seb Janiak - Gravity liquid 04 (Medium), 2014. Chromogenic print. 110 x 86 cm.
Gianfranco Pezzot - III. Deceit of Language
Gianfranco Pezzot is an Italian abstract artist who is profoundly inspired by the ways we experience and impact the environment around us. His interests pierce deeply through the complex modalities of our interactions with the world as his work becomes further entangled to realms of history, politics, and economy. By doing so, Pezzot is inventing a new contemporary photographic language that combines various images and mediums and creates a complex layered image, presented in its final form as a digital C-print. III.
Deceit of Language is a part of his series Dichotomy of a Human Brain where Pezzot digs deep into narratives that brains construct perceiving different images. Pezzot seeks to provide an interpretive framework for narratives that are distorted when the images are altered, restructures or combined with other images. In III. Deceit of Language he combines fragments of flowers, beach landscape and crushed sheets of paper into an assemblage that invites further artistic intervention. This is one of his most persuasive attempts to investigate the changing role of photography as a contemporary artistic medium.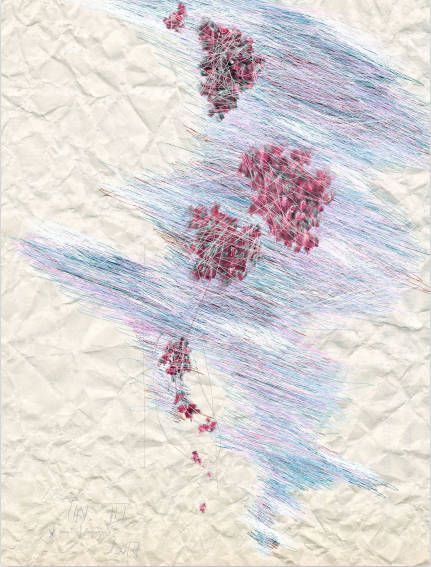 Gianfranco Pezzot - III. Deceit of Language, 2017. Digital C-Type print on Kodak Endura photo paper. 240 x 180 cm.
Paul Snell - Intersect # 201701
A Tasmanian artist, Paul Snell blends traditional and digital techniques as he expands the boundaries of abstraction and minimalism. His creative process starts with capturing the object or location with a traditional camera followed by digital decoding. After reducing and simplifying colors and forms, Snell inverts the process by re-coding the image -- these simplified colors and forms become self-referential in a new composition until the process of taking and making is conceptually and practically obscured. The final result is presented on his Chromogenic prints which disperse luminous, vivid printing onto metallic paper mounted onto the plexiglass. Intersect # 201701 encapsulates Snell's distinct visual lexicon inspired by Modernist painting, particularly minimalism and hard-edge abstraction. Self-describing his creative process as a search for a "sensory understanding of the physical object" Snell acknowledges the material substance of the abstract world. This photograph epitomizes his infatuation with color relationships and spatial realities -- their dynamic relations, vibrant and surprising interplay. His work includes a persuasive contemplative vision, the one that borders with the metaphysical realm.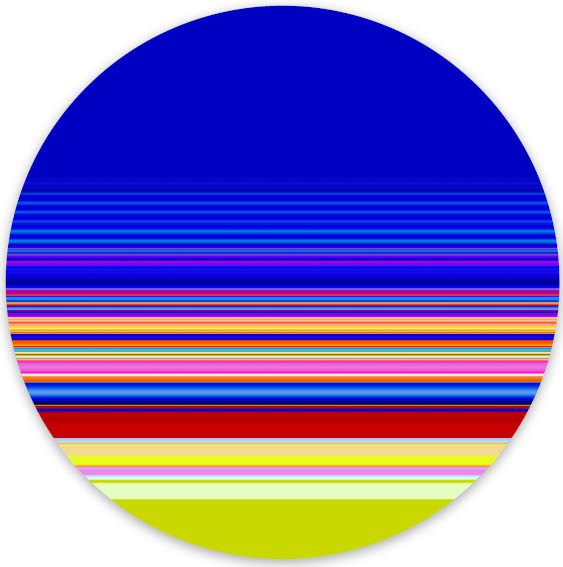 Paul Snell - Intersect # 201701, 2017. Chromogenic Print Face-mounted 4.5mm Plexiglas. 118 x 118 cm.
Paul Snell - Hover # 201909
Snell's latest and profoundly mesmerizing work deploys rhythmic, harmonious visual structures that transpose a viewer into the far depths of pure thought. He creates visual suggestions that translate reflection into an authentically meditative state. Hover # 201909 reveals the dynamism of Snell's color relationships that arises from a combination of architectural aspects of his compositions and his vibrant, luminous surfaces. The absence of metasemantics and representation drags a viewer in the midst of the primal and tonal aesthetic matter. In this primordial experience, a viewer is immersed in color, rhythm, and space that opens up for his/her interpretative reflection thus clearing the path to pure transcendence.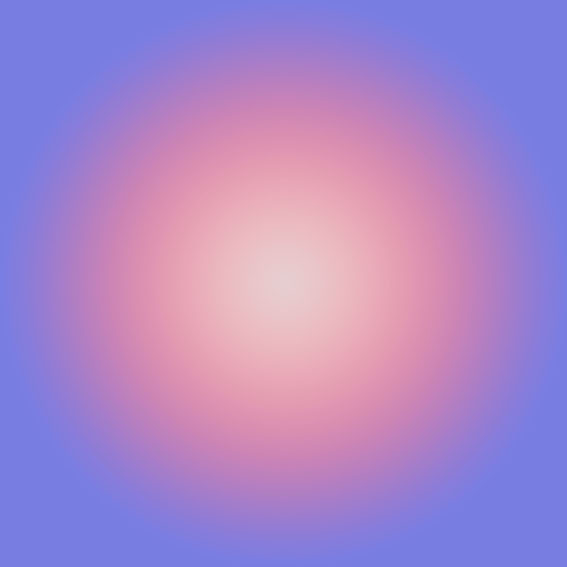 Paul Snell - Hover # 201909, 2019. Chromogenic Print face-mounted 3mm matt plexiglas. 80 x 80 cm.
Tenesh Webber - Boxy
Tenesh Webber, a Canadian artist, is widely acclaimed for her bold attempts to create a distinct intersection of photography and sculpture. She skillfully creates two-dimensional objects by layering and cutting the sewing thread or a repetitive line drawing on the plexiglass. These objects are used to create cameraless photographic images that capture an element of unpredictability and uncertainty generated by hand movement. In her more recent work, she delves deep into the hidden nature of photography as a medium as she continues to reflect on the perception of negative and positive space, movement and complete stillness.
Boxy is an example of Webber's iconic explorations of challenges and conventions of traditional black and white photography. She ends creating a rhythmic, intuitive composition that captures both the tension and balance spurring between the organic and rectilinear. Boxy's sophisticated composition emanates the conflicting macro and micro views of nature and their relationship with a man.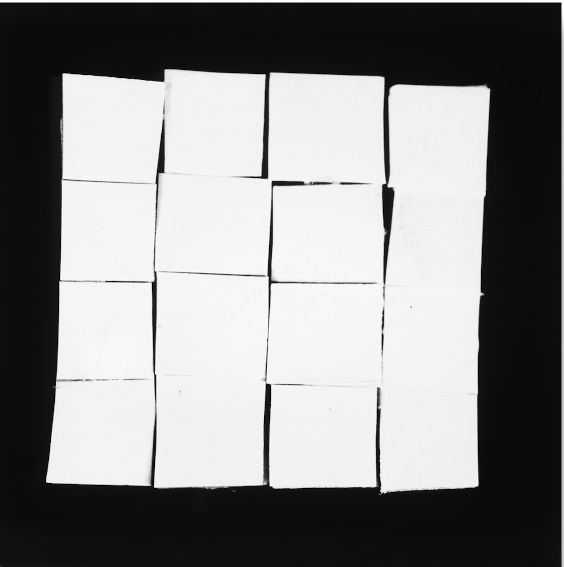 Tenesh Webber - Boxy, 2005. Black and white photograph. 50.8 x 50.8 cm.
Featured image: Richard Caldicott - Untitled 153, installation view.
By Jovana Vuković