Blog Home
Ten Affordable Abstract Art Pieces to Get Under £1000
Jan 22, 2020
If you are on the lookout for exclusive and affordable abstract art, you are in the right place! IdeelArt brings quality and original abstract art from the artists' studio directly to you, seamlessly and securely, wherever you are in the world. We present a vast and vibrant collection of carefully curated abstract artworks for sale by some of the most admired contemporary artists. Most admired…but not always expensive! To help you with your search for affordable artworks, we have handpicked 10 artworks below £1000 amongst our personal favourites. Scroll down to discover and buy our best affordable abstract artworks.
Matthew Langley - Crystal Days
Crystal Days epitomizes Matthew Langley's mesmerizing effort to use divergent strategies as a metaphoric crossroad that escapes and evades meaning. By building and extending as well as reducing and minimizing the painted surface his work meanders through simplicity and vociferates for reflection. Crystal Days is a clear and concise image that opens itself up for contemplation while constructing distinct discursive coordinates. Langley is a New York City painter and photographer who explores space, compression, volume, and sentience only to further probe their conceptual dispersal.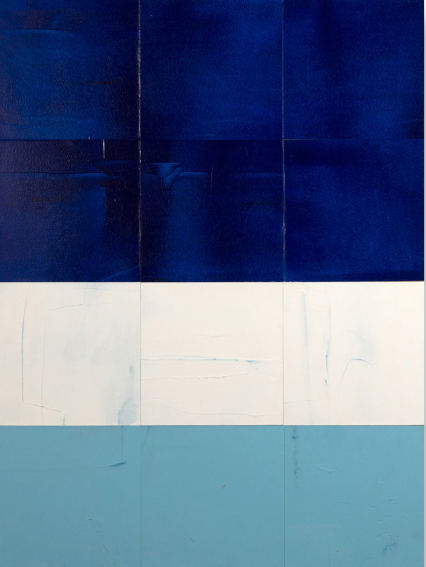 Matthew Langley - Crystal Days, 2012. Acrylic on paper mounted on wood panel. 40.6 x 30.5 cm.
Gina Werfel - Skeletal Structure
Gina Werfel's vivid and colourful piece implodes into a sheer lyricism and primordial expression. Skeletal Structure vacillates between undisturbed tranquillity and inspiring vigour that absorbs the viewer and hauls him/her to the deepest and most rudimentary emotions. Werfel's transitioned from landscape painting into abstraction keeping a unique compositional harmony and colour relationships that are seen in her complex compositional structure. Gina Werfel is an art professor at the University of California, Davis.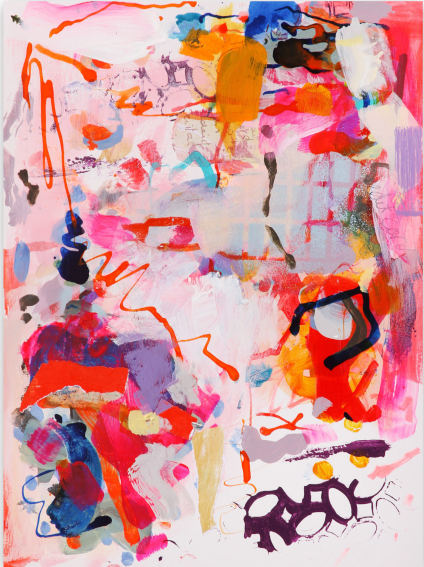 Gina Werfel - Skeletal Structure, 2017. Acrylic and mixed media on paper. 35.5 x 28 cm.
Kyong Lee - Emotional Color Chart 104
Kyong Lee is a Korean artist who intertwines and collides the ever-opposed realms of emotional and physical. This pencil and acrylic piece sublimes fragmented and scattered images, memories and thoughts embodied in colour as her primary visual language. For Kyong, every colour reflects the multitudes of emotional life as she delves deep into contemplating the flow of time and the layering experience. Emotional Color Chart 104 emanates clarity and precision of her profound emotional investment that builds on her previous Color as Adjective series. Kyong Lee's work can be found at the Seoul Museum of Art and the National Museum of Contemporary Art.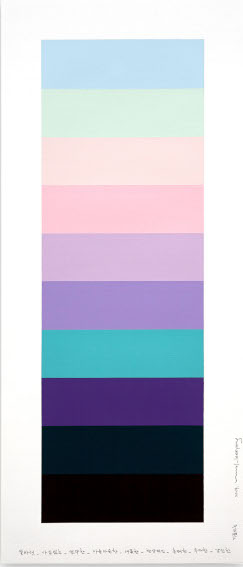 Kyong Lee - Emotional Color Chart 104, 2019. Pencil and acrylic on Fabriano-pittura paper. 70 x 30 cm.
Pierre Muckensturm - 191j24017
191j24017 is an exceptional quest for the meaning of time and perspective through which Pierre Muckensturm reaches harmony with time. This engraving on zinc materializes calmness, constancy, and temporality nourished by his superior talent and all-encompassing insights. Printmaking, which he added to his oeuvre in 2010, allowed him to further explore his fascination with the black. When breaking up with figurative painting in 2004, he disbanded canvas that eventually always becomes a painting and embraced the black as a path towards apparent silence. Muckensturm is born in Strasbourg, France, and lives and works in Colmar.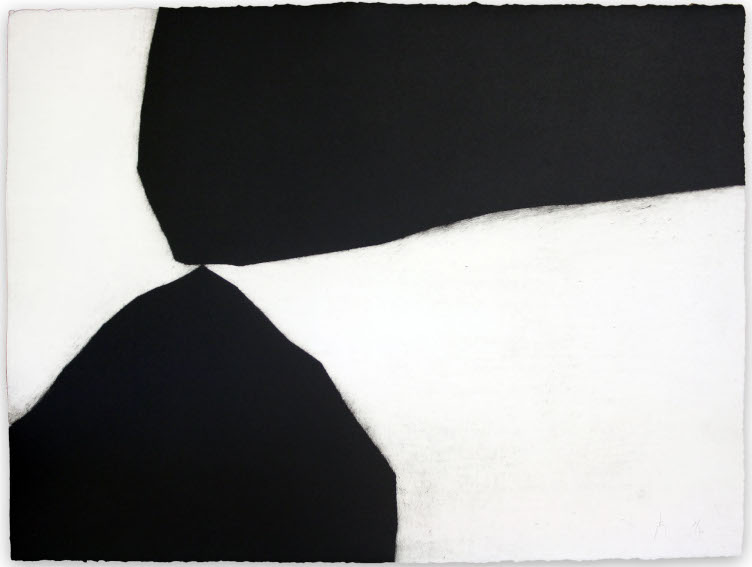 Pierre Muckensturm - 191j24017, 2019. Engraving / carborundum on zinc printed on BKF paper 250 g. 56 x 76 cm.
Xanda McCagg - Adjacent 7
Adjacent 7 is almost an initiation piece that announces Xanda McCagg's larger bodies of work. It is one of the works made with paint sticks and pencil on paper that captures vibrancy and ardour of her technique. She delivers subtle marks and vast colour fields also using lines to encapsulate different points and ideas. Adjacent 7 blends thin and ethereal colour with rough and bleak lines allowing her intuition to guide her through her abstract escapades. McCagg is an American painter whose work has been shown in both individual and group exhibitions across the United States and Europe.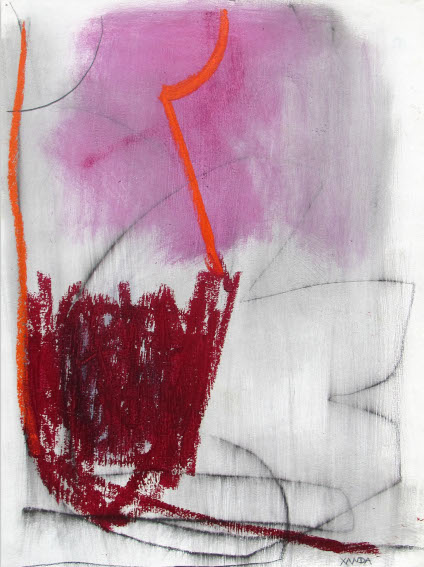 Xanda Mccagg - Adjacent 7, 2013. Pencil and paint stick on paper. 40.6 x 30.5 cm.
Joanne Freeman - Covers 13-Black B
Joanne Freeman showcases her talent on Khadi, a handmade Indian paper made from cotton fibres spreading gouache along with her flair. Though usually famed for her skilful toying with vivid and lively colours, Covers 13-Black B employs only one colour to emphasize the interplay of ground and foreground. Her use of tape to mask out shapes and employ hard edges brings in abstruseness in the midst of clarity. Freeman's adept approach and minimalist aesthetic seek to genuinely express physicality, emotion, limitation, and randomness. She is a New Yorker and a superior and well-established abstract painter.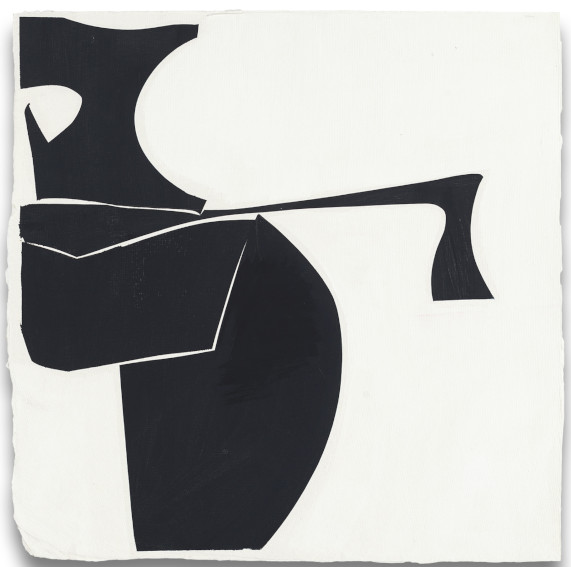 Joanne Freeman - Covers 13-Black B, 2014. Gouache on handmade Khadi paper. 33.1 x 33.1 cm.
Richard Caldicott - Untitled 110/3
Untitled 110/3 is the supreme example of abstract photography that adores the transformative possibility captured by the functionality of everyday objects. Opting for Tupperware containers Richard Caldicott explored the colour manipulation as he scrutinized the stillness and transparency of these objects. His interdisciplinary background equipped him with a multifariousness of horizons that are demurely revealed in this photography. Caldicott is an English artist celebrated for his abstract photography as well as his abstract compositions on paper.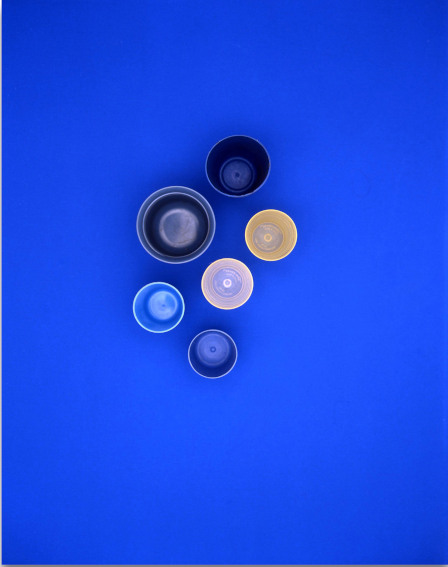 Richard Caldicott - Untitled 110/3, 1999. C print. 35.5 x 27.9 cm.
Debra Ramsay - Lichen Memory 2
Lichen Memory 2 is a memorable acrylic on plexiglass piece that captures Debra Ramsay's fervent investigation of colour, location, light and time. As a part of a series Hue[s]pace, Lichen Memory 2 embodies the same infatuation with colour as such. She borrows and (re) discovers colour from the natural environment using photography and paints it operating a computer program; thus she transcends not only genres but physical and ontological realities. Ramsay is an American abstract artist whose acrylic paintings, drawings and installations reveal a hypnotizing interplay between colour, line, and surface.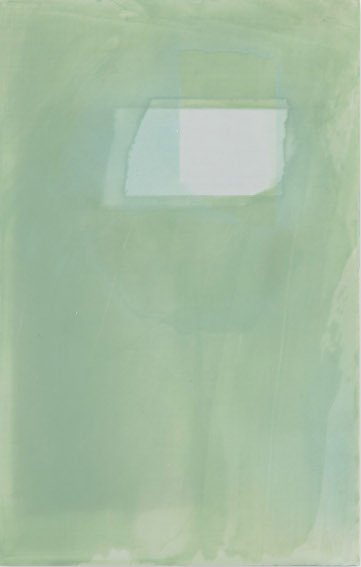 Debra Ramsay - Lichen Memory 2, 2016. Acrylic on clear plexiglass. 21 x 13.3 cm.
Ulla Pedersen - Cut-Up Paper II.4
This acrylic painting reveals Ulla Pedersen's consistent approach recognizable for its reduced colours and compositional minimalism with hard-edged shapes on solid-coloured fields. The intensity of tension created by the interplay of her skilful use of colours, patterns, and shapes amplifies itself to the point of complete implosion and transformation to thorough harmony. Pedersen is a Danish artist who streamlined her focus on colour, materiality, form, and balance.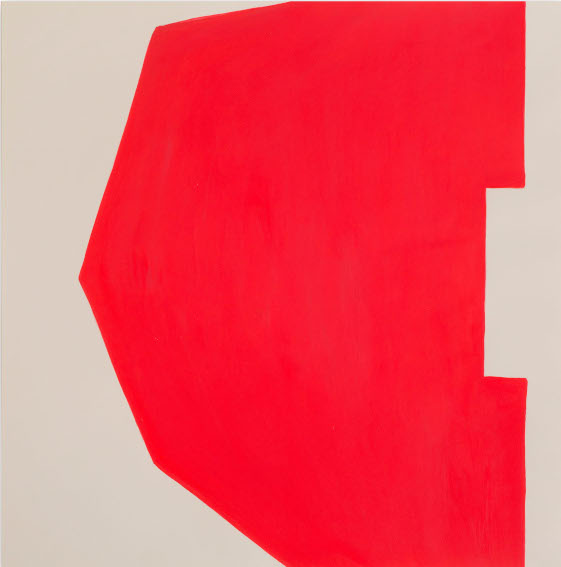 Ulla Pedersen - Cut-Up Paper II.4, 2016. Acrylic on paper. 30 x 30 cm.
Greet Helsen - Verträumte Landschaft
In this piece, Greet Helsen delicately condenses her memories of the Belgian coastline represented by its white clouds, sandy dunes, gentle hills, and huge sky. She uses mixed media on canvas reflecting the perplexity of nature that she so often captures on her landscapes. By applying a dilution technique until she obtains the degree of transparency she creates an ethereal atmosphere that disperses in sheer elegance. Helsen is a Belgian artist famed for her abstract landscape who lives and works in Switzerland.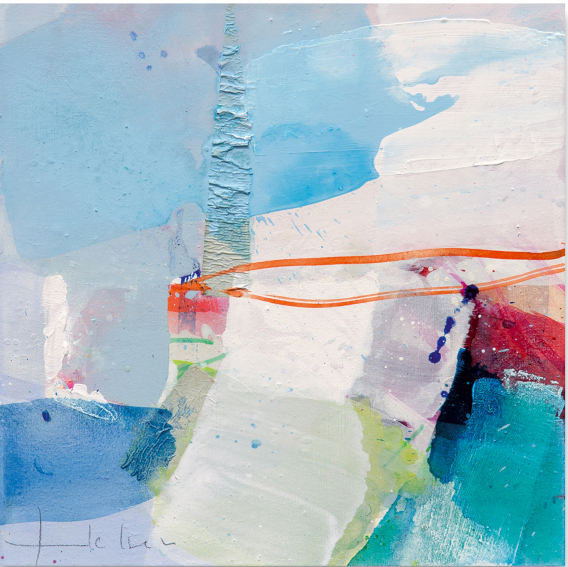 Greet Helsen - Verträumte Landschaft, 2015. Mixed media on canvas. 45 x 45 cm.
Featured image: Matthew Langley - Crystal Days, installation view.
By Jovana Vuković