Blog Home
Giardini Colourfall - Ian Davenport at Venice Biennale 2017
Jul 3, 2017
The Venice Biennale is a simple expression of something timeless: the act of returning regularly somewhere beautiful to enjoy contemporary art in fellowship with others. One of the highlights of the 2017 biennale so far is a new, site specific painting by British artist Ian Davenport. Titled Giardini Colourfall, the painting matches the fair in its simplicity and timelessness. Its colorful, glossy, striped appearance was created by Davenport meticulously pouring 1,000 colors of acrylic paint from syringes down the surface of a 14 meter long aluminum panel. Then, as Davenport describes it, the lines of paint "flow[ed] out onto the floor and pool[ed] in thick, seductive puddles." This is the latest in a series of monumental Colourfall works Davenport has created for public spaces, but it is not his biggest. His 2006 painting Poured Lines, created to liven up an underpass in London, is 48 meters long, making it one of the largest public artworks in Europe. But scale might be becoming less important to Davenport. Giardini Colourfall was sponsored by the Swiss watch company Swatch, and to accompany the painting Davenport also designed a limited edition watch (that quickly sold out). The watch is most definitely the smallest work Davenport has ever made. Says the artist,"It takes my practice into a different place and really made me think about my next body of work."
Painted Cans
The two artists from history that Ian Davenport has named as his main sources of inspiration are Jackson Pollock and Andy Warhol. That might seem predictable coming from a painter who is known for dripping paint and who partners with companies to promote commercial products. But the reasons Davenport respects these two particular artists are less obvious than one might think. In a recent interview with myartguides.com, Davenport said he respects Pollock because he "completely exploded how painting could be made and what its subject may be," and he respects Andy Warhol for "how he explored repetition," and because "he was a fantastic colourist."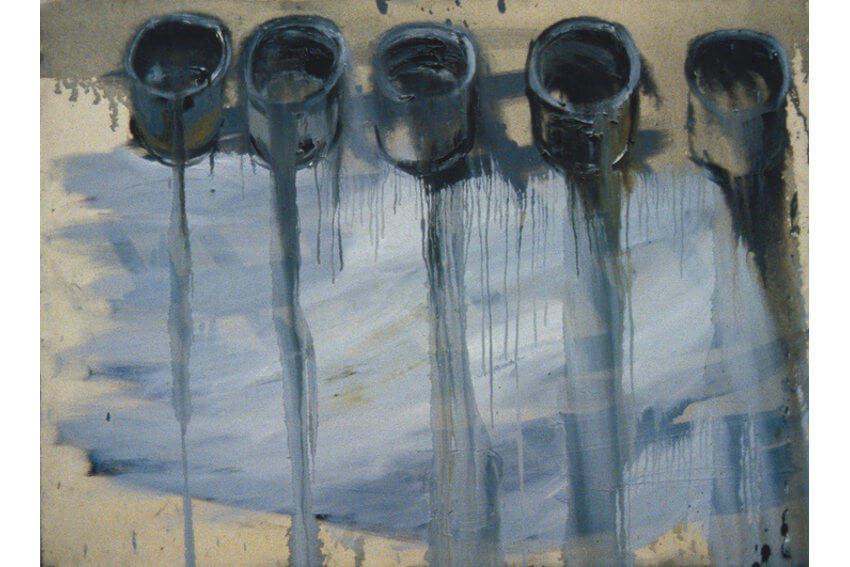 Ian Davenport - Paint Pots, 1988, oil on canvas 31 x 40 in / 78.7 x 102.9 cm
If we look back at some of the earliest works Ian Davenport made while he was still in art school, those influences are plain to see. In 1988, the year he graduated from Goldsmiths College, Davenport painted a series of works named for paint cans. They feature straightforward images of cans of paint with drippings of paint flowing down their sides that continue on down the surface of the canvas. He worked repetitively with that image, gradually reducing the oval top of the paint pot and focusing more on the drips, until by 1989 he was purely exploring the potential aesthetic ramifications of paint flowing down a surface in lines.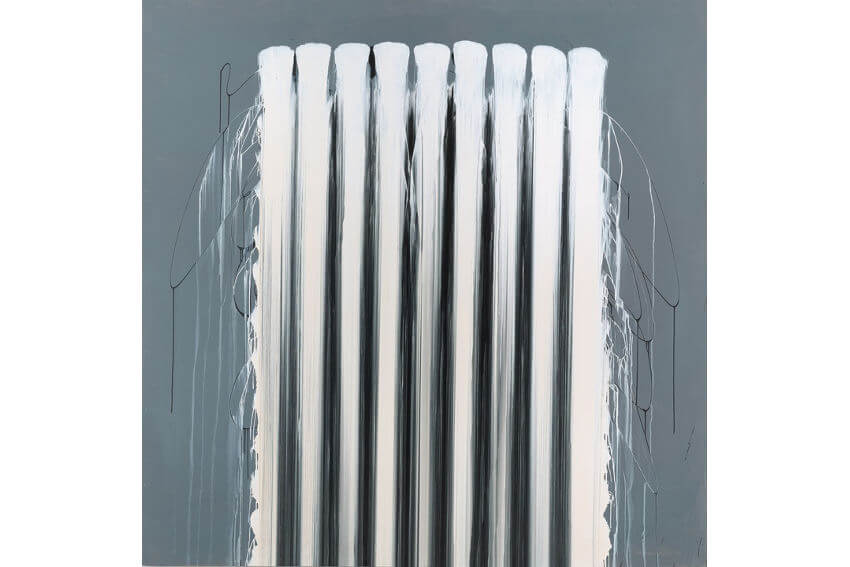 Ian Davenport - Untitled, 1989, oil on canvas, 84 1/4 x 83 7/8 / 214 x 213 cm
Forces of Nature
The next step for Ian Davenport was to explore more directly the concept of limited human control. He was interested in looking at how outside forces of nature, like gravity or wind, can have an effect on paint and thus change the intention of the artist. Much in the vein of artists like Pollock and Helen Frankenthaler, Davenport wanted to discover where his control of his medium and of his composition ended, and then search for ways to direct the forces of nature toward a satisfactory aesthetic end.
Some of his first efforts in this realm were his fan paintings. The simple concept for these works was that he poured paint onto a surface then let the wind from a fan redirect the paint. He even positioned the fan to direct the paint from below in a way that put the wind in confrontation with gravity. While he still had some measure of control over the outcome, it was a balancing act. These experiments led to further simplifications, which led to a series of works where he poured paint onto flat surfaces to create arches and circles, and it also of course led to his discovery of his now renowned Colourfall technique.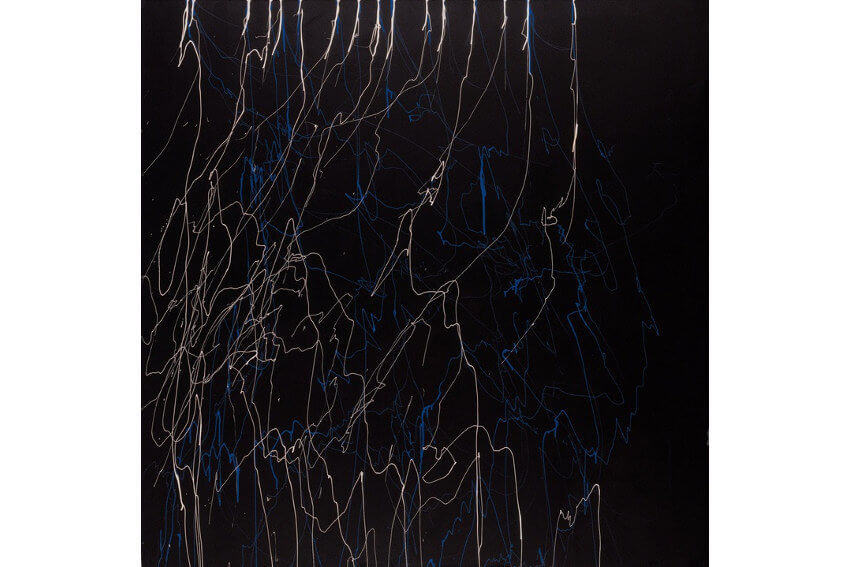 Ian Davenport - Electric Fan Painting Blue and White, 1990, household paint on canvas, 84 x 84 in / 213.4 x 213.4 cm
Colourfalls
Pouring paint from syringes in thin lines down the front of surfaces allows Davenport to collaborate with gravity and viscosity in the final presentation of the work. But his work is about more than the relationship between chaos and control. It is also about color. In the tradition of artists like Sonia Delaunay, Bridget Riley and Josef Albers, Davenport is interested in the dynamic relationships colors develop with each other when joined together on the surface of a painting. His simple technique allows him to explore those relationships in nearly endless combinations, limited only by his imagination and his ability to create the hues he desires.
As far as where he receives his color inspirations, Ian Davenport has been open about his habit of looking for clues in the works of other artists. He has made a Colourfall painting inspired by German Renaissance painter Hans Holbein (titled Colourfall: Holbein), and one inspired by shades of blue in the work of Vincent Van Gogh. And museums are not the only place Davenport seeks guidance. He has also confessed to selecting colors from cartoons. The point of it all, he says, is not to take art too seriously. "The paintings speak for themselves," he told the Guardian newspaper in 2014, "and they are about having fun." The 2017 Venice Biennale runs through to 26 November, and Giardini Colourfall in on view throughout in the public garden.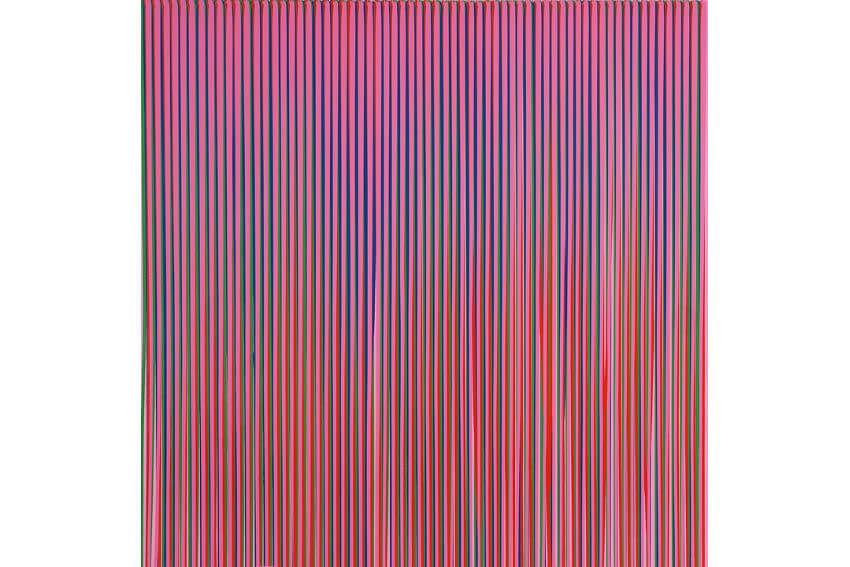 Ian Davenport - Poured Lines: Light Violet, Green, Blue, Red, Violet, 1995, household oil on canvas, 84 x 84 in / 213.4 x 213.4 cm
Featured image: Ian Davenport - Giardini Colourfall, 2017, site specific installation in the public gardens at the 2017 Venice Biennale
All images © the artist
By Phillip Bracio