Blog Home
Design Radical by Ettore Sottsass Takes Over The Met Museum
Jun 21, 2017
On 21 July 2017, the Met Breuer in New York will open a major exhibition of the work of the designer Ettore Sottsass. Sottsass reached the peak of his influence in the 1980s, and his most memorable designs tend to be associated with Postmodernism. To the uninitiated, the title of the exhibition (Ettore Sottsass: Design Radical), may suggest that the organizer, Christian Larsen, intends to contextualize Sottsass as an outsider. The word radical implies someone working on the fringe, threatening cultural norms. But Sottsass was not a radical in the usual sense. He was commercially successful young, and remained so throughout his career. He was appreciated by his contemporaries and celebrated by many critics. So why use the word radical to describe his oeuvre? The word as Larsen is using it in this case refers to a movement that occurred in the mid-to-late 20th Century Italian design community known as the Radical Period. The Radical Period began roughly in the early 1960s and culminated in the late 1980s with what we now consider to be the height of Postmodernism. Philosophically, the goal of many designers associated with the Radical Period was to pump up design to express a sort of super-modern attitude. Visually, their inspiration arose out of a mash up of early 20th Century avant-garde art movements like De Stijl and geometric abstraction, combined with the glitz of Pop Art, the digital aesthetic of computing, the materials, techniques and processes associated with global mass production, and the attitude of high fashion. At its worst, the resultant aesthetic was labelled absurd, and even hideous. But at its best, designers like Ettore Sottsass ushered in a return to the belief in the value of the Gesamtkunstwerk, or total work of art, by advocatingthat every aspect of modern life could be elevated to an aesthetic experience.
Young Ettore Sottsass
Ettore Sottsass died in 2007 at the age of 90. He was born in 1917 in Innsbruck, an idyllic city tucked in a picturesque valley in the Austrian Alps. His father was a successful architect who moved the family to Milan, Italy, not long after Ettore was born. As soon as he was able, Ettore followed in the footsteps of his father, earning his architecture degree from the Polytechnic University in Turin in 1939. Then after spending World War II as a soldier in the Italian military, he returned to Milan and opened his own architecture and design firm.
Sottsass enjoying immediate success with his new firm and soon began taking consulting assignments with other companies. One such company for which he began consulting in the 1950s was the Italian technology firm Olivetti. Olivetti originally specialized in making office devices such as typewriters. But later, in the mid-1960s, the company became globally famous as the producers of the first programmable desktop computer, known as the Programma 101. Sottsass was a member of the small team that designed an award winning predecessor of the Programma 101, known as the Elea 9003. Boththe Elea 9003 and the Programma 101 featured pared down, modern designsthat helped establish the iconic look of mid-20th Century computer technology.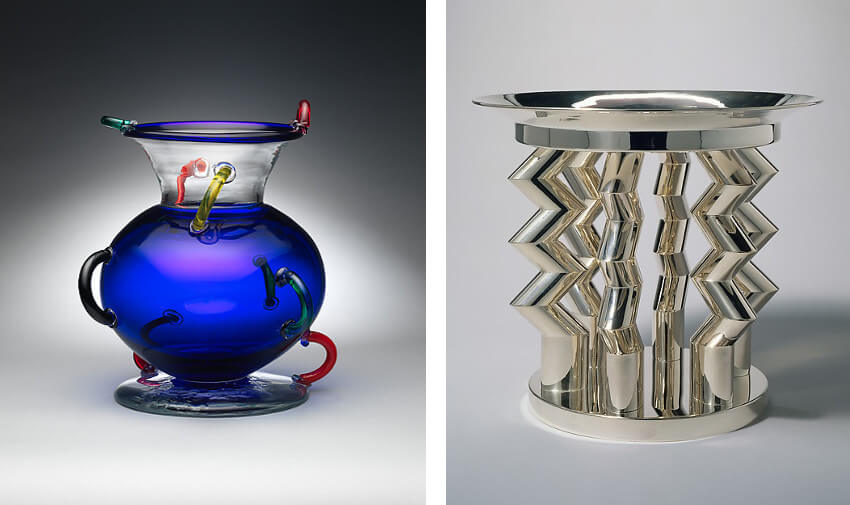 Ettore Sottsass - Mizar, Vase, 1982, Glass, H. 13-1/4 x W. 11-1/2 x D. 11-1/2 in. (left) and Murmansk - Fruit Dish, 1982, Silver, H. 12, Diam. 13-7/8 in. (right)
Typewriters and Superboxes
After more than a decade working with Olivetti, Ettore Sottsass collaborated with British designer Perry King to create the design that would forever establish Sottsass as a designer not only of products, but of lifestyle accoutrements. That design was for a writing implement/fashion accessory called the Valentine Typewriter. Seductive, sleek, modern and compact, the striking, all-red Valentine Typewriter fit snuggly into a matching red case that hung over the shoulder like a futuristic carryall. In action, it looked more like something that might be carrying nuclear codes for a stylish villain than an office device for composing memos.
Said Sottsass, "When I was young, all we ever heard about was functionalism, functionalism, functionalism. It's not enough. Design should also be sensual and exciting." The Valentine Typewriter was one of the most high profile examples of a moment when he accomplished that goal. But in the decade leading up to its creation, Sottsass had also made multiple other important innovations. He was prolifically dedicated to the notion that everyday domestic objects such as furniture and dishes should transcend functionality in order to become fashionable, aesthetically pleasing accessories to modern life. His development toward this idea is one of the key facets of his career examined in Ettore Sottsass: Design Radical. Keyexamples included in the exhibition will include his Superboxes, as well as his Indian-inspired Tantric Ceramics, and five of his "ceramic totems," colorful, stacked vertical ceramic pillars titled Menhir, Ziggurat, Stupas, Hydrants, and Gas Pumps.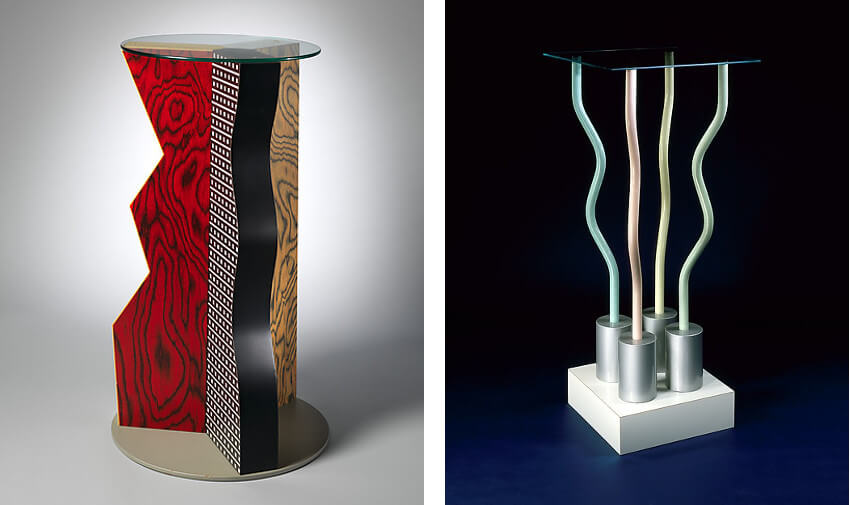 Ettore Sottsass - Ivory - Table, 1985, Formica, wood, glass, H. 39-3/4 x Dia. 24 in. (101 x 61 cm) b: Glass top; Dia.19-1/2 x Thickness 1/4 in. (49.5 x 0.6 cm) (left) and The Structures Tremble, 1979, Plastic laminate, composition board, painted steel, rubber, glass, H. 46, W.19-3/4, D. 19-3/4 in. (116.8 x 50.2 x 50.2 cm.) "a" Table Base: H. 45-3/4 x W. 15-3/4 x D. 15 3/4 in (116.2 x 40 x 40 cm) "b" Glass Top: H. 1/4 x W. 19-3/4 x D. 19-3/4 (.6 x 50.2 x 50.2 cm) (right)
The Memphis Group
As would be expected with any serious retrospective of the career of Ettore Sottsass, Ettore Sottsass: Design Radical will also focus strongly on The Memphis Group, the design collective founded by Sottsass in the early 1980s. The Memphis Group was based in Milan but was truly international in its ranks, as it included more than a dozen and a half designers from Italy, France, Japan, Austria, Spain, The United Kingdom and the United States. Led by Sottsass, the group epitomized Postmodern design ideas, which were not so much about innovation as they were about about elaboration. Their works included furniture, textiles, metal objects, ceramics and metal items. The designers embraced bright colors, whimsical forms, pop flash and fun.
An iconic example of the type of design Sottsass made for the Memphis Group was his "Carlton" Room Divider. Essentially an open shelving unit, the piece combines traditional horizontal shelving components with whimsical diagonal shelves. The mish-mashed color palette is bright and vibrant and the presence of the piece asserts itself much more as a work of art than as a utilitarian bookshelf. The mixture of visual elements present in the "Carlton" Room Divider makes it a perfect representation of how the Memphis Group solidified the aesthetic that today is most often associated with 1980s design.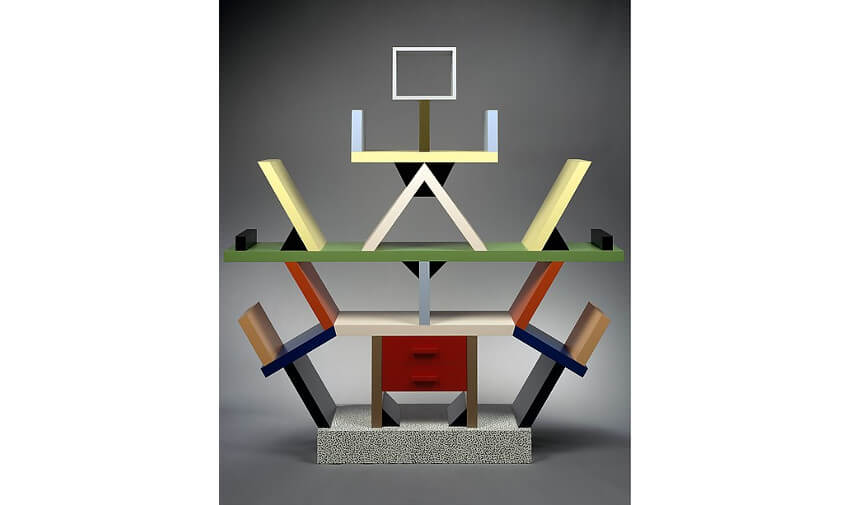 Ettore Sottsass - Carlton - Room Divider, 1981, Wood, plastic laminate, 76 3/4 x 74 3/4 x 15 3/4 in
The Sottsass Legacy
Today, many critics and collectors express loathing for the work of the Memphis Group, recalling only its elaborate, often gaudy insistence on playful design elements, primary colors and non-utilitarian elements. But there was something profoundly influential about the philosophy Ettore Sottsass embraced. Sottsass believed in the importance of creativity and individuality, and felt that designers had the right and the responsibility to create objects that could serve as an expression of personality. Many contemporary design trends and social attitudes can be traced back to the philosophy of the Memphis Group, most prevalently the general expectation of consumers today that products behave as more than simple tools, and in fact behave as extensions of character.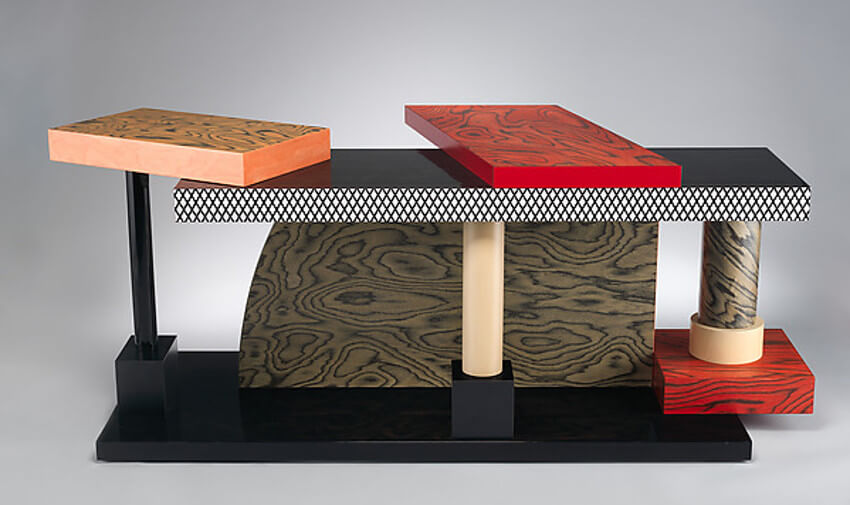 Ettore Sottsass - Tartar - Table, 1985, Reconstituted wood veneer, plastic laminate (HPL print laminate), lacquer, plywood, H. 30-1/4, W. 75-3/4, D. 32-1/4 in.
Ettore Sottsass: Design Radical helps contextualize that legacy in at least two ways. In the final section of the exhibition, called "Masters," objects that Sottsass designed later in his career are exhibited in conversation with works by four other influential 20th Century designers and artists. Included are works by the founder of De Stijl, Piet Mondrian, whose visual vocabulary is immediately evident in the work of Sottsass. Also included are works by the French minimalist interior designer Jean Michel Frank, the Italian Modernist designer and architect Gio Ponti, and perhaps the most influential Japanese Postmodern industrial designer, Shiro Kuramata. Secondly, in commemoration of the exhibition the Met Store will be selling special collectible items designed by Sottsass and other Memphis Group designers. This seemingly mundane gesture represents the true legacy of Sottsass: it speaks to the importance of including design in everyday life, and the necessity of making unique, designer objects accessible to people of all backgrounds. Ettore Sottsass: Design Radical opens 21 July on Floor 3 of the Met Breuer in New York, and runs through to 8 October 2017.
Featured image: Ettore Sottsass - I Designed It For Pitagora - Desk, 1987, Brier-wood and pear-wood veneers, marble, painted wood, 28 1/2 x 90 1/2 x 61 in.
All images © The Met, all images used for illustrative purposes only
By Phillip Barcio