Blog Home
Vivid Compositions of 5 Los Angeles-Based Artists at Brand Library
Jun 14, 2017
The Brand Library in Glendale, California, is an architectural spectacle. A former mansiondubbed Miradero (meaning vantage point), its majestic white facade sparkles amid tree-covered hills and valleys. Its 3200-square foot gallery is the ideal venue for its current exhibition, Natural Selections. Featuring the work of five Los Angeles artists, the exhibition is, at leaston the surface, all about nature. Each of the artists in the show either uses nature as subject matter, or interacts with nature in some essential way as process. According to exhibition supervisor Shannon Currie Holmes, these artists were chosenfor the show because they make work that is "inspired by nature with vivid compositions of organic complexity." But both the physical location of this exhibition and the work included within it are also just as much about selection as they are about nature. The Miraderomansion and its surrounding land were once the property of real estate developer Leslie Coombs Brand. When he died in 1925, he made a choice to bequeath the property to the city for use as public parkland and a library. Likewise, the idea of choices is integral to the curatorial choices for Natural Selections. Says Holmes, "Natural Selections was this idea where the work is abstract yet there is all this technical skill and incredible ability to produce realistic-looking work. Yet, they are making this formal decision to create abstract work."
Five Los Angeles Artists in Natural Selections
Los Angeles-based fiber artist Amabelle Aguiluz works in the mediums of installation, sculpture, performance and wearables. She uses fibers and textiles to express "the flow of life as a vast web of interconnections." Her fiber installations are complex and meticulous, and yet they evoke the organic, free-flowing processes of nature. They exist in a simultaneous state of being finished and unfinished. They seem worn down, and also in the state of continuous becoming. Natural processes are ever-present in her work, as is the process of selection, as evidenced through the choice of her materials, which consist of discarded fabric repurposed for use in her work Aguiluz earned her BFA in Fashion Design from the Fashion Institute of Technology, New York. She has her own fashion labeland has exhibited extensively in the United States.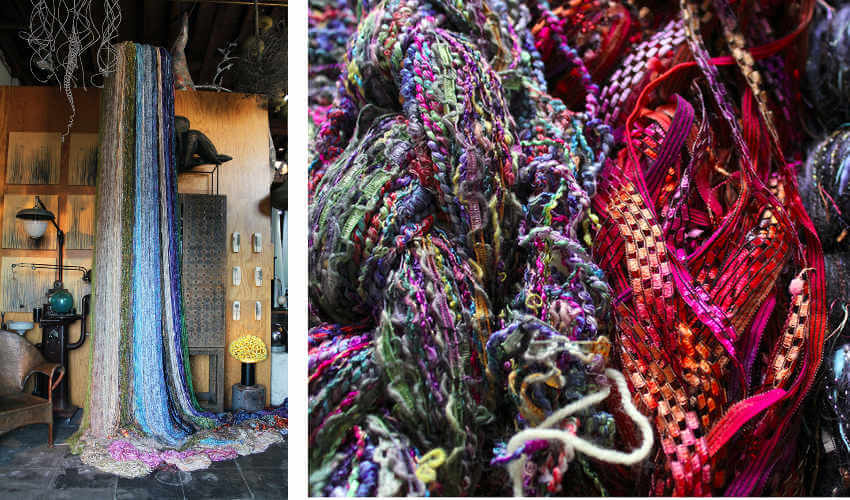 Amabelle Aguiluz - Gradient Light, 150x194 in, © Amabelle Aguiluz
The abstract visual vocabulary in the work of Sarajo Frieden is at once formal and free. She describes her process as one devoted to the rather academic sounding "exploration ofcolor, shape, line, and form." And yet she describes her way of interacting with these elements as akin to dance, or choreography. The abstract images she creates, whether realized as acrylic paintings on canvas, cut-outs, or works on paper, are filled with evocative references to natural color relationships and organic forms. Her compositions reveal depth and interconnectedness. They seem partly improvised and partly planned, as though suggesting a marriage between the forces of randomness and human choice. Frieden earned her Painting and Printmaking degree from UCLA. She has exhibited extensively in the United States and internationally.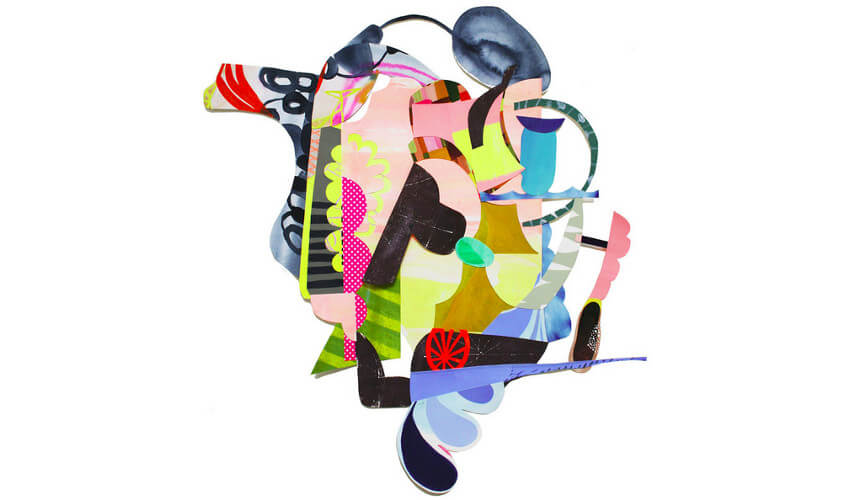 Sarajo Frieden - Untitled 406, Painted, cut paper on paper, 75x25 in, © Sarajo Frieden
Japanese-born, Los Angeles-based artist Wakana Kimura creates work that freely incorporates both figuration and abstraction. What is first instantly recognizable when encountering one of her monumental paintings is that they draw on natural figurative imagery of things like fish, flowers, trees and water: elements often found in the traditional art of Japanese culture. Intermixed with this imagery is an abstract explosion of calligraphic, gestural color. The combination of expressive bursts of abstract color with the intricate, delicately drawn figurative forms is a source of energy and vitality. Her work shows images of nature, and also harnesses the forces of nature within itself. Kimura earned her BFA from Tokyo University of the Arts, and her MFA from Otis College of Arts and Design. She has exhibited extensively throughout the United States and Japan.

Wakana Kimua - artwork, 2015, © Wakana Kimura
Los Angeles-based painter Karin Lanzoni creates small, complex oil paintings using the micro-gestures she associates with contemporary technological applications. Small, subtle movements like swiping and tapping build layer upon layer of paint upon her surfaces, until compositions emerge that evoke complicated natural surfaces like coral, moss, peat, or bark. Her intimate gestures are a counterpoint to the sweeping, active gestures of Abstract Expressionism. They are personal and swift, but no less expressive. Though micro in size, the 8 inch by 8 inch paintings she has included in Natural Selections could also easily be viewed as distant aerial photographs, the complexity of their impasto surfaces mimicking the endless diversity and depth of the natural world. Lanzoni has exhibited in the Unites States and internationally, and is also a published author and active curator in the Los Angeles area.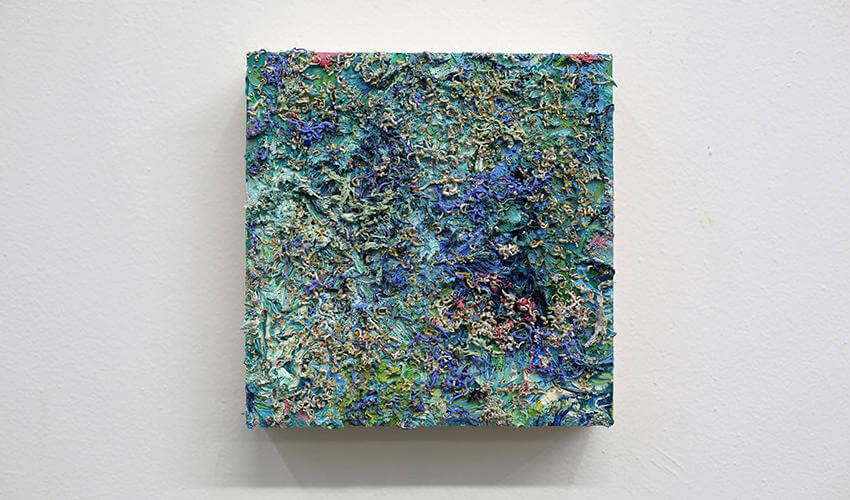 Karin Lanzoni - A Bit Of Warmth, Oil on Wood Panel, 8x8 in, 2014, © Karin Lanzoni
The vibrant, colorful work of Japanese-born, Los Angeles-based painter Hiroko Yoshimoto buzzes with energy and life. Her compositions can easily be read as purely abstract, their ecstatic lines and biomorphic color fields assembling together in uninhibited pools of contemplative magic. But to hear her speak of her work, a new sense of figurative urgency comes to mind, evoking the actual physical world in ways that bring its beauty and delicacy to the forefront of the mind. Says Yoshimoto, her current work "reflects my ardent wish that life's diversity would continue to flourish in the face of accelerated destructive forces created by human hand. The seemingly infinite and wondrous diversity of life forms, like the microbes in a drop of water, inspires unique colors, shapes, and lines that then come alive on my canvas." Yoshimoto earned her BA and MA in Art from UCLA. She has exhibited extensively throughout the United States and internationally.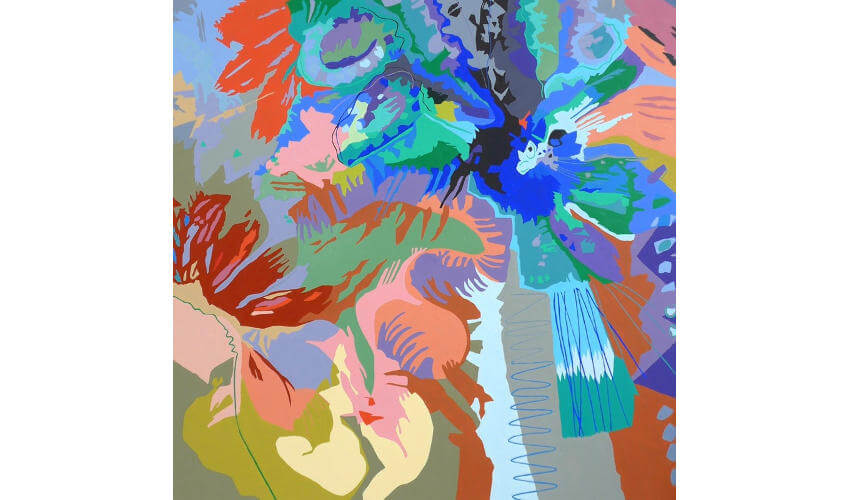 Hiroko Yoshimoto - Biodiversity 52, 48x50 in, Oil on Canvas, 2014, © Hiroko Yoshimoto
Natural Selections is on view at the Brand Library in Glendale, California, through 1 July 2017. A variety of special events, artist talks and demonstrations will also accompany the exhibition. For more information, visit the Brand Library online.
Featured image: Wakana Kimua - detail of an artwork, 2015, © Wakana Kimura
By Phillip Barcio